Here come the curls!… Oh hey curly – It's time to ditch the heat styling, Founder of vegan, curly hair brand, Elinor Davies-Farn tells us why. www.olew.cymru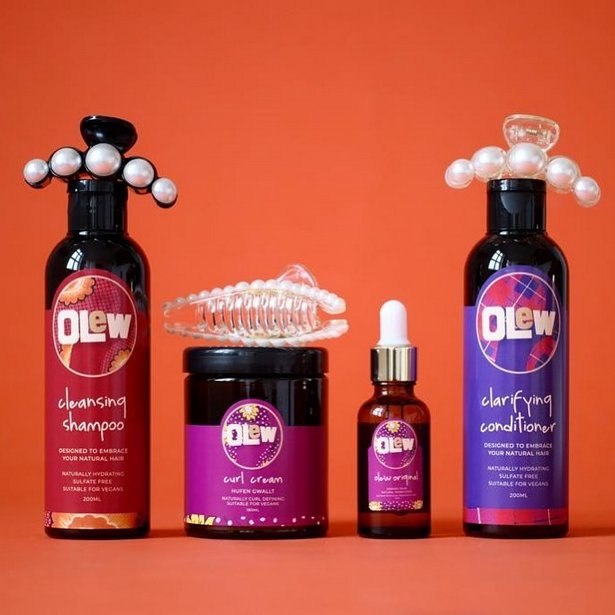 Oh hey curly – It's time to ditch the heat styling, Founder of vegan, curly hair brand, Elinor Davies-Farn tells us why.
My curly hair journey started when after years of straightening my hair, due to the pressure to conform and hating what I thought it looked like naturally, in 2012, I decided to ditch the straighteners, and begin to embrace my natural hair.
My natural hair journey, involved experimentation with a range of products, each failing to produce the results I desired.
Heat styling can change your natural and beautiful curl pattern over time, but many of us are committed to our heat-styling tools for fear of messy, un-tamed frizzy curls. Knowing how to style your hair without heat and with the right products can transform your curls into a beautiful mane that you will want to show off.
TIP 1 – INVEST WITH HAIR HEROES
'I grew to understand that curly hair always needs special love and attention, so I've made sure that all of Olew products are packed with natural, hydrating, and nourishing ingredients, curly hair needs those extra-special ingredients. The right products will give you the curls of your dreams and become your hair heroes'
TIP 1 – THE PERFECT CURLY HAIRWASH
When washing your hair, concentrate on the scalp – the shampoo is there to cleanse and clarify the scalp area. Add conditioner areas you feel are dry, if you suffer from a little dandruff/dry skin on your scalp add a little there.
Curly hair is a drier hair type and loves conditioner, when using conditioner, brush your hair while the conditioner is in (do not brush after this).
Once you have finished, apply Olew OriginalOil straight to soaking wet hair (depending on hair type apply 2-6 drops of Olew onto your palms, rub together and apply where necessary. Remember Olew is 100% natural & free from chemicals. Meaning there is no need to use much to see the results!) Next apply Olew Curl Cream, again to soaking wet hair and scrunch, hold then release. Rinse excess water by wrapping your hair in a cotton t-shirt for around 10 minutes. This will help define your curls/waves and also allow your hair to absorb the nutrients from Olew (towel drying can cause frizz and your curls to clump together); and then apply a little more olew and allow to air-dry.
TIP 2 – STEP AWAY FROM THE HAIRDRYER
Allowing your hair naturally will keep those curls bouncy. It is best to allow your hair to dry during the day rather than sleeping on it. This will affect your curl pattern, as it causes them to stick together rather than separate and find their own path. To bring your natural curls back, twist sections of your hair, this will bring back its natural pattern as the heat damage will have affected the curl memory. Also, do not touch your curls while they are drying; this is a crucial time for them to be developing. To help avoid this temptation use a headband to keep the hair back off your face (this also helps with boosting your roots). Once dry you can add more Olew hair oil to wherever you feel is necessary. If you twisted your hair you can separate or keep it the way it is, whichever you prefer.
TIP 3 – GET YOUR BEAUTY SLEEP
When going to bed twist your hair into a bun on the top of your head to keep it from tangling. Be sure to not pull it too tight at the front as this will disrupt the curls, waves and volume at the top of your head. Wrapping your hair in a silk scarf will also help protect your hair while sleeping. If your curls lose a little of its spring in the morning, spray curls with water and then scrunch with Olew Hair Oil.
TIP 4 – DO NOT OVER-WASH
Curly hair doesn't really like being too clean! I know, this will take some getting used to but, just add some water to your hair along with Olew Hair Oil and let it dry naturally. You can do this for the next 3 days, no washing, just adding water and Olew. I will let you in on a secret, I go without washing my hair for 7-14 days!
TIP 5 – DEEP CONDITION
I would advise using the deep conditioning method – brush your hair out and put it into a braid, fully coat hair with Olew Hair Oil. Keep this style for 24- 48 hours ideally. Alternatively, if you really do not want to set foot out of the house with this style, you can put a shower cap over the braid and Olew you have applied, sleep in it and then take it out the next morning. For those who have heat damaged hair the way the braid will leave your hair and reintroduce your curls pattern is a great way to introduce yourself to your curly hair.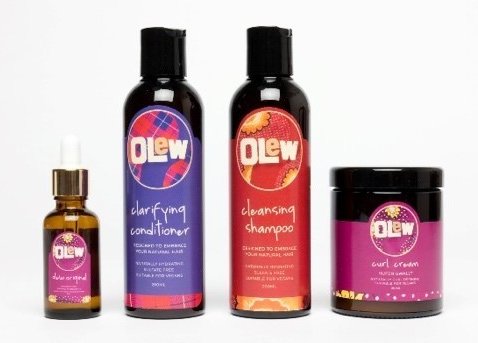 Olew range is available to buy at www.olew.cymru