Hilarious party games! Family Edition and/or Utter Nonsense! Naughty Edition >>>>>> www.utternonsensegame.com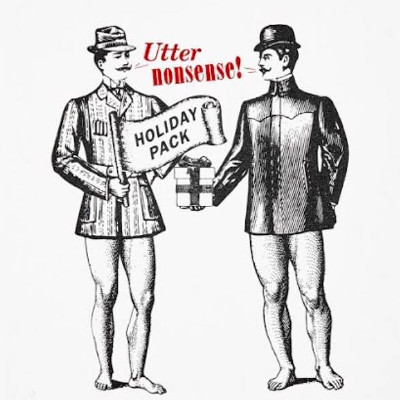 FACEBOOK | TWITTER | INSTAGRAM| PINTEREST | YOUTUBE
A hilarious card game that couples funny phrases with even funnier accents. With two editions: Family and Naughty, there's something for EVERYONE and a guarantee of a roaring good time ahead. So, with the colder weather setting in, and the holidays ahead, let these pant less, dapper men on the box get your party or family game night started! You won't be disappointed!
With Utter Nonsense! The Hilarious Accent Game-Family Edition grab your kids, pull up a chair and get ready to laugh. You don't have to be good at accents and the combinations don't need to make sense, that's where the fun comes in! Players combine silly accents with even sillier phrases to create sayings and actions that are just plain ridiculous. Players are encouraged to improvise too. Chock full of family fun, you and your family will be rolling on the floor laughing in no time.
Whatpeople are saying about the family edition:
"Laughter Guaranteed!" "Utter Family Fun!" "UtterlyThe Best Night of Your Life," "An amazing game to build a child's confidence.So much fun!" "Family Bonding through Humor," "Loads of Fun for the Entire Family" and the list goes on of rave reviews.
Contains:50 Accent Cards and 450 Phrase Cards
Age range: 8+
MSRP: $24.99
Available online: www.target.com/p/utter-nonsense-family-board-game/-/A-52137387
Utter Nonsense! The Hilarious Accent Game-Naughty Edition is the perfect game for girls or guys night in, your next dinner party or for a casual pizza night with the neighbors while the kids play in the yard. You know you'rein for something with pantless gentlemen on each card! Players are given aphrase card and an accent card to say and act out in a funny accent. With each successive round, watch as your most mild-mannered friends and adult family members become bawdy improv masters.
What people are saying about thenaughty edition:
"Freaking hilarious!" "Laughed until we cried," "Fun game even if it'sjust for two," "Nonstop Hilarity!" "Worth every cent," "Fun girls night game,"and the list goes on of rave reviews.
Age range: 18+
MSRP: $24.99
Available online: www.target.com/p/utter-nonsense-naughty-board-game/-/A-17368014