JAMES WHITE DRINKS GIVES THEIR POPULAR ZINGER SHOTS A NEW LOOK
The little drinks with a big kick!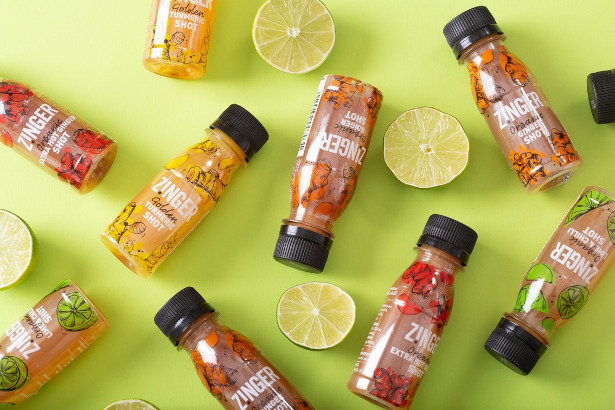 FACEBOOK | TWITTER | INSTAGRAM
The popular Zinger range of four 100% natural, vegan pick me up shots are getting a vibrant new look. The perfect pocket drinks for any time of day, offer a healthy sugar and caffeine free alternative to the ubiquitous soft drinks generally available.
"Unlike the emperor's new clothes our new Zinger label is not completely invisible but merely largely see-through" explains Lawrence Mallinson, James White's owner, "We wanted people to see our lovely ingredients. We have nothing to hide!"
Zinger shots are made with a blend of freshly pressed fruit juices with spices such as crushed root ginger or turmeric. They are gluten free and don't contain any preservatives, concentrates or artificial colours..
The four Zinger varieties are:
Organic Ginger: With 27% crushed organic root ginger juice, rather than cheap ginger flavouring, and fresh pressed apple juice as its ingredients, this zinger has a generous warm spicy kick.
Extra Hot Ginger: With 40% crushed organic ginger root juice and pressed apple juice and a pinch of chilli, this Zinger is for serious ginger nutcases only! More of a wallop than a kick!
Turmeric: This Zinger was the first ever drink made in the UK using freshly crushed turmeric juice rather than turmeric powder. This is blended with fresh pressed apple juice, lemon juice, black pepper and a little chilli to give it a gentle zing.
Lime & Chilli: a brilliant combination of the sharpness of fresh lime juice tempered with pressed apple juice with a fierce hit of chilli. This one will knock your socks off!
Created and bottled by James White Drinks in Suffolk, Zinger shots are the latest exciting drinks from the makers of Big Tom (the original Bloody Mary mix), Thorncroft Cordials & Beet It beetroot juices. They believe in using only the finest natural ingredients to make drinks with bold flavours for discerning drinkers.
Zinger shots have an RRP of £1.49 per 7cl bottle and are available in Waitrose, Sainsbury's and Holland & Barrett, plus online at www.zingershots.com from mid-April.