Swizzels set to host UK's largest virtual Halloween Party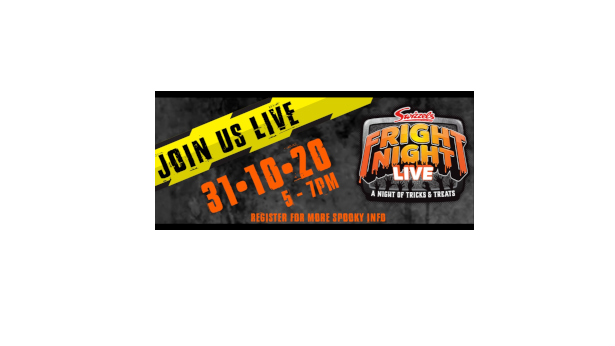 Iconic British sweet maker Swizzels is set to host the UK's largest virtual Halloween party in a bid to save the scary season.
The brand has revealed its plans to launch Swizzels Fright Night Live – an evening of live Halloween- themed family fun for the nation to join in and enjoy from the comfort of their own homes.
The interactive live event will take place on Saturday 31st October from 5pm until 7pm and will also be hosted across its website and social media channels.
Fright Night Live will be live streamed from a secret haunted location and will be filled with a whole host of Halloween-themed entertainment as well as tricks and treats. Prizes will be up for grabs throughout the evening through a range of interactive challenges and competitions.
Claire Lee, NPD Brand Manager at Swizzels said:
"We know that Halloween will look a little bit different this year. Trick or treating and big parties can't take place unfortunately but that doesn't mean families and friends can't have fun and celebrate. We love this time of the year and our aim is to create the biggest virtual party possible that everyone is invited to – simply go online and join in the Halloween shenanigans. There'll be something in there for all ages so it really will be a fun family friendly evening…with some ghoulish surprises thrown in too!"
To register your interest or to find out more about the event, head to the Swizzels website. Alternatively, simply head over to Swizzels' social media channels on the evening of Halloween at 5pm.
www.facebook.com/SwizzelsMatlow/
twitter.com/SwizzelsMatlow
@SwizzelsMatlow
Facebook, Twitter
#SwizzelsFrightNightLive
Swizzels is the UK's largest family-owned independent sugar confectionery business and one of the few confectionery companies to still manufacture sweets in the UK. The company makes a range of well-known products including Love Hearts, Refreshers, Drumstick Lollies, Rainbow Drops, Double Lollies, Squashies and Fruity Pops.
www.swizzels.com
You need a Halloween wall mural to really set the SpOokY mood!
www.wallsauce.com &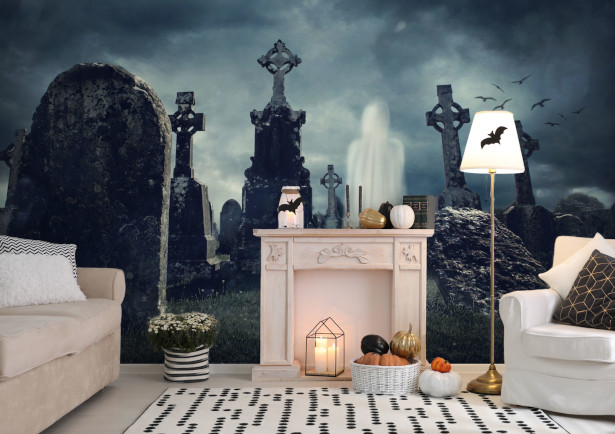 www.wallsauce.com/au/ have a spook-tacular range of Halloween wallpaper murals to adorn in the home.
zztotz.com.au
They're spooky and they're kooky – but they're also heaps of fun!
Our make-it-yourself puppet Halloween Play Packs are sure to get the kids into the Halloween spirit (without a lolly in sight!)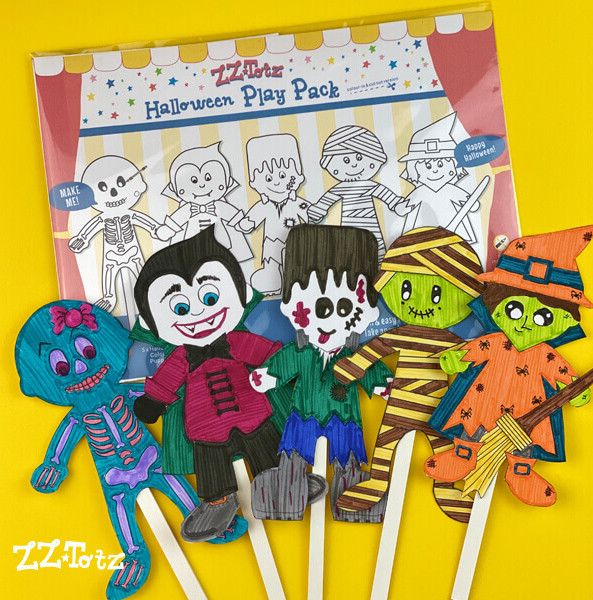 Each pack includes a Skeleton, Dracula, Frankenstein, Mummy and Witch for the kids to make. We've even included a mess mat!
Put on a show with your friends or deviate the house the house with them – there's hours of fun involved!
ZZ Totz is all about getting kids creative, using gifts their imaginations and playing through our make-it-yourself puppet kits. No bells, no whistles and definitely no batteries – just hours of fun and play!
zztotz.com.au/product/halloween-play-pack/
The Sacred Crafts, a brand dedicated to creating luxury goods from reclaimed materials, has just recently launched their debut collection of four timepieces, called La Grande Mer.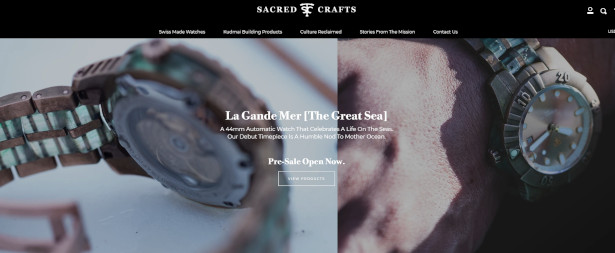 Crafted from unused materials causing pollution in the waterways of Thailand (decommissioned boats, fishing nets, etc.), La Grande Mer collection is one-of-a-kind and celebrates our connection with the sea.
www.thesacredcrafts.com
Each Swiss-made watch has a 40-hour power reserve with 25 jewels, 300m of water resistance and features a unidirectional rotating bezel. La Grande Mer watches ship with a luxury, reclaimed wood box made from vintage fishing boats, rubber dive strap, premium leather band, travel case and coffee table book that shares the story of how and why The Sacred Crafts created this bespoke watch.
Lumhaa: The Memory Jar Company
Memory Jars
The Memory Jar Company, which helps make "memory jars" — time capsules with photos, videos, sounds, and notes. For holiday gifts, people typically use our app to create and order personalized memory jars in 3 steps — (1) the gift giver makes a digital link, (2) gift giver + whoever they invite (e.g. friends and family) add and see memories for the gift receiver via the secret digital link, (3) gift giver sends the link + a physical jar filled with the messages to the gift receiver. These personalized physical jars are handmade by ethnic artists in India, and have QR codes printed at the back of each memory so the respective video or audio plays.
London-based pop-up kids' corner The Kids' Table creates COVID-safe alternative to trick or treating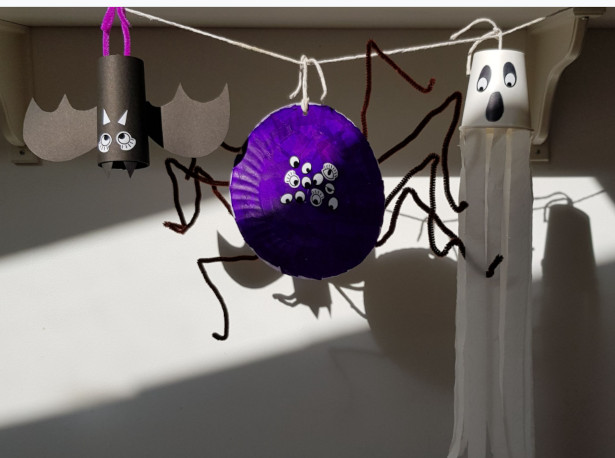 October 2020: Halloween is not cancelled…it just has to be a little different this year.
The Kids' Table has teamed up with Koru Kids after school nanny service to take the tricky out of trick or treating this Halloween. The Kids' Table Halloween Hunt means families can swap the door knocking for window gazing and go on a scavenger hunt to find bats, pumpkins, spiders and ghosts in their neighbourhood.
The Kids' Table has been posting a hangable Halloween craft on Instagram every Monday in the lead up to 31st October for kids to make at home and hang in their window (final craft revealed on Monday 26th October).
Once the spooky bat, ghost and spider crafts are complete and hanging up in the window, families can download the score sheet to go on a Halloween hunt around the streets in their neighbourhood to spot other bats, ghosts, pumpkins and spiders. Kids can then exchange their spooky sightings for treats back home!
The Kids' Table is encouraging families to share The Kids' Table Halloween Hunt with friends, neighbours, schools and nurseries to transform their communities into spooktacular places to have some fun this Halloween.
Celebrate Halloween with a Pumpkin Spiced Cocktail from Jaisalmer Indian Craft Gin
If you're looking for a way to add an exotic touch of spice and BOOze to your Halloween celebrations, why not try shaking up a Jaisalmer Spiced Pumpkin Cocktail?
Jaisalmer Spiced Pumpkin Cocktail
50ml Jaisalmer Gin
25ml Monin Pumpkin Spice Syrup
20ml Lemon Juice
Garnish: Cinnamon Sticks
To make the cocktail, add all ingredients to a Boston glass, shake, and double strain into a Martini glass. Garnish with cinnamon sticks.
Jaisalmer Indian Craft Gin – "The whole of India in one bottle" is triple-distilled in traditional copper pot stills and handcrafted in the foothills of the Himalayas at one of India's oldest distilleries. With a recipe that combines the ancient knowledge of herbs and spices, vibrant juniper berries and hand-picked botanicals. The use of botanicals is a time-honoured tradition in India. Jaisalmer has 11 botanicals, seven of which are sourced from the four corners of India.
Jaisalmer Indian Craft Gin RRP: £34.95 for 70cl (ABV 43%).
Available from Amazon and The Whisky Exchange
The Old Royal Naval College, Greenwich, is getting their spook on with their first ever Halloween Late.

A spine-tingling evening awaits anyone who enters the Painted Hall after dark to hear tales of sea monsters and ghosts from History Riot. Tickets include entrance to the Painted Hall, a free mulled wine from the Old Brewery to warm up from the bone-chilling ghost stories, spooky stories and live music. The Painted Hall café and Old Brewery are open for sinfully delicious drinks and food, and visitors can even do some early Christmas shopping at the gift shop.
TEACH YOUR DOG HOW TO 'TRICK FOR TREATS' THIS HALLOWEEN
Cocker Spaniel Bella aka 'Paul Spaniels' stars in new video series showcasing 'spooktacular' tricks
This Halloween, premium raw pet food brand, Natural Instinct, is teaming up with Bella, a very special cocker spaniel and her owner Lynn Stacey, to prove to the nation anyone can teach their dog new tricks.
Known as 'Paul Spaniels' thanks to her unrivalled magical talent, dog Bella and owner Lynn will be training the nation's dogs to perform a variety of tricks throughout October.
Each week, Bella's videos will feature a ghoulish new trick that dog owners can watch and follow along at home. Each video will include simple step-by-step advice from dog trick Instructor, Lynn, and by the time All Hallow's Eve is upon us, dog's across the UK will have learnt four new tricks including a high five, a bow, a peek-a-boo action and spin!
Of course, some natural, tasty treats will be essential for positive reinforcement along the way, and dog owners need to look no further than Natural Instinct's limited-edition spooky Halloween treat. Inspired by its much-loved beef jerky, the brand is delighted to launch a ready-to-eat snack version of mini beef jerky sausages. Made using 100% British beef heart, these naturally dehydrated mini treats are ideal for training.
Bella, a nine-year-old Assistance Dog, is a vital companion to owner Lynn who suffers from a disability. Bella, trained by Assistance Dog charity, Dog A.I.D is well known for her ability to assist with daily chores supporting Lynn in the home, as well as being a trick champion, knowing hundreds of tricks. From emptying the washing machine through to doing a handstand, making the bed, and even loading the dishwasher.
With no canine or dog owner more qualified than Lynn and furry friend, Bella, please see some top tips on successfully teaching dogs new tricks here:
1 – REWARDS
Use what motivates your dog for positive reinforcement. Try yummy, healthy treats, such as beef jerky or if they prefer, you can use toys also. Remember it is only rewarding to your dog if they actually like the reward so be sure to let them try the treat first or play with the toy.
2 – REWARD GENEROUSLY
Don't be mean with your rewards, you need to reward your dog handsomely for a job well done, let them know they did it right and behaved well.
3 – NO DISTRACTIONS
Always start training for new tricks somewhere familiar like in a quiet room in your house, away from any distractions.
4 – SHORT SESSIONS
Break training up into short but regular sessions. Your dog will learn much better if practice is short and often and they are not overwhelmed.
5 – HAVE FUN!
If you aren't having fun then neither is your dog. Make training sessions full of fun and your dog will be eager to participate.
Rachel Kirby, spokesperson for Natural Instinct says:
"There is a misconception that teaching dogs tricks is extremely difficult and for specific breeds only. However with the right knowledge and expert advice, all owners can teach their canine friends fun tricks in a safe way and we are delighted to be working with Lynn and Champion Trick Dog, Bella, who really are the experts.
Our Halloween mini treat hits the shelves next week and provides a great excuse to kickstart some home trickery, involving our pets in autumnal festivities. We hope our customers enjoy spending quality time with their dogs and have fun teaching 'tricks for treats' this Halloween."
To watch the videos visit the Natural Instinct Facebook page here: en-gb.facebook.com/NIPetfoods
A cocktail recipe that is perfect for the spooky season!
Gnarly Head, the creator of bold, structured wines – that offer something a bit gnarly – has created a simple Gnarly Grog that your readers will love! Check it out.
Ingredients:
1 bottle – Gnarly Head Authentic Black (retails for under $20!)
3 cups – Cloudy Apple Juice
½ cup – Rum or Brandy (pick your poison)
½ cup – Maple Syrup
8 bags – Chai Tea
Garnish with an orange peel, lemon moon and cinnamon stick
Directions:
Combine all ingredients in pot and bring to a simmer. Allow to heat thoroughly (about 20 minutes). Do not boil. Remove tea bags. Ladle into mugs and garnish with an orange peel, a lemon wheel, and a whole cinnamon stick. Keep batch warm on very low on stove, or in crock pot.
Halloween ideas and some "tricks" from Goodwill Industries of Central Florida. The nonprofit organization also put together a costume look-book filled with ideas of how to put together some of what's trending. In fact, here in the Orlando-area, Goodwill has become known for it's Zombie bride creations.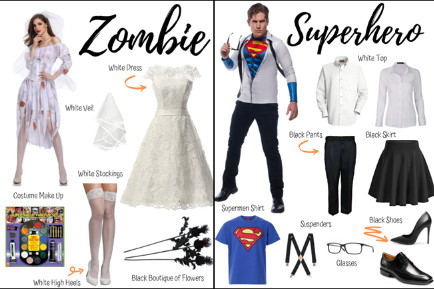 Goodwill stores across the country offer shoppers one-stop access to incredible and unique spooky finds ranging from DIY costumes to home décor and entertainment. And 90% of revenue from all sales is put back into Goodwill's mission of building lives that work by providing job training and certification, and employment placement assistance.
MysticSense
www.mysticsense.com

Halloween will be a little different this year due to Covid-19 but that does not mean it has to be any less fun! From family events to community contests, Halloween can be a blast for everyone all while staying safe. Tapping into the history of this spooky season can be done by performing a silent supper in your own home, or perhaps you would prefer to do some divination by peeling an apple in one piece and letting it drop to the floor revealing the name of your beloved.
If you want to get the community together for a fun alternative to trick or treating, holding a costume contest online or competing with your neighbors for the scariest decorations is a great way to celebrate the season. Winners can be mailed prizes or given a digital gift, such as a virtual gift card or a psychic reading online. The spirit of Halloween is more important than the traditions that were formed around it and can be adapted to modern times.
Phoenix Knor'malle is a Psychic Advisor on MysticSense.com and has been providing professional spiritual readings to the public since 2018. They are also a certified meditation guide and Reiki Master Teacher.
Little Steps, Big Happy
Last Minute Halloween Idea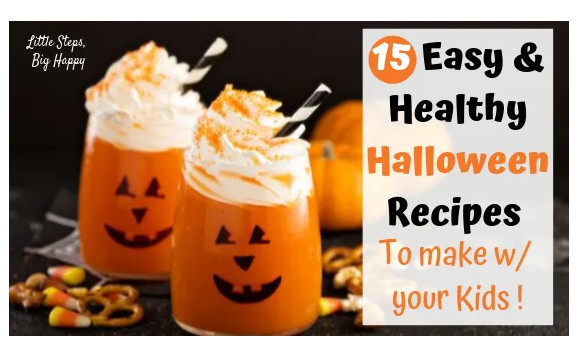 One of our favorite Halloween activities is to make some healthy Halloween treats.Here is a list of festive and tasty recipes . They are easy, quick, and perfect if you're scrambling for ideas last minute. You can find the post here >> www.littlestepsbighappy.com/healthy-halloween-recipes/
Riddles to Riches
Last Minute Halloween Idea!
Free to enter online contests, and are currently running Halloween contests. www.riddlestoriches.com/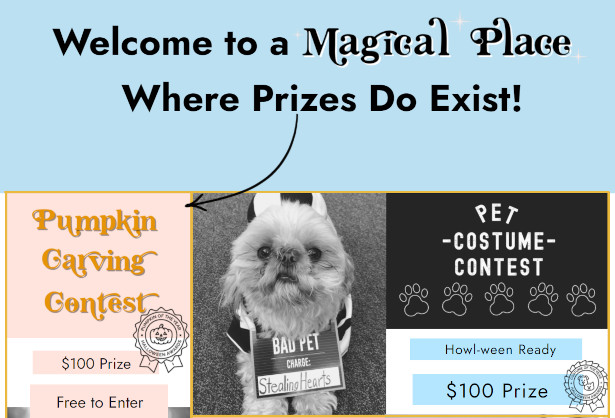 Guess How Many Candy Corns are in the Jar: $50 prize
Pumpkin Carving Contest: $100 prize
Pet Costume Contest: $100 prize
Many people are staying at home this year and we wanted to offer some fun challenges to keep the Halloween spirits alive.
Brix + Bailey | Top Handle Satchel Ivory Hair On Hide Leather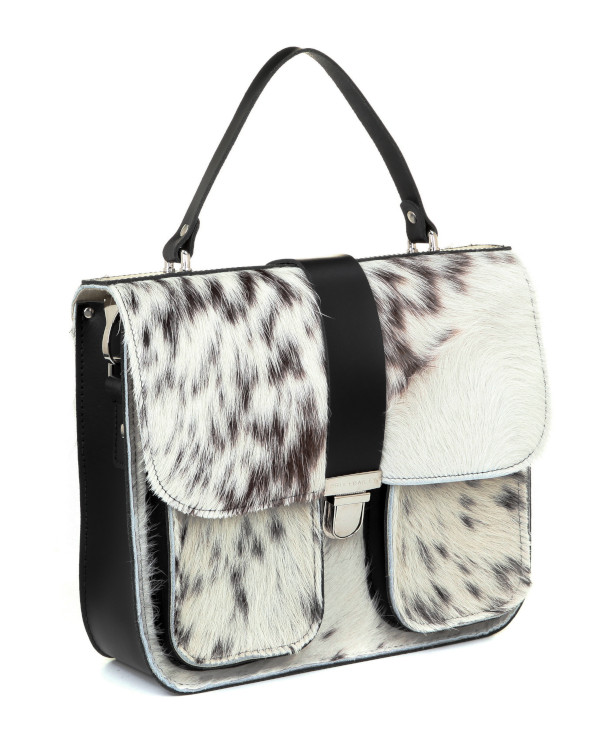 As huge fans of the traditional satchel designs, Brix + Bailey have applied a modern day upgrade or two to the structured leather satchel. Crafted from natural speckled ivory and chocolate Cavallino calf hair leather, partnered with a smooth Italian calf hair chocolate leather gusset and base. Double pockets feature heavily on the front section, designed to allow for easy access to your essentials, with a secure flap opening and signature silver lock. The added adjustable and removable crossbody strap is the perfect addition.
Take a look at the Claret Hair on Hide version of this satchel…you will not be disappointed.
Designed in London and New York it is a bag that will fit everything you need for a full days work.
30(W) X 25(H) X 9(D) cm
View product on company website: www.brixbailey.com/products/satchel-leather-ivory-hair-on-hide
Price: £255
www.brixbailey.com
Don Papa Rum.
Don Papa, makers of premium small-batch rum from the Philippines, have some delicious cocktails which you can make at home; made with gothic, almost black rum (Don Papa 10 is a limited edition 10th anniversary rum available from late October). Distilled from some of the finest sugarcane in the world, Don Papa 10 has been aged in American oak at the foothills of Mount Kanlaon. Dark amber in colour, rich and powerful on the nose. It emanates strong flavours of dried fruits and cacao, culminating into an alchemy of magic in one bottle. The cocktails invoke the mystical and evocative spirit of the magical world of Sugarlandia (local name for Negros). The three signature Halloween cocktails include: Red Dragon, filled with sour and exotic infusions of red dragon fruit and lime; Sazerac, a hypnotic twist on the traditional drink inspired by the uniqueness of the island of Negros; and The Tiki, which consists of the sweet and tropical combination of blue curacao, velvet falernum, pineapple juice and lime juice.
Small Beer Brew Co., experts in classic beer styles below 2.8%, who have a gorgeous gift pack (image attached), which would make the perfect Christmas gift for a loved one who appreciates the malt spectrum but not the headache the next day. It's also the first gift in a six-month subscription service which is available here for £120; the gift that keeps on giving; ideal when we're not sure who we'll get to spend Christmas with.
Gibson's Goodology, award-winning CBD infused tea, which is now available from the Gibson's Goodology website. A tasting pack of all three delicious flavours is just £14.99, and the packaging is simply stunning (images attached and linked here). The three flavours, Jasmine Tea & Rhubarb, Shiso Tea & Blueberry, Green Tea & Passionfruit, are all crafted with only five ingredients, tea, fruit, agave, lemon juice and 25mg water soluble CBD to ensure they are good for you, as well as great tasting. Offering the highest CBD dosage on the UK market, all products are triple-lab tested to ensure CBD quality.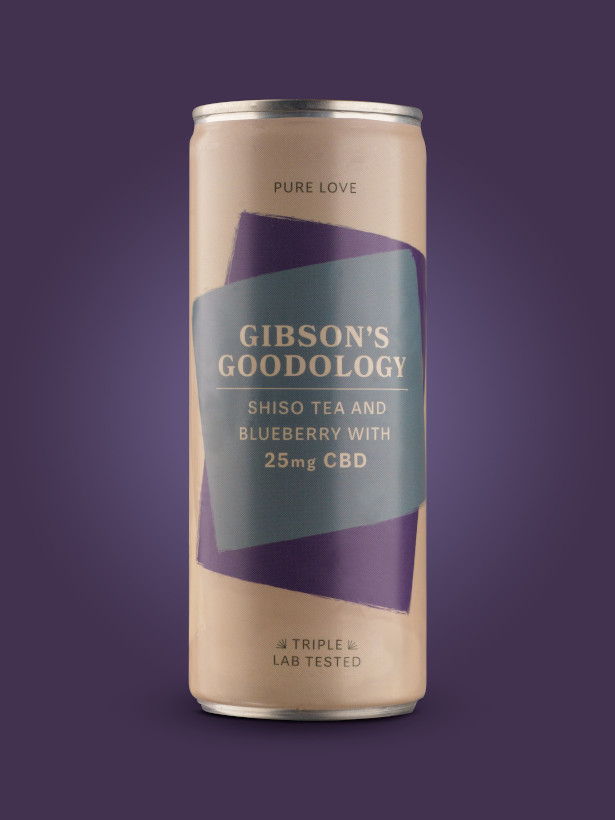 London-based pop-up kids' corner The Kids' Table creates COVID-safe alternative to trick or treating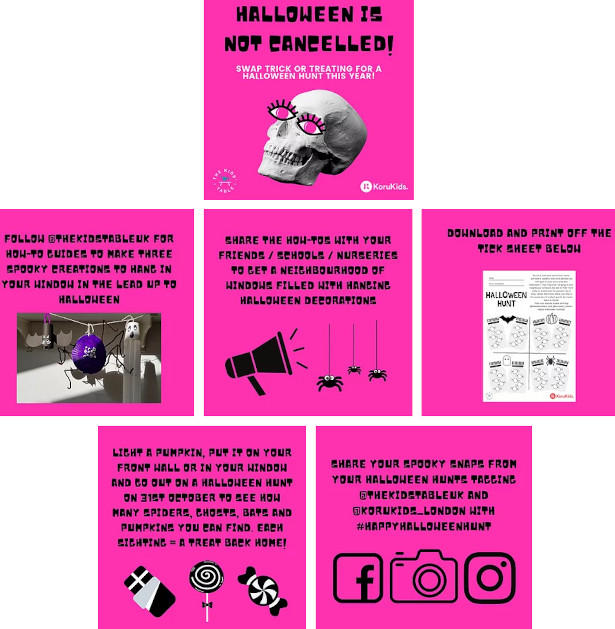 October 2020: Halloween is not cancelled…it just has to be a little different this year.
The Kids' Table has teamed up with Koru Kids after school nanny service to take the tricky out of trick or treating this Halloween. The Kids' Table Halloween Hunt means families can swap the door knocking for window gazing and go on a scavenger hunt to find bats, pumpkins, spiders and ghosts in their neighbourhood.
The Kids' Table has been posting a hangable Halloween craft on Instagram every Monday in the lead up to 31st October for kids to make at home and hang in their window (final craft revealed on Monday 26th October).
Once the spooky bat, ghost and spider crafts are complete and hanging up in the window, families can download the score sheet to go on a Halloween hunt around the streets in their neighbourhood to spot other bats, ghosts, pumpkins and spiders. Kids can then exchange their spooky sightings for treats back home!
The Kids' Table is encouraging families to share The Kids' Table Halloween Hunt with friends, neighbours, schools and nurseries to transform their communities into spooktacular places to have some fun this Halloween.
Notes to editors
The Kids' Table is a pop-up children's corner that operates in pubs, restaurants and food halls across London that came to a standstill when the venues in which it offers crafty fun for kids and downtime for parents closed due to the Coronavirus pandemic.
The Kids' Table is currently bringing the crafts that it would have been offering in person to its pint-sized punters to their kitchen tables instead via Instagram, Facebook and You Tube.
Follow @TheKidsTableUK on Instagram for updates.
HALF TERM HELP IS AT HAND
THE ULTIMATE APP GUIDE TO KEEP LITTLE ONES ENTERTAINED DURING THE HOLIDAYS

With the October half term almost upon us, many parents will be attempting to conjure up new and exciting ways to keep their kids occupied whilst at home. Shorter days and temperamental weather can certainly require mums and dads to get a bit more creative, with stints in the garden and park trips sometimes cut short. That's where the Huawei AppGallery can assist. Fun, educational and stimulating; the following guide may just be the life saver that parents need to keep kids h-app-y, inspired and active this coming half term.
Kahoot!
The surge in popularity of quizzes during recent times has seen adults scrambling to improve their general knowledge. Why not get the kids involved with Kahoot? The innovative app unleashes the magic of learning with a whole host of features, including Quiz Creation, in which a unique game can be created in just minutes, the Live Game app; whereby the game can be hosted on a large screen, or the Trivia app; delivering a world of general knowledge to little ones' finger tips.
Free with in-app purchases. Download via the AppGallery here
Suitable for age 3+
Solar System Scope
Did you know that Jupiter spins on its axis faster than any other planet? Encourage budding astronauts with discovery app Solar System Scope, a fun way to explore and interact with the Solar System and outer space. The app includes interesting facts about each planet, as well as 3D visualisation and impressive night sky features, which allow users to identify planets in the sky.
Free with in-app purchases. Download via the AppGallery here
Suitable for age 4+
Math Genius
Learning whilst playing is the ethos for this popular mathematics app. Prepare for little ones to become masters of addition and subtraction with the chance to practice through plenty of challenges for a variety of abilities. Eye catching animations and effects ensure that learning the fundamentals is kept fun and engaging.
Free with in-app purchases. Download via the AppGallery here
Suitable for age 3+
Food Recipes for Kids
Budding chefs assemble! Feed your kids and their imaginations simultaneously with the Food Recipes for Kids app, which offers more than 60 crowd-pleasing dishes that are quick, simple and – most importantly – delicious. From Banana Bread and Blueberry Muffins to Grilled Veggie Pittas and Mini Pizzas, there truly is something for everyone in the family to savour. Great for both kids and adults to create and enjoy together.
Free with in-app purchases. Download via the AppGallery here
Suitable for age 12+
Colouring Book
For those children more artistically inclined, why not download the Colouring Book? With hundreds of drawings featured – from snakes and scientists, to butterflies and bananas – kids can choose from an eye-catching palette to create bold and beautiful works of art, and there's no danger of going over the lines. As well as stimulating young ones' creativity, additional benefits include improved focus, encouragement of self-expression and informal mindfulness.
Free with in-app purchases. Download via the AppGallery here
Suitable for age 3+
Mindfulness with Petit BamBou
Practicing mindfulness from an early age can help children achieve greater mental, physical and emotional wellbeing – all of which are now more important than ever.
Petit BamBou offers a range of programmes developed for kids aged 5 – 12 which teach the foundations of meditation in a lively, imaginative way. Based on simple, effective meditation methods, the app aims to cultivate a state of inner calmness and serenity. Sessions can also be practiced as a family and is as beneficial to adults as it is to little ones!
Programmes are six minutes each; with just one session a day, kids will feel the benefits.
£7.99 per month. Download via the AppGallery here.
Suitable for age 5 – 12+
Must Have Half Term Device:
MatePad 10.4
From £229.99 from the Huawei Store and selected retailers
This lightweight learning tool ensures seamless, smart interaction and immersive entertainment in one. Equipped with a gorgeous 10.4-inch FullView display, supporting eye protection features, FollowCam, smart features and powerful Kirin 810, this latest tablet is the ideal companion for half term learning.
What's more, the device boasts a safe and secure zone for younger children, the HUAWEI MatePad Kids Corner, which features various parental control options, making it easy to manage the content available, accessibility of different apps and the time children can spend on the device. Added features such as posture alerts, bumpy road alerts, brightness alerts, distance alerts and eBook mode make this a must have half term item.
About AppGallery
Huawei AppGallery is the official app distribution platform for Huawei smartphones and tablets and is the third largest app marketplace in the world. Available in more than 170 countries, users can easily and securely discover, find and download thousands of apps from around the world. There are currently over 81,000 apps and with new apps joining daily.
About Huawei Consumer BG
Huawei's products and services are available in more than 170 countries and are used by a third of the world's population. Fifteen R&D centres have been set up in the United States, Germany, Sweden, Russia, India and China. Huawei Consumer BG is one of Huawei's three business units and covers smartphones, PC and tablets, wearables and cloud services, etc. Huawei's global network is built on over 30 years of expertise in the telecom industry and is dedicated to delivering the latest technological advances to consumers around the world.
For more Huawei information please visit: consumer.huawei.com
For regular updates on Huawei Consumer BG, follow us on:
Facebook: www.facebook.com/huaweiuk
Twitter: twitter.com/huaweimobileuk
Instagram: www.instagram.com/huaweimobileuk/
YouTube: www.youtube.com/user/HuaweiDeviceUK
LinkedIn: www.linkedin.com/company/10617746/
Community: consumer.huawei.com/uk/community/
NO TRICKS, ONLY TREATS THIS OCTOBER AT LONDON'S FIVE MERLIN ATTRACTIONS

Get spooked and see the sights this half-term at The London Dungeon, SEA LIFE London Aquarium, Madame Tussauds London, the lastminute.com London Eye and Shrek's Adventure! London
[October 2020] This October, Merlin Entertainments is bringing some fang-tastic family fun to London. From the South Bank to Baker Street, the five London attractions are offering guests a huge range of activities for adventure seekers big and small to get stuck into.
From spooky scarecrows to creepy crawlies, sensational sights and celebrity selfies, Merlin's London attractions have something for everyone to enjoy this half term.
While visitors can expect to see some new measures in place – such as reduced capacities, pre-booking tickets online, clear social distancing measures, face coverings to be worn by staff and guests, and cashless payments, when it comes to the fun, scares, sights and adventure that each attraction offers, nothing has changed.
The London Dungeon: The Final Straw
Running until 31st October, visitors to the London Dungeon can venture through the Corridor of Misdemeanours to hear all about the dark history of scarecrows and why they were first invented. But guests will need to keep their wits about them, as not every scarecrow is what they seem…
Whilst at The London Dungeon, guests can also explore the rest of the attraction and all the horrors it's home to, from Jack the Ripper to the Great Plague, and everything in between.
SEA LIFE London Aquarium: Creepy Crawly Adventure
Open from Saturday 17th October – Sunday 1st November, SEA LIFE London Aquarium's Rainforest Adventure is taking a scary turn this Halloween as it is overrun by thousands of creepy crawlies. If brave enough, guests are invited to discover some of the Amazon's most amazing inhabitants, including the UK's largest population of Piranhas, Crocodiles, Poison Dart Frogs and Snapping and Pig Nosed Turtles. There is so much more to discover throughout the rest of the attraction too, from Shark Walk, Penguin Point and Rock Pool Explorer, all the way to Coral Kingdom.
Madame Tussauds London
While the world of showbiz has had to cancel concerts, premieres and parties this year, the famous faces at Madame Tussauds London will still be celebrating Halloween. The world famous attraction's figures will be sporting spooky accessories and guests will be encouraged to don their favourite fancy dress outfits when they visit throughout half term to earn themselves some delicious chocolate treats.
If fancy dress isn't your thing Madame Tussauds London is still teeming with half term fun. Meet the recently reinstated One Direction boys, square up to Anthony Joshua's new figure or share any burning opinions with Boris Johnson and Donald Trump in the Downing St set – they'll be all ears!
lastminute.com London Eye
Friends and families are invited to visit the lastminute.com London Eye this half term to enjoy unrivalled 360 degree views of the city at 135m high. If visiting on Friday or Saturday, groups can take advantage of the Happy Half Hour offering and enjoy an early evening drink at one of the UK's most iconic landmarks. Nothing will beat taking in the sights of London, sipping on your favourite drink and watching the sun go down.
Shrek's Adventure! London
Shrek's Adventure! London is perfect for families looking for something brilliantly bonkers to do this half-term. Little ones will have the chance to hang out with all their favourite DreamWorks characters as they make their way through the unique interactive experience. The adventure begins on board a magical 4D flying bus with Shrek's trusty companion, Donkey. Visitors will journey through Shrek's Swamp, head down Drury Lane and even pop by the Muffin Man's House. Big and little kids are certain to have a truly Shrektacular half term day out at Shrek's Adventure! London.
For further information about the health and safety measures per attraction and to pre-book tickets for October half-term, please visit the appropriate website:
The lastminute.com London Eye – www.londoneye.com/plan-your-visit/before-you-visit/know-before-you-go/
Madame Tussauds London – www.madametussauds.com/london/en/plan-your-visit/know-before-you-go/
SEA LIFE London Aquarium – www.visitsealife.com/london/find/know-before-you-go/
The London Dungeon – www.thedungeons.com/london/en/plan-your-visit/know-before-you-go/
Shrek's Adventure! London – www.shreksadventure.com/know-before-you-go
CELEBRATE HALLOWEEN AT HOME WITH JOHNSON'S® HAIR CARE RANGES
HELP TAME THEIR LION MANE OR SPARKLE LIKE A PRINCESS WITH RANGES TO SUIT ALL
It's widely known that babies and children have sensitive, delicate skin that require different care to adults, but what is lesser known is that children's hair is also very different and requires unique care, that's why the JOHNSON'S® haircare ranges have been carefully created for your little ones.
Children's hair is three times more delicate than adult hair and is continuously developing until around the age of 12. As a consequence, as children develop their hair changes too; from curly to straight, short to long, or blond to dark, requiring specialist care to nurture it as it develop and grow.
Each range within the JOHNSON'S® haircare portfolio provides unique benefits and the tools every parent needs to unlock knots, boost shine and strengthen hair without compromising on gentle, caring products.
Advice from the experts
Rebecca Bennett from the JOHNSON'S® team comments: 'We all know the feeling of dragging a brush through the tangled hair of a screaming child, desperate to get away and play. As they grow up, children spend more time playing and getting messy, and so they should, however, all this activity can result in tangled locks covered in who knows what so it's really important to look after their hair properly at such a young age, as it continues to develop during this important discovery period of their lives.
The JOHNSON'S® haircare products have been designed to look after different types of children's hair, from long and knotty, to curly and wild and make it easy for parents to identify which product will suit their little ones locks the best. It's really important to understand your child's hair type to determine what it needs, so you can then adopt and follow the correct routine to nurture it in the best way.'
This Halloween, children do not need to turn into little monsters because of their haircare routine. With the help of the JOHNSON'S® haircare range, every little one's unique hair type can be individually cared for and styled for spooky season and beyond.
JOHNSON'S® No More TanglesTM – Win the tangles tug of war with the No More Tangles™ range. Specially formulated to unlock knots and tangles with ingredients that gently cleanse for soft, smooth hair. Help your little one enjoy their new haircare routine and ROAR like a lion, taming curly hair with the JOHNSON'S® 3-step routine and embracing curly locks with cute animal ears: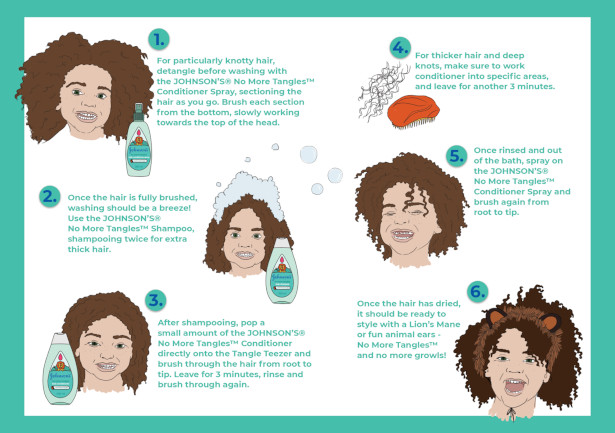 JOHNSON'S Shiny Drops – For hair that needs a little shine and sparkle, try the JOHNSON'S® Shiny Drops range which is enriched with argan oil and is specially designed to boost hair's natural shine for silky smooth, healthy feeling hair. Shine like a star by adding some glitter to your little one's parting on Halloween – perfect pop star material!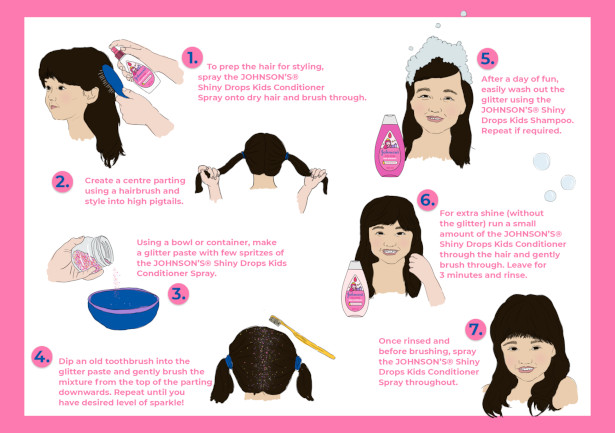 JOHNSON'S Strength Drops – The Strength Drops range is enriched with Vitamin E and is specially designed to help strengthen hair for less breakage as you comb through those bed head knots each morning. Sprinkle some fairy-tale magic this Halloween, to create a magical princess braid: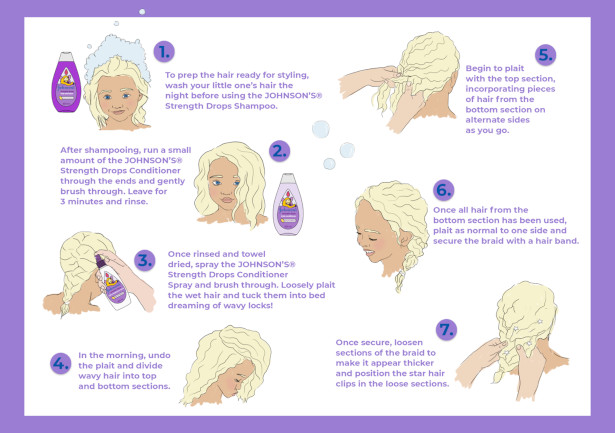 Krispy Kreme have launched a new range of Monster Madness Halloween doughnuts and a DIY Doughnut Creation Kit in time for 31st October.
The Monster Madness range

Frankie (£2.25) – Frightful Frankenstein monster, bursting with brownie batter filling – terror-iffic!
Wolfie (£2.25) – signature ring doughnut smothered in chocolate frosting – Happy Howl-oweeeeen!
Vampie (£2.25) – Fang-tastic Dracula vampire, oozing with raspberry filling – love at first bite!
Spooky Sprinkles (£1.85) – signature ring doughnut buried in chocolate icing and spooky sprinkles – Fa-boo-lous!
Zombie Pop (£1.85) – signature ring doughnut attacked with icing and popping candy crunch – come alive!
The Hand Piped Half Dozen – which will say 'Happy Halloween' or 'Trick or Treat' is also available at £12.95.
The Creepy Creation Kits – a box of four doughnuts that you can decorate at home and then sink your fangs into priced at £14.95
Trick-or-treat Halloween plans cancelled?
Caper's new interactive adventure 'Spellville' is the perfect solution for
families looking to dial up that Halloween magic… and it's free for October!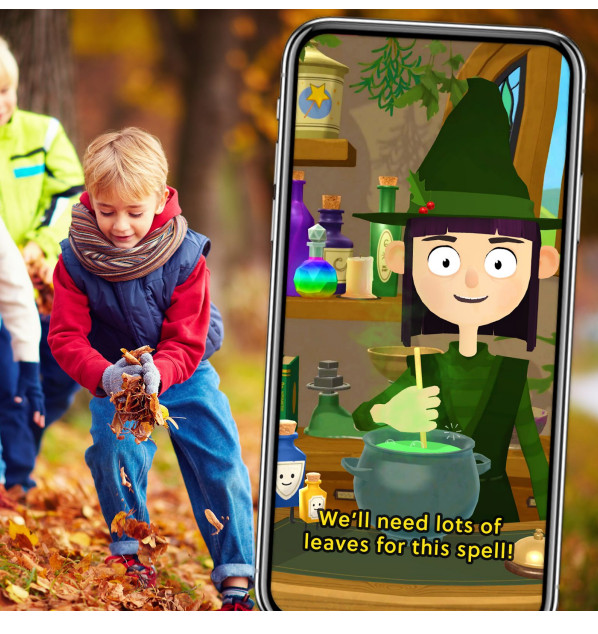 ● Caper's story-led immersive 'missions' encourage families to spend quality time
together in nature
● 'Spellville' is a one-hour outdoor family adventure, available for free for the month of
October
● Over 5,000 families have downloaded the beta version of Caper since lockdowns began
● The Caper founding team have worked at Mind Candy, BBC, Nintendo, and Disney
● The Prime Minister recently played Caper at Number 10 Downing Street
[LONDON] 12th October 2020: Caper, the UK-based start-up providing interactive entertainment to
families, releases an enchanting new adventure, Spellville, in time for Halloween and the Half Term
school holidays.
Caper is the app that gets families off the screen and out into nature playing together. A 'caper' is an
original story designed to be enjoyed by the whole family, balancing the screen time experience kids
crave, with the real-world play parents know is good for them.
Thousands of families downloaded the beta version of the app during the first lockdown period, and
found Caper's first series, Captain Redtail, a welcome source of healthy, active fun and joy during
incredibly challenging times.
With the launch of Spellville, Caper aims to provide families with children aged 4-8 with a way to make
this Halloween more magical and memorable than ever before. Additionally, Spellville and Captain
Redtail offer families hours of inspirational play activities that are ideal Half Term boredom-busters.
Graham Denney, Chief Creative Officer and Co-founder of Caper said:
"Spellville is an enchanting new caper which features Holly Goodspell, voiced by actress Milly
Roberts. Spellville invites children and their parents into a rich imaginary world filled with magical
tasks and hilarious activities designed to get kids moving and creating. The caper offers a completely
new experience that does not involve an evening of knocking on doors and asking for treats, instead
taking families to their local park during the day for a fantastic autumnal adventure. Of course, it is
even more fun if everyone dresses up in Halloween costumes while they play!"
Ben Geliher, CEO and Co-founder of Caper, formerly Lead Producer at Mind Candy, said:
"The current uncertainty around (and in some areas total cancellation of) trick or treating plans due to
COVID-19 means that families are looking for something different to do for Halloween and Half Term.
We want to provide parents and children with a positive way to have fun together while capturing the
special magic of this time of year.
Caper's real-world, nature-focused play aims to tackle the damaging effects that sedentary lifestyles
and a lack of connection to nature are having on children. We think this is a hugely important and
relevant issue, and were able to raise our concerns with the Prime Minister last month when he
actually played a caper at Number 10, as part of London Tech Week."
…
Caper is currently available on iOS and Android . The new caper 'Spellville' is available for free for the
entire month of October. Caper's original eight-part series, Captain Redtail, is available for £4.99.
About Caper
www.caper.co
● Caper aims to be the world's leading interactive entertainment company that brings parents
and children closer to each other and the world around them.
● Founded in 2020 by CEO Ben Geliher (If You Can, Mind Candy), Creative Director Graham
Denney, (If You Can, Nintendo, BBC) and CMO Sara Perkins (Pearson, Harper Collins, Mills
& Boon, Disney).
● Caper uses technology to provide interactive, story-driven, character-led experiences that
help families everywhere spend time together having fun.
● Caper has been developed within the Founders Factory startup studio in collaboration with
LEGO Ventures.