Kick start your health in January with THREE simple tweaks! www.naturesbounty.co.uk
For most, the beginning of a brand new year gives us the perfect opportunity to reassess our lifestyle, consider our goals and make some positive changes for the year ahead. However, our increasingly busy lives mean that embracing a new health and fitness regime can sometimes be a real challenge. Nature's Bounty Nutrition and Education Director, Paul Chamberlain suggests three simple but effective products that have been specifically designed to help those with complicated schedules to look after their health.
Nature's Bounty' new and exciting range of food supplements in a gummy format is specially designed for those looking to an alternative to tablets and capsules. The new Gummies range is not only convenient but great-tasting too!
Support your skin during the cold winter weather
Nature's Bounty Hair, Skin & Nails Gummies (£19.95 for 60 gummies).
Whether you are looking for healthy looking hair, glowing skin or strong nails, the Nature's Bounty Hair, Skin and Nails Gummies will support your natural beauty with key nutrients like biotin, zinc and vitamin C which contribute to the protection of cells from oxidative stress (1,2).
Clinically studied Cran-Max and Vitamin C for immunity and antioxidant protection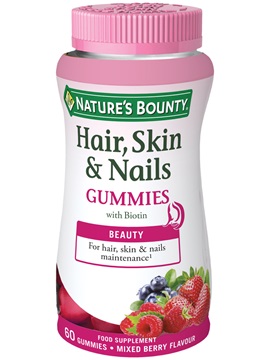 Nature's Bounty Cran-Max Cranberry Gummies (£16.95 for 60 gummies).
These gummies provide 500mg of clinically studied Cran-Max made from cranberry whole fruit extract. The rich flavanoid content of cranberries offers protection against oxidative damage within the body, while the vitamin C helps to protect cells from oxidative stress and contributes to the normal function of the immune system (2).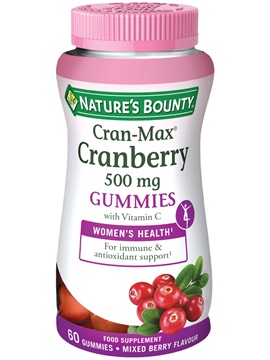 Energise yourself
Nature's Bounty CoQ-10 125mg gummies with vitamin C (£24.95 for 60 gummies) contain 125 mg of coenzyme Q-10, a naturally occurring substance, which is involved in the production of energy inside cells. With vitamin C, this formula helps your body to produce energy and protect cells against oxidative damage in a tasty and convenient natural tropical flavoured gummy (2).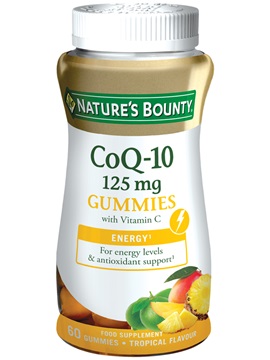 Food supplements should not be used instead of a varied balanced diet and a healthy lifestyle.
Nature's Bounty products are available in leading health food stores and pharmacies nationwide across the UK. To find a stockist visit www.naturesbounty.co.uk