Kinder launches its biggest Easter range yet…
…so you'll be sure to find a treat to make your kids happy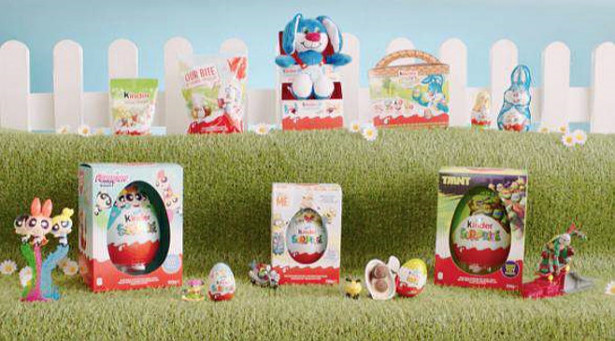 The Easter bunnies have been working around the clock to create the largest Kinder Easter range ever. From a fun-size Kinder Joy to large hollow eggs with giant surprises inside and the Easter Egg Hunt Kit filled with goodies to make a cracking edible adventure, there's a host of delights that will spark imagination and offer a tasty treat for your kids this Easter.
So much more than just chocolate, almost every product in the Kinder Easter range includes a toy. Whether it's a big fluffy Sheep ready to be taken on farmyard adventures, or a surprise toy to build, each one is designed to help spark your children's imaginations and spend some quality family time together during the Easter period. Egg-citing offerings Crack open a fun-filled Kinder Easter Egg to discover the surprise within:
Kinder Joy Eggs are an individually wrapped treat with a fun surprise and delight element. Peel back the wrapping to find an egg of two halves – one houses crispy cocoa wafer bites on milky and cocoa creams, while the other reveals a surprise toy.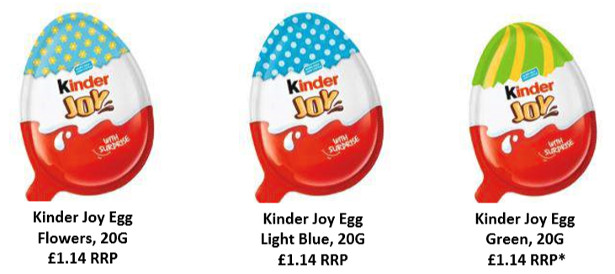 Whether your child loves a mischievous Minion, has a smashing time with Teenage Mutant Ninja Turtles or enjoys the endless adventures of the Powerpuff Girls, playtime just got even better with these Kinder Surprise Easter eggs…providing hours of imaginative fun even when the chocolate treat has finished!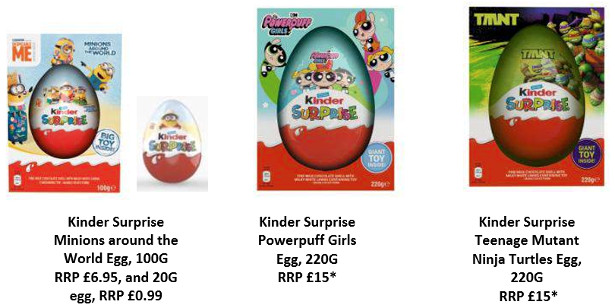 Chocolate models Hopping and hatching onto supermarket shelves are the Kinder Surprise Easter Bunny and Easter Chick. Made from beautifully smooth cocoa with a delicate milky layer and encasing a special toy, these colourful creatures make a great gift for friends and family.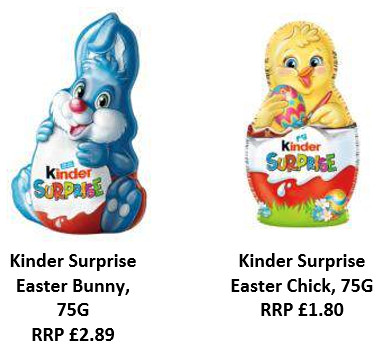 Fluffy friends Watch little faces light up as you help them discover special furry friends that will make the magic of Easter last all year round. New for 2019, the cheeky Gorilla joins the adorable fluffy toy Bunny, Black Sheep and White Sheep; each comes with a selection of yummy Kinder Chocolate Minis and Kinder Chocolate Minis with cereal, perfect for sharing with the family.

Or create a mini adventure with the Easter Egg Hunt Kit
There is no better way to start your Easter weekend than with a family egg hunt, so why not let the fun flow with the Kinder Easter Egg Hunt Kit. Help guide your little ones around the hunt by following eight signposts such as 'Start' and 'Turn Left', foraging in hidden corners and peaking over plant pots to discover delicious Kinder Surprise Eggs, uncover Milk Chocolate Mini Eggs and root out the Seasonal Figures.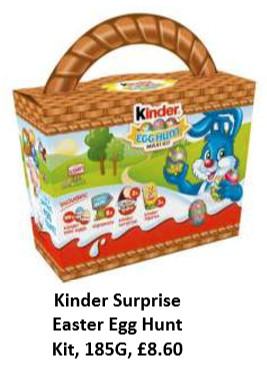 Scott Perry, Category Marketing Director for Kinder comments: "We 're really excited to be launching our biggest and best Easter range yet , with more surprises than ever before . The signature delicious high – quality Kinder taste combined with a host of creative toys is guaranteed to spark children's imaginations this Easter."
Unless separately stated all products in the Kinder Easter range are available from all major supermarkets in the UK and Ireland
This document must be disclosed only to authorized individuals. Any reproduction and/or disclosure must be subject to information Owner prior consent.