Fussels Fine Foods
Fussels Fine Food was started in 2005 by Andy Fussell, who had a simple philosophy, which was you get out what you put in! Given the passion that he has for what he does, it's no surprise that he can guarantee distinctive products are produced to the highest quality.
Oil Seed Rape is where it all starts, from there we have now produced a number of delicious products, ranging from Flavoured Oils, Dressings, Mayonnaises and sauces.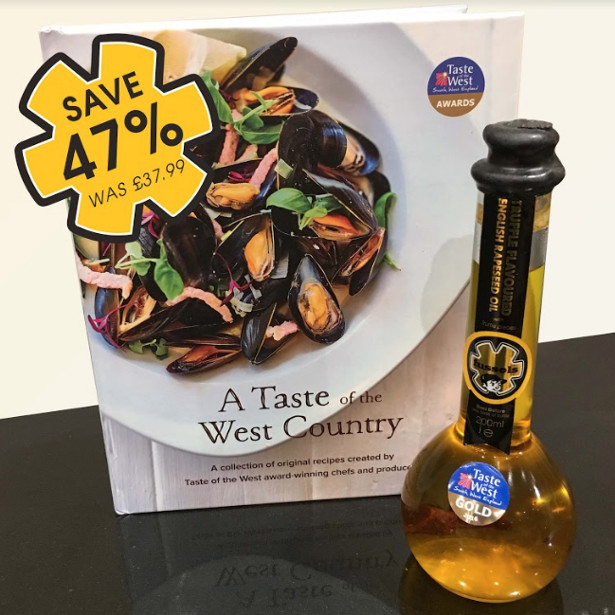 Rapeseed Oil is an amazing product that is a real alternative to olive oil. It has 10 times the essential fatty acid Omega 3 versus olive oil, a terrific balance of Omegas 3 and 6, half the saturated fat of olive oil, it's high in monounsaturated fats and is an excellent source of vitamin E. Oh yes, and it cooks to a higher temperature than olive oil, making it a much more versatile oil choice. From dressings to frying and roasting, Fussels single cold pressed extra virgin rapeseed oil will give you fantastic results.
There is loads more information available in the About section of the site.
The Deal:
· Fussels Truffle Oil & Taste of the West Country Cookbook. RRP £37.99 – BF Deal £20 – Saving 47%
· This deal will be available with our others from 8am on Friday from https://www.fusselsfinefoods.co.uk/shop/black-friday
· You can also offer use 'INTOUCH' promotion code, to get free mainland UK delivery on any of the BF deals when spending £15 or more.
· Offers end 11.59pm Friday 24th November 2017
www.traversebayfarms.com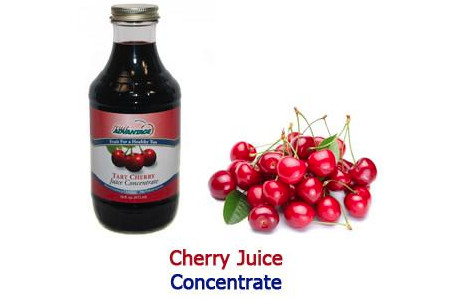 An all-natural gourmet food business offering tart cherry-based products
including tart cherry juice, tart cherry capsules and more. Cherries are a natural anti-inflammatory
and also helps to reduce sore muscles after exercise.
Here is our list of upcoming Black Friday Deals:
Cherry Juice Concentrate: 25% Free shipping on 6 bottles
Tart Cherry Joint Formula: 25% Always free shipping
Cherry Prime Joint Complex – Combines tart cherries with glucosamine and chondroitin.: 25% Always free shipping
All shipping to USA.
Turquoise Holidays Black Friday Deals.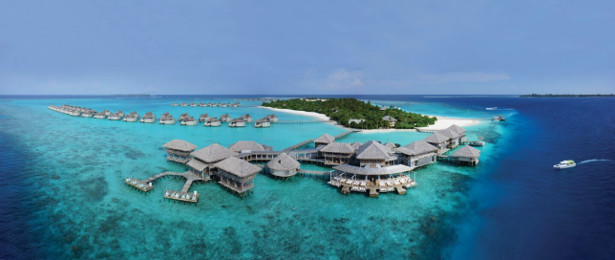 From Black Friday through to Cyber Monday, Turquoise are offering a huge 50% discount on holidays to the luxurySix Senses Laamu resort in The Maldives. The offer includes a 7 night stay in a Lagoon Water Villa, daily breakfast and dinner, speedboat transfers, domestic and international flights. More details can be found on our website: www.turquoiseholidays.co.uk/black-friday.
HANDCRAFTKITCHEN & COCKTAILS OFFERS FREE GIFT CARDS ON BLACK FRIDAY
Buy a Gift Card and Get One Free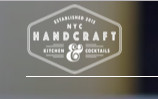 Handcraft Kitchen & Cocktails, the popular Murray Hill eatery that specializes inelevated comfort food, thoughtfully curated cocktails and craft beers from NewYork State, is holding a one-day-only Black Friday deal.
For every customer that purchases a gift card to therestaurant, Handcraft will give them a free gift card for half the value of thepurchased card. All purchased cards must be paid for in cash,and the free card is valid from January – March 2018.
Located at 367 ThirdAvenue (212.689.3000, www.handcraftnyc.com), Handcraft Kitchen & Cocktails is closed on Thanksgiving. It will have regular hours (4 p.m. – 4a.m.) on Black Friday. Happy Hour isfrom 4 p.m. – 7 p.m. and features $6 wines, prosecco, beers and well drinks aswell as $2 off selected Handcraft cocktails.
CyberMonday = 35% off 'best hotel in Maine'/Conde Nast Readers'Choice top resort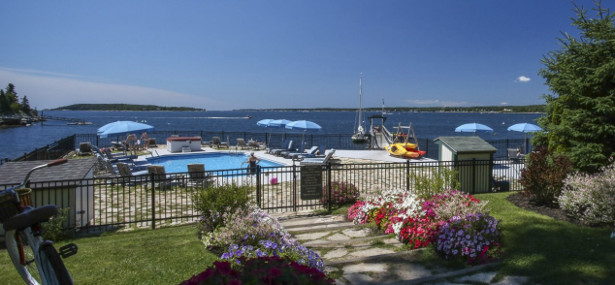 Spruce Point Inn (sprucepointinn.com) in Boothbay Harbor, Maine is a 56-acre waterfront resort with accommodations in classic New England cottages, a historic inn and contemporary guest suites. Named in 2016 AND 2017 "best hotel in Maine" by DownEast Magazine and one of "top resorts in New England" in Conde Nast Traveler Readers' Choice awards.
The deal is availableMonday November 27 through Friday December 1, 2017. Online at SprucePointInn.com and by phone 207-633-4152.
Up to 35% off regular rates Partial Oceanview Guestrooms forSunday through Thursday night stays,May16 through June 28, 2018; and September 3 through October 18, 2018.
Based on availability at the time of booking, no other discounts apply, single/double occupancy Plus prevailing Maine State Lodging Tax and 10% Resort Fee.
Visit SprucePointInn.com for available dates & more information.
Black Friday truly has come early at Wiggle with the launch of a sale bonanza weeks earlier than anticipated with massive savings from some of the biggest brands in sport.
Over the course of the Black Friday celebrations, starting today, there will be over 100 offers on the Wiggle site, giving fans more choice than ever to land a bargain and enjoy their favourite sport.
Each week leading up to 24th November, more massive deals will be launched online.
See below the second batch of hero Black Friday deals from Wiggle. Live now!
You will also find all the best golfing deals from American Golf due to go live on Black Friday itself.
Alé Plus Winter Bibtights
List Price: £100.00 Now: £50.00 – Saving 50%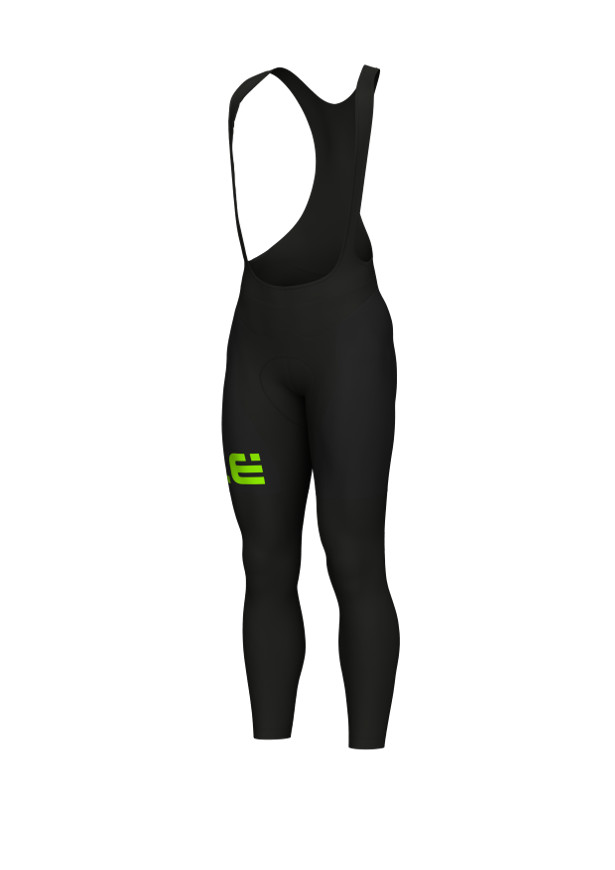 Top Features
Warm thermal fabric
Security Reflex on the back of the leg for higher visibility
Without zipper on ankles
4HF Pad – suitable up to 4 hour rides
Suggested Temperature range +4 to +10 DegreesC
Waterproof 2/5, Warmth 4/5, Breathability 4/5
Bont Riot Cycle Road Shoe
List Price: £99.99 Now: £44.99 – Saving 55%
Top Features
Fully customisable fit with heat mouldable innersole and chassis with epoxy thermoset resin
Medial longitude arch support and lateral forefoot support reduces risk of knee injury
Anatomical foot shape to reduce metatarsal strain and increase power transfer
Anatomical heel cup for smarter support and total comfort
Microfiber upper with mesh inserts creates a strong outer layer and helps maintain breathability
Carbon composite construction for low weight – carbon is used in high stress areas, sandwiched between fiberglass layers for maximum strength
Z shaped strap and micro adjustable buckle help create a secure, custom fit
Highly ventilated with top mesh panels and side panel ventilation holes
Weight: 280g
Stack Heigh 4.8mm
Tacx Satori Smart Trainer
List Price: £259.99 Now £194.99 – Saving 25%
Top Features
Skyliner block included
Suitable for training with apps on Tablet, Smartphone etc
Transmits speed, cadence and power via ANT+ or Bluetooth SmartSteel spindle with sound deadening rubber compound
Quick release bike mounting
10 levels of resistance via handlebar mount
Max resistance 1000 watts
Packs neatly when not in use (foldable)
GT Grade carbon Tiagra 2017 adventure road bike
List Price: £1,699.99 Now £999.99 – Saving 41%
Top Features
GT EnduRoad Carbon frame and fork
Shimano Tiagra 20 speed drivetrain
TRP HY/RD disc brakes
Formula/Stans Wheelset
GT Grade Saddle
GT Carbon Seatpost
New Balance Prism V2 Shoes
List Price: £95.00 Now: £38.00 – Saving: 60%
Top Features
Bootie construction
Engineered mesh
Medial post located on inside edge of shoe to help prevent overpronation
No-sew material application
Giro Atoms II Helmet
List Price: £99.99 Now £50.00 – Saving 49%
Top Features
Lightweight helmet weighing in at 265g for CE medium size
A sure favourite with all road, XC and cross riders worldwide
Legendary performance, style and comfort
Featherweight webbing with slimline buckle
Roll cage internal reinforcement
In-mold polycarbonate shell with EPS liner
Thermoformed SL reinforcement
ROC LOC 5 fit system
26 wind tunnel vents with internal channeling
Sizing (Super-Fit)
To determine the correct helmet size, wrap a tape measure around the head, keeping the tape just above the ears and level front to back
Small: 51 – 55cm
Medium: 55 – 59cm
Large: 59 – 63cm
Shimano Ultegra R8000 SPD-SL Carbon Pedals
List Price: £149.99 Now: £94.99 – Saving: 36%
Top Features
Model Number : PD-R8000Series
ULTEGRAPedal System
SPD-SLAverage
Weight : 248g
Extra Wide Platform
Reduced Stack Height
dhb Aeron Tempo 2 Waterproof Jacket
List Price: £80.00 Now £48.00 – Saving 40%
Top Features
2.5 Layer waterproof Jacket with fully taped waterproof seams
Waterproof 30,000mm
Breathability 25,000
Enhanced reflectivity with added reflective logo and piping
Discreet under arm vents
Packs into a jersey pocket
Large rear pocket with storm flap
Fleece-lined collar for extra comfort
Lightweight 203 g (men's medium)
Temperature range 5 to 20 degrees C
American Golf –
Nike Golf Storm-Fit Waterproof Suit
LIST PRICE £119.99 NOW £79.99 – £40 OFF www.americangolf.co.uk
Stay dry and protected from the elements with the Nike Golf Storm-Fit Waterproof Suit. Storm-Fit fabric provides a waterproof protection with bonded seams to repel wind and the rain. A mesh lining in both the jacket and the trouser provides breathability to keep you even more comfortable during your round of golf. For extra comfort the trousers have an elastic waistband with interior drawcard for an adjustable fit.
Top Features:
Storm-Fit Fabric
Bonded seams
Breathable Mesh Lining
100% Polyester
Calvin Klein Tribecca Windshirt
LIST PRICE £119.99 NOW £79.99 – £40 OFF www.americangolf.co.uk
Features:
Stretch Comfort
Px4 Performance Fabric
Lightweight & Breathable
87% Polyester, 13% Elastane
TOMTOM GOLFER 1 LTD EDITION
LIST PRICE £139.99 NOW £99.99 – £40 OFF & Lowest Ever Price www.americangolf.co.uk
Features:
Low profile metal bezel for a lightweight feel
Preloaded course data from over 40,000 international courses + daily updates
Durable, scratch resistant, super-tough extra large display
Waterproof up to 50 metres (165 feet) (5 ATM)
TomTom Golfer 2 GPS Watch
LIST PRICE £199.99 NOW £149.99 – £50 OFF & Lowest Ever Price www.americangolf.co.uk
Features:
Pre-Loaded with over 40,000 golf courses worldwide
Precise distances to front and back of the green, plus hazards
Automatic shot detection & auto scorecard
Post game analysis & activity tracking
Callaway Golf XFER NITRO Shoes
LIST PRICE £79.99 NOW £49.99 – £30 OFF & Lowest Ever Price www.americangolf.co.uk
Features:
Thin Lightweight Xfer™ TOUR Proven TPU Outsole
Memory Fold Heel Tab
Big Bertha Power Cleat®
1 Year Waterproof Guarantee
Volvik DS77 Long Long 12 Ball Pack
LIST PRICE £19.99 NOW £9.99 – 50% OFF www.americangolf.co.uk
www.bulbhead.com

Whether looking for cookware from Red Copper, holiday decorations such as Star Shower Slideshow or Window Wonderland, or other holiday gifts or stocking stuffers, www.BulbHead.com has the gifts for affordable prices that make life easier.
For Black Friday, BulbHead.com will be running their sale from Friday, November 24 through Sunday, November 26. Save 25% off a $100 or more purchase, 20% off $50 or more or 15% of all purchases. No code is needed.
For Cyber Monday, BulbHead.com is offering 20% off and free shipping with coupon code.
WatchShop.com Starts Sale Event
The Sale Event Comes Early to the UK's Leading Online Watch & Jewellery Retailer
This year's Sale Event comes early to WatchShop.com, the UK's leading online watch and jewellery retailer. WatchShop.com is celebrating with incredible discounts on leading brand-name watches starting this week.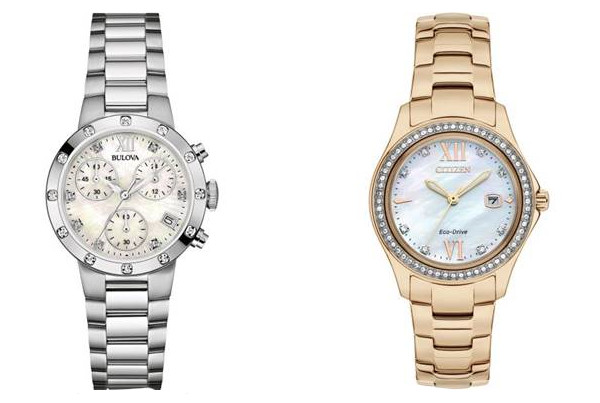 Kicking-off now, the WatchShop.com sale will offer consumers up to 50% off (and more) on selected items. Shoppers will be able to take advantage of unbeatable discounts without the rough and tumble of sale crowds. Additionally, consumers who buy two items will receive an additional 15% off the cheapest item.
Running for four weeks through Monday 27th November, with special promotional sales taking place throughout the month, this year is set to be bigger and better than ever! Special dates to keep an eye out for are Monday 13th November and Wednesday 22nd November.
Discounts will apply to a large range of both men's and women's watches, as well as excellent prices on jewellery.
Below are some highlights of the sale.
WOMEN'S
Ladies Bulova Diamond Gallery Chronograph Diamond Watch
Ladies Citizen Eco-Drive Watch
Ladies' Bulova Diamond Gallery Chronograph Diamond Watch
Product code: 96R202
Stockist: www.WatchShop.com
RRP: £399
Sale Price: £169.00
Savings of 57.60%
Ladies' Citizen Eco-Drive Watch
Product code: FE1143-88D
Stockist: www.WatchShop.com
RRP: £250.00
Sale Price: £125.00
Savings of 50%
MEN'S
Mens Hugo Boss Orange Reykjavik Watch
Mens Casio Edifice Sapphire Chronograph Watch
Men's Hugo Boss Orange Reykjavik Watch
Product code: 1513423
Stockist: www.WatchShop.com
RRP: £199.00
Sale Price: £79.00
Savings of 60.30%
Men's Casio Edifice Sapphire Chronograph Watch
Product Code: EFB-530D-7AVUER
Stockist: www.WatchShop.com
RRP: £400
Sale Price: £150.00
Savings of 62.50%
earlyblackfriday.com
At earlyblackfriday.com they have  been covering Black Friday since 2005 so they are on top of the latest retail trends, doorbuster deals, etc.
Deals
Westinghouse 55″ 4k Ultra HDTV for $249.99 at Target. – Sharp 50″ 4k Ultra HDTV w/Roku TV for $179.99 (save $320) at Best Buy. – Google Home Mini plus a $10 Target gift card for $29.99 at Target. – Nest Learning Thermostat + $60 in Kohl's Cash for $199.99 at Kohl's ($50 off). – Protocol Garrison 5-Piece Luggage Set for $39.99 at JCPenney. – Apple iPad mini 4 (128GB) for $274.99 ($125 off) at Best Buy.
BLACK FRIDAY BARGAINS FROM LAPTOPSDIRECT.CO.UK
-Savings on Bluetooth speakers, laptops, monitors, and more-
Clear Clarity TV – Under £400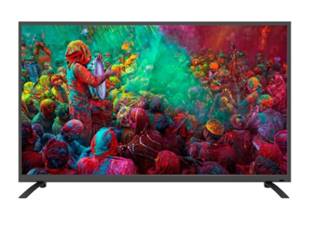 electriQ 55″ 4K Ultra HD LED Smart TV with Android and Freeview HD (NOW £369.97, WAS £449.99, SAVING £80.00).
Outstanding Laptop Performance – Save £100
HP 255 G6 Laptop NOW £299.97 (WAS £399.97, SAVING £100).
Experience All the Action – Save 37%
LG 24" Full HD Monitor NOW £94.99 (WAS £149.99, SAVING £55).
Popular Performing Desktop – Save £460
the Apple 2015 iMac Intel Core i5 8GB 1TB 27″ 5k Retina (NOW £1,539.97, WAS £1,999.97, SAVING £460).
Refurbished Laptop – Under £200
Refurbished HP Stream 14″ Intel Celeron (NOW £179.97, WAS £249.99, SAVING £70.02).
Extra HD Experience – Under £250
ElectriQ 32″ Full HD Freesync 144Hz Curved Height Adjustable Monitor (NOW £249.00, WAS £299.97, SAVE £50.97).
Bright Blue Laptop – Under £200
Refurbished HP Stream Windows 10 Touchscreen Convertible Laptop in Blue (NOW £189.97, WAS £249.99, SAVING £60.02)
.
BLACK FRIDAY DEALS FROM DRONESDIRECT.CO.UK
ProFlight Wraith – Save 40%
ProFlight Wraith Action Camera Drone (NOW £89.97, WAS £149.97, SAVING £60).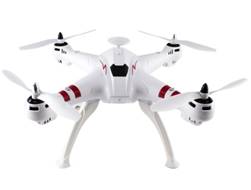 Tracer Drone – £40 Saving
ProFlight Tracer Drone (NOW £59.97, WAS £99.97, SAVING £40).
Pilot Like a Pro – Save 33%
https://www.dronesdirect.co.uk/Images/PFBD77_1_LargeProductImage.jpg?v=1
ProFlight Echo Collision Avoidance Drone (NOW £99.97, WAS £149.97, SAVING £50).
Racing Drone – Under £60
ProFlight Challenger Racing Drone (NOW £59.95, WAS £99.99, SAVING £40.04).
On The Go Drone – Up to 47% off
Related image
ProFlight Maverick Folding Drone (NOW £79.97, WAS £149.97, SAVING £70).
Build with Blocks Drone – 29% off
ProFlight DIY Blocks Drone (NOW £49.97, WAS £69.99, SAVING £20.02).
Battle Black Friday – Save £20
ProFlight Sky Fighter Battle Drone (NOW £49.97, WAS £69.99, SAVING £20.02).
LivyLynn Black Friday & Cyber Monday Deals
LivyLynn Vintage is a woman owned micro-business located in Central Ohio. Our jewelry is handmade using eco-conscious materials allowing every woman to embrace her unique.
We will be having a black Friday Sale with an even bigger deal for those on our email list. Shipping in the domwstuc US is free and all items come wrapped and ready to gift.
Our current collection includes unique designs perfect as a gift for the woman who has everything.
Find us at www.livylynn com
The Floating Comfort Pillow by Mediflow, the pillow clinically proven to improve the quality of sleep and reduce neck pain, will be available for the lowest price of the year for Black Friday and Cyber Monday.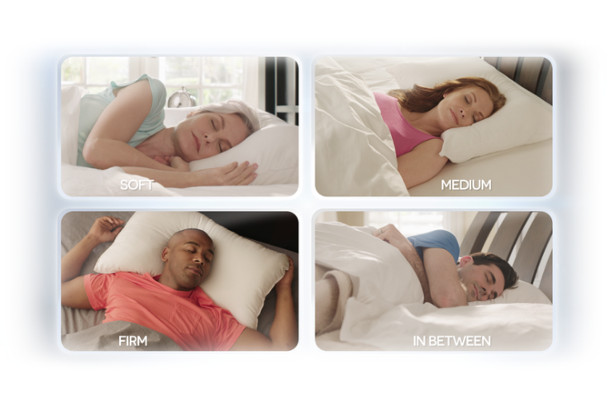 BlackFriday/ Cyber Monday Deal:
Get TheFloating Comfort Pillow by Mediflow for $39.99 only at www.Mediflow.com
(OriginalMSRP: $49.99)
It's thegift of a good night's sleep!
Here's more about The Floating Comfort Pillow:
> TheFloating Comfort Pillow features an exclusive waterbase technology thatprovides responsive support by adapting to the shape of your head and neck asyou move during sleep. No matter which way you lay, your head and neck remainin proper alignment, creating a totally different kind of sleeping experience.
> It'sthe only pillow clinically proven to improve the quality of sleep, as noted bya peer-reviewed study conducted at Johns Hopkins University School of Medicine
>Benefits include deeper sleep (no more waking up to fluff your pillow!) and areduction in neck pain
> It's customizable. Choose your preferred filling(fiber, foam and feather) and level of comfort – just fill the pillow with tapwater until you reach your desired amount of firmness
> Ranked#1 selling pillow in six countries (USA, Canada, UK, Germany, France and China)
> Over 5million sold – reaching #1 on global e-commerce platforms including Amazon,Shopify, Bed Bath & Beyond, and Alibaba with consistent 4+ Star reviews
>Reached #1 Bestseller in Amazon Home & Kitchen during July 2017 among24,163,959 items.
caretoshare.co.uk
Black Friday/Christmas Deals
Free sign up at www.caretoshare.co.uk for 6 months for all those joining before 31st December this year. Users list their skills and tasks they can teach or do for others and make money in the process.
BOTTOMS Luxury Underwear
bottomsunderwear.com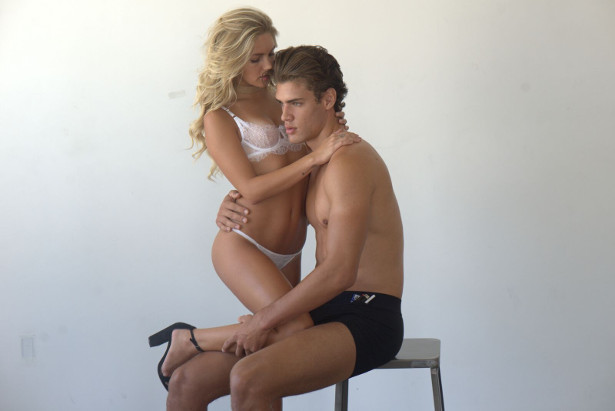 A true gentlemen knows his confidence shines from the inside out, so get him the comfort he is looking for with a pair of BOTTOMS ($18) luxury underwear. The luxury boxer-brief collection is made for your body with a 2″ waistband to keep everything in place and by adding a 2″ hip pocket we transformed it into an effortlessly comfortable and always relevant piece of clothing.
Let me know your size and the best address to send a pair to! We can also offer your readers a special 30% off discount code.
BOTTOMS is made of the best quality bamboo cotton
No chafing: Soft and smooth against skin
Bamboo is a natural bacteria-fighting fabric.
All Natural: No chemicals. No additives. Always eco-friendly.
Hypoallergenic: Ideal for sensitive skin
Moisture Wicking: Absorbs sweat and keeps you dry longer
Anti-static: Sits well on your skin without clinging
Thermo-control: Warm but breathable, good for all temperatures
The 2" waistband flatters every body shape. The control top keeps love handles and extra weight in place all day.
Glitty.co – When Fashion Meets Technology.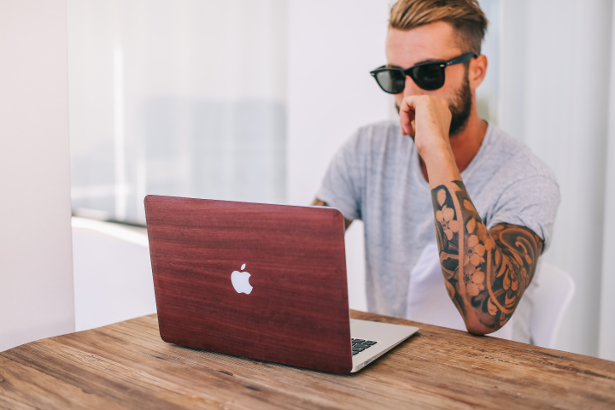 Glitty.co offers beautiful, real wood accessories for MacBook, iPad & iPhone. You look good every day; dress your Mac in style! Each piece is individually handcrafted with care in Pittsburgh USA and made from sustainably sourced wood. After cutting the cover, every detail is addressed by trained hands and focused eyes. We examine, sand, and apply two coats of 100% natural finish to each piece. We then buff, inspect, and carefully package your skin so it arrives to you in pristine condition. MacBook and iPad covers are backed with high quality 3M adhesive for the perfect bond to your device and without a sticky residue if you remove it – but why would you want to? Glitty ships worldwide and has loyal customers in every corner of the globe. Check us out on Instagram@Glitty_ . Glitty.co will be offering 50% off iPhone 6 & 6PLUS cases, 50% off all iPad cases, and 20% off all other items for Black Friday through Cyber Monday.
QLIPP
35% off for Black Friday: https://goo.gl/oZdMi4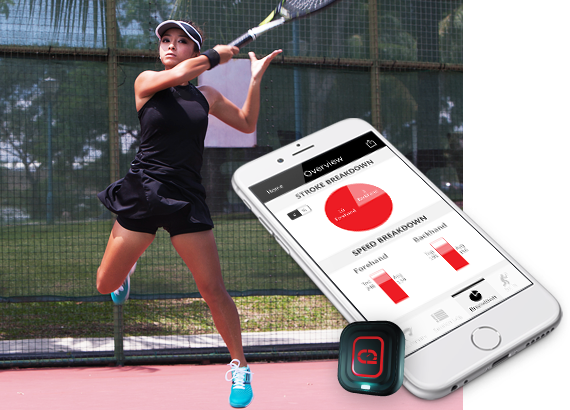 theallergychef.com
Treat yourself or someone you love that struggles with special diets, food allergies, or restricted food options. The Allergy Chef and team has ebooks on sale for one day only. Their books offer recipes that are safe for many. Gluten Free, Top 8 Allergy Free, Vegan, Paleo, and more. Freeandfriendlyfoods.com
Check out their site for awesome deals!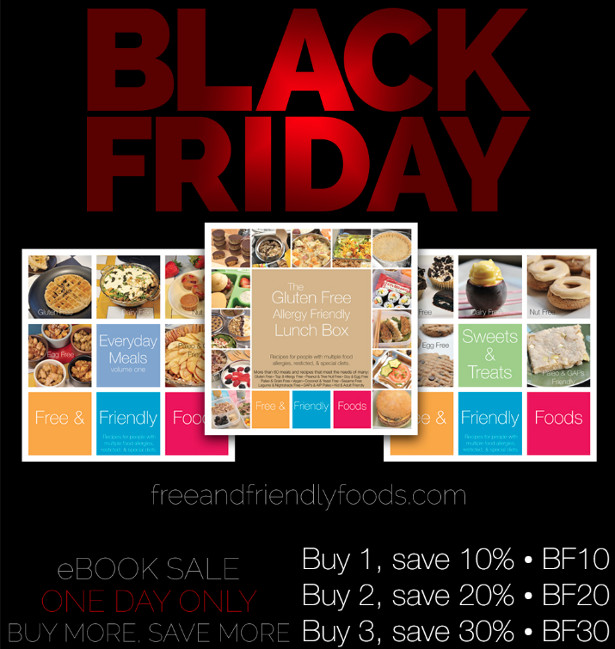 BRILLIANT BLACK FRIDAY DEALS NOT TO BE MISSED FROM VITTINI
-Savings of up to 25% across the latest high-quality Vitinni kitchen essentials.
-Available from Alfresia.co.uk whilst stocks last
Make the most of these amazing deals across Vitinni's range of sleek home technology and add some style to your kitchen this Black Friday. With savings of up to 25%, whether looking for a new addition to the kitchen, spoiling a loved one or Christmas shopping, what better time to shop?
Head to Alfresia.co.uk to view the full range of fantastic Vitinni products on offer this 24th November and bag these great Black Friday deals whilst stocks last.
Save 25% across these great gadgets.
Vitinni All-In-One Frying Pan with Four Sections (WAS £29.99, NOW £22.49, SAVING 25% from Alfresia.co.uk)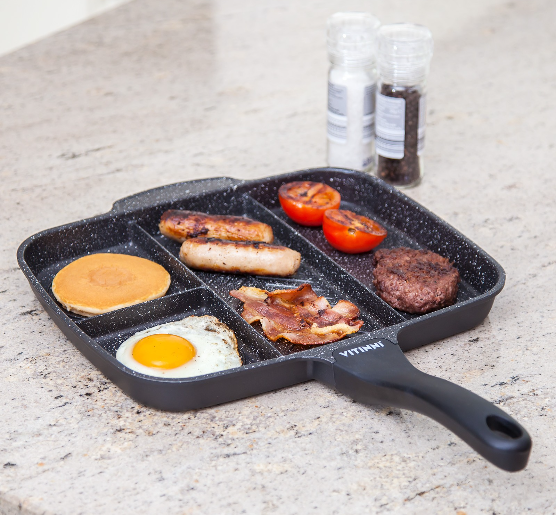 Perfect for those who love to whip up a tasty full English breakfast. The all-in-one frying pan allows chefs to cook up their favourite breakfast treats all at the same time and with minimum fuss. To ensure each component is cooked to perfection, the design features a heavy gauge base which provides a balanced heat flow across the pan's surface.
This Vitinni Stand Mixer 800W 4.2L Capacity (WAS £69.99 NOW £52.49, SAVING 25% from Alfresia.co.uk). Get into the Great British Bake-Off spirit with this stand mixer which makes light work of combining ingredients and mixing dough. Featuring three arm attachments which enable dough hooking, beating and whisking, the device is the perfect baking assistant, whether blending airy batter or whipping up cloud-like meringues. This versatile mixer features multiple speed control settings to provide ultimate precision and also comes complete with a 4.5L stainless-steel bowl and plastic splash guard to prevent spillages.
For added convenience, the bowl can be removed from the base to allow for easy and effective cleaning.
The Vitinni Vacuum Sealer with Starter Bags (WAS £49.99 NOW £37.49, SAVING 25% from Alfresia.co.uk). This handy kitchen gadget allows cooks to vacuum pack food, keeping it fresher for longer. By vacuum sealing food it is easier than ever to store meat, fish and vegetables and also make sure leftovers don't go to waste.
Operating this clever gadget couldn't be easier. Simply place food inside the starter bags provided, insert the open ends into the sealer chamber, lock the lid and press the vacuum button. The machine will then extract any air, effectively sealing the bag.
This compact kitchen accessory can also be used to reseal foil bags keeping tasty treats like crisps, nuts and popcorn, super fresh – ideal for packed lunches and effective storage. Thanks to its slimline design, this nifty appliance takes up minimal kitchen space and is small enough to store away when not in use.
This Vitinni Air Fryer 1500W 4L Capacity (WAS £59.99, NOW £44.99, SAVING 25% from Alfresia.co.uk). A must-have for anyone who wants to kick start the new year by cutting the calories whilst enjoying the great taste of their favourite fried food. This kitchen saviour uses 80% less fat than a traditional fryer, making mealtimes a whole lot healthier and without the need to sacrifice that delicious crispy finish.
Offering versatility and maximum control the temperature dial can be adjusted, reaching up to 200 degrees Celsius. The appliance also features an automatic shut-off timer for up to 60 minutes, for added safety.
For convenience when cooking on mass, there is no need to clean the device immediately after each use and instead the next batch of food can be added straight away – perfect for parties when snacks need to be replenished quickly. After use, the inner basket can be removed and easily washed by hand or placed in the dishwasher.
Vitinni Raclette Grill with Crepe & Pancake Plate (WAS £29.99, NOW £22.49, SAVING 25% from Alfresia.co.uk). Why not treat the friend who loves to have fun by spoiling them with a gadget that is guaranteed to brighten their dinner parties and gatherings, or simply make mealtimes more exciting?
This fun raclette grill serves up to eight people and is ideal for cooking not only crepes and pancakes but meat, vegetables, fish, cheese and so much more. What better way to combine food and entertainment by encouraging guests to cook their favourite dishes across the table top?
The upper plate is removable, so it's easy and quick to clean after each use – great for when hosts want to get away from the sink and back to the party. In addition, the adjustable thermostatic temperature dial allows the heat to be controlled effectively and the heat evenly distributed to both the griddle plate and the mini pans below.
This versatile 1200W powered raclette grill can be used anywhere with an electricity supply, whether indoors, outdoors, at an event or on holiday and it's great for camping and caravanning too. It comes complete with eight individual mini-pans each with their own individual wooden spoon.
Vitinni Raclette Grill with Stone Hot Plate & Fondue Set (WAS £39.99, NOW 29.99, SAVING 25% from Alfresia.co.uk). A great choice for those who love to add a twist to their evening meal. This perfect kitchen companion is not only fun but it's the perfect way to provide entertainment alongside delicious food. Friends and family will love being able to cook their own dishes around the table top and can enjoy using the fondue pot for melting delicious cheese and indulgent chocolate.
The large aluminum grill plate provides plenty of space to fry and sear ingredients, such as steak pieces, skewers, seafood and vegetables. What's more, both upper plates are removable making them quick and easy to clean after each use, so there is less reason to worry about creating a mess.
Vitinni Raclette Grill with Stone Hot Plate and Griddle (WAS £39.99 NOW £29.99, SAVING 25% from Alfresia.co.uk). This smooth stone hot plate offers the optimum surface for sizzling ingredients, while the aluminum griddle helps to achieve that chargrilled effect.
Great for those who want a healthy start to the new year, this piece of kitchenware allows for cooking without oil. A tasty way to eat healthy and fresh foods and cut the added calories, whilst also keeping dinner time fun. With its eight individual pans offering a variety of grilling options, there is no excuse to not eat clean in the new year.
Vitinni Set of 3 Induction Safe Non-Stick Frying Pans with Glass Lids (WAS £39.99, NOW £29.99, SAVING 25% from Alfresia.co.uk). This non-stick pan set comes with a variety of handy features to make quick work of simmering, steaming and stir-frying – ideal for anyone from the novice cook to the experienced chef. The marbled non-stick surface of the pans makes as much of a breeze of cooking as it does cleaning the pans after use. What's more, their strong, lightweight design makes them durable yet light enough for daily use. With sizes from 20-28cm they are the ultimate dinner set, catering to a variety of needs.
Vitinni Large Ice Cream Maker (WAS £29.99, NOW £22.49, SAVING 25% from Alfresia.co.uk). Create your own frozen ice cream, sorbets and yogurts at home with the Vitinni Large Ice Cream Maker. With a double insulated 1.5 litre bowl cooks can serve up enough ice cream for the whole family in less than 20 minutes. Ideal for parties, an after-dinner delight or a satisfying snack.
This easy-to-use ice cream maker is super simple to operate. First pop the double insulated inner bowl in the freezer for around 8-12 hours and then set to work on making homemade delights.
The Vitinni large ice cream maker comes complete with a detachable bowl and paddle.
Vitinni Mini Ice Cream Maker (WAS £19.99, NOW £14.99, SAVING 25% from Alfresia.co.uk). The mini ice cream maker Is ideal for kitchens with limited space. With its double insulated 0.5 litre bowl, this compact gadget has the capacity to serve up enough ice cream for one. Enjoy experimenting with flavours and textures or why not add tasty fruit treats during the mixing process? The handy side ingredient funnels located in the lid makes designing new creations easier than ever.
This versatile gadget is as good at producing low-fat treats as it is indulgent creations, making it the perfect kitchen accessory to suit everyone's cold treat preferences.
Alfresia.co.uk sells a unique range of garden and conservatory furniture, cushions, barbecues, outdoor heaters and premium kitchen appliances via its website.
For more information, visit www.alfresia.co.uk.
BLACK FRIDAY SAVINGS FROM APPLIANCES DIRECT
AppliancesDirect.co.uk is back with some of the biggest and best Black Friday deals around – with huge savings on TV's, fridges, freezers, washing machines and kitchen gadgets. deals
Visit AppliancesDirect.co.uk/Black-Friday for a handpicked selection of the best offers.
Screen Savers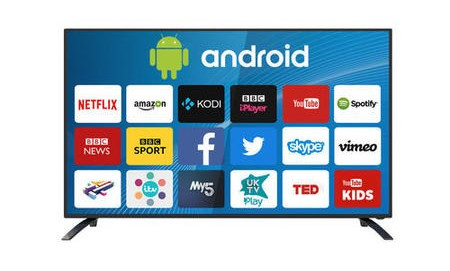 electriQ 49″ 4K Ultra HD LED Smart TV with Google Android and Freeview HD (NOW £329.97, WAS £399.97, SAVING £70)
electriQ 65″ 4K Ultra HD LED Smart TV with Google Android and Freeview HD (NOW £669.97, WAS £799.97, SAVING £130)
Save on Food Prep
electriQ Multi-Functional Blender, Smoothie and Soup Maker (NOW £78.98, WAS £199.99, SAVING £120.01)
electriQ Digital Food Dehydrator (NOW £29.99, WAS £79.99, SAVING £50)
Hotpoint Microwave with Grill in black (NOW £52.97, WAS £90, SAVING £37.03)
Cleaning Essentials
iRobot Vacuum Cleaner Robot (NOW £269.97, WAS £399.99, SAVING £130.02)
Whirlpool 9kg Washing Machine in white (NOW £249.97, WAS £349.97, SAVING £100)
electriQ Integrated Dishwasher (NOW £199.97, WAS £259.97, SAVING £60)
Chill for Less
Haire Four Door Fridge Freezer in black (NOW £569.97, WAS £799.97, SAVING £230)
Montpellier Retro Style Fridge Freezer in cream (NOW £229.97, WAS £279.97, SAVING £50)
Beko Fridge Freezer with Water Dispenser in Silver (NOW £278, WAS £349.97, SAVING £71.97)
electriQ 60cm 510 Bottle Wine Cooler (NOW £369.97, WAS £499.97, SAVING £130)
Cook Up a Storm
electriQ 60cm Curved Glass Chimney Cooker Hood in Stainless Steel (NOW £69.50, WAS £129.97, SAVING £60.47)
Amica 4 Burner Gas on Glass in black (NOW £169.97, WAS £220, SAVING £50.03)
electriQ 60cm Touch Control Induction Hob (NOW £159.97, WAS £269.97, SAVING £110)
electriQ 70L Build in Electric Single Oven (NOW £134.97, WAS £169.97, SAVING £35)
electriQ 50cm Twin Cavity Ceramic Hob in white (NOW £199, WAS £319.97, SAVING £120.97)
iQ 50cm Gas Cooker in white (NOW £199, WAS £299.97, SAVING £100.97)
iQ 60cm Double Oven Gas Cooker in white (NOW £249, WAS £349.97, SAVING £100.97)
Away with Damp
electriQ 10L Digital Dehumidifier (NOW £79.97, WAS £129.97, SAVING £50)
EBAC 21L Dehumidifier (NOW £169.97, WAS £229.97, SAVING £60)
BLACK FRIDAY AND CYBER MONDAY SHOPPING WITH CARLUCCIO'S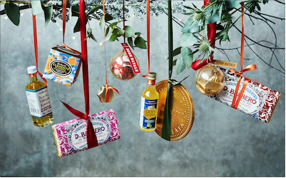 You'll find the perfect gift at Carluccio's this Black Friday and Cyber Monday weekend, with 20% off their 2017 Christmas products. Shop the Carluccio's festive range at carluccios.com using the code OFF20, alternatively visit your local Carluccio's, not only will they fill you with festive food and cheer, but they'll do your shopping for you. Simply select your items from the table-top gift wish list, order with your waiter and Carluccio's will have everything ready for collection at the end of the meal.
Bestsellers include the award-winning Panettone Tradizionale (£16.95), Cantucci e Vin Santo (£25) and the Clementine in Camicia (£4.95/£12.95/£17.95). New for this year is the unbelievably moreish Panettone al Limoncello (£19.95), with a limoncello cream filling and white chocolate topping.
Terms and conditions
Valid from 00.01 on Friday, November 24th – Monday, November 27th 11.59pm 2017
Offer is valid on purchases made at carluccios.com and at Carluccio's Delis
Enter code OFF20 at the checkout to save 20% on your purchases online.
Offer excludes gift vouchers and alcohol.
No adjustments on previous purchases, no cash alternatives.
www.carluccios.com
@carluccios
#CarlucciosUnwrapped #CarlucciosXmas
MËNAJI Advanced Men's Skincare Black Friday Specials!
The holidays are coming…and we know you're looking for unique gift ideas!
Packaged in a one of a kind, repurposed wooden cigar box with black MËNAJI tissue paper, these holiday men's grooming sets are a perfect addition to your holiday gift guides. Now on SALE over 30% savings starting November 24.
Holiday Gift Collection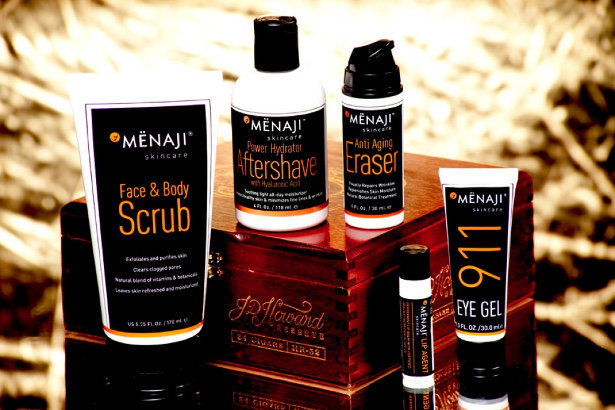 This collection features over $180 of healthy anti-aging grooming products inclusive of our best-selling nightly serum Anti-Aging ERASER, and cooling 911 Anti-Fatigue Eye Gel, plus four other best-selling easy-to-use botanical enriched skincare items. Black Friday special price of $1​24 is 3​5% off the retail price.
Holiday Men's Box
This three piece shave set includes our award winning, no water needed Clear Shave 3-in-1 Formula, super hydrating Power Hydrator Aftershave, and sun protective SPF 15 Lip Agent lip balm. A $60 value for only $40.
And finally…for those who still can't decide, there's always a GIFT CARD! On Black Friday, those who purchase a $50 gift card receive an additional $10!
BLACK FRIDAY EXCLUSIVE
TREAT YOURSELF AT HILTON MANCHESTER DEANSGATE
For one week only Hilton Manchester Deansgate will be offering deals on some of its most luxurious dining experiences, and eye-catching discounts on its divine cocktails.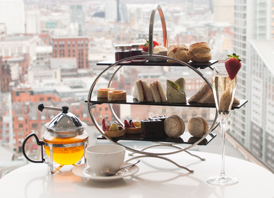 Enjoy 50% off afternoon tea at Cloud 23, 50% off food when you dine at Podium, or indulge in £100 worth of spectacular cocktails for £60 during January or February 2018, when you book between Friday 24th November and Thursday 30th November.
Additionally, any bookings made between 17th and 24th November for Black Friday will receive 50% cash back to spend at Cloud 23 during January 2018.
Afternoon tea at Cloud 23 includes a variety of delicious savoury treats, a selection of sweet bites, and classic scones, to be enjoyed whilst taking in the breathtaking views of the city.
So, treat yourself with an extra-special start to 2018 and book a delicious experience this Black Friday.
To make a reservation at Cloud 23 call 0161 870 1670 or email cloud23.manchester@hilton.com. Alternatively book online via www.cloud23bar.com
STOCK UP ON GREAT GARDEN BUYS WITH BRILLIANT BLACK FRIDAY DEALS FROM ALFRESIA.CO.UK
– Save up to half price on the latest outdoor home furnishings
– Including dining sets, patio heaters, outdoor cookers and more
– Available from Alfresia.co.uk whilst stocks last
Ensure any idyllic alfresco space is ready for action at the first sign of spring sunshine, or simply bring a warm autumn glow to your garden with these great Black Friday offers.
Take advantage of these not – to – be – missed savings, with up to 50% off, at the click of a button at Alfresia.co.uk.
Relax and unwind with these stylish furniture sets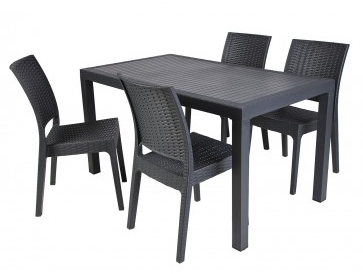 Florida Rectangular Poly-Resin Weave-Effect Garden Dining Set (WAS £439.99, NOW £219.99, SAVING 50% from Alfresia.com). This set offers maximum comfort, convenience and great value for money. With four chairs and a large rectangular table, all made from durable poly-resin, it can withstand all weather conditions from wind to rain. What's more, its easy-clean surface keeps cleaning and maintenance down to a minimum.
Cosmopolitan Rectangular Steel & Poly-Weave Garden Dining Set (WAS £299.99, NOW £209.99, SAVING 30% from Alfresia.com). This dining set provides a sleek, stylish option for dining outdoors. The modern design brings an on-trend minimalist feel to any alfresco living space, without compromising on comfort.
The sturdy rectangular table features a tempered safety-glass top that's durable enough to withstand daily use. Even better, it's easy to wipe clean, making it ideal for clearing up after BBQ's, dinner parties and gatherings.
Bring the heat outside with these fire pits
Martinique 24″ Square Lattice Fire Pit with Barbecue Grill (WAS £84.99, NOW £62.99, SAVING 26% from Alfresia.com). The Martinique fire pit is constructed using powder-coated steel, giving it the strength and resistance it needs to withstand heat and avoid corrosion.
This long-lasting garden feature boasts a large square surface area, leaving plenty of room for a roaring fire. What better way to create a stylish focal point within outdoor spaces. The fire pit comes complete with a poker for tending the flames and lifting the mesh lid, as well as a waterproof polyester cover to protect it when it's not in use.
Ensure your furniture is winter ready.
Round Patio or Garden Table Cover (WAS £22.99, NOW £17.24, SAVING 25% from Alfresia.com). Protect outdoor tables during the wet and winter months with this patio table cover. A great solution for when garage and storage space is limited and furniture has to remain outdoors.
This polyester cover can be used to shield any round patio tables of up to 100cm, protecting them against the harsh weather conditions. The cover also comes complete with a removable bag, so it can be easily stored away when not in use.
Bring relaxation outdoors with these hammocks
Portable Single Hammock (WAS £99.99, NOW £69.99, SAVING 30% from Alfresia.com). This clever portable hammock makes it easier than ever to relax when camping, travelling or out in the garden.
With a collapsible frame and carry case, this single hammock is easy to transport and quick to assemble, making it convenient as well as comfortable. This hammock comes complete with a handy case, allowing for easy storage.
Enjoy the outdoors come rain or shine
Half Cassette Retractable Awning 2.95m x 2m – Green (WAS £169.99, NOW £135.99, SAVING 20% from Alfresia.com). The ultimate garden savior, this awning adds shade and cover to any balcony or patio area in an instant.
Whether it be for protection from showers or the sun's rays, this really is a worthwhile investment. Opening and closing the retractable awning is simple thanks to the steel crank handle, which can be left in place or removed after adjusting. Ideal for ultimate protection whatever the weather.
Non-stop fun for the little ones
Kids Geometric Patterned Tent (WAS £39.99, NOW £31.99, SAVING 20% from Alfresia.com). Whether indoors or out, children can enjoy endless amounts of fun with this sweet self-made den. Although it looks pretty, the tent's strong wooden frame and thick polyester fabric creates a hard-wearing hideaway that can withstand plenty of creative play and games.
It's easy to manouvre so it can be moved around the house fuss-free or set up outdoors in good weather. Although it's lightweight enough to transport, it is sturdy and secure enough to ensure there's no danger of it collapsing during use.
Alfresia.co.uk sells a unique range of garden and conservatory furniture, cushions, barbecues, outdoor heaters and premium kitchen appliances via its website.
For more information, visit www.alfresia.co.uk.
Leading skincare brand, REN will be offering customers 25% off selected lines, from Friday 24th November until Monday 27th November.

Stylish accessories and jewellery brand, Lola Rose are offering customers up to 70% off selected styles over the cyber weekend. The Black Friday deals will run from 00:00 on Friday 24th November until 23:59 on Sunday 26th November 2017. Shop beautiful jewellery and accessories by simply heading to: https://www.lolarose.co.uk/shop/gb/black-friday/
Online beauty retailer, Instant Beauty Fix will gift every customer who spends £20 across the website, a Deborah Lippmann set worth £18.00. The offer will be valid from Friday 24th November until 00:00 on Sunday 26th November 2017.
Men's grooming brand, Murdock London are participating in Black Friday deals, offering customers an exclusive 20% off all products, running from Thursday 23rd November 2017 to Monday 27th November: inclusive across all products using the discount code BF20
Online sportswear brand, The Sports Edit are offering up to 50% off selected brands on Black Friday, running from Friday 24th November 2017. The offer will include leading brands such as, ADIDAS, adidas X Stella McCartney, Reebok & Beyond Yoga.
Lace & Favour, the leading supplier of bridal accessories are running a 20% OFF EVERYTHING discount for Black Friday. The Black Friday deals will run from 00:00 on Thursday 23rd November until 23:59 on Monday 27th November 2017, using the discount code LFBLACKFRI
www.mobilefun.co.uk

1. Samsung Gear 360 2017 4K VR Camera (£219 down to £189.99) Deal available from the 21/11/2017 until 27/11/2017.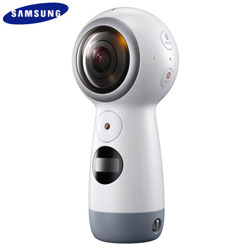 2. Bitmore Classic On-Ear Folding Headphones (£14.99 down to 99p) Deal available from the 24/11/2017 until 27/11/2017.
3. MyKronoz ZeClock Analogue / Digital iOS & Android Hybrid Smartwatch (£70.00 down to £35.00) Deal available from the 20/11/2017 until 27/11/2017.
4. Onkyo X3 Portable Bluetooth Speaker (£130.00 down to £39.99) Deal available from the 23/11/2017 until 27/11/2017.
All of our Black Friday offerings can be found here and as a special Black Friday treat, the first 500 orders will receive a free set of Whoosh Screen Cleaning Wipes.
http://www.mobilefun.co.uk/cat/Black-Friday.htm
DFDS Black Friday Deals – available at dfds.co.uk from 9am on Friday 24 Nov
Ferry operator offering Black Friday deals on both
Eastern Channel and North Sea routes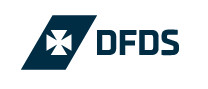 Deal 1: 25% off ferry crossings on Dover-France and Newcastle-Amsterdam
· Dover prices from £26.25 each way per car with up to nine passengers
· Newcastle prices from £54 per person each way
· Book from Friday 24 November – Monday 27 November 2017
· Available for departure on selected dates until 14 December 2018
Deal 2: Newcastle-Amsterdam mini cruises from £25
· Prices from £25 return per person, including two nights on board
· For bookings of either two or four people sharing a standard cabin
· Book from Friday 24 November – Monday 27 November 2017
· Available for departure on selected dates until 14 December 2018
All deals can be booked from Friday 24 – Monday 27 November 2017. Visit dfds.co.uk or call 0871 522 9955.
Earin M-1 earbuds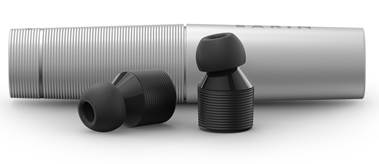 There are sales, and then there are SALES! Originally released with an MSRP of $199, Earin M-1 earbuds were the first True Wireless earbuds to market. Now, in celebration of Black Friday and Cyber Monday, Earin M-1 are on sale for $79 – more than half off the original price! Beginning today, Earin is offering a 60% discount off M-1 on Amazon.com (no discount code required) and are available for free 2-day shipping for Prime members. The announcement comes as Earin prepares to release M-2, the next generation in the company's line of True Wireless Earbuds
Featuring a fashion-forward Scandinavian design, the M-1 earbuds are the definition of true wireless, combining form and function with the most immersive sound imaginable. Perfect for listening to music on the go, every component has been designed and engineered to reduce the size and weight to the absolute minimum so users can focus on the sound.
Included in the sleek packaging are the Earin M-1 earbuds and charging capsule, Comply™ Foam Tips to ensure a perfect fit and high quality audio, stabilizers for an extra secure fit, and a micro USB charging cable.
Happy Shopping!
Help us help others
This Black Friday, BabyBjörn will be giving back. 50% of the total webshop sales from www.babybjorn.com will be going to Save the Children, to help children in distress and families around the world.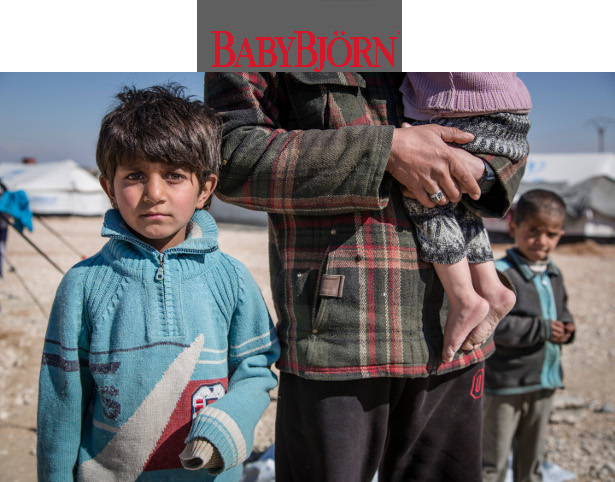 BabyBjörn is partnering with Save the Children to support their important global projects. This will be the first of many Save the Children fund-raising initiatives for BabyBjörn, with several planned for 2018 already.
Save the Children help and support children from all countries and backgrounds. But more people need act and engage for their work to continue, more people need to fight for a future where children can grow up safely.
Save the Children's focus right now is supporting children who are forced to live with the immediate consequences of grown-ups' war. Children who do not have enough food, children who need a warm blanket and children who do not have the opportunity to go to school or play.
Support from companies and individuals is essential for this vital work to continue. Together we can change the lives of people, and the future that we all have in common, for the better.
www.babybjorn.co.uk
BabyBjörn AB is a Swedish family-owned company that develops, markets and distributes innovative products for children aged 0-3 years. Its sales revenue for 2015–2016 amounted to SEK 582 million. 95% of sales consisted of exports to 50 different countries. The company was founded in 1961 and employs around 100 people. Find out more on our website: www.babybjorn.com.uk
www.additionallengths.co.uk
For all those women considering a dramatic re-style for Christmas, Black Friday weekend is a fantastic time to purchase hair extensions, tools and aftercare products! Or, enjoy the saving on electrical items such as hairdryers and straighteners on salon professional brands. Additional Lengths are offer a 20% site wide discount on Friday 24th, Saturday 25th and Sunday 26th November at http://www.additionallengths.co.uk/.
www.beautybase.com
Who doesn't love beauty and fragrance for Christmas? Get organised this year with Beauty Base who are offering up to 50% off selected products beginning Monday 20th to Wednesday 29th November at https://www.beautybase.com/.
www.flamingogifts.co.uk
If you are looking for some inspiration, then look no further than Flamingo Gifts this Black Friday. The home of quirky and kitsch gifts and homeware. They are offering 20% off (excluding Umbra and Blade & Rose brands only) over at https://www.flamingogifts.co.uk/.
www.collectif.co.uk
The vintage and kitsch obsessed will love this promotion from Collectif. Offering 30% off sitewide at https://www.collectif.co.uk/ with the code 'BF30', the offer will run from midday 23.11.2017 – midnight 27.11.2017. This offer will also be running in stores for the same period.
Watches2U's top deals below
These are fixed prices, going live on Monday 20th November and finishing at midnight on Monday 27th November.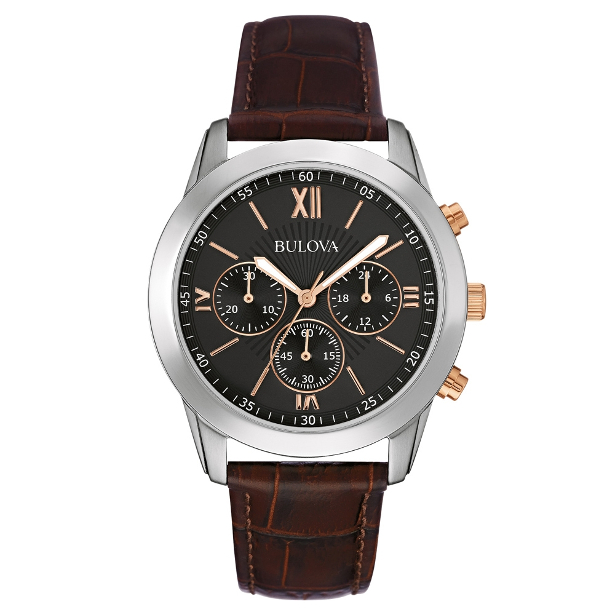 Bulova 98A142 Men's Brown Chronograph Watch – Was £249.99, Now £181 (-72%)
https://www.watches2u.com/watches/bulova/98a142-mens-dress-brown-leather-chronograph-watch.html
Bulova 96A162 Men's Dress Watch – WAS £199.00, Now £59 (-70%)
https://www.watches2u.com/watches/bulova/96a162-mens-dress-watch.html
Bulova Ladies' Diamond watch 96S174 – WAS £259.00, NOW £79 (-69%)
https://www.watches2u.com/watches/bulova/96s174-ladies-diamonds-watch.html
Rotary Ladies' gold plated watch LS02368-41 – was £129.00, NOW £49 (-62%)
https://www.watches2u.com/watches/rotary/ls02368-41-ladies-timepieces-eco-dress-gold-plated-watch.html
Orla Kiely Ladies' tan leather watch OK2034 – was £95.00, NOW £39 (-59%)
https://www.watches2u.com/watches/orla-kiely/ok2034-ladies-ivy-tan-leather-strap-watch.html
Police men's watch 95046AEU-03 – was £215.00, NOW £89 (-59%)
https://www.watches2u.com/watches/police/95046aeu-03-mens-watch.html
Radley Ladies' brown leather watch RY2210 – was £99.95, NOW £45 (-55%)
https://www.watches2u.com/watches/radley/ry2210-ladies-brown-leather-strap-watch-with-stones.html
Casio Men's G-shock black Bluetooth watch GBA-400-1AER – was £210.00, NOW £99 (-53%)
https://www.watches2u.com/watches/casio/gba-400-1aer-mens-g-shock-black-bluetooth-combi-watch.html
– Free next day UK delivery on all orders (order before 4pm for guaranteed next day delivery).
Sprayground UK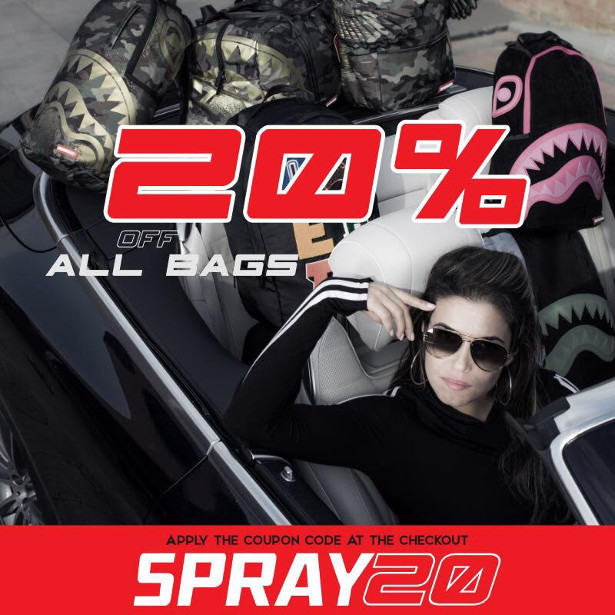 A lifestyle brand designed in New York that was created in 2010. In high demand, Sprayground has been delving into the lives of fashion savvy tastemakers, media personalities, and celebrities who genuinely love and wear the brand.
Black Friday deals:
-50% off all bags from 12:00 pm – 12:30 pm
-50% of all bags from 7:00pm – 7:30 pm
Special Winter Offer:
-20% off with Spray20
www.sprayground.uk
Claudia klein Personal Training
An awesome opportunity for your followers to get personal training and/or online coaching for their nutrition and training at a discounted price.
Based at a gym in Potts Point, Sydney and offering lots of online programs for people from outside of the Potts Point area. They have an app called Mr Mrs Muscle where each individual gets a personalised training program and diet plan based on them, their lifestyle and goals. Included in the online package are weekly checkins, supplements discounts and videos for all exercises.
In regards to personal training, each session is up to 1 hour (its actually depended on each individual but this is just a general estimate) and you also get full access to the app.
Prices are AU$120 per session for personal training with a professional qualified high end trainer.
Online coaching AU$60 per week.
20% off for Black Friday and Cy ber Monday
More info on www.mrmrsmuscle.com
Style Angel Personal Styling Services
A "fashionable" offer of Personal Styling Services for Men.
styleangel.menofstyle.com
The product that is online and available 24/7
Angela Barbagallo
Personal Stylist | Colour and Body Shape Expert | Wardrobe Stylist
www.facebook.com/styleangel3
www.instagram.com/angela_styleangel
www.pinterest.com/styleangel3
kesterblack.com
Kester Black is Australia's most innovative ethical beauty brand and are having a 25% off sale online for Black Friday! The catch is, you have to sign up before November 22nd to receive the code for this exclusive sale.
niovi.com.au
Please find our BFCM sale.
Discount Code :BFCM40
Description:40% OFF Entire Collection
www.niovi.com.au
dailyorders.com.au
Daily Orders will be having a 4 day sale with the best offer on the first day, and diminishing value from there. I can't disclose the sales yet but would love to feature to build excitement. www.dailyorders.com.au Aveteran owned business with a focus on organising busy families
White Runway
White Runway (www.whiterunway.com.au), specialists in bridesmaid dresses, evening wear and cocktail dresses. Offering 20% off storewide on Black Friday (exclude sale items).
Shop to pop: listening to chart music will help Brits save money this Black Friday
Retailers use slow ambling music to keep shoppers in-store
Up-tempo background tunes get customers out of the door quickly
Down-tempo music is most soothing for older shoppers who bore easily
With the biggest shopping day of the year coming up, a new study has been carried out, looking into the impact music can have on shoppers.
With Brits having spent a cool £1.2billion last year during Black Friday alone,[1] money-saving website Voucherbox.co.uk has teamed up with Prof. Rupert Till, Professor of Music at the University of Huddersfield, who explored how those having in-store shopping experiences might have had their spending habits altered by the background music.
Prof. Till who reveals that, even with Christmas tunes aplenty, retailers can use specifically curated playlists to encourage shoppers to amble through stores. This creates extra opportunity for them to browse – and buy – items.
The Professor of Music has worked with Voucherbox.co.uk to curate five clef-er music playlists, designed to put the power 'Bach' in shoppers' hands this Black Friday. Thanks to the playlists, those hitting the shops or shopping online can pop in some earphones and select a pitch-perfect playlist to suit their mood and provide a seamless shopping experience.
Prof. Rupert Till commented, "Retailers often use music in sophisticated ways to manipulate the moods and behaviours of their customers. Shoppers though can take control and set their own mood, based on their situation by listening to music on their own personal devices.
"Whether people get easily distracted and buy items they don't need or perhaps they need help overcoming the pressures of buying gifts for others, we have looked to provide a solution for a range of issues faced by shoppers."
He reveals listening to the up-tempo beats of Calvin Harris, Zara Larson and Maroon 5 keeps shoppers moving and gets them out of the store quickly– leaving less time to make purchases.
Chart music in a major key – especially when played loud – is most useful for under 25s as research found that this style got young shoppers moving to the beat and out of stores quicker than any other genre.
Prof. Till, who both researches and composes music, has provided some money-saving music tips to help overcome the 'treble' of buying Christmas gifts and wading through the seemingly endless deals on offer. Whether playing music while browsing online or listening through headphones in-store, here are his top-tips:
For an efficient money-saving shop, up-tempo music gets shoppers through their task quickly, which reduces the likelihood of sticking around, browsing the store and spending money – artists include Calvin Harris, Zara Larson and Maroon 5
Slow 'background' music is recommended to sooth those who get anxious while shopping – artists include Dido, Groove Armada and William Orbit
Down-tempo music is ideal for older Brits who bore easily as it sooths the shopper and provides the perception that the shopping duration is shorter than in reality – artists include Tony Bennett, Bobby Darin and Dean Martin
Match the music genre to the product you are buying to get in the right frame-of-mind and to 'cymbalise' the culture of the purchase item – artists for buying cutting edge gadgets include break-through artists, such as Rag 'n' Bone Man, Nadia Rose and Temples
Voucherbox.co.uk is currently hosting five individual playlists to address common issues experienced by shoppers, including stress, boredom and lack of focus, to help aid a smooth Black Friday and Cyber Monday experience.
SAVE ON A DYSON V8 THIS BLACK FRIDAY FROM APPLIANCES DIRECT
AppliancesDirect.co.uk is back with some of the biggest and best Black Friday deals around – with huge savings on TV's, fridges, freezers, washing machines and kitchen gadgets, while stocks last.
Visit AppliancesDirect.co.uk/Black-Friday for a handpicked selection of the best offers.
DysonV8 Absolute NOW – £339.97 (Price live now), WAS – £519.98, SAVING £180.01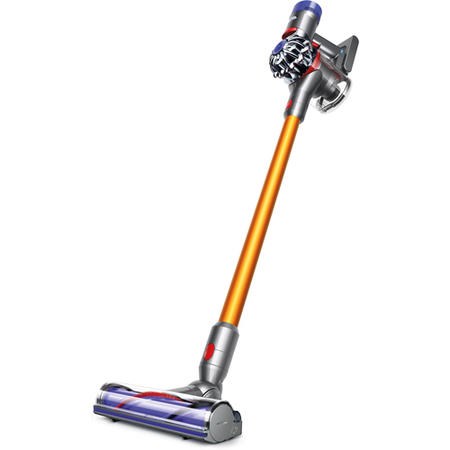 Love Hemp CBD unveils its Black Friday and Cyber Monday promotion
The UK's leading distributor of premium CBD oil based products is offering 25% off its range from Black Friday through to Cyber Monday.
CBD Oils supplies a wide range of Love Hemp products from body salves to cold pressed oils to boost skin health or which can be taken as a dietary supplement.
The Love Hemp range contains the world's finest Cannabidiol (CBD) oils – completely natural supplements sourced from low-level THC hemp.
Research suggests that Cannabidiol has an anti-inflammatory effect and it is being increasingly used in products ranging from lip balms to face creams.
From Friday November 24 to Monday November 27, CBD Oils will be offering a 25% discount across all products on its website. Shoppers just need to use the code BLACKFRIDAY at checkout on www.cbdoilsuk.com
Tony Calamita, co-founder of CBD Oils, which sources its cannabis from Colorado, known for its superior produce, said: "Black Friday and Cyber Monday is a great time for our customers to buy our high quality CBD oil products at a fantastic price."
Products included in the Black Friday/Cyber Monday 25% off promotion include:
· Love Hemp 800mg 8% CBD Oil, 10ml (RRP £54.99, Black Friday £41.25)
· Love Hemp CBD Gummy Bears, 10 bears, 10mg CBD per bear (RRP £9.99, Black Friday £7.50)
· Love Hemp Body Salve, 50ml, 300mg CBD (RRP £29.99, Black Friday £22.50)
www.cbdoilsuk.com
Thomas Cook Black Friday Offer – Save £200 on a Summer 2018 holiday
Customers can save £200 per booking on a range of Thomas Cook and Airtours package holidays with a flight on Thomas Cook Airlines.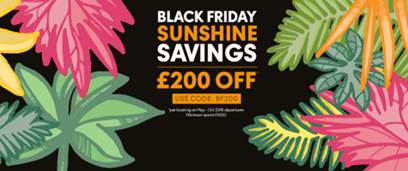 The offer is valid for bookings made between 17 and 28 November 2017, and where there is a minimum spend of £1000. It includes Thomas Cook's range of own-brand hotels – Sunwing, Sunprime, SENTIDO, smartline, SunConnect and Casa Cook – with options available to suit every taste and budget in some of our most popular destinations including Greece, Spain and Turkey.
To qualify for the saving, customers must enter promotional code BF200 on the payment page on the Thomas Cook website and the holiday must be booked via the "Holidays" tab.
See www.thomascook.com for more details.
Promotional Code: BF200
This promo code must be entered on the payment page of this website to get £200 per booking off a Thomas Cook or Airtours branded package holiday flying with Thomas Cook Airlines and departing between May 2018 and October 2018. Qualifying holiday must be booked via the "Holidays" tab only on this website. Only one promo code per booking can be used. Saving cannot be combined with any other offer/discount, does not apply to child prices or to room/board supplements, or to optional flight/other extras. Saving does not apply to Thomas Cook Flexibletrips branded holidays or holidays booked via the "Luxury" tab. Offer available for a limited time only and may be withdrawn or altered without notice. All holidays are subject to availability and tour operator booking conditions. In the event of any difficulty applying the promo code, please call 0844 879 8515 for assistance. Calls will cost 7p per minute plus network extras.
Jewelz on Demand (JOD)
Jewelz on Demand (JOD) is an online store that produces beautiful handmade jewelry for women right here in the USA. JOD produces one of a kind pieces in addition to providing an inventory on some products. JOD works with semiprecious and manufactured materials to produce colorful and exciting jewelry.
Black Friday and Cyber Monday deals at 30% discount.
We can be found on https://www.jewelzondemand.com
Beech Hill hotel / Lake District
Beech Hill Hotel in the Lake District is offering 51% off exclusively for Black Friday. Vistit this link for more details >> https://beechhillhotel.co.uk/offers/black-friday-break/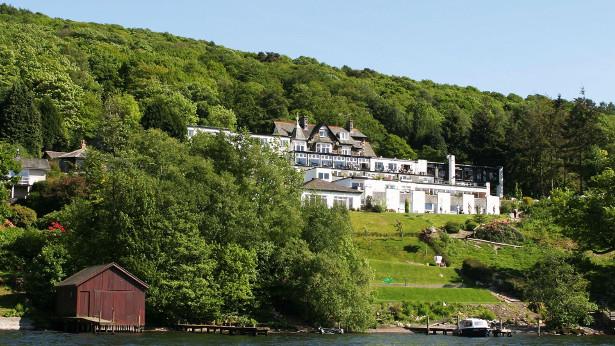 BLACK FRIDAY. NEAT NUTRITION. The all-natural protein and supplements.  www.neat-nutrition.com
NEAT NUTRITION ANNOUNCES BLACK FRIDAY SAVINGS ON PROTEIN AND SUPPLEMENTS
Discounts of 24% will run from 24th – 27th November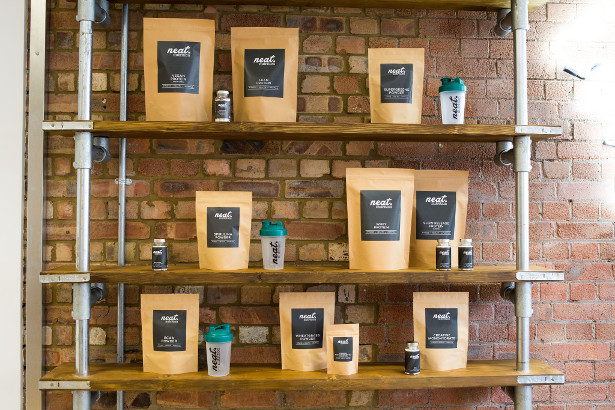 FACEBOOK | TWITTER | INSTAGRAM
LEAN-PROTEINLEAN-PROTEINMULTI-VITAMINS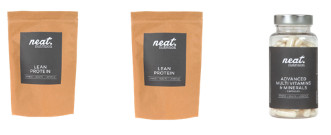 Premium protein brand Neat Nutrition is slashing prices by 24% from Black Friday through to Cyber Monday
This will apply to the brand's entire range of protein powders and health supplements
Neat's popular 1kg packs of protein powders will be as little as £26 (Whey, Whey, Lean, Slow-Release and Vegan)
Bundles made up of protein and supplements will start at £49
Neat Nutrition, the all-natural protein and supplements
CHRISTMAS GIFT GUIDE
Stocking Fillers – Under £50
Neat Nutrition
Lean Protein
Under £60 Bundles
Definition, Detox & Strength Bundles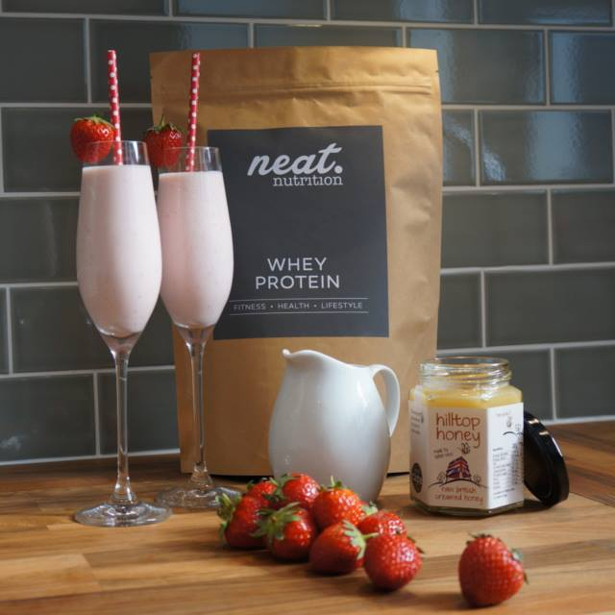 Gifts to Impress – £50-£100
Neat Nutrition
Strength Bundle
Luxe Gifts – Under £150
Neat Nutrition
Detox Protein Bundle