Let's Talk About Cats.: Conversations On Feline Behaviour by Anita Kelsey >>: www.catbehaviourist.com
& Buy now at :- www.amazon.co.uk/Lets-Talk-About-Cats-Conversations
Let's Talk About Cats: Conversations on Feline Behaviour features 16 unique in-depth conversations with devoted feline experts, each chapter answering a question about our cats. An abundance of catty conversation points with many useful takeaways for cat owners to improve their own every-day connection with their cats.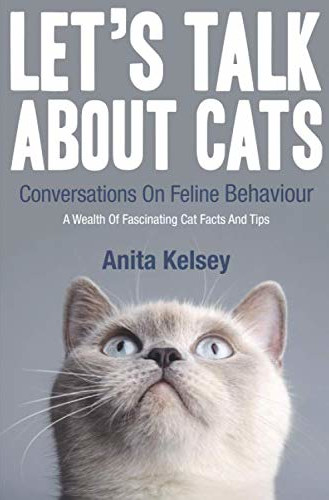 This book, the first of its kind, presents the combined wisdom of experts from all over the world on the psychology, behaviour, diet and training of cats, in a relaxed and conversational style.Contributors include Jackson Galaxy, star of My Cat From Hell and composer David Teie,whose ground-breaking album, Music for Cats, was released by the Universal Music Group.Each illuminating chapter exudes a love for cats and a wealth of fascinating insights.
This book also includes advice and real case studies that offer the author's own professional guidance on cat care topics, explaining the most important cat concepts, giving food for thought and expanding on all the most important issues and debates in the cat world.
REVIEWS:
'Let's Talk About Cats is a positive wealth of information and gives you lots to think about…. Absolutely one to read' – Stephanie Dagg – book blogger Books Are Cool
'Great book! The interviews and cases shared in the book are mesmerising. A must read and own book by any person who has a cat, or handles cats whether experienced or not! The book focuses on understanding cat behaviour and how to make the best of human-feline relationship and minimise conflicts. I love the fact that I have a paperback copy in my home library, which I can always refer to when I have a question about my cat. It covers everything and is super comprehensive and interesting" – Veterinary Surgeon Dr. Eyal Bergman
'Fascinating read for any cat person' – Evanna Lynch
'I've read my fair share of books on cats and I have to say this is by far the best' – Felicity Grace Terry
'This book is the most comprehensive book about cats that I've ever read…. Very accessible and totally fascinating, I would recommend this book to anyone who has ever been owned by a cat! – Emma – Book blogger Sibzzreads
'Full of useful and interesting information from experts and plenty of advice for cat lovers (not owners, cats have staff!) to help you better understand your feline overlords' – Madeleine. Ramblingsmads.com
'A book that is definitely a conversation that you can read anytime and anyplace, in the same way one would read an article on a magazine or a academic paper….I love it!' – Jess – Book blogger – Jess Bookish Life
'I'm quite an experienced owner and I certainly learnt a few things' – Kirsty. The midnight review
'As someone who is studying Feline Behaviour and Psychology, I'm reading a lot of coursework about cats and I did worry that reading this might just feel like more studying to me but it doesn't, and that's because of the way it's written. The conversations with other experts, the cute pictures, the case studies; I love it all, and I'm genuinely really excited to keep reading it. This is definitely a much more interesting read than my coursework! Kim – Book reviewer
AUTHOR:
Anita Kelsey holds a first class honours degree in Feline Behaviour and Psychology (work based BA Hons) and runs a vet referral service dedicated strictly to the diagnosis and treatment of behaviour problems in cats. She is also a qualified cat groomer and specialises in grooming aggressive or phobic cats. Anita writes for Your Cat Magazine and is on their experts panel answering readers questions on cat grooming. She also advises on feline behaviour for the CFBA (Canine and Feline Behaviour) magazine as well as being a full member.