Look after your kit with Cleaning & waterproofing products from STORM not least at this time when things can get so waterlogged and because of the exposure to the prevailing weather conditions! www.stormcare.co.uk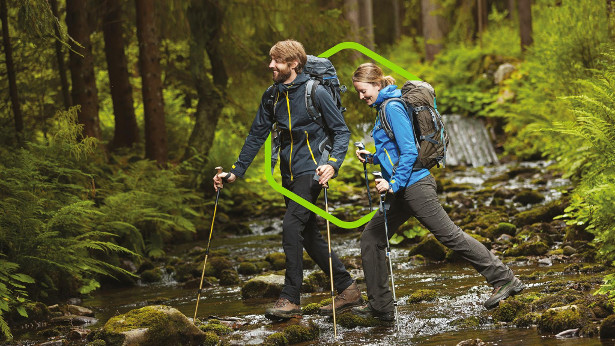 Staying dry, protected and comfortable is key to enjoying the outdoors this winter. Properly cleaning and caring for technical apparel is imperative to maintaining the performance of kit that is used year after year. Over time dirt and oil mask the water repellency treatment on waterproof kit – whether it's clothing, footwear or accessories – meaning it will start losing performance and absorbing water.
Leading cleaning and aftercare specialist Storm offers a range of high performance cleaning, waterproofing and after-care treatments that can be used on a wide variety of outdoor kit including, waterproof jackets, mid and base layers, down jackets, leather, suede and synthetic footwear and backpacks.
STORM has rebranded for 2018: the products have a new name and packaging; yet still offer the same trusted performance STORM users have come to expect.
ONE WASH & ECO FRIENDLY PROOF
Significantly enhancing the technical performance and prolonging the life of outdoor clothing, STORM products are suitable for the aftercare and re-proofing of ALL fabrics and materials including, Gore-Tex®, Sympatex® and eVent®, plus much more. STORM's PFC-free ONE WASH & ECO FRIENDLY PROOF Twin Pack 75ml (SRP £7.50) for outdoor clothing is the handy option when you want to clean and proof your garments in one easy wash cycle; using less water and energy than other products on the market and ensuring your kit delivers the same protection it did when you bought it.
Use the WASH in the detergent compartment of your washing machine and the ECO FRIENDLY PROOF in the conditioner compartment. To activate the proofer, first line-dry the garment then tumble dry for 20 minutes or iron without steam. This will cure the garment for maximum performance.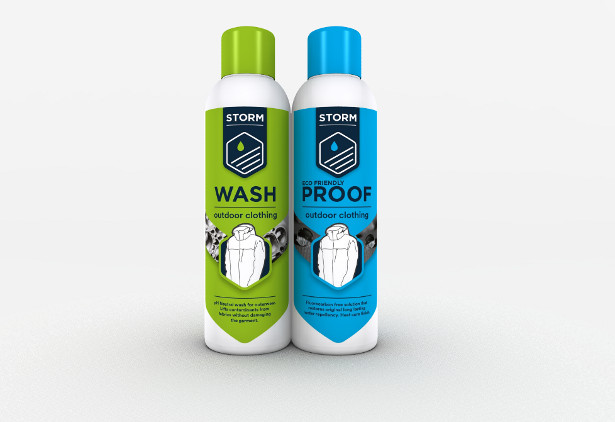 DOWN WASH & PROOF
Perfect for down jackets and sleeping bags, STORM's WASH for down filled items and Eco Friendly PROOF for down filled items removes dirt and impurities to keep down garments performing at their best this winter.
STORM's WASH for down filled items has been developed in partnership with major manufacturers to maximise the performance and feel of down and down filled items. The balanced pH allows for the cleaning process to be gentle on the fibres so they remain soft to the touch, maximise loft and maintain the intended performance.
SRP £6 for a 300ml bottle (100ml recommended per wash cycle).
Wash one garment at a time and ensure adequate drying time to allow the down to loft fully. Tumble drying will maximise drying and lofting.
STORM's Eco Friendly PROOF for down filled items restores the original finish to waterproof down garments and down filled equipment. Providing long lasting performance, it maintains loft and is PFC free. Use in a 30°C wash; requires heat to activate DWR finish.
SRP £9 for a 300ml bottle.
Use the WASH and PROOF together in one wash cycle for further environmental and cost saving!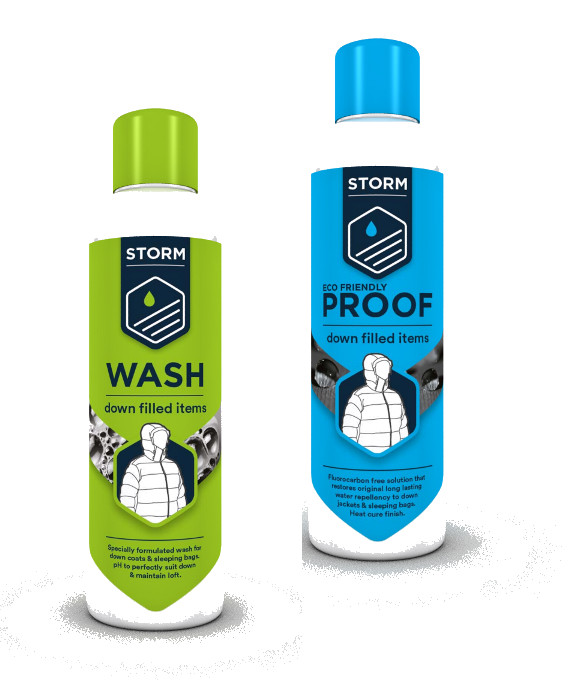 STORM Footwear Products Keeps Feet Fresh & Dry in the Outdoors
Having clean and dry footwear is key to keeping feet comfortable and protected in the great outdoors. Downpours can quickly turn walking and hiking trails into muddy bogs, leaving boots and shoes caked in mud and dirt. Over time this dirt masks the water repellency treatment on footwear, meaning it starts absorbing water – resulting in damp and soggy feet.
Suitable for all footwear, STORM's WASH for outdoor footwear (SRP £6.50 for a 150ml trigger spray bottle) is a high strength cleaner that removes stubborn stains and marks. STORM's WASH for outdoor footwear lifts dirt from fibres in preparation for a proofing treatment. Standard washing powders and liquids designed to stay on fabrics after rinsing to give them a 'bright clean look' also cause waterproofing to fail so it is advisable not to use these type of products on waterproof kit.
Once cleaned, use STORMs PROOF for outdoor footwear (SRP £7.50 for a 150ml trigger spray bottle) to restore the original water repellent finish to the surface of your waterproof footwear. The easy to use direct spray-on proofer is suitable for all footwear including; fabric, leather, suede and combination materials. Even non waterproof footwear, such as approach or running shoes can benefit from a treatment of a waterproofer as it will reduce the water take up of the material, reducing the added weight of wet shoes and also allow them to dry quicker.
Storm's PROOF for outdoor footwear is an advanced air cure proofer, meaning it requires no direct heat to become active. Just leave the treated footwear in a warm room for 12 hours after a line dry to achieve the best results.