Make BACARDÍ rum the spirit of Christmas! Gift Packs Released!
TWITTER | INSTAGRAM | FACEBOOK | YOUTUBE
This year BACARDÍ rum has released two new gift sets designed to tickle your festive fancy, which will be on sale exclusively at Harvey Nichols this autumn. Rum is set to be the tipple of choice this party season and these Christmas offerings are guaranteed to delight any drinks enthusiast or home cocktail connoisseur. Whether you are a serial cocktail maker or stuck for a gift to buy for your secret Santa, these will sure be a favourite for merrymakers this festive season.
BACARDÍ RESERVA OCHO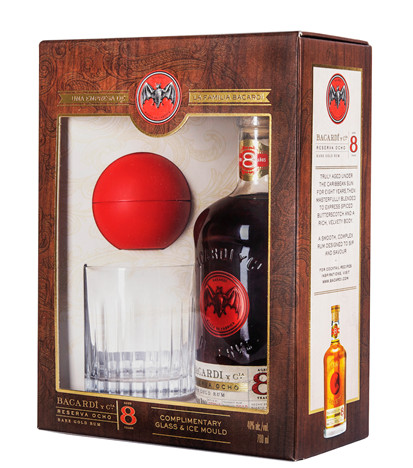 RRP: £30
Stockist: Harvey Nichols store and online
The gift comes with a bottle of Reserva Ocho, a glass and a mould to make the perfect ice ball for a BACARDÍ Ocho Old Fashioned cocktail
Created in 1862, BACARDÍ RESERVA OCHO remained the sole preserve of the Bacardí family for seven generations. Used only for the most special occasions, this golden sipping rum is one of the oldest private rum blends in the world. Each batch is made from a special selection of barrel-aged reserve rums and aged for a minimum of 8 years, giving it a refined flavour with notes of prune, apricot, nutmeg and vanilla.
BACARDÍ AÑEJO CUATRO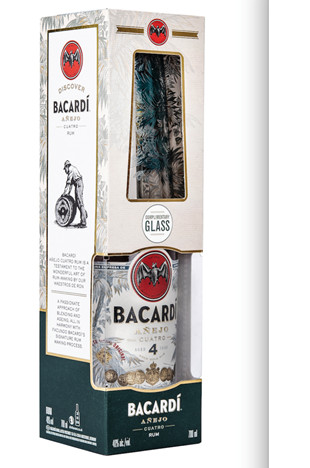 RRP: £25
Stockist: Harvey Nichols store and online
The gift comes with a bottle of Añejo Cuatro and a tropically patterned glass
BACARDÍ AÑEJO CUATRO is the latest rum to join the family. A new premium rum that is barrel-aged, undisturbed and sun-kissed under the Caribbean sun for a minimum of four years, it has flavours of mild vanilla, toasted oak, clove and honey. This new rum will bring a touch of luxury at a great price this Christmas and adds something special to your festive drop. Best enjoyed with ginger ale, a splash of Angostura bitters and a squeeze of lime.