MAKE YOUR OWN PURE SUPERFOOD ORGANIC CHOCOLATE
www.indigo-herbs.co.uk/shop/buy/chocolate-kit-gift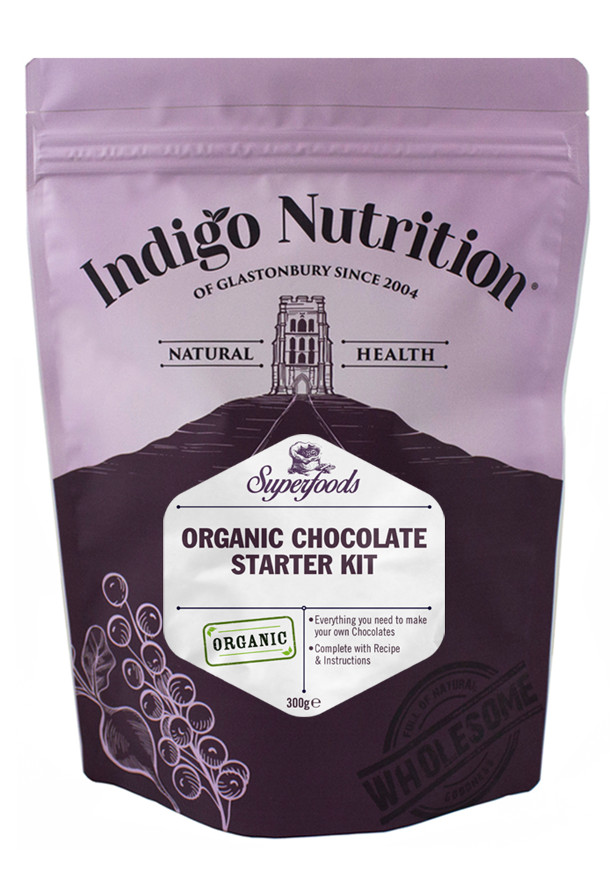 FACEBOOK | TWITTER | INSTAGRAM | GOOGLE+ | PINTEREST | LINKEDIN
Delicious & nutritious –
Anti-oxidant, rich in magnesium, iron, calcium, vitamin C
Contains feel good Phyto-nutrient theobromine
Dairy-free, gluten-free, no processed sugar, made with low GI sweetener.
This starter kit includes everything you need to make gluten-free, dairy-free, low GI pure dark chocolate, including organic cacao powder, organic cacao butter, organic raw agave nectar, organic raw vanilla powder. Also includes easy to follow recipe & instructions. There are 2 sizes
Small kit 300g makes about 20 small bars RRP £12.99
Large kit 750g makes about 45 small bars. RRP £23.99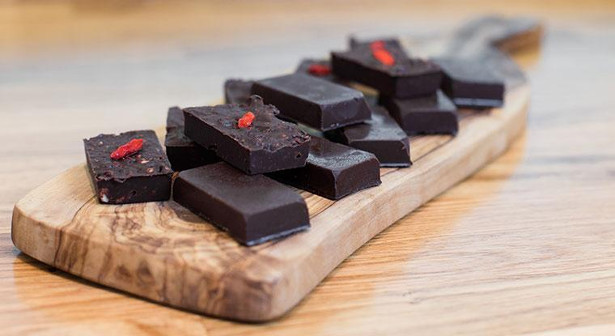 Health Benefits of pure chocolate made from Cacao:
• Source of magnesium: cacao is one of the top 10 magnesium rich foods. Magnesium relaxes muscles and strengthens bones and improves circulation.
• Vitamin C: our powder is high in vitamin C, which supports the immune system, acts as an anti-oxidant and relieves exhaustion and stress.
• Calcium: our powder is high in calcium, which is essential to bones and teeth.
• Iron: cacao is also a source of Iron. Iron oxygenates the blood and reduces fatigue.
• Protein: Our cacao powder is high in protein with 21.5g providing 8.6% of the RDA.
• Flavanoids: this nutritionally rich food is known to have twice the concentration of antioxidants found in red wine, and three times of that found in green tea.
This is partly due to the Flavonoids. Flavonoids improve the absorption of both vitamin C and iron.
• Also contains feel good phyto-chemicals including theobromine.
• Cacao makes an excellent supplement for women during the monthly cycle, as it is high in magnesium it can relieve muscle cramps, and a source of iron is good for the blood. It is also favoured by athletes, for muscle recovery, and energy.
• It makes an excellent healthy treat for both children and adults.
STOCKIST:
https://www.indigo-herbs.co.uk/shop/buy/chocolate-kit-gift
http://www.notonthehighstreet.com/indigoherbsglastonbury/product/raw-chocolate-making-kit
ABOUT INDIGO HERBS
Indigo Herbs supplies a broad range of Natural health ingredients including herbs, superfoods, wholefoods and natural botanicals. We are passionate about supporting people on their journey to optimum health and wellbeing. Sourcing the finest quality ingredients from around the globe since 2005 it is Indigo Herbs mission to make good quality, 100% pure, natural health ingredients available and affordable to all. Indigo Herbs also publishes a natural health guide, blog and recipe collection as we believe that empowerment is the key to optimum health and that begins with information and inspiration.
www.indigo-herbs.co.uk
www.indigo-herbs.co.uk/blog
www.indigo-herbs.co.uk/natural-health-guide
www.indigo-herbs.co.uk/recipe
www.facebook.com/Indigo-Herbs-Glastonbury
twitter.com/IndigoHerbs
www.instagram.com/indigo_herbs/
www.pinterest.com/indigoherbs/
www.linkedin.com/company/indigo-herbs-limited