Radical Tea Towel
Making History…
Radical retro washbags from Radical Tea Towel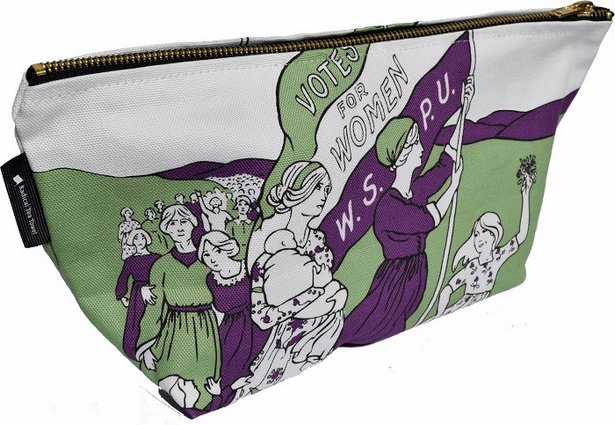 TWITTER | FACEBOOK | INSTAGRAM
Radical Tea Towel have created a range of washbags featuring retro images inspired by great radical thinkers and monumental moments from history.
With a water-resistant lining they're perfect for toiletries and cosmetics – or even a pencil case – and make for a great gift for the person who has (almost) everything.
Women's March! (above)
Based on a 1911 vintage design by Margaret Morris, intended to illustrate the song sheet of "The March of the Women," a song dedicated to suffragette leader Emmeline Pankhurst. It became the anthem for the women's suffrage movement throughout the United Kingdom and elsewhere.
Bugler Girl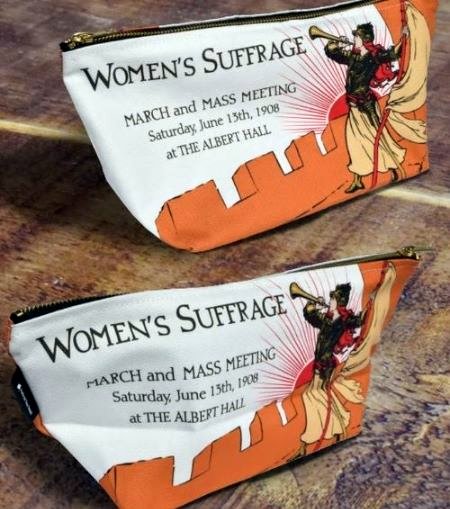 Bugler Girl – The striking design on this wash bag is taken from a vintage 1908 poster design by Caroline Marsh Watts. It features a girl marching with a bugle, an instrument historically used to relay instructions during battle. The Bugler Girl certainly trumpeted her battle message loud and clear: against injustice, for equality.
William Morris Strawberry Thief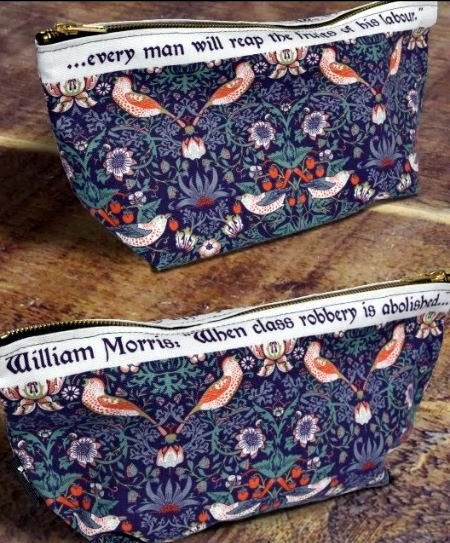 William Morris Strawberry Thief – 'When class-robbery is abolished every man will reap the fruits of his labour.'
Combining one William Morris' classic designs The Strawberry Thief and a radical quote by him in a perfect marriage of his two passions: art and activism.
Liberty, Equality, Fraternity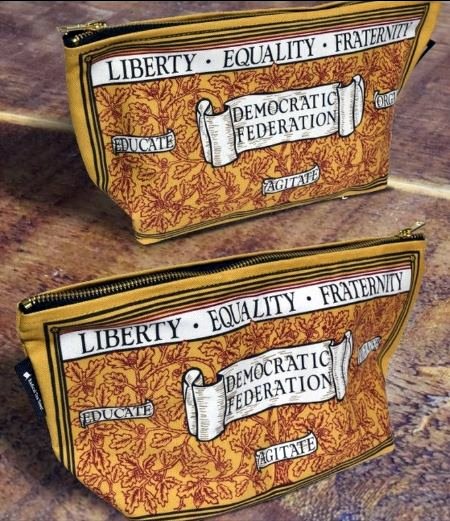 Liberty, Equality, Fraternity – William Morris created this design for the membership card of the Social Democratic Federation (Britain's first socialist political party).
A British artist, poet, novelist, and ardent socialist, Morris is best known as the 19th century's most celebrated textile designer, responsible for the some of the most recognisable textile patterns from the century.
Votes For Women Wanted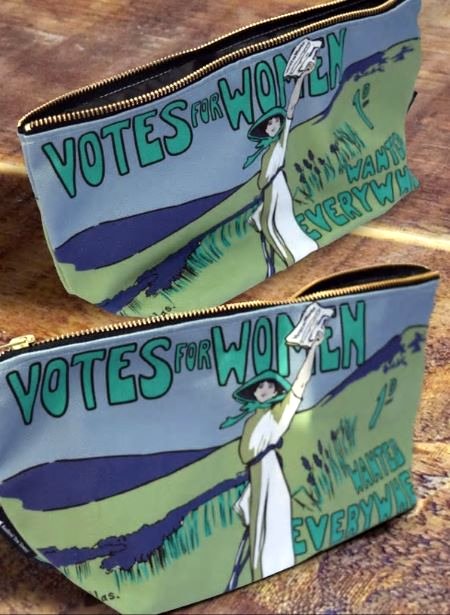 Votes For Women Wanted – This image is based on a 1909 poster advertising Votes for Women, the official Suffragette newspaper. The design is by Hilda Dallas (1878-1958).
"The Suffragettes" was a nickname given to the Women's Social and Political Union, who had broken away from the National Union of Women's Suffrage Societies in order to pursue militant tactics under Emmeline Pankhurst.
Washington Suffrage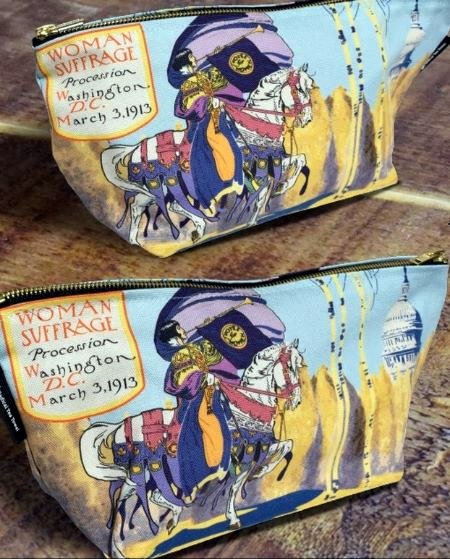 Washington Suffrage – The artwork on this wash bag captures an inspiring moment of feminist history: the 'Woman's Suffrage Procession', the first suffragist parade in Washington, D.C., organised by suffragist Alice Paul. On March 3rd, 1913, the day before President Woodrow Wilson's inauguration, thousands of suffragists marched down Pennsylvania Avenue 'in a spirit of protest against the present political organisation of society, from which women are excluded.'
Specifications: Sturdy wash bag in 300gsm bleached half panama with a strong brass top zip. Measures 30 x 15cm with a 10cm gusset. Digitally printed on both sides, with black, water-resistant lining. Hand wash carefully at 30 degrees. Suitable for toiletries and make-up.
Price – £18.00 each
Featuring quotes from politicians, poets, writers and philosophers along with illustrations from events that changed the course of history, Radical Tea Towel's homewares range extends to tea towels, aprons, tote bags, oven gloves and mugs.
See the full range at www.radicalteatowel.co.uk
Instagram @radicalteatowel
Twitter @radicalteatowel
Facebook @radicalteatowel