The Marley Coffee Cookbook
by Rohan Marley and Maxcel Hardy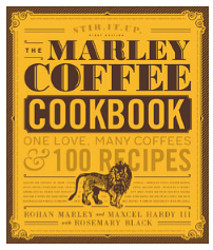 Quarry | 15th August 2017 £16.99 | Paper over board
Rohan Marley's sustainable coffee empire now has a new cookbook that sings the praises of coffee-infused cuisine.
There's a strong coffee connection for each and every dish in, The Marley Coffee Cookbook: One Love, Many Coffees & 100 Recipes, whether it is infused with mocha theme or it rocks an espresso flavour. And there's a good reason for it says co-author Rohan Marley: "Coffee came into my life for a purpose . . . to help the communities that depend on coffee for their lives." Thanks to a master chef, Maxcel Hardy III—and after many nights of fun cooking and eating the new dishes in Rohan's New York apartment—they've created a unique cookbook that pays homage to the plant that has played such an important part in Rohan's life.
The Marley Coffee Cookbook shares dishes you're unlikely to find anywhere else – from salads to mains and more. Sweet potato waffles with a pecan coffee syrup, grilled salmon with a coffee, maple, and ginger glaze, fried plantains with coffee sugar, coffee spice blend-marinated lamb ribs with guava barbecue sauce are just some examples of the Caribbean-influenced, exuberant, lively recipes. Other highlights in the book include:
• Recipes for infused oils and vinaigrettes
• Coffee-infused curries and stews
• Instructions on brining and infusing
• Coffee-infused signature cocktails from Rohan and Maxcel
• Gorgeous on-location photography

Rohan Marley kicks off each chapter with anecdotes about becoming a coffee farmer, of family meals growing up in Jamaica, and his father, the legendary musician Bob Marley. Detroit-based Chef Maxcel Hardy's flawless recipes, his imagination, and expert hand in the kitchen, make this a very special addition to any cookbook collection.
The founder of Marley Coffee (2007) and the son of legendary musician and visionary Bob Marley, Rohan Marley decided to follow his father's dream of becoming a farmer. Marley, who is committed to supporting clean water initiatives and giving back to communities where Marley Coffee sources coffee, is an ambassador to Water Wise Coffee Project, which works to improve water access, protection, and cleanliness in coffee-producing countries around the world. Find out more at: www.marleycoffee.com.
Founder of the premier catering company Chef Max Miami, Maxcel Hardy III cooks for award winning hip hop and R&B artists, professional athletes (including New York Knicks forward Amar'e Stoudemire), and dignitaries like the Prince of Dubai and the Prime Minister of Turks and Caicos. A former contestant on Chopped, in 2014 Hardy joined the Culinary Council for Food Bank for New York City as an advocate to carry out its mission and fight hunger.