Master your grey hair and banish itch with Just for Men Control GX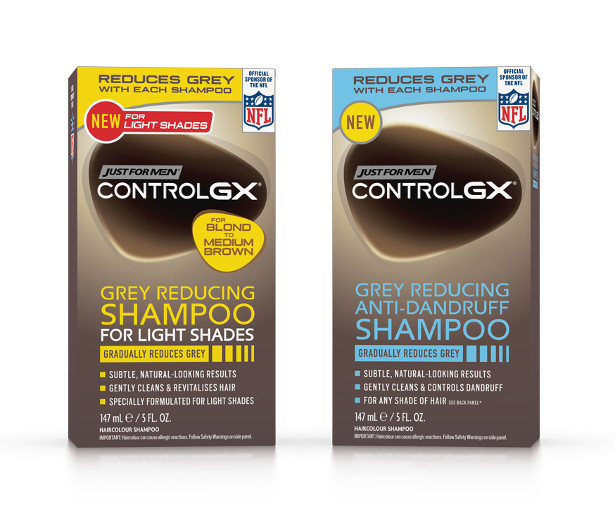 Introducing two NEW additions to the Control GX Grey-Reducing Shampoo range, the UK's first and only shampoo that gradually reduces grey with each wash
After generating waves with the introduction of its award-winning Control GX Grey-Reducing Shampoo last year, Just for Men has extended the range with two new multi-benefit formulations.
Control GX specially formulated shampoos reduce the amount of visible grey hair with each wash, by utilising an innovative gradual and permanent grey-reducing technology, making it completely different from other shampoos in the market. The two new additions to the range share the core benefit of being a grey reducing shampoo, while incorporating two additional benefits.
NEW Grey Reducing Anti-Dandruff Shampoo, RRP £8.69
The anti-dandruff version gently and thoroughly cleans hair whilst gradually reducing greys. It also relieves scalp itch, dryness, irritation and helps prevent flakes, while it cleans.
NEW Grey Reducing Shampoo for Light Shades, RRP £8.69
Just for Men Control GX Grey Reducing Shampoo for Light Shades has been specially formulated for those with blond to medium brown hair, for a natural look.
Control GX is also available as a Shampoo and a 2-in-1 Shampoo & Conditioner for guys who want extra conditioning.
Look for the Control GX Grey-Reducing Shampoo range in the Men's Haircare aisle of Boots, Superdrug, Morrisons and online at Amazon.
For more information, please visit justformen.com or follow @JustForMenUK on Twitter
Don't forget to perform the Skin Allergy Patch Test 48 hours before first use.