Mermaid Salt Vodka – 'Like The Subtle Kiss Of A Mermaid'
Stunning Island Vodka Now Available On The Mainland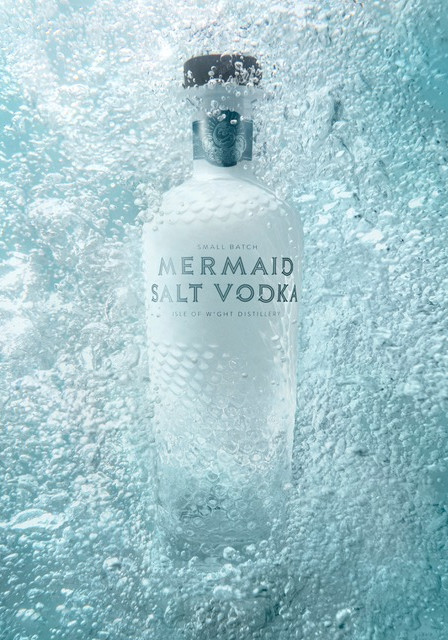 Mermaid Salt Vodka, from the Isle of Wight Distillery, is infused with locally sourced sea salt that enhances its smoothness and flavour – described as being 'like the subtle kiss of a mermaid'. With salt's ability to enhance other flavours, the vodka had already gained a cult following amongst Isle of Wight bartenders for use in cocktails. But now, it's finally available on the mainland and is presented in a stunning, eco-friendly, bottle with sculpted scales, like those of the mythical maritime creature itself.
The Isle of Wight is rich in amazing ingredients which the distillery loves to use – whether it's the rock samphire and Boadicea hops in its signature gin, or the addition of local strawberries to Mermaid Pink Gin.
This vodka was, however, the first time they'd ventured into the surrounding seas for an ingredient. The salt comes from local supplier 'Wight Salt' and is harvested from water collected in the powerful flood tide off the island's southern coast – an area prone to extreme storms that churn up the ocean floor, releasing huge amounts of flavour-packed nutrients. Naturally evaporated by sun and wind, the resultant sea salt retains a depth of flavour and distinct sweetness.
Perfect on its own over ice or with a mixer, Mermaid Salt Vodka also layers on a unique savoury element for cocktails that you just can't get with other vodkas. As with the distillery's gins, the bottle is plastic-free, with an all-natural cork and wooden top, complemented with a plant-based, biodegradable seal. Plastic-free and Net Zero, it's an environmentally-friendly vodka with a hint of sea air!
40% ABV. RRP: £40.00/70cl. Available in John Lewis and online via Master of Malt.
Cocktail recipe: 'Vesper Martini'
20ml Mermaid Salt Vodka + 60ml Mermaid Gin + 15ml White Vermouth. Shake all ingredients with ice. Strain into a chilled glass, Garnish with lime zest.
Tasting notes:
Nose: Fresh sea air on the nose.
Taste: Subtly flavoured with a salt vein savoury note.
Finish: Clean and long.