Multipurpose Serum-in-Oils are completely Gender-Neutral and Suitable for All Skin Types. So they Can Make Very Healthy Father's Day gifts !
100% UK Made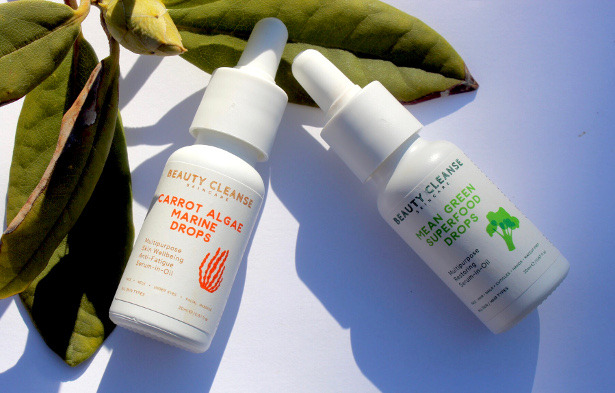 All info on the products can be found at
www.beautycleanseskincare.com
About Beauty Cleanse Skincare
Beauty cleanse skincare was born when a Millennial Founder Saman Ali, successfully reversed the early stages of Diabetes Type-2 by embracing plant-based lifestyle – a health condition that was a result of stress & unhealthy eating habits due to busy lifestyle.
This inspired her to create high-performance plant-based & minimalist products that address skincare challenges of a busy urban dweller who wants to make informed choices for the health of the skin and planet.
The brand only use soothing and healthy ingredients that benefit skin's health without polluting the drains or landfills.
Restoring Mean Green Superfood Drops
Their cult favourite Summer Essential, Restoring Mean Green Superfood Drops is the perfect restorative treat for dehydrated & lack-lustre complexions. Natural Vitamin C, essential amino acids and omega 3,5,6,7,9 together with natural UV shields, and anti-inflammatory agents make this serum-in-oil a potent skin cocktail that restores dehydrated skin to its velvety best.
Act as a fast penetrating conditioning & strengthening treatment for nails or can be deployed as a nourishing styling oil and leave in treatment for smooth, shiny and luscious locks. Due to these wonderful multipurpose features, it's already been loved by experts in Natural & Clean Beauty space.
Anti-Fatigue Skin Wellbeing Carrot Algae Marine Drops
While, the Anti-Fatigue Carrot Algae Marine Drops combines modern technology with nature's high performance & regenerating plant oils, to strengthen skin's resilience to modern lifestyle stressors of 'fatigue' and 'inner-stress. It's a perfect anti-stress & anti-aging gift for truly deserving multitasking Fathers.
Beauty Cleanse Skincare keep sustainability & minimalist approach at the core of everything they do. But, there are two things in particular that are unique and extremely eco-friendly.
1- They use Unique Upcycled Rock Paper Product Labels
Packaging labels is another area that could be responsible for negative impact on the environment. To minimise their impact, they use a unique "Rock Paper Material" for all of their product labels. This material is made from Marble produced from quarries, meaning by selecting this, they are helping to recycle waste and reduce their consumption of new resources. Waste generated in the natural stone processing plants pose huge environmental and economic problems so this certainly is one crucial step to help minimise the negative impact. The final material is also 100% recyclable.
2- They also use upcycled Carrot seeds in their formulation which help save food waste.
The upcycled carrot seeds are harvested in the UK, but a large proportion are rejected as they don't meet the specification for food use. They rescue the nutrient-rich seeds from going to waste and landfill. And then cold-press them into the beautiful antioxidant rich oil for use in their formulation.
This means by doing so, they are utilising the left-over raw material that would otherwise be disposed of. Its all about minimal consumption and avoiding unnecessary waste.
Beauty Cleanse Skincare products are 100% Natural, Vegan, Cruelty Free with Organic Cold Pressed Ingredients. Both products are suitable for all Genders and Skin Types.
They create multipurpose natural skincare that simplifies beauty routines, help people make informed choices, is kind to the planet and do not compromise on results.
You can read all about their ethos & practises by visiting their website or Instagram using the links below;