Naturally great gifts for the home!
A seasonal selection from Live in the Light
Live in the Light – the online natural and organic lifestyle store – have put together a selection of their favourite reusable homeware products that would make great gifts for lovers of all things eco-friendly…
Get Ready For Dinner Gift Set £60.40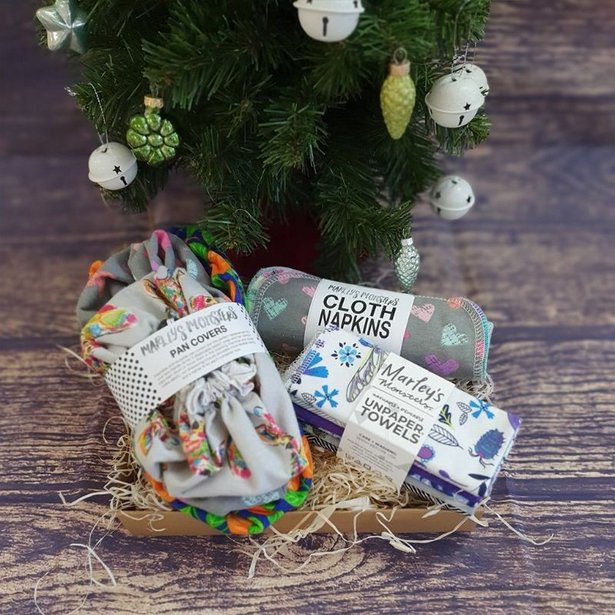 The Get Ready For Dinner Gift Set is perfect for those who love to entertain – all handmade by Marley's Monsters, eco-friendly and ideal for adding some colour and fun to your table!
The set contains three bundles of practical, washable & reusable home helpers..
Set of Three Pan Covers – small, medium and large – the unique design utilises a cord stop and drawstring which, unlike elastic, provides more flexible sizing and a tighter fit for each container size.
Use them to cover prepared food before serving or to save your leftovers for later.
Cloth Napkins – 12 surprise prints – These napkins are 100% cotton flannel in mixed graphic prints.
UNpaper® Towels – 6 surprise prints – the perfect replacement for one-use disposables. The mix of bright prints will add a little cheer to your daily household chores! All handmade with zero plastic just 100% cotton.
(Wooden Towel Dispenser also available)
Eco Kitchen Gift Set £38.65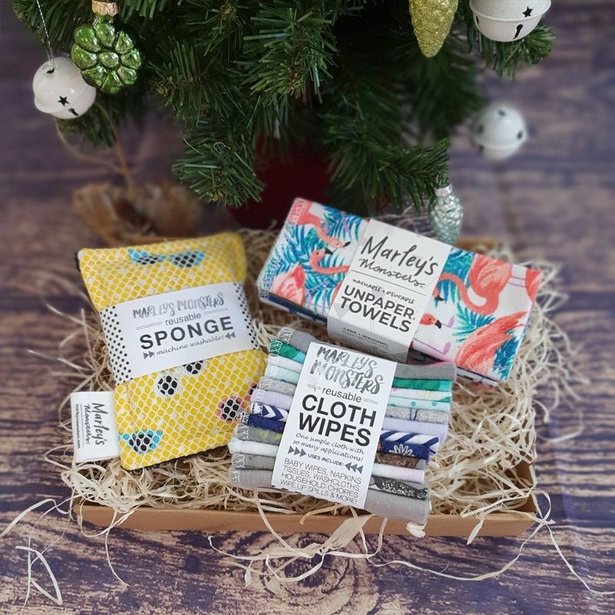 The Eco Kitchen Gift Set is the ideal bundle for busy kitchens – all handmade and eco-friendly.
Three everyday essentials to help you reduce your waste…
Washable Sponge – washable and reusable – the perfect replacement for disposable sponges. Random mixed prints – simply throw them in the washing machine and reuse!
Cloth Wipes 12s – these oh-so-handy cloth wipes are made of 100% cotton flannel in super bold colours or organic natural.
UNpaper® towels – six surprise prints – are the perfect replacement paper disposables. The set includes a mix of fun, bright prints – all handmade with zero plastic just 100% cotton.
(Wooden Towel Dispenser also available)
Bath Accessories Gift Set £15.00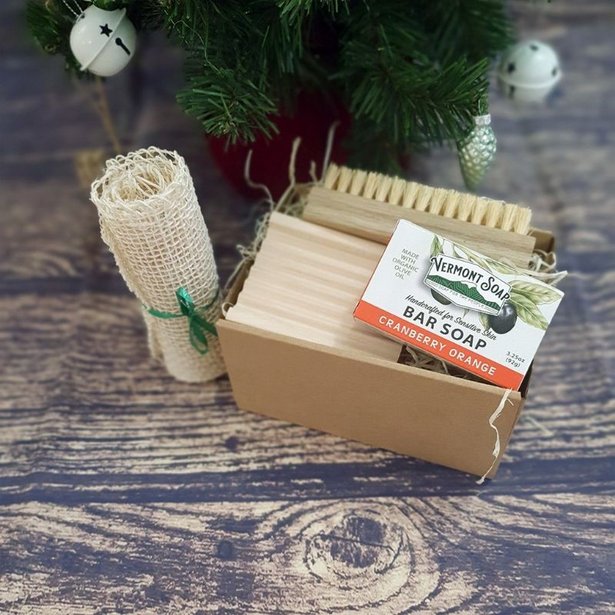 An eco-friendly, cute and useful gift box for some natural pampering after all that cooking and entertaining!
The Bath Accessories Gift Box contains a Handmade Wooden Soap Dish, natural Nail Brush, Ayate Washcloth (amazing results from this) & natural Handmade Soap from Vermont Soap (choose from the range of Vermont Soap fragrances including Oatmeal Lavender, Sweet Orange, Sweet Grass, Woodspice and Tea Tree)
Handmade Soap Sampler Kit £7.50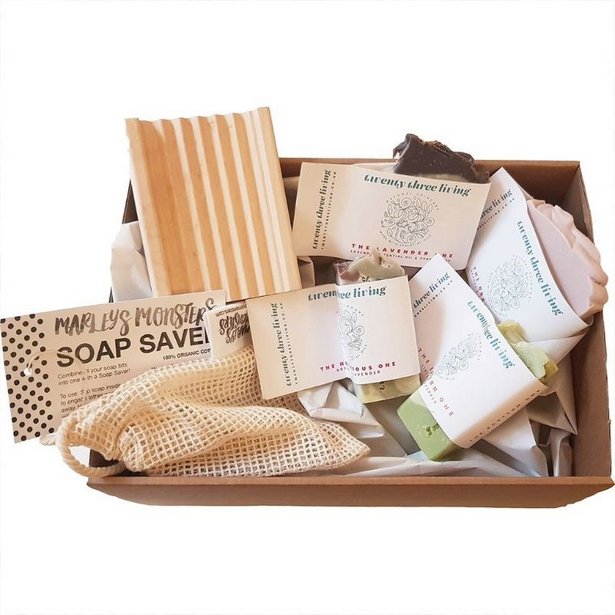 A great plastic-free stocking filler and a beautiful way to sample these gorgeous 100% naturally-formulated handmade soaps from Twenty Three Living together with the Soap Saver Bag from Marley's Monsters and a Handmade Wooden Soap Dish from Vermont Soap.
Each Handmade Soap Sampler Kit contains the following luxury sample sized soaps but may vary depending on stock:
The Eastern One – invigorating and refreshing lime, black pepper and ginger
The Lavender One – relaxing and soothing lavender
The Herbaceous One – clean and calming rosemary and lavender
The Orange One – uplifting orange, may chang and geranium
About Live in the Light…
Live in the Light is an online natural and organic lifestyle store sourcing a comprehensive collection of natural and chemical-free ranges including skincare, bodycare, colour cosmetics, hair and nail care, mother & baby, men's grooming, home fragrance and pet care.
Live In The Light have a very holistic approach and firmly believe that what we do and use in our daily regime has a huge impact on everyone and everything around us. There appears to be many like-minded people out there who don't want to carry on using harmful products but want to use exceptional, beautiful and effective ones while at the same time are helping to preserve and respect our environment.
With an emphasis on 'living life naturally', many of the brands on the website are exclusive to Live in the Light in the UK and include Annemarie Gianni, Pure Anada, Fat & The Moon, Marley's Monsters, Orgaid, Carina Organic, Live in the Light, Tin Feather, Meta-Pora, Earthbath and Vermont Soap.
Website – www.liveinthelight.co.uk
Instagram – @liveinthelight3
Twitter – @liveinthelight1
Facebook – www.facebook.com/liveinthelightuk