New launches for Mr Lees
First to launch is the Mr Lees Breakfast Porridge. Mr Lee's are expanding into the porridge market by offering a new healthy, no nasties breakfast solution with real fruit. The porridges, which are gluten-free and certified both vegan and low in sugar, are the perfect healthy breakfast solution and come in three flavours: So Very Berry, Salted Caramel and Original.
The porridge will be available on Amazon, the Mr Lee's website, vending machines and Ocado at the RRP of – £2.25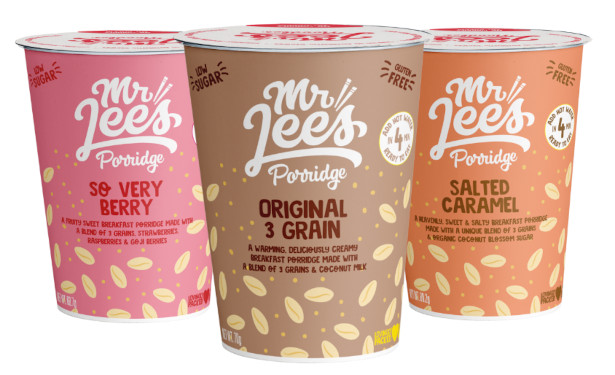 The second product launching is Asia's number 1 comfort food – congee. The savoury instant rice porridges feature two flavours, Original Congee Rice Porridge and Chicken Congee Rice Porridge, and will be available from late May 2021. This healthy comfort food is perfect for breakfast, lunch or dinner and boasts benefits of being low in sugar and fats, made with no artificial ingredients and gluten-free, cooking in just 4 minutes. Congee has been thought to nourish the body by improving digestive functions and boosting energy as well as enhancing sleep quality and helping blood circulation. Due to it being low in calories it is also the perfect solution for weight management.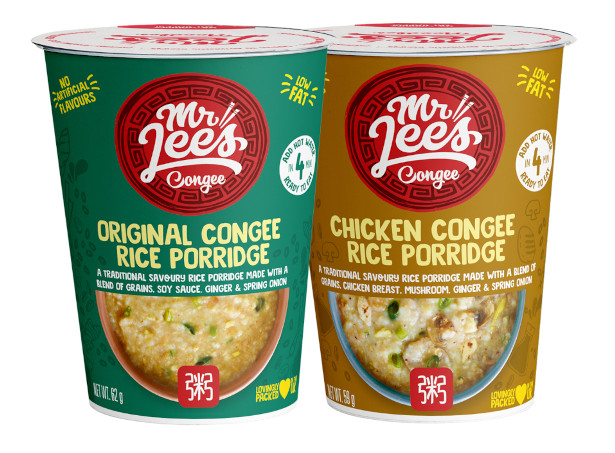 Andy Chu, Executive Chef at Mr Lee's Noodles, who developed the recipes alongside Damien comments: "We're really excited to be able to offer a new strand of product here at Mr Lee's. Stemmed from Damien's passion about healthy, but gourmet food, a breakfast option was a natural progression in the Mr Lee's product line. Damien was the ultimate cancer warrior, staving off the disease five times with the help of changing his way of life and diet, hence creating a healthy noodle pot. He was involved in the new product development and the future of Mr Lee's until the day he died and would've been so proud to see the Porridges come into fruition. We've got more exciting news in the pipeline with new launches this year, making sure we live up to Damien's belief that we all have the right to quick, honest and tasty food."