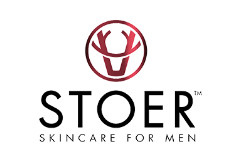 NEW STOER SKINCARE FOR MEN ENERGISING EYE SERUM. With globally-sourced ingredients for a high-tech Clima 5 formulation
TWITTER | FACEBOOK | INSTAGRAM
STOER Skincare For Men Energising Eye Serum £32.00 / 15ml Revitalises tired looking eyes
Bolsters skin's natural barrier. Helps minimise fine lines. Hydrates and helps soothe irritated skin. Airless pump for accurate dosing and to preserve effectiveness of actives.
What is it? Specially formulated for the delicate skin around the eyes, STOER's Energising Eye Serum is the perfect antidote to eye bags, dark circles and unwanted wrinkles.
What does it do? Thin, sensitive and vulnerable to environmental aggressors, the skin around a man's eyes is often the first to show signs of stress, fatigue and premature ageing. Packed with actives, alongside STOER's unique Clima 5™ Technology, this targeted eye serum revitalises tired eyes, combats dark circles and helps minimise fine lines.
Directions Dispense one pump of product onto the tip of the finger and apply to the eye area using a gentle tapping motion. Repeat morning and night.
Clima 5™ Technology STOER's unique Clima 5™ Technology features naturally-sourced active ingredients from four continents to help firm, hydrate and protect skin from pollution and other environmental aggressors.
Did you know? At just 0.05mm thick, the skin around the eyes is the thinnest on the body, which is why it needs a specially formulated product.
STOCKIST INFORMATION: Harvey Nichols, London. www.stoerskincare.com