NEW TRACKLEMENTS CHILLI SAUCE TRIO GLUTEN FREE
Building on the success of the wildly popular Fresh Chilli Jam the latest, steamy offerings from Tracklements are
….
Tracklements Rocket Hot Sauce Made with a fiery combination of Bird's Eye and Scotch Bonnet chillies, this vegan potent potion is a shot of molten lava for burgers, tacos, pizzas, curries, falafels and fajitas. It's superlatively moreish on pretty much everything.
Tracklements Sriracha Chilli Sauce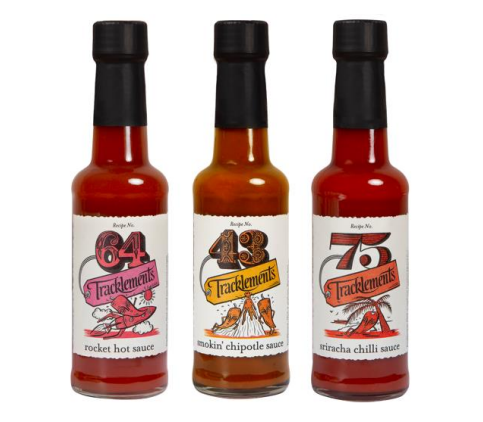 Not all sriracha sauces are made equal! Tracklements take whole fresno chillies (for a fruitier flavour), chop and ferment them on site to make the base for their Sriracha which is what sets it apart from the competition. Made to a traditional recipe, a dash of fish sauce is added for an authentic tongue-tingling tang and intense heat. Splash on to cheese on toast, egg fried rice, corn fritters, pho, spring rolls, meat, fish or mix into mayo for a delicious chippy dip. There's nothing that can't be brought to life with this sauce, the zhushing up possibilities are endless!
Tracklements Smokin' Chipotle Sauce
This smokin' hot sauce made with red chillies (for poke), smoked Chipotle chillies (for smokiness) and Scotch Bonnet chillies (just for fun) tastes sweet, smoky and spicey. Barbecues will wonder what they've been missing. It makes meats sizzle with suspense, veg explode with va-va -oom and tofu tingle with joy. Add to pulled pork, hot dawgs, veg kebabs and jackfruit in any form. It's also utterly fabulous with the quick and easy traditional Mexican brunch favourite – huevos rancheros – fried eggs, served on corn chips and smothered with warm, spicey salsa. Si por favor!
Tracklements Rocket Hot Sauce
Tracklements Sriracha Chilli Sauce and Tracklements Smokin' Chipotle Sauce RRP £3.50 for 150ml each are available individually from fine food delis and farm shops nationwide and online at www.tracklements.co.uk.
But it's well worth buying all three to have in easy reach to deliver a quick flavourpacked punch to make a myriad of every day dishes, dressings, dips and marinades go from fine to fabulous, in just a few shakes!
Back in 1970, William Tullberg made the first British wholegrain mustard. 50 years on William's son, Guy, carries on his legacy. However, that one mustard has matured into eight varieties and over 40 award-winning chutneys, relishes and sauces.
A store cupboard hero for both celebrity chefs and home cooks, the range is still handmade in the green heart of Wiltshire, abiding to traditional recipes, with an underpinning principle to buy the best quality ingredients sourced locally wherever possible to ensure the products taste as good as, if not better than, homemade.
B Corp accredited Tracklements believe in business as a force for good, protecting the environment as they go. They're committed to make the most planet-friendly condiments you can buy minimising their environmental footprint through using recyclable packaging, their own water treatment facility, and over 10,000 square feet of solar panels, supplemented by 100% renewable electricity generated by wind and/or hydro assets. And they don't shy away from wonky veg either!
@tracklements #tastytracklements #LifeandSoulofthePantry