Nourish your body and enrich your life with the launch of Nourish by Jane Clarke nutritionally complete drinks
Utilising her 30 years of dietetic and Cordon Bleu experience and firmly grounded in her belief that every mouthful counts and every person matters, award-winning dietician Jane Clarke is set to revolutionise the market and attitudes to how the malnourished are cared for, with the launch of her range of Nourish drinks. Inspired by her own life experiences and based on her clinical background, these delicious, calorie-rich, therapeutic drinks have been lovingly developed using organic ingredients, to offer a healthy and delicious natural alternative to current meal replacement options.
Targeted at the under nourished to help build strength and endurance, well as those looking to supplement their diet and boost their calorie and nutritional intake, Nourish by Jane Clarke offers an ideal solution for those impacted by illness, or coping with the demands of a busy modern lifestyle.
Made in the UK, from the finest, organic and natural ingredients including milk, fruit, and chocolate, each 330ml, fully recyclable carton contains the perfect blend of calories, protein and essential vitamins and minerals in four delicious flavours. Whether you opt for tasty Vanilla (577 calories), smooth rich Chocolate (544 calories), sweet organic Raspberry (495 calories) or tropical organic Mango (495 calories), you are guaranteed a tasty drink, packed full of goodness, with only the very best ingredients and no added chemicals or nasties.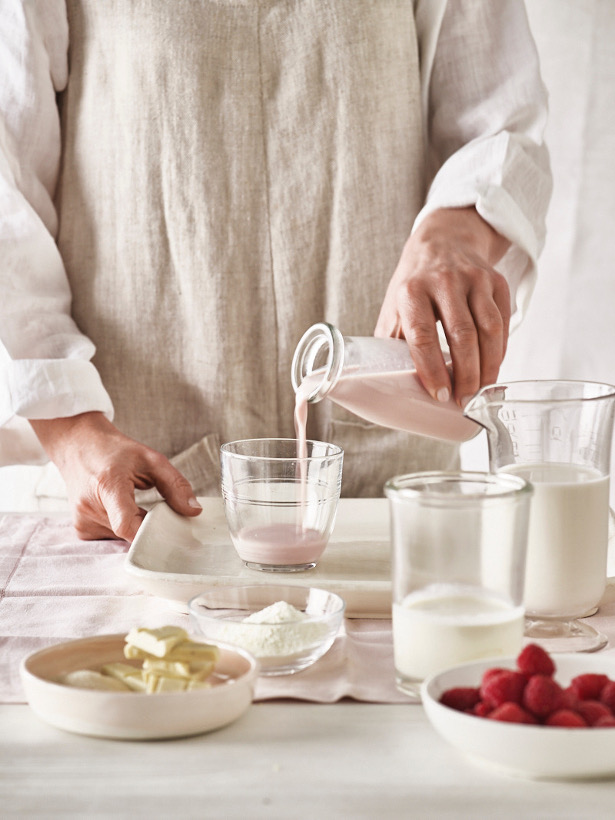 Containing 26 essential vitamins and minerals, 12 grams of protein and 4 hours of slow releasing carbohydrates, these nutritious drinks are ideal for anybody facing physical and psychological eating difficulties due to conditions such as IBS, diabetes, osteoporosis, cancer, as well as eating and neurological disorders.
From personal and professional experience, Jane knows the difficulties faced when loss of appetite occurs due to a health issue. Known for enriching people's lives with her passion for taste, no matter which flavour you choose, you can rest assured that neither quality, nor taste has been compromised. Each drink is also gently pasteurised, so that they are safe, even for those with a low immunity and can be enjoyed either as a delicious drink, or used in tantalising recipes devised by Jane and the team, including ice cream and a scrummy porridge with a difference, to help entice taste buds and stimulate appetite.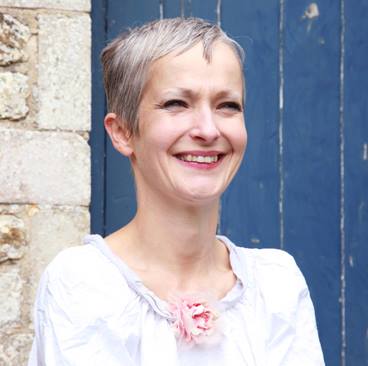 Highly regarded in her field as an author and for treating the UK's leading sports people, entertainers and media professionals, as well as patients living with serious illnesses, Jane fervently believes people deserve to be cared for with dignity and compassion, with nourishment playing a crucial part in the recovery process. Whether ordered as a one off, or as part of as subscription, each package is
beautifully presented with a note from Jane, delivered directly to your door for ultimate ease and convenience. Fully committed to protecting the environment, and supporting a low carbon footprint, all packaging is fully recyclable, without a plastic bottle in sight.
With the launch of this range, it is Jane's hope to bring taste and empowerment to those who are unable to eat, challenging the norm and revolutionising the market, replacing the functional and chemically laden meal replacement drinks currently used with a truly nutritious and delicious alternative.
Designed lovingly for those who need it the most, the new Nourish by Jane Clarke range is set to enrich and enhance the lives of many.
Available online from www.nourishbyjaneclarke.com, either as a one-off purchase, or as part of a subscription. Prices start from £15.80 for a pack of four drinks.
For a limited time, orders can now be placed over the phone on 07856 552696 between 9:30am and 10:30am (Monday to Sunday).
Nourish Ice Cream (www.nourishbyjaneclarke.com)
Nourish Drinks are made with milk and cream, so they can be turned into delicious ice cream, too. Simply churn the Nourish Drinks and transform them into a delicious, simple ice cream, or add fresh fruit, such as extra raspberries to Nourish Raspberry, or a small shot of espresso coffee to Nourish Vanilla, for extra flavour.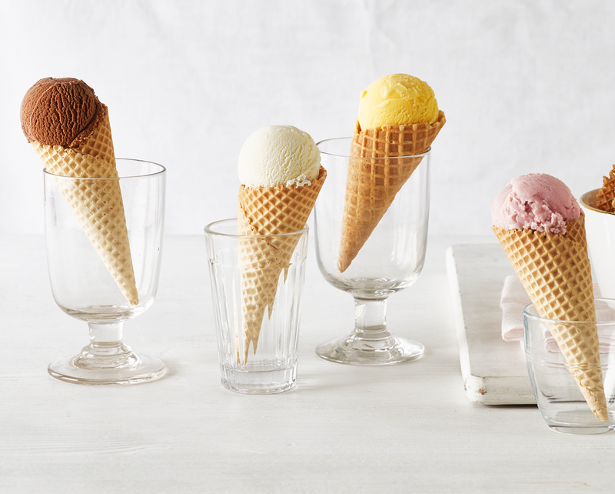 PREP TIME: Around 2 hours, if using an ice-cream maker. Around 6 hours if making by hand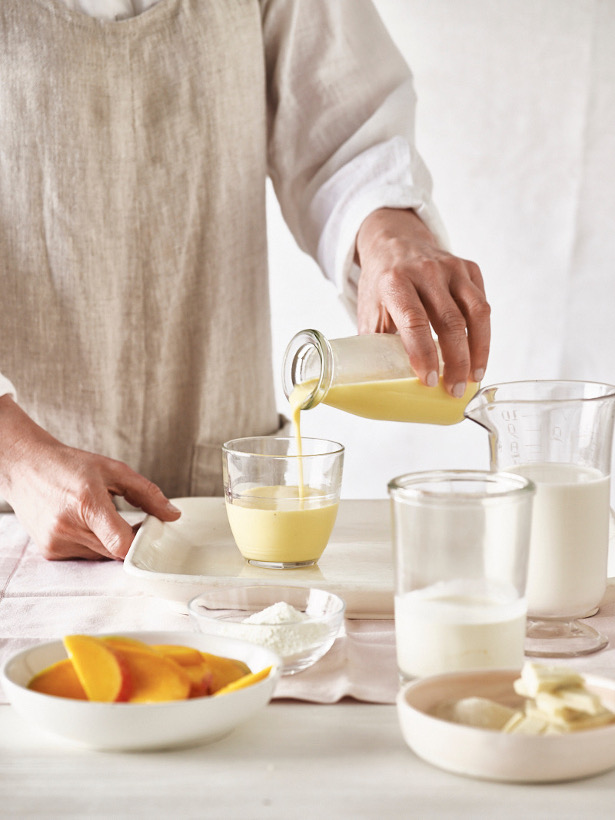 SERVES 1
Ingredients
2 bottles of Nourish Vanilla, Raspberry, Chocolate or Mango Drink
Handful extra fruit, a shot of espresso coffee, or another flavour of your choice
Method
Using an ice cream maker
Shake the drinks, then pour into an ice cream maker.
Add additional ingredients, if using.
Churn until frozen, then either enjoy immediately for a soft-scoop ice cream or transfer to a freezer-proof container and freeze until needed.
To make by hand
Shake the drinks, then pour into a freezer-proof container and freeze for 30 minutes.
Take the ice-cream mixture out of the freezer and stir well with a fork to break up the forming ice crystals.
Freeze for another 1 to 2 hours, until the mixture starts for form ice crystals around the edges.
Take the ice-cream mixture out of the freezer, stir well with a fork, freeze for another 2 hours, then stir once more.
Return the ice cream to the freezer and freeze until needed.
Mango Bread and Butter Pudding by Jane Clarke (www.nourishbyjaneclarke.com)
This pudding is deliciously soft to eat and is made with a Mango or Vanilla Nourish Drink for extra goodness and flavour.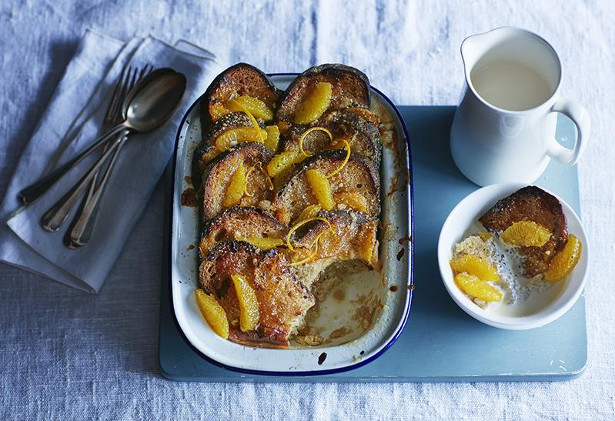 PREP TIME: 15 minutes, plus resting
Cooking time: 30 minutes
Serves: 10 portions
Ingredients
12 slices of bread (white or brown)
Butter (enough to butter the bread)
2 ripe mangoes
6 eggs
80g brown caster sugar (and a little to sprinkle on top)
400ml coconut milk
1 carton Mango or Vanilla Nourish Drink
1 orange, peeled and divided into segments
Method
Butter the sliced bread and cut each slice in half to make triangles.
Peel the mango and dice into small cubes.
Place a layer of bread into a baking dish then add some of the mango.
Add a second layer of bread to cover the mango.
Mix together the eggs, sugar, coconut milk and one carton of either Mango or Vanilla Nourish Drink then pour over the bread.
Preheat the oven to 170°C.
Leave the pudding for 30 minutes to allow the custard to soak into the bread. From time to time, press the bread down to ensure all liquid is absorbed.
Scatter the orange segments over the bread and butter pudding, then bake for approximately 30 minutes, until golden.
Remove from oven, sprinkle with sugar and leave to cool slightly, or wait and eat it cold.
Enjoy with ice cream or some more of our Mango or Vanilla Nourish Drink drizzled over the top.