NOW That's What I Call NOW– 5CD – THE BIGGEST NOW ALBUM IN HISTORY
Release Date: 9th November 2018
Buy at www.nowmusic.com/album/now-now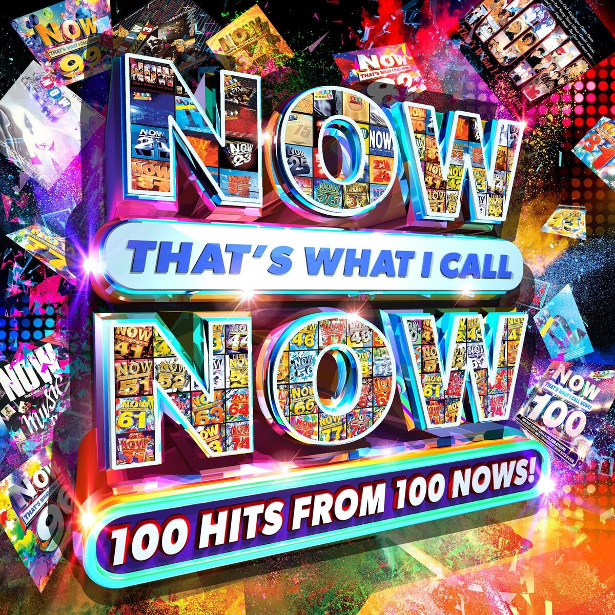 NOW MUSIC continues to celebrate their pop reign with a very special release NOW THAT'S WHAT I CALL NOW, a five-disc album, with 100 pop classics. The most trusted curators of pop have now selected just one track from the 100 NOW albums, taking you on a nostalgic pop journey over four decades.
Carefully selected by the ultimate playlist creators, NOW That's What I Call NOW is the definitive soundtrack to the past 35 years going back to 1983 with Culture Club's Karma Chameleon, to Wham!'s Wake Me Up Before You Go-Go in 1984, the song of the summer of 1989 Soul II Soul's Back To Life (However Do You Want Me), the band with more tracks than any other band in the first ten NOW album's UB40 and their track Kingston Town, into the 90's with M People's Moving On Up, classic Texas track, Say What You Want, Fatboy Slim's anthem, Praise You, Justin Timberlake's the ultimate break up track Cry Me A River, Amy Winehouse's REHAB, The Black Eyed Peas I Gotta Feeling, Nelly Furtado's Maneater, One Direction's debut single What Makes You Beautiful, Little Mix's Shout Out To My Ex and to 2018 Shotgun by George Ezra.
Steve Pritchard co-Managing Director NOW Music says "Following on from hitting that magical Now 100, NOW That's What I Call NOW is a 35-year celebratory romp through 4 decades of pop music. It has taken us a long time to select, what we think are, the biggest and most evocative tracks from each of the numbered NOW's to create this historical playlist of pop classics."
NOW That's What I Call NOW is available in physical and digital format and on the NOW app.
From the original curators of pop music comes the NOW Music App, the only app with the most current chart toppers to the nostalgic superstars of the past four decades to the hottest breakthrough artists of 2018, and everything in-between. For only £4.99 a month with no contract and no adverts the NOW Music App is the easiest and most enjoyable way to access music on your mobile. With every NOW album at the tip of your fingers, access to artists back catalogues, playlists for every theme and activity and completely free access to Freemium – NOW's very own radio station – it's the easiest way to consume pop music for all the family.
TRACK LIST
1. Culture Club – Karma Chameleon
2. Frankie Goes To Hollywood – Relax
3. Wham! – Wake Me Up Before You Go-Go
4. Ray Parker Jr. – Ghostbusters (from "Ghostbusters")
5. Simple Minds – Don't You (Forget About Me)
6. Eurythmics – There Must Be An Angel (Playing With My Heart)
7. Bananarama – Venus
8. RUN-DMC feat. Aerosmith – Walk This Way
9. Europe – The Final Countdown
10. T'Pau – China In Your Hand
11. Kylie Minogue – I Should Be So Lucky
12. Tiffany – I Think We're Alone Now
13. Erasure – A Little Respect
14. Fine Young Cannibals – She Drives Me Crazy
15. Soul II Soul – Back To Life
16. Technotronic – Pump Up The Jam
17. UB40 – Kingston Town
18. The Beautiful South – A Little Time
19. Bill Medley & Jennifer Warnes – (I've Had) The Time Of My Life
20. James – Sit Down
21. Shakespeare's Sister – Stay
22. Snap! – Rhythm Is A Dancer
23. Charles & Eddie – Would I Lie To You
24. Lenny Kravitz – Are You Gonna Go My Way
25. Gabrielle – Dreams
26. Haddaway – What Is Love
27. M People – Moving On Up
28. Let Loose – Crazy For You
29. Whigfield – Saturday Night
30. Rednex – Cotton Eye Joe
31. Ini Kamoze – Here Comes The Hotstepper
32. The Original – I Luv U Baby
33. Oasis – Don't Look Back In Anger
34. Robert Miles – Children
35. Deep Blue Something – Breakfast At Tiffany's
36. Texas – Say What You Want
37. Hanson – MMMBop
38. Spice Girls – Spice Up Your Life
39. Natalie Imbruglia – Torn
40. Eagle-Eye Cherry – Save Tonight
41. Boyzone – No Matter What
42. Fatboy Slim – Praise You
43. New Radicals – You Get What You Give
44. Eiffel 65 – Blue (Da Ba Dee)
45. Craig David – Fill Me In
46. Mary Mary – Shackles (Praise You)
47. Robbie Williams – Rock DJ
48. Shaggy feat. Ricardo "RikRok" Ducent – It Wasn't Me
49. S Club 7 – Don't Stop Movin'
50. Destiny's Child – Bootylicious
51. Daniel Bedingfield – Gotta Get Thru This
52. Ronan Keating – If Tomorrow Never Comes
53. Busted – What I Go To School For
54. t.A.T.u. – All The Things She Said
55. Justin Timberlake – Cry Me A River
56. Rachel Stevens – Sweet Dreams My LA Ex
57. Britney Spears – Toxic
58. The Shapeshifters – Lola's Theme
59. Maroon 5 – She Will Be Loved
60. Stereophonics – Dakota
61. Akon – Lonely
62. Sugababes – Push The Button
63. Corinne Bailey Rae – Put Your Records On
64. Nelly Furtado – Maneater
65. Amy Winehouse – Rehab
66. MIKA – Grace Kelly
67. Take That – Shine
68. Leona Lewis – Bleeding Love
69. Timbaland feat. OneRepublic – Apologize
70. Dizzee Rascal feat. Calvin Harris & Chrome – Dance Wiv Me
71. P!nk – So What
72. The Killers – Human
73. Lady Gaga – Poker Face
74. The Black Eyed Peas – I Gotta Feeling
75. Alicia Keys – Empire State Of Mind (Part II) Broken Down
76. Katy Perry feat. Snoop Dog – California Gurls
77. Taio Cruz – Dynamite
78. Jessie J – Price Tag
79. Jennifer Lopez – On The Floor
80. One Direction – What Makes You Beautiful
81. Kelly Clarkson – Stronger (What Doesn't Kill You)
82. Carly Rae Jepsen – Call Me Maybe
83. PSY – Gangnam Style (강남스타일)
84. Bastille – Pompeii
85. Robin Thicke feat. T.I. & Pharrell – Blurred Lines
86. Avicii – Wake Me Up
87. Pharrell Williams – Happy (from "Despicable Me 2")
88. Paloma Faith – Only Love Can Hurt Like This
89. Sam Smith – I'm Not the Only One
90. James Bay – Hold Back The River
91. OMI – Cheerleader (Felix Jaehn Remix)
92. Justin Bieber – What Do You Mean?
93. Shawn Mendes – Stitches
94. Sia feat. Sean Paul – Cheap Thrills
95. Little Mix – Shout Out To My Ex
96. Rag'n'Bone Man – Human
97. Calvin Harris feat. Pharrell Williams, Katy Perry & Big Sean – Feels
98. Camila Cabello feat. Young Thug – Havana
99. Post Malone feat. Ty Dolla $ign – Psycho
100. George Ezra – Shotgun
RRP: Under £15.00
Cat no: CDNNNOW75
Barcode: 0190758792927