obsession…. He's not your husband. He's hers…. by Amanda Robson.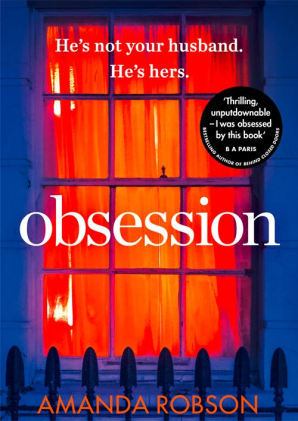 TWITTER | FACEBOOK | INSTAGRAM
obsession
AMANDA ROBSON
Paperback Original * £7.99
obsession: (n) the domination of one's thoughts or feelings by a persistent idea, image, desire, or person
the #obsession is starting
Presenting a stunning debut psychological thriller by former poisons expert Amanda Robson, Obsession is a dark, twisting tale of affairs gone wrong
He's not your husband. He's hers.
It starts out as a game on a campsite. Something to liven up a dull holiday with the kids. Who else would you go for, if you could? Just a normal married couple, talking about their fantasies. But once said, things cannot be unsaid. And what happens next will make you want to keep your mouth shut forever.
Carly and Rob. Jenni and Craig. Two couples, four friends. Betraying each other. Wanting each other.
All of them have access to prescription drugs through the medical practice where they work, and all of them are fighting their own demons.
But can any of them be trusted? And when the lies begin, can they ever be silenced?
Perfect for fans of TV's Doctor Foster and The Affair, Obsession is a compelling debut that will leave readers guessing until the very last page.
About the author: After graduating, Amanda Robson worked in medical research at the London School of Hygiene and Tropical Medicine, and at the Poisons Unit at Guy's Hospital, where she became a co-author of a book on cyanide poisoning – knowledge she demonstrates to great effect in this dark, twisting tale which makes terrifying use of poisons throughout. Amanda attended the Faber novelwriting course, and is now a full-time author. Obsession is her first novel.
Praise for Obsession
'I absolutely loved it and raced through it. Thrilling, unputdownable, a fabulous rollercoaster of a read – I was obsessed by this book.' B A PARIS, No 1 bestselling author of Behind Closed Doors and The Breakdown
'Compelling and thoroughly addictive' KATERINA DIAMOND, No 1 bestselling author of The Teacher and The Secret
'Amanda Robson's Obsession is a welcome addition to the domestic noir bookshelf. Robson explores marriage, jealousy and lust with brutal clarity, making for a taut thriller full of pageturning suspense.' Emma Flint, author of Little Deaths
'Very pacy and twisted – a seemingly harmless conversation between husband and wife spins out into a twisted web of lies and deceit with devastating consequences.' COLETTE MCBETH, Author of The Life I Left Behind
'A compelling psychosexual thriller, with some very dark undertones. Thoroughly intriguing. Amanda Robson is a new name to look out for in dark and disturbing fiction. High quality domestic noir.' PAUL FINCH, Sunday Times bestselling author
'A compelling page-turner on the dark underbelly of marriage, friendship and lust. (If you're considering an affair, you might want a rethink).' FIONA CUMMINS, Author of Rattle
'Amanda Robson has some devastating turns of phrase up her sleeve and she expertly injects menace into the domestic. It was clear from the very first chapter that this was going to be a dark and disturbing journey.' HOLLY SEDDON, Author of Try Not to Breathe and Don't Close Your Eyes