OFFENSIVE Fashion launched in Spring 2020 to bring soft, yet durable and stylish apparel to the active man who likes to ask questions and provoke debate. The brand's first collection of T-Shirts and Polos was created from its founders' mission: to sell feel-good clothing that's inoffensive to the planet, and that starts a conversation through a provocative name.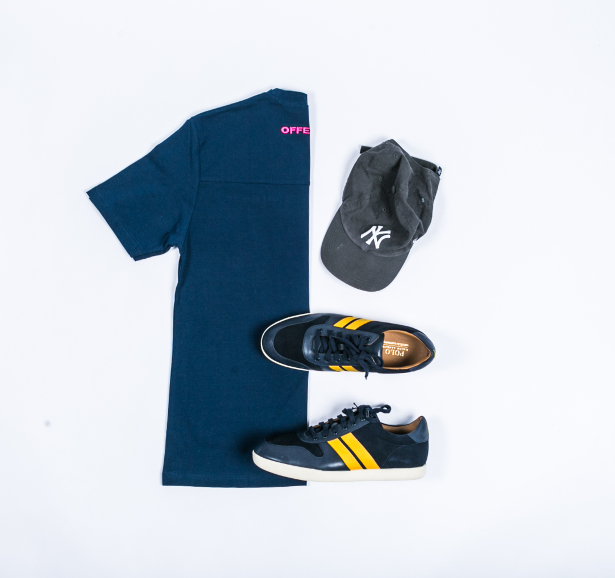 This is NOT fast fashion! Garments are inOFFENSIVE to the planet, being made from Oeko-Tex Standard 100 certificated fabric to ensure the least toxic process of manufacturing, as well as real comfort and peace of mind for the wearer.
The collection consists of fun, superlative quality branded Polos and T-shirts in a range of colours: Navy, White and Black with varied bright coloured graphics and pink and red embroidered logos. Polos are priced at £58, and T-shirts range from £35-44, available to buy via the website.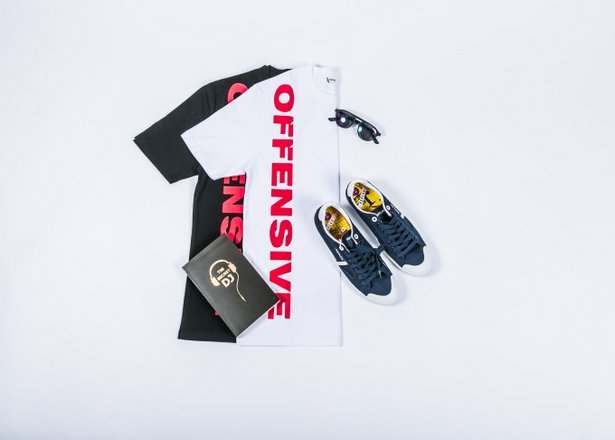 OFFENSIVE Fashion have launched two talented individuals, DJ and Music Producer, Jazz Purple and High-Fashion Catwalk Model, Pascal Wilke. Jazz and Pascal are OFFENSIVE Fashion men because they are #OnTheOffensive – talents that have worked hard to get there. OFFENSIVE Fashion respects hard work, feel-good vibes and people who take ownership of their goals – men who #GetOnIt!
Jazz Purple has an extensive career in music, producing songs with Courteeners in their latest album, Starley, Bipolar Sunshine and Tinie Tempah. Check out his Instagram @JazzPurple_or listen to his music at Jazz Purple on SoundCloud.
Introducing OFFENSIVE Fashion ambassador Jazz Purple
Photo credits: @JordanneDesigns
Listen to Jazz Purple on SoundCloud
Follow @JazzPurple_ on Instagram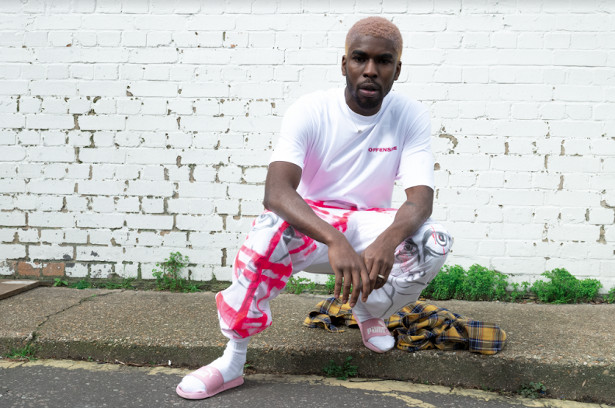 Ola Onabule (AKA Jazz Purple) was born in Islington, London, where he built an impressive career even before leaving the capital to study Architecture at university. He started his own label, Rugged Ram, in 1994 and produced 7 albums on his own, before transferring to new management.
Ola has always been a creative personality meaning he was given the incredible opportunity to record for Elektra and Warner Brothers before producing his first album, More Soul Than Sense, in 1995. He is described as an acclaimed 'multi-instrumentalist, vocalist, and producer with unlimited potential.. and Mancunian swagger to boot' by the media platform, Goldflakepaint.co.uk
But his name may be familiar from other sources. After working his way to the heart of the Manchester music scene with considerable style and speed, Jazz Purple was given a Nando's Black Card famously reserved for VIPs, which allows the cardholder and four friends to eat for free at any of the chain's restaurants. Jazz Purple, and labelmate, Bipolar Sunshine, made the headlines by using their cards to allow the homeless within inner city Manchester to eat for free!
Pascal Wilke is a well-known German catwalk model whos seen success throughout his modelling career, he regularly walks for Ready-To-Wear and Haute-Couture brands such as Gucci, Givenchy and Vivienne Westwood. Check out his Instagram @pascal.wilke
Introducing OFFENSIVE Fashion ambassador Pascal Wilke
Photo credits: @JordanneDesigns
Follow @pascal.wilke on Instagram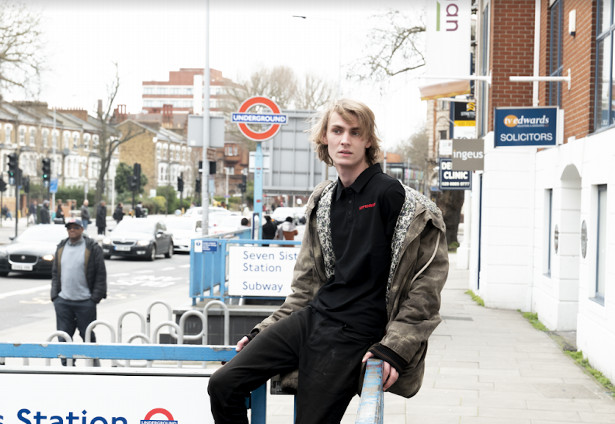 Pascal Wilke is a 23-year-old London-based model from Cologne, Germany, who can be seen strutting his stuff on runways for designers including Gucci, Vivienne Westwood, Balmain, Pringle and Givenchy. A true European, he works between Paris, Florence and Milan, as well as cities in Germany and Sweden.
But it's London he's chosen as his home, having found romance on set and followed his heart. Other loves include his football team, SC Fortuna Koln, and when he's not being photographed, he can be found kicking a ball himself!
Having finished school aged 18, where he was then discovered by a model scout in the train station of his hometown, of all places. Having been convinced to sign up with an agency, he's been in demand ever since!
Over the years, Pascal's fascination with fashion began to grow and he quickly learned what went into making high quality garments. He decided to take a temporary role as Studio Assistant for designer @Kaushik_Velendra, gaining experience of working with a talented design and pattern cutting team, developing his knowledge of fit and fabric properties.
Although it's important to gain experience and education, Pascal strongly believes it's important to "Be happy – don't take life too seriously". Whether it be cooking or exploring woodland spots and parks, Pascal likes to take time for himself and enjoy nature's landscapes.
When not isolating due to the coronavirus, Pascal is usually found outside being adventurous. He says, "Whenever the weather is good, you'll find me outside, but during these times, I have taken to cooking and self-care."
Having the right balance of work/life is something he believes in passionately. His modelling lifestyle gives him the freedom to spend quality time with friends, while being involved in many major catwalk shows, but he notes that his job brings "something new and exciting every time".
OFFENSIVE Fashion Polos and Tees are available to buy now from www.offensivefashion.com
Check out the InTouch Rugby Fashion and Style Editor At Large Options below… "I am just loving OFFENSIVE, very comfortable and they are realyl stylish… I'm absolutely delighted with them".
OFFENSIVE Polo
5 Colour Options: (White w. Pink Embroidery pictured), Black w. Red Embroidery, White w. Red Embroidery, Navy w. Pink Embroidery, Black w. Pink Embroidery
Price: £58.00
Website Link: www.offensivefashion.com/product/offensive-polo-white-w-pink-embroidery
OFFENSIVE Vertical Print T-Shirt
3 Colour Options: (Black pictured), White, Navy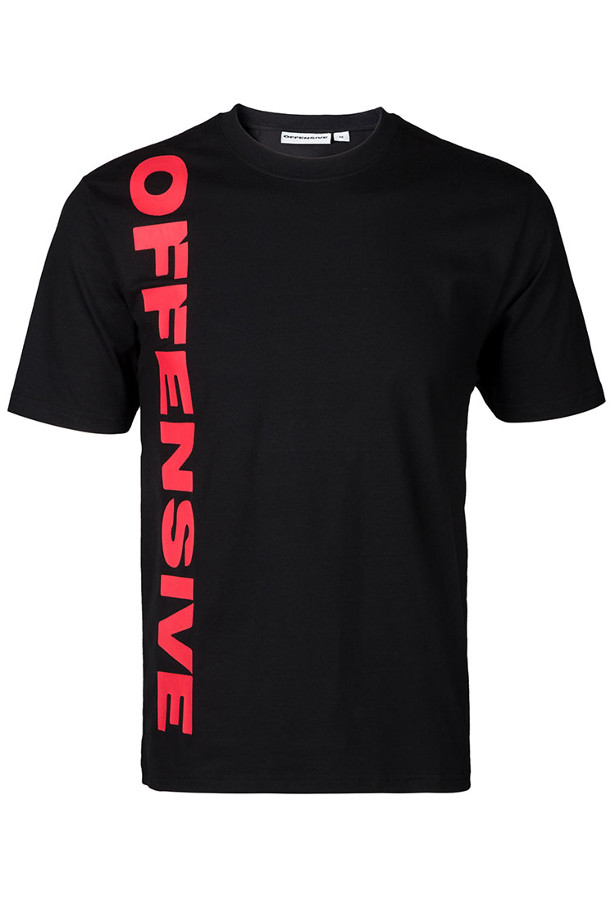 Price: £38.00
Website Link: www.offensivefashion.com/product/offensive-vertical-print-t-shirt-black