People's Choice… Beef Jerky… famuily run for 4 generations! What's not to like! www.peopleschoicebeefjerky.com
A family run small business four generations in the making, handcrafting quality beef jerky in Downtown Los Angeles.
Beginning in 1929, the Bianchetti family has been handcrafting quality meat products in downtown Los Angeles. People's Choice Beef Jerky continues that tradition with a better option to processed meat snacks without compromising value or flavour. We take great pride in our process. It is testament to our tradition. We have purposely retained the handmade element in each step of our process. It is our way of preserving tradition, remembering our history, and ensuring the highest quality product. Simply put, things are done better by hand.
Beef Jerky Baskets
The People's Choice Jerky Boxes are a great way to sample a variety of delicious, handmade jerky snacks. Each jerky gift basket is curated with exceptional beef jerky. Look no further for the ultimate beef jerky gift for any holiday!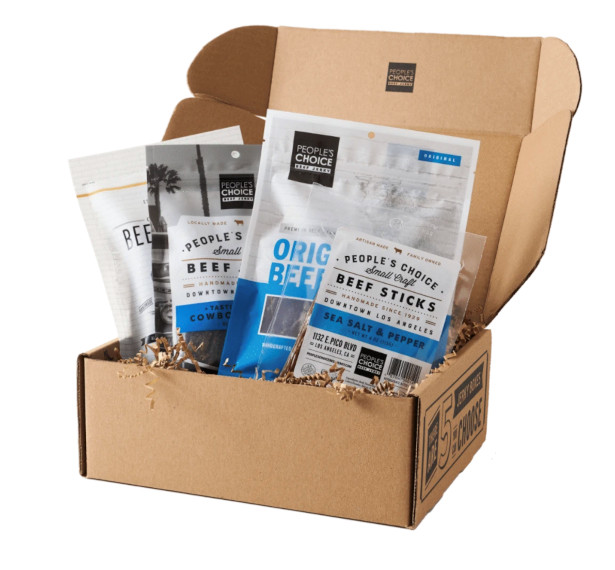 This is the ultimate all-in-one jerky gift basket for jerky lovers. Give the gift of LA's Original Beef Jerky!
The Simple & Savory Jerky Box is a guaranteed crowd pleaser. Each flavor is on the milder side, so no need to worry about that picky eater or sensitive snacker. This jerky sampler box features 4 delicious protein snack packs from the fan-favorite Classic line, Tried & True Old Fashioned line, and adventurous Tasting Kitchen line. Each beef jerky crate comes with one of the following, for a total of four bags:
1. Old Fashioned Original Beef Jerky – 2.5 OZ
2. Tasting Kitchen Cowboy Peppered Beef Jerky – 2.5 OZ
3. Classic Original Beef Jerky – 3.0 OZ
4. Sea Salt & Black Pepper Beef Stick – 4.0 OZ
See more at :- peopleschoicebeefjerky.com/products/jerky-boxes-simple-savory?utm_source=InTouchRugby&utm_medium=backlink&utm_campaign=2020_holiday