PIE AND MIGHTY – NOW FRAY BENTOS GOES VEGGIE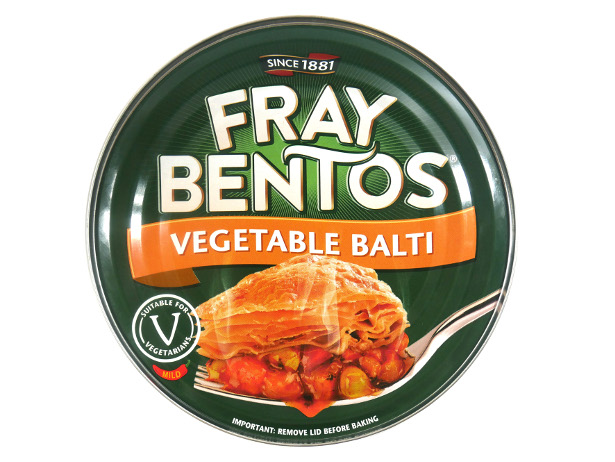 Veggies are in for an unexpected treat this month, as Britain's best loved pie brand, Fray Bentos, launches its first ever vegetarian pie.
Cooked in the iconic Fray Bentos tin, and ready in just 25 minutes, the Vegetable Balti pie – packed with a filling of potato, onion, red pepper, tomato, carrot, peas and topped with puff pastry – is the pie-fect comfort food.
Vegetarians or flexitarians looking for a mid-week filling and comforting meal won't go hungry but will definitely want more.
Lorraine Rothwell, of Fray Bentos, says: "Our pie-hard fans love our range, but we have seen huge demand recently for vegetarian foods which we're happy to respond to.
"Meat lovers needn't worry – we'll never ditch our famous steak pies and puddings, but this means that everyone can get a taste of that famous Fray Bentos home cooked pastry."
The veggie filled pies will hit the shelves at just £1 for a limited time only. Available to purchase from Morrisons and B&M stores nationwide from March.
Fray Bentos has been a household name for decades, loved by everyone from students to families and pensioners. A kitchen cupboard saviour up and down the country. The classic tinned steak and kidney pies were first sold on supermarket shelves in 1961.
Since then the pie range has expanded to include chicken pies, minced beef pies, and a range of other options.