Pretty In Pink –
Introducing New Bonne Maman Rhubarb & Strawberry Conserve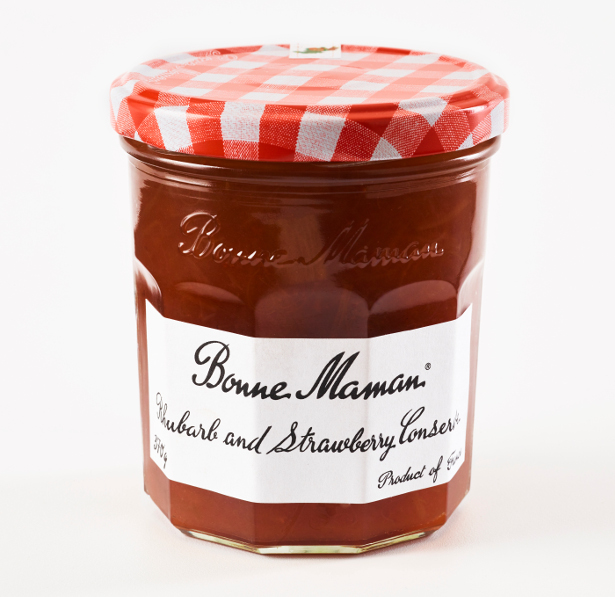 Evoking the languorous scents and intense flavours of long summer days, Bonne Maman introduces a mouth watering combination of flavours with new Rhubarb & Strawberry Conserve. Available nationally from March at £2.59 rrp per 370 gm jar. www.bonnemaman.co.uk
Delicately pink in colour, this new conserve from the French conserve specialist is a perfect marriage of two of Britain's favourite summer flavours. Rhubarb & Strawberry offers the perfect balance of distinctively sharp, quality rhubarb with a top note of sumptuously sweet strawberries, picked at their ripest and then gently cooked in natural cane sugar with a touch of lemon juice and fruit pectin.
A little jar of sunshine adding an aromatic, flavourful hint of natural sweetness to breakfast time, Bonne Maman's luscious new Rhubarb & Strawberry Conserve is delicious spread on warm French croissants or golden toast and offers an inspired new breakfast taste sensation when swirled in to porridge or spooned on top of fresh yoghurt.
As with all Bonne Maman quality conserves, the all natural ingredients and distinctive soft texture of Rhubarb & Strawberry makes it wonderful for use in home baking; adding moisture to sponges, layering throughout bakes and adding a fruity twist to desserts.
Unmistakable with its signature red and white gingham lid, new Bonne Maman Rhubarb & Strawberry Conserve is available in Asda and Morrisons from March and will be on shelf with other national retailers plus Ocado and independent fine food stores during the Summer, at RRP £2.59 per 370gm jar.