'RED WINE SPICED LATTE' IS THE NEW SEASONAL WARMER SET TO TAKE THE NATION BY STORM
'Red Wine Spiced Latte' is the latest drinks trend to hit the UK, seeing a unique and bold twist on coffee lover's drink of choice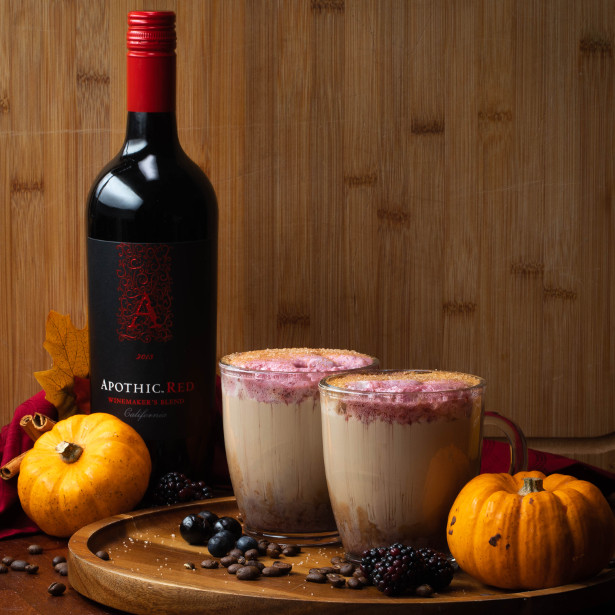 FACEBOOK | INSTAGRAM
With the colder months creeping up, Apothic Red has created a simple-to-follow recipe encouraging the nation to make the most of their Red Wine this Autumn and Winter
Apothic Wine has created a unique way for Brits to combine their favourite Red Wine and go-to coffee this Autumnal season – introducing the Apothic Red Wine Spiced Latte – offering a delicious twist on the nation's favourite tipples.
As Brits spice up their drink choices this Autumn, coffee enthusiasts are constantly looking for new and improved ways to enjoy their latte. Apothic has taken this one step further by combining both Red Wine and coffee as a hot new offering for the colder months.
Apothic Red boasts notes of sweet cherry, hints of mocha and brown spice. Using a unique blend of dark grape varieties, offering distinctive tastes, Apothic Red Wine Spiced Latte is the perfect tipple to enjoy as the dark autumnal evenings set in. It is made using six simple ingredients and the recipe can be viewed here on video or followed below.
INGREDIENTS
Apothic Red Wine Syrup:
750ml of Apothic Red
300g caster sugar
Blend per Latte:
1 tbsp pumpkin puree
1 ½ tbsp Apothic red wine syrup
1sp pumpkin spice
30ml hot espresso
250ml whole milk
1sp cinnamon sugar
Method
In a large saucepan heat Apothic Red Wine with the caster sugar, stirring all the time, to make a syrup. Leave to cool and place in a sterilised bottle- this will keep in the fridge for ages!
To make the individual latte fill a mug with pumpkin puree, Apothic Red Wine infused syrup and pumpkin spice. Add espresso and stir together to combine.
Meanwhile, heat the milk and froth it using a milk frother- alternatively, if you have a French press, you can add the milk to this and push the plunger up and down a few times to create a fine foam.
Pour this over the syrup mixture and stir to combine, top with whipped cream then sprinkle with cinnamon sugar and serve.
For more information on Apothic Wine please visit www.apothic.co.uk. Available from all leading supermarkets – RRP £10.