REVIEW! So Delicious, so easy to make and so natural! This is a wonderful wonderful Chocolate Making Gift Set from Glastonbury based Indigo Herbs!
www.indigo-herbs.co.uk/shop/buy/chocolate-kit-gift
" I made this chocolate from Indogo Herbs about 3 weeks before Christmas because i wanted a more healthy and natural treat for the weekends after i had been fasting duing the week! It was so easy to make! I really enjoyed the experience of making the chocolate, I would not have know where to start excpet the instructions from Indigo Herbs were so easy to use! The results! the delicious, melt in our mouth chocolate was so rich, its different to the store bought chocolate, its v different, you can taste similarity, but its verydifferent and just wonderful, relaxing with a cup of coffee and having this indulgence after a strict and disciplined week's nutrition! So easy to make! I would thoroughly recommend this for anyone making a gift to someone who is concrened about their health and wellnes but who still enjoys sweet tasting substances! " Very Very best wishes, Intouch Rugby Health & Lifestyle / fashion editor!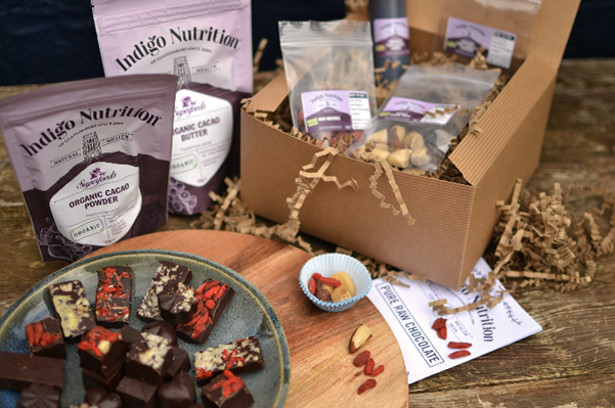 FACEBOOK | TWITTER | INSTAGRAM | GOOGLE+ | PINTEREST | LINKEDIN
—
MAKE YOUR OWN PURE DARK ORGANIC CHOCOLATE with this PURE RAW CHOCOLATE GIFT SET
DAIRY & GLUTEN FREE – MADE WITH LOW GI NATURAL SWEETENER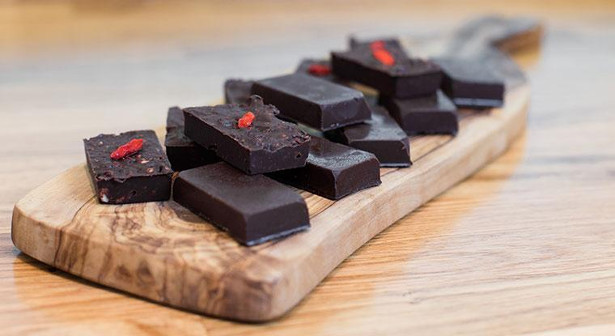 Become a chocolatier and create your own nutritious and delicious dairy-free, gluten-free vegan chocolates.
100% purest natural ingredients. Cacao is high in protein, dietary fibre, potassium, phosphorous, magnesium, iron, zinc, copper, manganese and it's a source of calcium and selenium. Packed with feel good phytochemicals and antioxidants.
Everything you need to make pure superfood chocolate.
Easy to make, ideal for all the family.
Includes pre-weighed ingredients, recipe & instructions
100% pure botanical ingredients, absolutely nothing added.
Includes Goji Berries & Brazil Nuts.
Makes 20-25 small chocolates.
Kit Includes: Organic Cacao Powder 100g, Organic Cacao Butter 100g, Organic Raw Agave Syrup 100ml, Goji Berries 25g, Brazil Nuts 25g, Vanilla Powder 3g
STOCKIST:
www.indigo-herbs.co.uk/shop/buy/chocolate-kit-gift
http://www.notonthehighstreet.com/indigoherbsglastonbury/product/raw-chocolate-making-kit
ABOUT INDIGO HERBS
Indigo Herbs supplies a broad range of Natural health ingredients including herbs, superfoods, wholefoods and natural botanicals. We are passionate about supporting people on their journey to optimum health and wellbeing. Sourcing the finest quality ingredients from around the globe since 2005 it is Indigo Herbs mission to make good quality, 100% pure, natural health ingredients available and affordable to all. Indigo Herbs also publishes a natural health guide, blog and recipe collection as we believe that empowerment is the key to optimum health and that begins with information and inspiration.
www.indigo-herbs.co.uk
www.indigo-herbs.co.uk/blog
www.indigo-herbs.co.uk/natural-health-guide
www.indigo-herbs.co.uk/recipe
www.facebook.com/Indigo-Herbs-Glastonbury
twitter.com/IndigoHerbs
www.instagram.com/indigo_herbs/
www.pinterest.com/indigoherbs/
www.linkedin.com/company/indigo-herbs-limited