RITZ refresh classic recipe and adds a Tomato and Herb flavour to their much-loved range Now with 70% less saturated fat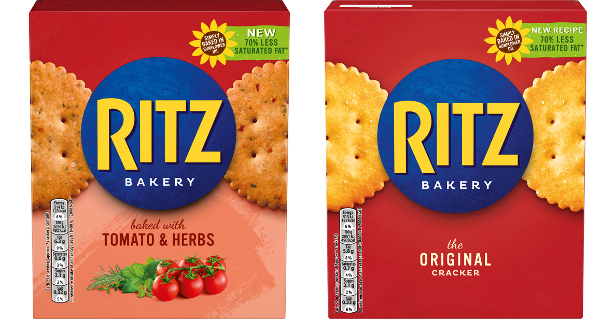 TWITTER | PINTEREST | FACEBOOK
The nation's favourite scalloped edged cracker, RITZ, is hitting supermarket shelves with a new and improved healthier recipe. The Original crackers that you know and love, now have 70% less saturated fat*, perfect for nibbling and sharing.
Joining the updated line-up is the brand new Baked with Tomato & Herbs flavour, a tasty new twist on the Original cracker. Baked with the finest tomato and tantalising herbs gently rolled into the dough, this fresh flavour sensation is a must try for any savoury snack fan.
RITZ crackers are carefully baked to ensure that each bite-sized cracker has a melt-in-mouth experience, alongside their unique savoury, crispy taste; making them suitable for any moment – So next time you are seeing your family and friends make sure you reach for the RITZ!
Melissa Stuart, brand manager for RITZ at Mondelēz International: "RITZ has been in market for almost 85 years and in its humble beginnings, the brand pushed for crackers to be made accessible to everyone. It's a really simple versatile snack that is ideal for nibbling and great for sharing. This new recipe and flavour addition gives consumers even more reason to try RITZ and fall in love with the nation's favourite savoury biscuit."
Now available from all major supermarkets for just £1.49 RRP. Each pack of Original crackers box contains 200g, and the Tomato and Herbs box contains 175g, ideal for sharing with friends and family.