Scaramanga… an original lifestyle. Grooming Essentials.  www.scaramangashop.co.uk
FACEBOOK | PINTEREST | TWITTER | YOUTUBE | GOOGLE+ | INSTAGRAM
Scaramanga – Upcycled Vintage Arcade Cabinet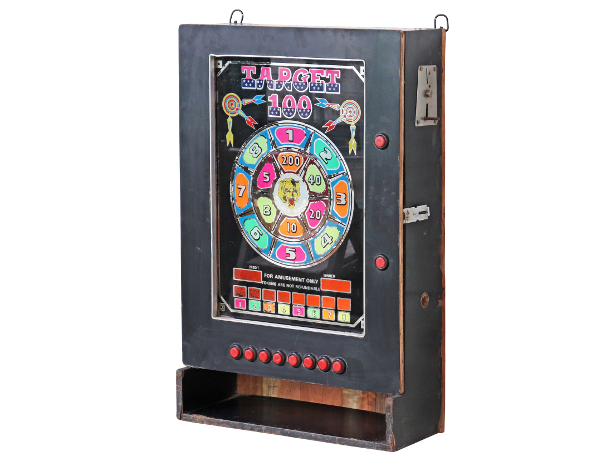 Scaramanga is bringing back some vintage arcade nostalgia with this iconic 'slot machine' which has been innovatively upcycled into a wonderful storage cabinet.
Re-visit the vintage era of pinball and slot machines of the 1960′s to the 70′s with this vintage slot machine cabinet – an old arcade piece with its insides remove and replaced with a shelf.
We imagine that 'Target 100' – the brand name of this machine – was quite a hit in its heyday: flashing lights, hopes of getting rich quick double bonuses, credits and high-pitched electronic noises!
Ideally suited both wall mounting, sat on top of a counter or directly on the floor. At home, we'd recommend for a bathroom, hallway, kitchen or living room mounting.
The original front facade glass is a wonderful piece of arcade artwork. Its push buttons are purely decorative but make a super visual and stimulating conversation piece for a hipster office, cool retail environment or vintage influenced home.
Upcycled Vintage Arcade Cabinet size: W52cm x D20cm x H80cm.
This is an old piece of vintage history, its many minor scuffs and distressed surfaces reflect its long arcade and gaming history.
See more at :- www.scaramangashop.co.uk/upcycled-vintage-arcade-cabinet-cabs31336
Price: £325.00
Wooden Shaving Box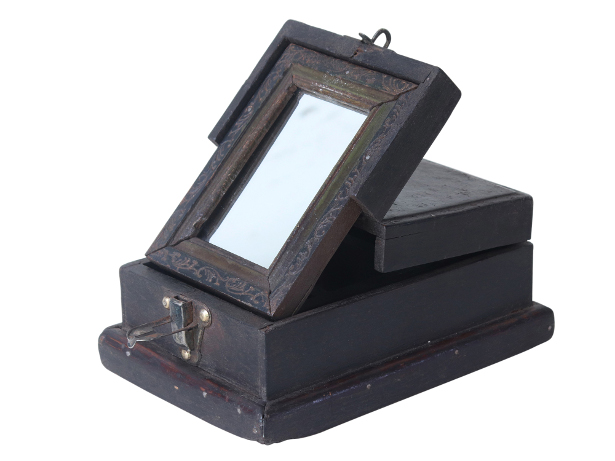 Scaramanga is fortunate enough to source a selection of these unusual lovely vintage shaving boxes which have been designed to look like books.
With embossed decorative designs and subtle colouring on some of the surfaces, they have a wonderful presence and essence.
Once upon a time, these vintage boxes would have been used by to store scissors, razor blades and other tools or the trade. The lid opens to reveal a fold-up mirror and storage compartment.
Each one of Scaramanga's unique old boxes is slightly different – they have been lovingly restored to make them a perfect treasure box with a great t and feel which adds to their appeal – they would make a great jewellery, cufflink or make-up box.
Approximate sizes: W20-23cm x D13-15cm x H6-7cm
As you'll see from the photographs, we have a selection of these boxes available – so the one you receive may differ slightly to the one you can see in the images. Each box is authentic and has historic marks and scuffs that make them unique and add to their character and appeal.
See more at :- www.scaramangashop.co.uk/item/10260/109/Old-Wooden-Chests-Trunks–Boxes/Wooden-Shaving-Box
Price: £42.50