A smooth and silky Christmas with Amarula
September 2017: This Christmas, celebrate the festive season with the deliciously honeyed cream liqueur Amarula, available nationwide at Tesco, Sainsbury's, Morrisons, Waitrose and Asda.
Distilled in South Africa and produced from the fruit of the Marula tree, Amarula is aged for two years in French oak barrels before being blended with the finest cream to create the caramel hued liqueur, delicately perfumed with the fruity notes of the exotic Marula fruit. Perfect served neat over ice, Amarula is also a versatile festive flavour, as a cocktail or indulgent dessert ingredient during the Christmas season.
The creative minds behind Amarula have designed a selection of luxurious desserts and delicious cocktails to entertain and delight your Christmas guests. From the traditional Brandy snap through to a South African classic of Malva pudding, Amarula can add a sophisticated twist to every home this Christmas.
Amarula Morocco Poached Pears: perfect for the chilly winter months, the delicious poached pears have the traditional winter spices of cinnamon, vanilla and cardamom. After gently poaching the pears in creamy Amarula, they are best served with freshly whipped cream and a sprinkling of pistachios
Torte Topped with an Amarula Crumble: Perfect for sharing with the family over Christmas, add a kick to your dessert with a crunchy Amarula laced crumble. For an extra treat server with hot chocolate sauce and crushed peanuts.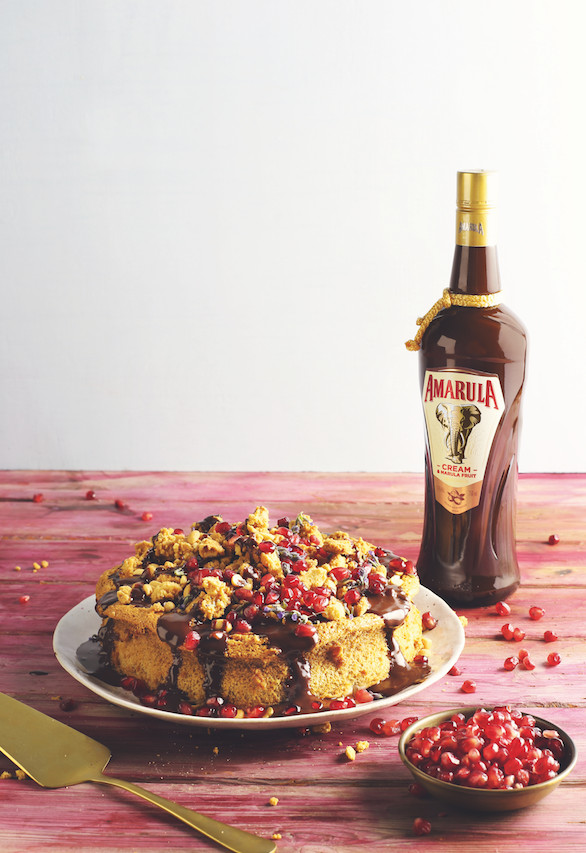 Amarula Spiced Dram: The lightly spiced Amarula Spiced Dram is the perfect Christmas tipple, with warming flavours of cinnamon, cardamom and star anise that perfectly captures the quintessential flavours of Christmas. Great as a welcome drink on Christmas Day, or as a winter warmer after a long Boxing Day stroll.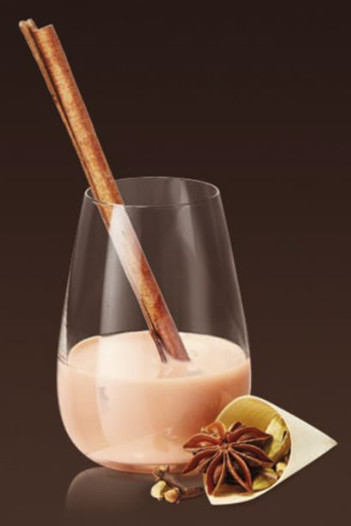 Recipes:
Amarula Morocco Poached Pears
Ingredients Pears:
700ml Amarula, 125ml water, 3 tbs granulated sugar, ½ tbs cardamom pods, 2 whole cloves, 1 whole star anise, 1 whole vanilla pod – seeds removed and pod kept, 1 cinnamon stick, 4 medium firm pears, peeled, leaving stems intact
Cream:
250ml Double Thick cream, 2 tbs honey, 2 tbs Amarula
To Top:
100g shelled, roasted, salted pistachios, roughly chopped
Method
1. In a medium sized pot combine the Amarula, water, sugar, cardamom, clove, vanilla seeds and pod and cinnamon stick.
2. Bring to the boil, stirring until the sugar has completely dissolved, then reduce the heat.
3. Add the pears to the poaching liquid in the pan. To ensure they are as submerged as possible, lie them on their sides.
4. To ensure even cooking, turn the pears every few minutes. Turn off the heat once the pears feel soft when pierced with a blunt knife. Remove from the pan.
5. Turn up the heat and allow the liquid to slowly reduce until a thick, syrupy consistency.
6. For the Amarula cream, fold the honey and Amarula into the double thick cream and set aside.
7. To serve, place the pears on a serving plate, drizzle with the hot sauce, dollop the cream over it and sprinkle over the salted pistachios.
Torte Topped with an Amarula Crumble
Ingredients
100g sugar biscuits, roughly crushed, 30-45ml Amarula, 50g peanuts, raw & shelled, 50g milk Chocolate, chopped roughly into 2cm pieces, 50g white chocolate, chopped roughly into 2cm pieces, 5 XL eggs, separated, 30ml Amarula, 200g icing sugar, 25g granulated sugar, 5ml vanilla essence, 50g butter, melted, 25g cake flour, 20g cornflour
Sauce:
100g good quality dark chocolate, chopped roughly into 2cm pieces, 50ml cream
Method
1. Preheat oven to 150'C.
2. Place your crushed sugar biscuits into a bowl. Add the Amarula until the mixture is thoroughly coated but not too soggy.
3. Place on a baking sheet & pop into the oven for 30 minutes or until the crumble has completely dried out.
4. While this is baking, place the peanuts in a pan and toast until lightly golden. Remove from the heat & transfer to a cool bowl.
5. Melt the chocolate in a heat-proof bowl set over a pot of lightly simmering water, stir until completely melted & smooth & remove from the heat.
6. Beat the egg yolks with half the icing sugar & granulated sugar until light in colour & thick in consistency.
7. Beat in the vanilla essence, melted butter, Amarula & chocolate.
8. Sift in the flour, cornflour & fold well into the mixture.
9. Whisk the egg whites in a separate bowl to stiff peak.
10. Slowly incorporate the remaining icing sugar, tablespoon by tablespoon, maintaining the peak of the egg white mixture.
11. Carefully fold into the chocolate mixture.
12. Pour into a greased, 20cm springform pan.
13. Pop into the oven & bake for 35-40 minutes. The cake should form a beautiful flaky crust on top while remaining moist & light in the middle.
14. While the cake is baking melt the chocolate for the sauce in a heat-proof bowl set over a pot of lightly simmering water, stir until completely melted & smooth, slowly stir in the cream & remove from the heat.
15. When the cake is done, allow it to stand for a few minutes before turning out onto a cooling rack.
16. Once cool, place onto a serving plate or cake stand, top with the Amarula & sugar biscuit crumble and toasted peanutss & drizzle generously all over with the chocolate sauce. Garnish with flowers and pomegranate rubies
Amarula Spiced Dram
35ml Amarula Cream Liqueur
20ml Spice – infused whisky (clove, cinnamon, juniper, star anise & cardamom)
Stir ingredients in glass beaker with ice until chilled. Fine strain into a chilled champagne glass.