Soho-ho-ho – just one of The King of Soho's 2023 festive cocktail recipes
There are different kinds of festive host when it comes to Christmas and New Year drinks. If you're traditionalist, opt for your favourite martini or a nicely made G&T. If you like to surprise and excite your guests with something new, we have some original cocktail recipes from The King of Soho to bring some razzle dazzle to your entertaining.
The King of Soho is a boutique, independent brand that is just celebrating its 10th birthday. Pick from three glorious spirits from The King of Soho: a contemporary London Dry Gin (clad in a blue bottle) £34.95 for 70cl; a delectable Variorum Pink Gin (in a red bottle) £33.95; and a smooth Copacetic Vodka – newly available nationwide as of this Autumn (in a distinctively regal purple bottle) £34.50.
It's the brainchild of Alex Robson, a dynamic female entrepreneur, and Howard Raymond to celebrate the Soho legacy of Howard's famous father, Paul Raymond – the original 'King of Soho'. The packaging design reflects the flamboyant, creative, and hedonistic spirit for which London's Soho district is known.
Now for the cocktail recipes, each of which is original for Christmas and New Year 2023. Choose from The Red Shoe, a twist on a gin cobbler made with Christmas staples including gin, cranberry, and sherry; the Birds and the Bees, rich with honeyed orange notes and the hit of a Birdseye Chilli; or Soho-ho-ho, a blissful riff on a mocha martini.
THE RED SHOE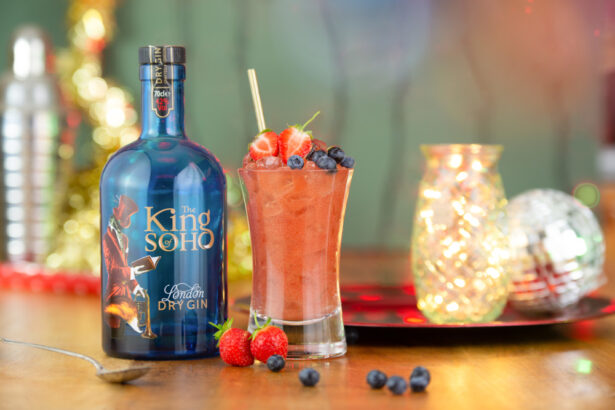 Ingredients
40ml The King of Soho London Dry Gin
25ml Oloroso Sherry
35ml Cranberry juice
Splash of Lemonade
10ml Lemon juice
5ml Grenadine
Method
Pour all the ingredients into a mixing glass and stir, decant into a tall glass filled with crushed ice.
Garnish with berries.
BIRDS AND THE BEES
Ingredients
40ml The King of Soho Variorum Gin
10ml Triple Sec
25ml Lemon juice
15ml Honey
1/4 Birdseye chilli
Dash of Chocolate Bitters (optional)
Method
Muddle the chilli with the honey in the bottom of a shaker, add the other ingredients and stir until the honey is well mixed.
Add ice and shake well. Double strain into a chilled cocktail glass.
Garnish with orange zest.
SOHO-HO-HO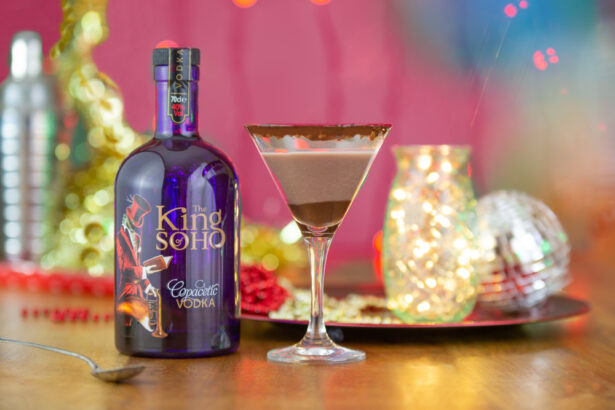 Ingredients
40ml The King of Soho Copacetic Vodka
15ml Half & Half (Milk and Cream)
5 drops of Vanilla extract
½ a shot of Espresso
25ml Chocolate liqueur (we use 38 Tequila Black or Bouvery Liqueur)
Method
Rim a martini glass with melted chocolate and chill in the fridge.
In a shaker, mix the vodka, Half & Half, vanilla extract and espresso shaking very hard for 10 seconds.
Carefully pour the chocolate liqueur into the chilled glass and pour the mix over the top using a spoon to break the fall and create a layer.
Recipes by The Cocktail Guru.
Buy all three spirits from Amazon and Master of Malt and The King of Soho Gins are also available from Ocado. These drinks also make for superb gifts as these bottles are as perfect to look at as the liquids are to sip.
Links
https://www.facebook.com/TheKingofSoho/
https://www.instagram.com/thekingofsoho/
Tweets by TheKingofSoho