An award-winning business set up by Sanjay to 'keep his Mum entertained' in retirement and because 'she deserved something of her own' has proved a runaway success.
When Sanjay suggested that he and Shashi set up a small business blending spices and packaging them in tins with handmade silk sari wraps (yes recycled saris), he hadn't realised it would change his and his mothers' lives. The small business started in 2012 from Shashi's kitchen, with Sanjay still working in recruitment, has become a thriving small business. Shashi was bored in her retirement and looking for something to do, so round the dinner table Sanjay had an idea that she could sell her spices, potentially within a traditional Indian spice tin. He took a picture of his mums' spice tin, listed it on ebay with spices included, and they woke up on Boxing Day to see their first sale.
Shashi arrived in Birmingham from India wearing only a sari, having left her family behind in India to come to Britain to marry and start a new life. Sadly she never saw her father again as he died before she was able to return and it was many years before she was able to visit her homeland.
Shashi and her husband Ashok quickly opened a corner shop which meant hard work and long hours were the norm for them. She raised her 3 children, of which Sanjay was the youngest while regularly welcoming new members of her family from India into their home which was a base from which to build their own homes. They didn't have a lot but what they had was shared with all.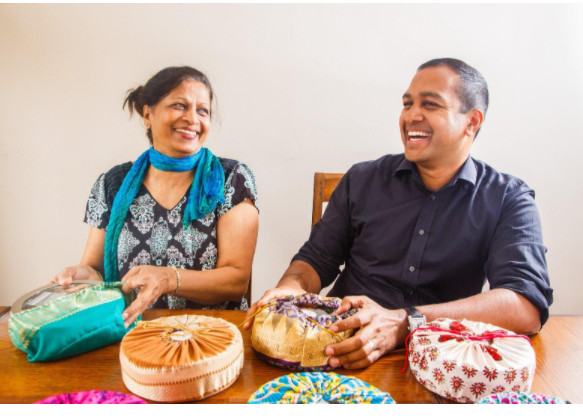 Shashi was always the matriarch and food was central to their lives. She learnt to cook for large gatherings of family at the drop of a hat and became known for her amazing traditional Indian vegetarian food – but not just from her region of India in Punjab but a diverse mix of regional dishes from all over India.
Food is what connected Shashi to her heritage and cooking Indian food for family and those around her made her happy. Shashi inherited the 100 year old family spice grinder from her oldest sister and Sanjay's earliest memories are of his mother showing him how to use it to create freshly milled spice blends. Shashi thinks her cooking was improved enormously through competition – as a child she and her sisters each had to cook meals and they were always trying to outdo each other!
Shashi never ceases to think of others; when the Covid-19 pandemic hit she immediately turned her hand to making face masks and taking handmade bhajis to exhausted NHS staff. Her food is second to none and she has even cooked up a banquet for the CEO of eBay. She is the queen of short cuts and knows how to make complex Indian recipes less complicated, a skill she has passed onto her son. They create recipes which they post on Instagram and company website www.spicekitchenuk.com for all to enjoy and they are never happier than when surrounded by people and spices in her kitchen.
It is a long time since Sanjay and Shashi have seen each other face-to-face as Shashi is having to shield whilst her husband undergoes chemo therapy, but she would be happy to join from Birmingham and tell Sanjay exactly what he doing wrong whilst cooking on the show! Sanjay would be delighted to cook on the show and demonstrate some delicious easy dishes, with his mother doubtless telling him what he has got wrong! Alternatively, Sanjay could be interviewed from his own home, or be interviewed from the business premises in Widnes.
Sanjay has previously been interviewed by the Hairy Bikers and has appeared twice on Packed Lunch with Steph McGovern. He has been featured on Sky News, BBC News and in many national papers. He is lively, entertaining and full of fun: his relationship with his Mum is quite wonderful to behold – full of love, humour and a typical Indian Mum determined to keep her son in line!