Corporate Executive Reinvents Herself as Entrepreneur in Lightbulb Moment bulbnest.com
"Lets Get Organised in 2018, I think we all deserve it" InTouch Rugby Organisation Editor.
"Which includes little cubbyholes!"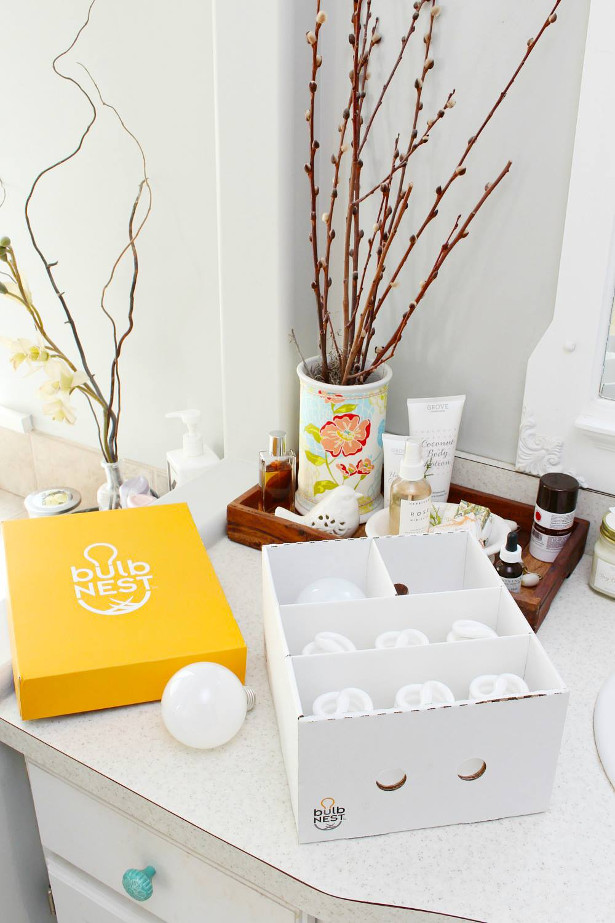 FACEBOOK | TWITTER | INSTAGRAM
Denver, CO (March 1, 2018)— After three decades of international and domestic business experience, it took an accident for financial expert Wendy Lemke to find her passion as an inventor and entrepreneur. Lemke was recovering from multiple surgeries and using a knee scooter when she reached for a light bulb on a shelf. It slipped and broke, leaving her surrounded by glass shards, and out a $20 bulb. "They say you've got to think outside the box," says Lemke. "I decided to reinvent one instead."
With that, the bulbNEST® was born.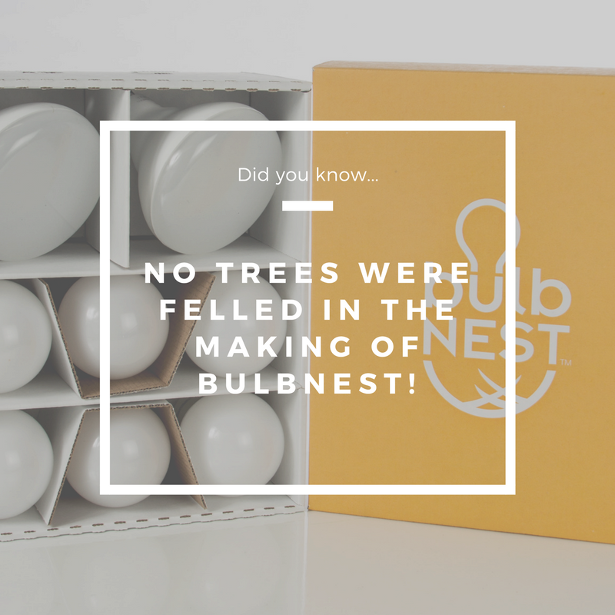 The bulbNEST® makes changing a light bulb as easy as it's supposed to be. Its design accounts for all the little aggravations that make replacing bulbs a chore. The bulbNEST®'s patentpending design 'nests' each bulb securely, while its bright yellow lid and holes on the side make it easy to spot and grab from cluttered closets and high shelves.
While Lemke had run accounting and finance teams with organizations from small pre-IPO startups to Fortune 100 companies, she had never started a business herself, so she began by developing strategic partnerships with local businesses. She spent months working with the Denver-based 3D Printing Store to develop drawings and create the unique box design. Lemke also hand picked graphic designer Jen Honegger to develop the brand showcasing the concept of how a bulb 'nests' into place.
"I took everything I learned from helping other companies grow and applied it to my own business plan. I knew that it was more important to do things right than it was to do things quickly." She did the long, but slow work of filing for trademarks and patents, and finding quality strategic partners to rely on. It was nearly a year before she was ready to begin manufacturing. Even then, she took her time to make sure she was building the right product. "I think my history and experience gives me a big-picture perspective that many entrepreneurs don't have. I have seen first-hand some of the pitfalls that businesses run into," Lemke says.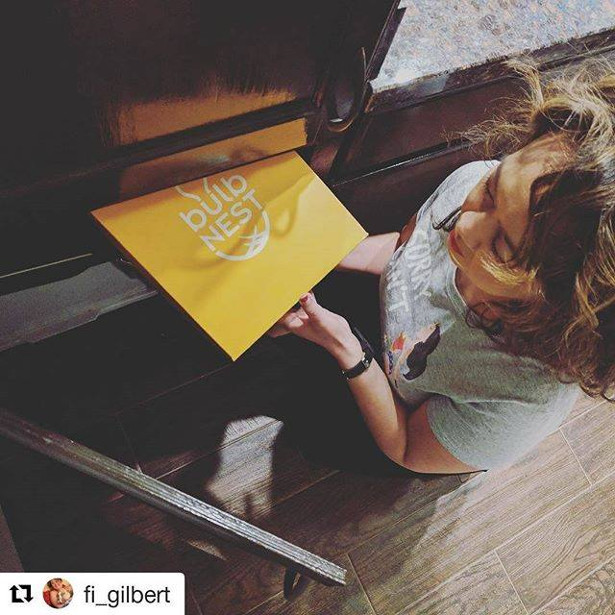 Even the name, Lynwood Creations, the parent company for the bulbNEST® and future products was meticulously created. The name is a legacy from her father's custom home building company. "My father had high standards for everything from education to work, and used to tell me that even if it was selling pencils on the side of the road, I better be doing my best," said Lemke. "Well it's not quite pencils, but if I'm going to create and sell something, it's going to live up to the standards I grew up with." For Lemke that means a sustainable product, and one that is Made in America. That's the baseline for the bulbNEST® and all future creations for Lemke.
Planning and hard work paid off for Lemke as she launched her first commercial product in early 2017 on walmart.com, and her own web site bulbNEST.com. She is in development for a DIY version to launch this spring to be sold in brick and mortar locations, and in negotiations with several additional home improvement stores to take her creation to the next level.
This is only the beginning of Lemke's new beginnings, however. She's taking everything she learned as an entrepreneur and applying it to new inventions and ideas as this inventor keeps reinventing herself
About bulbNEST® (www.bulbNEST.com ) The bulbNEST® is the inspiration of Denver business owner, Wendy Lemke who was dedicated to inventing a practical product that upheld her high standard of quality. She is the owner of Lynwood Creations, the parent company of bulbNEST®, and has more than 30 years of domestic and international business experience. bulbNEST® is a registered trademark and a patent-pending invention.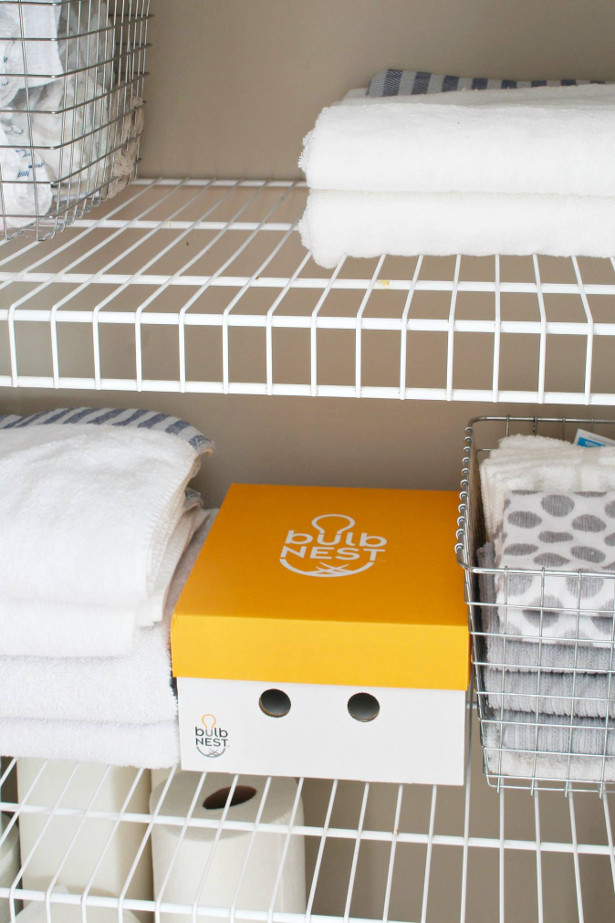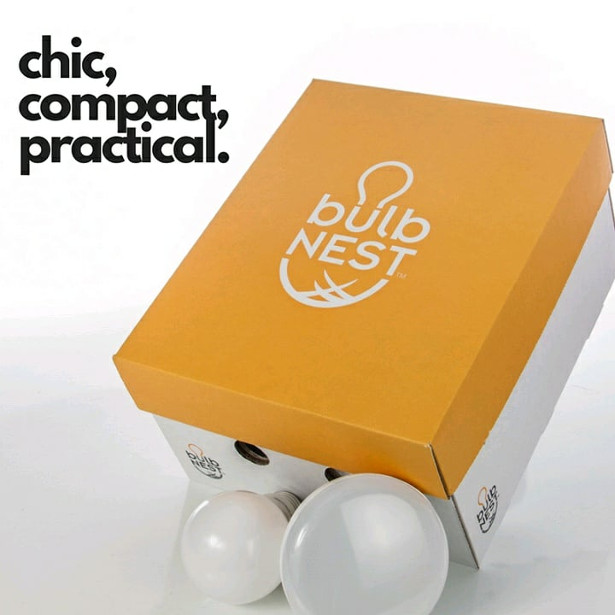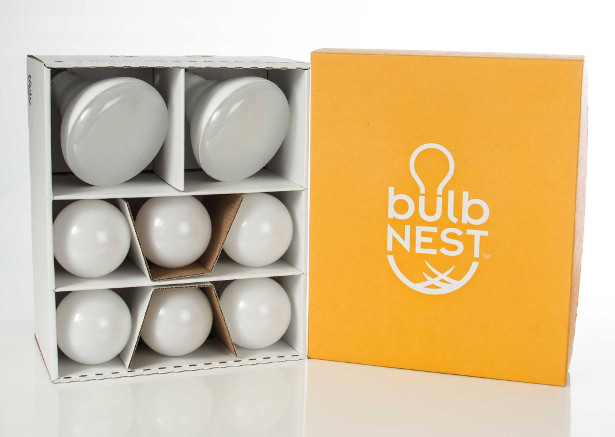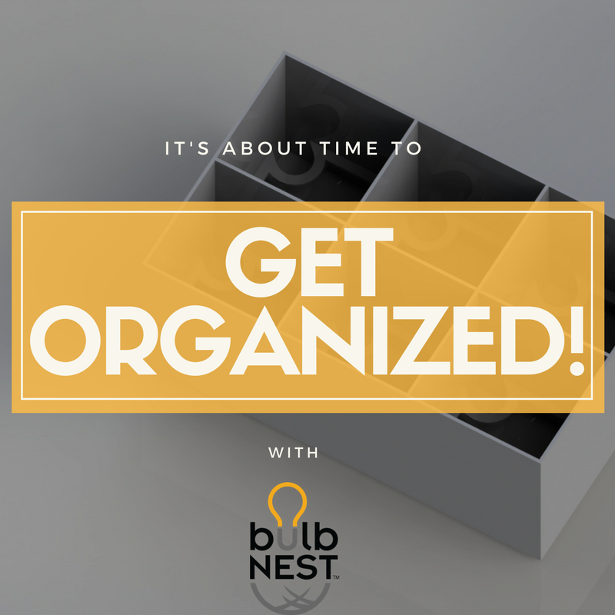 Chaos To Order
Chaos to Order Website · Blog · Appointments
www.chaostoorder.com
Here are a few tips for spring cleaning from "Chaos To Order"

Make a list: Write down every job you'd like to accomplish, then prioritize. Don't forget about those easy-to-forget jobs that need to be done, like changing filters and vacuuming refrigerator coils to name a few.
Schedule time: It won't ever get done unless you carve out time to do it. The best way to ensure execution is to get it on the calendar–with a reminder notification or two.
Simplify: How much do you really need? Before starting a decluttering project, think big-picture and how much you'll need to eliminate to optimize your space the way you want.
Here are a few blog posts that relate:
It's Time To Spring Clean!
How To Quickly Spring Clean Your Desk
Spring Cleaning: Things You Should Throw Away Now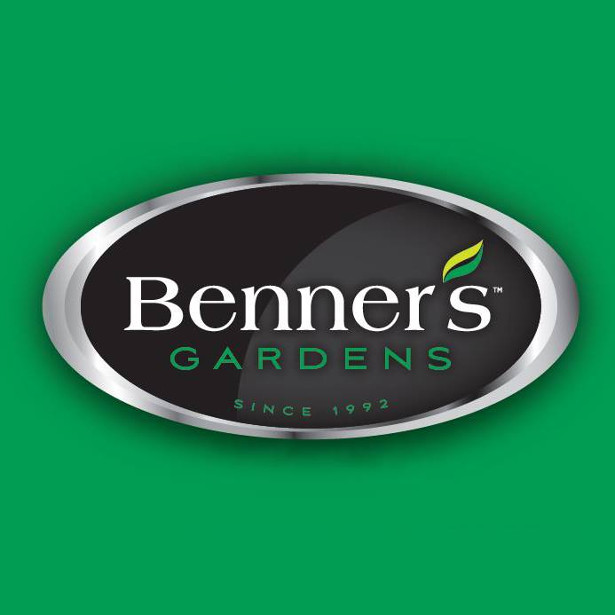 Are There Deer In you Area?! Are you looking for a safe fencing system (DIY friendly) to organise access to your property & is safe for small dogs too! It's here Benners Gardens fencing systems do all of this & more!! >> www.bennersgardens.com


Benner's Gardens is focused on supplying our customers with quality deer fence deterrent systems that are extremely effective, aesthetically pleasing, cost-effective, and long-lasting. We are committed to providing the highest level of service to our customers, and are focused on creating and maintaining long-term, mutually beneficial relationships with our employees, customers and vendors. For product information, questions, or to place an order- please contact our customer service representatives.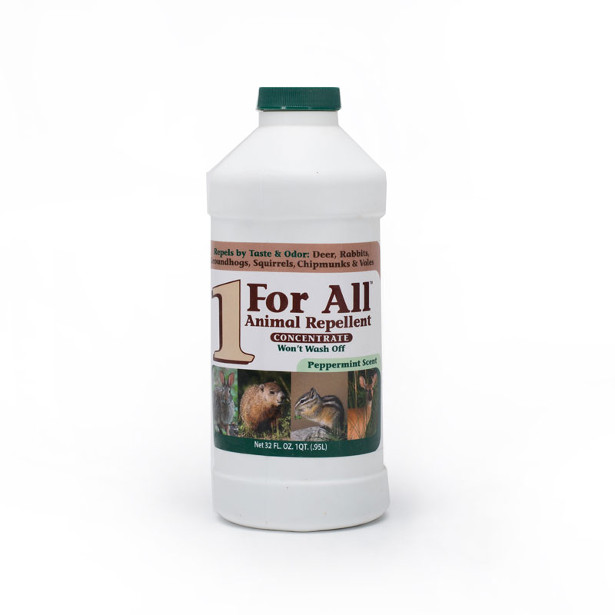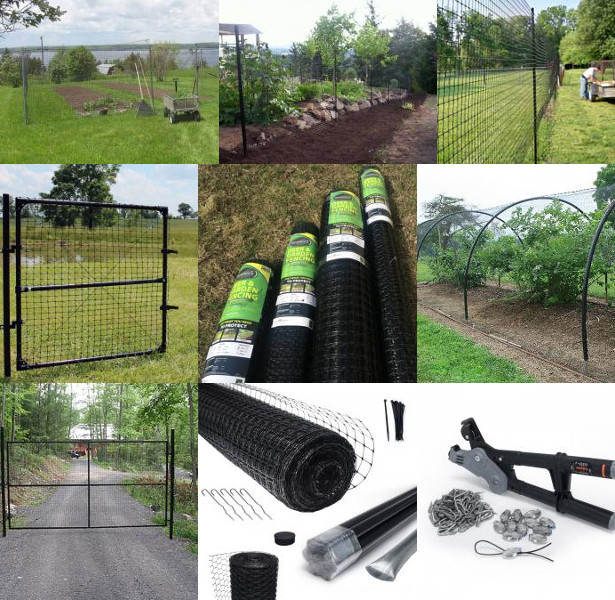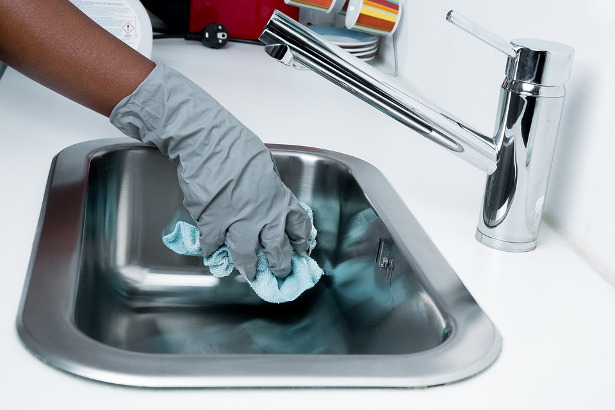 Maple Holistics
by Caleb Backe

Spring cleaning time! Hooray! Well, the actual spring cleaning may be less fun at times, but there is nothing like the rewarding feeling you get after you've cleaned your house and garden from top to bottom and inside out. Sitting back to reap the benefits is fun. Cleaning your home clears your mind. It's amazing how an atmosphere of calm and peace transcends once the house, garden and vehicle are freshly cleaned and organized.
I always say, when it comes to spring cleaning, you're best off starting from the inside and working your way out – so, house first, garden and then vehicle. You may think that this theory makes zero sense, I mean, 'why waste time cleaning indoors when everybody will bring the mess with them from the vehicle and garden every time they step inside the house?' Was that your train of thought right now, am I right?
Well, let me tell you a secret: no matter how much you clean, the house and the garden and the vehicle will get messed up again. 'Clean' is a fleeting state of being. I do not say this to discourage you, I am merely getting to the reason behind the 'inside – outside' theory. You see, if your house isn't clean, you'll be bringing mess out with you into your clean vehicle and garden. Now you must be thinking 'well, thank you very much, but there's a catch 22.'
Yes, I agree. But I also believe that people are going to try harder not to bring mess with them into a clean house than they are going to try not to take mess out with them into a clean vehicle and garden. After all, you do spend the most time indoors, (even if you are not a homebody and love the outdoors, don't forget you are home most of the night) so that should be the priority. If you start with the outdoors there will be no end to the cleaning. You'll be cleaning your garden, vehicle, house and then garden and vehicle again!
Even more important is to apply this inside – outside theory inside your home as well. Organize cupboards and drawers first and then dust the furniture and find a space for any homeless objects lying around – and if the only reasonable space for them is in the dustbin, by all means, chuck them! I'm all for getting rid of unnecessary items; that is the best way to keep you home neat and tidy for longer. Until the next round of junk accumulates…we'll save that for next year's spring cleaning.
…
Caleb Backe is a Health and Wellness Expert for Maple Holistics.
National Pest Management Association (NPMA) household tips for preparing the home/buildings for spring, especially to protect against termites.
www.pestworld.org


Termite infestations cause more than $5 billion in property damage in the U.S. every year — costs that are not typically covered by home insurance policies. Please feel free to share the below tips and credit the NPMA for your Outdoors / Indoors Spring Cleaning Essentials Feature!
Here are NPMA's top 10 termite prevention tips:
Eliminate or reduce moisture in and around the home, which termites need to thrive
Repair leaking faucets, water pipes and exterior AC units
Repair fascia, soffits and rotted roof shingles
Replace weather stripping and loose mortar around basement foundation and windows
Divert water away from the house through properly functioning downspouts, gutters and splash blocks
Routinely inspect the foundation of a home for signs of mud tubes or wood that sounds hollow when tapped
Monitor all exterior areas of wood, including windows, doorframes and skirting boards for any noticeable changes
Maintain an 18-inch gap between soil and any wood portions of your home
Store firewood at least 20 feet away from the house
Consider scheduling a professional inspection annually, and if buying a home, don't bypass the wood destroying organism inspection
POWER UP YOUR VAC – BRITAIN PREPARES TO GO CLEANING CRAZY FOR SPRING
Two-thirds of homeowners and renters planning a thorough spruce up
Bizarre finds include secateurs and a wetsuit glove!
Tips from Vorwerk ambassador and Channel 4's Lynsey 'Queen of Clean'
Over one in eight (13%) homeowners and renters are planning to spend more than a day spring cleaning this year, research for home appliance maker Vorwerk has revealed.
As evenings get lighter, two-thirds (67%) of households will be gearing up for their big clean – with 45% reaching for the vacuum cleaner as their first port of call to give their homes a fresher feel and a new look during the spring season.
Of the remaining third who will be side-stepping a spring clean, 25% say they are 'too lazy', according to the findings for Vorwerk – the creators of the iconic Kobold VK200 Upright Vacuum Cleaner.
However, deep cleaning has certainly paid off for 24% of households who have pocketed missing money during the housework. Others have also found a bizarre range of items including a pair of secateurs and wetsuit glove!
UK's cleanest quarters
Northern Ireland homes are preparing to be the cleanest in the UK – with 77% planning on making their homes spotless this spring, closely followed by 71% in the North West, and 70% in the West Midlands and North East respectively.
Yorkshire adults are the biggest culprits in the UK for shunning the domestic chores – with 20% saying they have never done a spring clean, ahead of 18% in the East Midlands and 16% of South West households.
Women lead the charge for committing to a spring clean this year – with one in 10 more females (71%) planning on making their homes spick and span compared to 63% of their male counterparts.
Spring cleaning is deemed a high priority across the generations too – particularly for nearly three-quarters of 45-54-year-olds (71%) and 63% of 18-24-year-olds.
However, more than a fifth (22%) of 18-24-year-olds admit they have shirked it altogether, and a further 37% say will be 'too lazy' to commit to a deep clean this year.
Hygiene, home haven and a whole new look
Figures suggest that a clean house gives off a certain impression too, with 37% saying they would think the host was lazy if they lived in a state. Meanwhile, 28% say they judge the homeowner negatively and 13% would want to offer a helping hand to clean.
Top five biggest turn-offs in the home
%
Dirty toilet
71%
Strong smells
61%
Messy kitchen
55%
Unkempt bathroom
49%
Pet hair all over
43%
Home horrors
There's also 46% who would not even accept a drink in a messy home, nearly half (44%) would refuse food and 37% would avoid the bathroom. A third (33%) even wash their hands immediately as soon as they get home and 30% admit to cutting their visits short.
Speaking about the findings, Vorwerk cleaning expert Thomas Henningsson, said: "It's refreshing to see that people still put value in a good, intensive spring clean to give their homes a new look following the unforgiving winter months.
"A clean home can provide a welcoming haven for friends and family and our research has found that a thorough clean gives off a good impression. It certainly pays off to go that extra mile too – as we've seen with people finding all kinds of items whilst cleaning."
Get organised
Vorwerk ambassador and Channel 4 star, Lynsey 'Queen of Clean' Crombie, added: "A good plan goes a long way towards your spring clean and it can seem less daunting if you organise your routine into manageable chunks. You should take things room by room so it's achievable and doesn't seem like a chore.
"People do judge you on your homes so it's great to see that many of us are planning a spring clean this year. I like that people do it because they are house proud – that's something I can relate to and will be spending the time to make sure my home is spick and span for guests and my family to enjoy."
Lynsey's 5 Spring Cleaning shortcuts
To deep clean your sinks, sprinkle some bicarbonate of soda over the plug hole, and then pour down some white wine vinegar. Follow this with some boiling water to flush out your drain and leave it smelling fresh
To get rid of those stubborn water marks on shower doors and tiles, cut a lemon in half and rub it directly onto the marks
If your glassware has stubborn water stains, gently rub over them with potato skins to remove the grime and rinse as normal. They will come up as good as new
Gently rub a tennis ball over marks on paintwork and watch them disappear
If you've got watermark rings on your table, place some fabric on top of the mark and iron the surface on a low heat.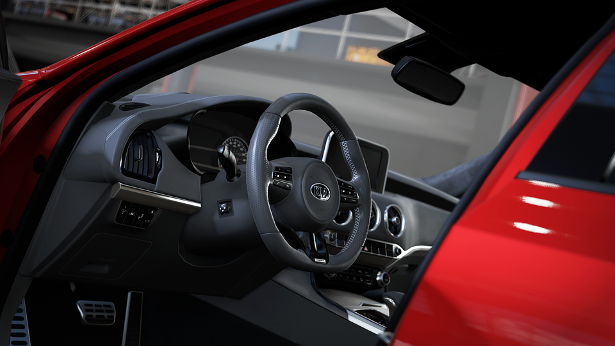 After a long winter of hibernating by the fire, it's essential to add "Fireplace" to your spring cleaning list! Use the Pine Mountain Creosote Buster Firelog to reduce dangerous creosote buildup, which is the second leading cause of home fires!
To help keep your home safe from fires and ensure your fireplace will be ready to go next winter, add these three steps to your spring cleaning routine:
1. Remove any remaining firewood or debris from your fireplace.
2. Use thePine Mountain Creosote Buster Firelog to reduce dangerous creosote buildup, which is the second leading cause of home fires. Simply place the log on a lit fire and you're done! Watch how easy it workshere.
3. Once the fire is out, make sure to close the flue. This will help keep cool air in your home during the summer and prevent any animals from getting in your house.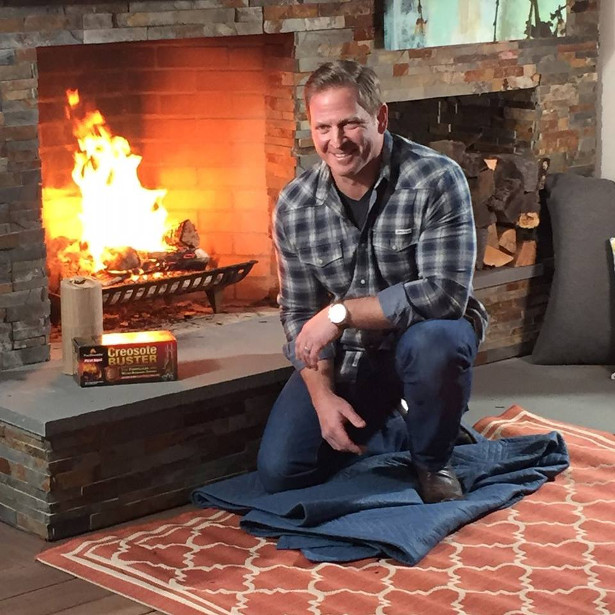 Pine Mountain Creosote Buster™ Firelog
Pine Mountain®
Creosote Buster® Firelog
Prevent dangerous chimney fires with the Pine Mountain Creosote Buster Firelog designed with First Alert™, the most trusted brand in home safety products. Used once per season, Creosote Buster firelog reduces creosote buildup and the chance of a home heating fire, the second leading cause of home fires.
Simple to use: just add to an existing fire
When heated, the powder in the Firelog changes to an active gas and attacks the creosote in the chimney
All natural and contains no wax
Reduces creosote in wood fireplaces and wood stoves
Removes 2 times as much creosote as the Chimney Sweeping Log (CSL)*
Patented technology**
Versatile. This revolutionary new product made in the UK fits together like' Lego' and can be supplied with matching edges and corners. It can be cut with a Stanley knife to allow a perfect fit >> www.versatile-flooring.co.uk
Verasatile flooring It is ideal for garage floors, greenhouses, cellars, utility rooms, changing rooms, swimming pools, saunas plus many more.
Versatile is perfect for wet areas as it is non-slip and hygienic. The blue and yellow versions contain a fungicide that helps stop mould growth and it can be easily cleaned with a hosepipe or pressure washer.
Each tile is 300mm square with a 9mm gap underneath for drainage. Available in 13 different colours.
Prices start from £2.80 each inc vat.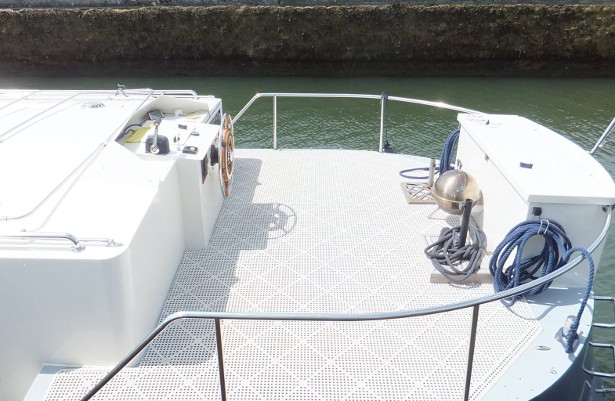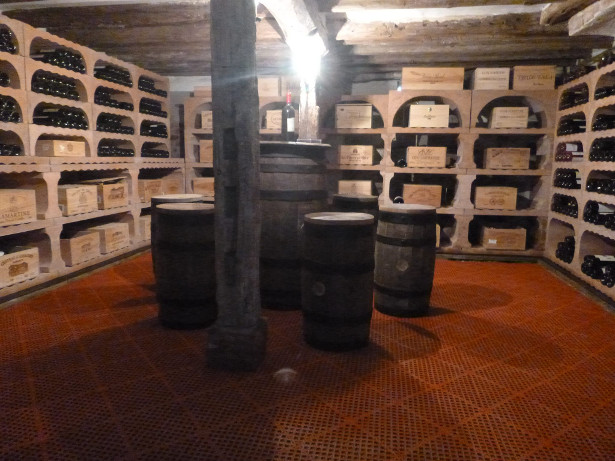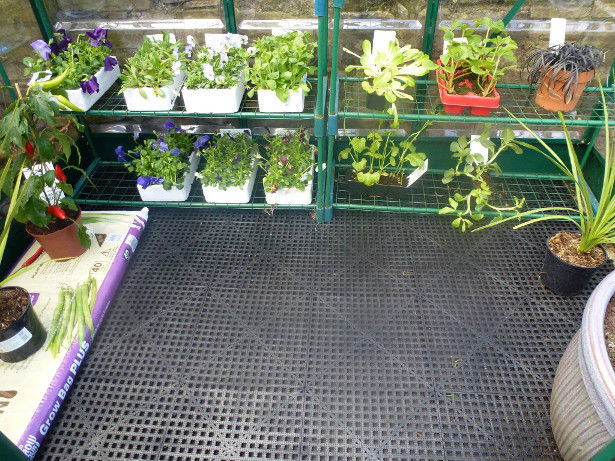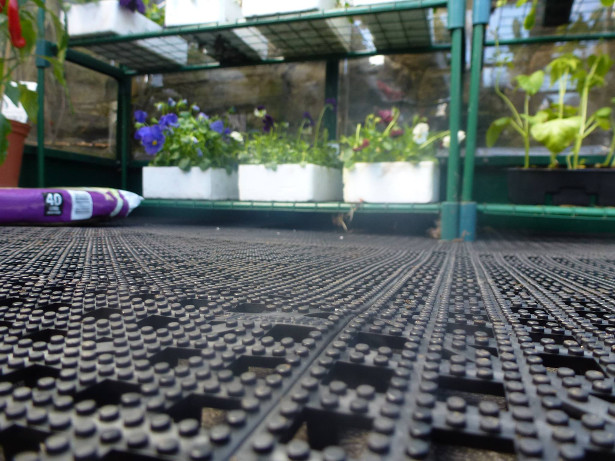 Landscaping London. Tips on how to clean your garden.
www.landscapinglondonuk.co.uk

Remove twigs and leaves – use your trusty garden rake to collect all the leaves and twigs which have been sitting on your lawn all winter. These will make a great compost later on when the time comes to plant new flowers and possibly shrubs. Also, clean any debris which have piled up during the winter.
Time and prune – late winter is the ideal time to prune your trees and shrubs because they're still dormant. Afterwords when the weather becomes warmer your trees and shrubs will heal much faster and there would less risk of any infections. Another reason to prune in late winter: it's much easier to see the branches when there are no leaves.
Clean patio and deck – now is the perfect time to finally clean your patio and deck. These surfaces are usually the most ignored aspect of any garden. When they're cleaned they're no longer slippery and dark. You might even be surprised to see your patio was never dark green, but instead gray.
Theodore Beasley, professional landscaper @ http://www.landscapinglondonuk.co.uk/
SIX STEPS FOR A GUARANTEED SPRING CLEAN SHINE
After a long dark winter, spring has finally sprung and with it comes the hope that sunshine and blue skies are on the horizon – but that isn't always the case.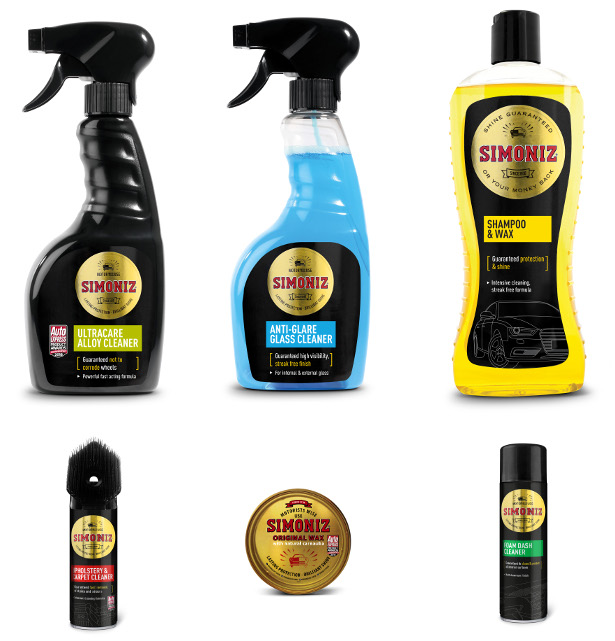 The unpredictable British weather makes it impossible to prevent your car from picking up dirt and grime, as come rain or shine we are faced with dusty roads and muddy puddles.
Simply follow our six steps to give your car perfect spring clean:
Simoniz Shampoo & Wax uses a proven advanced formulation which came first in laboratory tests. Offering superior intensive deep cleaning, it removes dirt quickly delivering a streak free finish and a guaranteed shine.
We recommend our award winning Simoniz Original Wax to deliver a longer lasting wax finish and brilliant shine. Our hard wax includes natural carnauba to protect paintwork from the worst that roads can throw at you. Take some time to apply and your car will be protected for up to 6 months, helping to prevent further damage.
Keeping glass clean and clear is a real safety issue – glare can be a massive problem as the sun begins to make a more regular appearance. Simoniz Anti-glare Glass Cleaner is a specially formulated window and headlight cleaner for use on both internal and external glass, developed in the lab and tested on the road to give you the best view possible.
Dirt, dust and grime can cause all kinds of problems to your wheels. Simoniz Ultracare Alloy Cleaner is a quick and effective way to remove dirty deposits from your wheels, providing lasting protection and brilliant shine. Its unique patented formula is fast acting and unlike many cleaners on the market, acid free, making it guaranteed not to cause harm and corrosion to the inevitable scuffs and scratches on your alloys.
As the outside of the car dries, focus on your interiors. With its unique cleaning brush head and intensive cleaning formula, Simoniz Upholstery and Carpet Cleaner is guaranteed to quickly remove stains and odours from car interior fabrics, leaving your car smelling like new.
For the dashboard, try Simoniz Foam Dash Cleaner – while removing all ingrained dust and common stains, the foaming action of this cleaner leaves a matt showroom finish on your interior plastic, making your motor stand out from the crowd.
Start Spring Cleaning off right with this new innovation that will keep toilet clean for months on a budget. foreverblueflush.com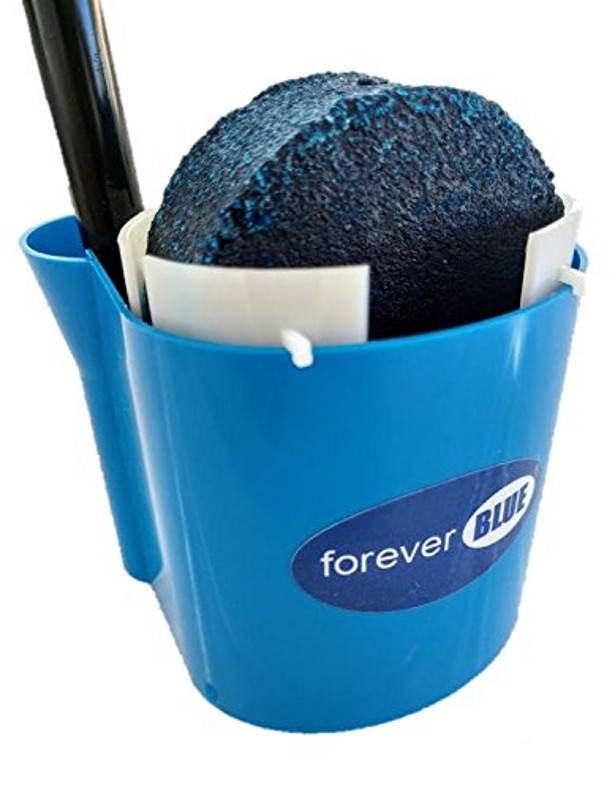 Forever BLUE Flush Toilet Cleaner Booster – 1 Count (automatic toilet bowl cleaner drop-ins)
Install & forget – Extends the life of your favorite name-brand blue drop-in toilet bowl cleaner up to 4 – 6 months, a 500% increase.
Compatible with 4 out 5 new & existing toilets. VERIFY COMPATIBILITY with your Toilet BEFORE ORDERING. See attached illustrations. Simple to install, portable, non-permanent installation. Reusable over & over again.
Leaves a fragrant & crisp, glacier blue toilet water refill, never a dark porta-potty blue.
WORKS WITH AMERICA'S FAVORITE NAME BRAND BLUE TOILET DROP-IN AND BOOSTS A SINGLE BLUE DROP-IN TABLET TO LAST BETWEEN 4-6 MONTHS instead of a few weeks. Your Toilet Bowl Cleaner : "HACKED"
This simple idea extends the life of blue toilet drop-in cleaners. It keeps the drop-in tablet from continually dissolving and only allows the tablet to contact water when the toilet is flushing for an incremental dosage of blue drop-in tablet detergent with each flush.
Fits most common and basic 2-piece toilets; not compatible with canister, piston, vacuum, pressure, or Mansfield type toilet components; please VERIFY your toilet type before ordering. Blue toilet drop-in NOT included.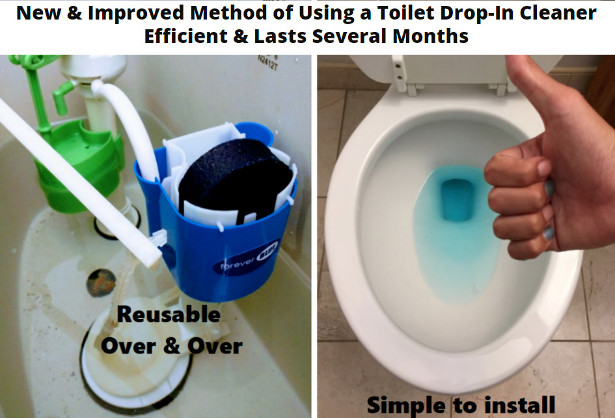 SUPER SIMPLE INSTALLATION: (2 minute video available on Youtube)
1 – Open toilet tank lid
2 – Disconnect refill tube from overflow tube
3 – Place Forever BLUE Flush on overflow tube (gently remove collar if required)
4 – Reconnect refill tube to either of two available inlet ports on Forever BLUE FLush (clip or clip-less)
5 – Give toilet a flush to ensure components work properly, adjust accordingly if necessary
6 – Place lid back on cistern and you're done
TIPS, TRICKS, AND FOR BEST RESULTS:
1 – Patience! May take 1-2 weeks for desired performance
2 – Use Scrubbing Bubbles Vanish Drop-ins for blue cleaner, any brand to your liking for rim hanging automatic toilet bowl cleaners
3 – Not recommended with X-14, 2000 Flushes, chlorine tabs
See YouTube and Product Webpage; ForeverBlueFlush.com.
Int'l Patent Pend.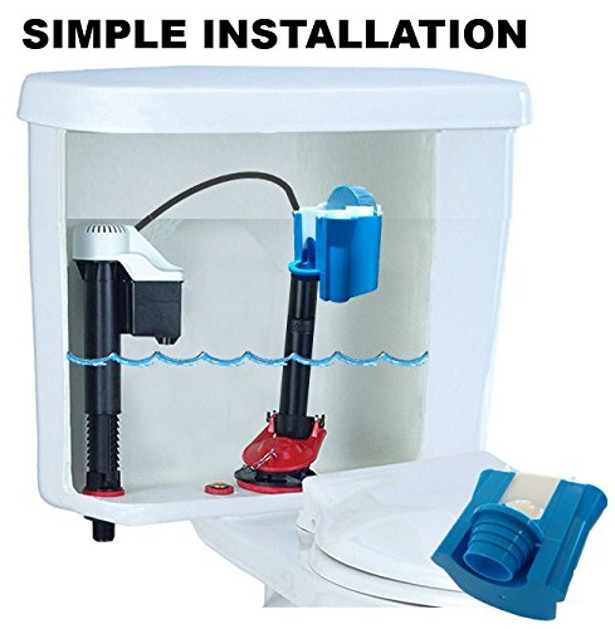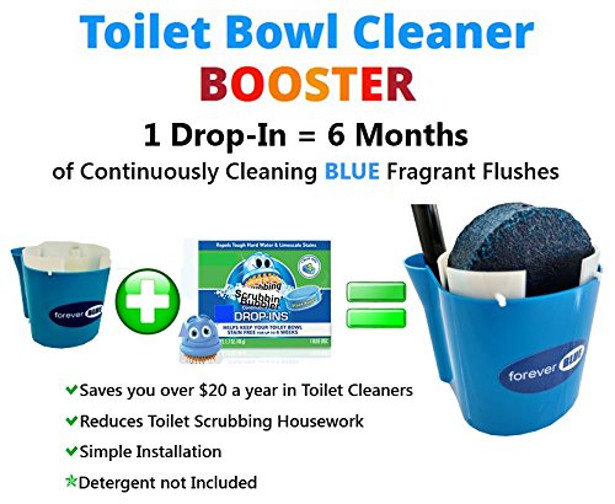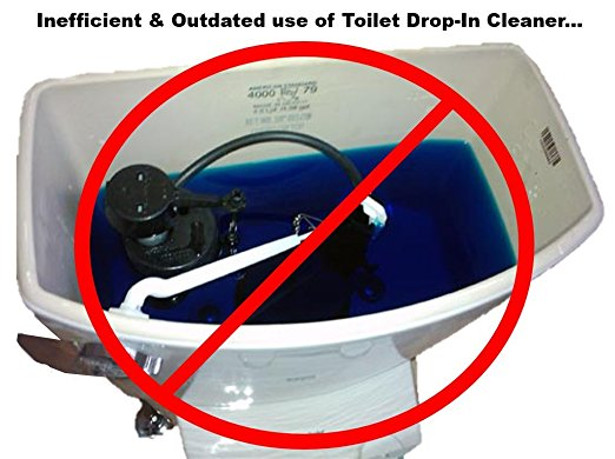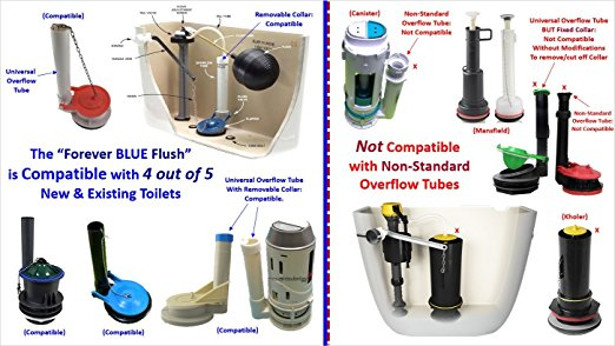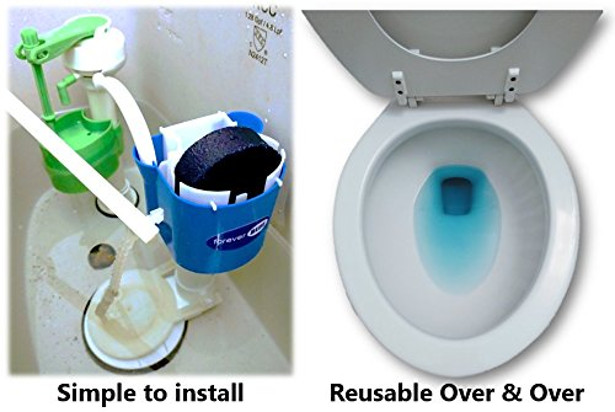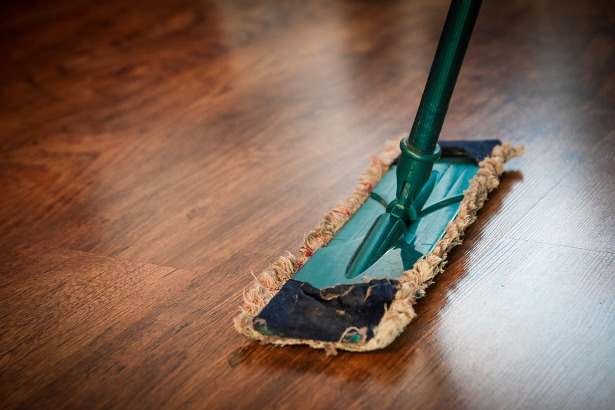 Randy's Carpet Care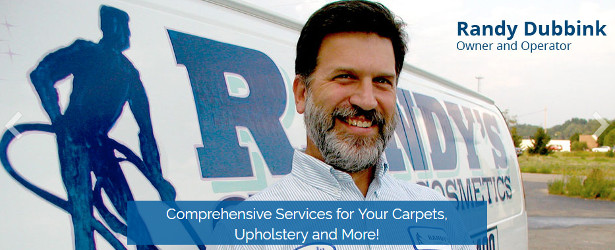 Randy's Carpet Care is an award winning carpet cleaning company serving West Michigan since 1980. Spring Cleaning season is an important and busy time for tyhe, and for good reason: all of that salt and muck your family has dragged in for the last several months is damaging your carpet, and after being shut tight against the elements for the last several months, the air quality in your home may be suffering too.
So, what should you do about?
1) Vacuum. Vacuum early, vacuum often. Vacuum every day if you can make time for it.
2) Change your furnace filter. My wife changed ours yesterday. It was way gross.
3) Schedule a Professional Carpet Cleaning. Air is forced through your carpets while your furnace is running, and your carpet will act much like your furnace filter, capturing all of the particles and debris (you may see this manifest itself as gray lines in your carpet underneath doors or along walls and stairs). Just as changing your furnace filter will improve air quality, so too will a Professional Carpet Cleaning.In addition to dust, hairs, and particles of general grossness, Carpet Cleaning will also help to remove allergens, germs, and also increase the useful life of your carpets.
4) Since you're already planning to have a technician work in your home, schedule them to clean your couch and favorite recliner too. Your furniture is chock full of unpleasantness, such as dirt, germs, allergens, body oils, crumbs, hair, dead skin cells, and nanobots (kidding!).
Some folks prefer to clean their own carpets, but this is a mistake, because:
1) Machines made for home use are no where near as powerful and deep cleaning as what the pros use.
2) Proper soaps and chemicals are crucial. Can you wash your hair or your pants without soap? Of course not, and your carpet is no different. However, the wrong chemical can set a stain or bleach your carpet, and using too much soap can leave residues which create a dirt trap that will make your carpet get dirty faster.
3) Experience counts. The pros are trained to use the specific soaps, chemicals, and processes that specific spots require. They come to your home prepared for whatever your carpet has to throw at them, and they'll take all of your dirt as well as the soaps and chemicals they used in your carpet with them.
Randy's Carpet Care
ofc: (616) 392-1400
cell: (616) 368-2024
www.randyscarpetcare.com
Hoffer Pest Solutions
Hoffer Pest Solutions is a locally owned and operated pest control and lawn care company in South Florida.

Eric Hoffer, President, says:
As you're cleaning and organizing your home as part of your spring cleaning ritual, you could be killing two birds with one stone! A clean and clutter-free home serves as an added layer of protection from pest infestations. Here's a few things to add to your spring cleaning to-do list that will also help you say goodbye to pests:
Organize the pantry. Get rid of old, expired food that's been hiding on your back shelf all winter. Upgrade foods like cereal, flour, and sugar to airtight containers to prevent attracting pests.
Caulk gaps in windows and door. Complete an inspection of your windows and doors, looking for tiny cracks and crevices. Apply caulk where necessary to prevent pests from finding their way indoors (and to help keep cool air inside during the upcoming summer months!)
Check sinks and tubs for plumbing leaks. Pests are attracted to moisture and leaky pipes provide them with what they need to thrive in your home.
Clear your gutters of leaves and debris. Mosquitoes use standing water as a breeding ground and your leaf-filled gutters provide the perfect environment they need to thrive.
These tasks will not only help you get your home prepared for spring, but also help prevent pest infestations during the warmer months of the year."
Hoffer Pest Solutions // www.hofferpest.com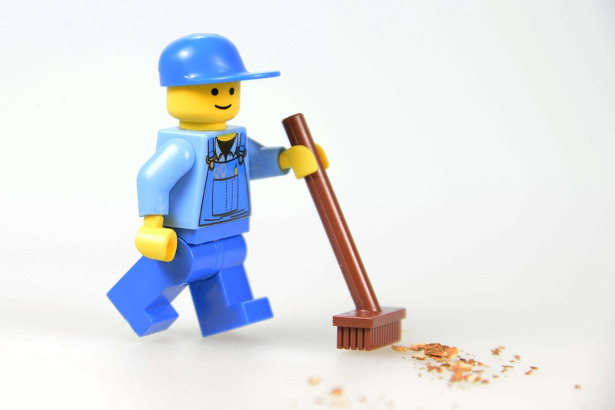 Spring Mold Cleaning
Spring is coming and everything is about to grow. Leaves and flowers, vegetables and fruit.
www.bustmold.com
But there is one thing that you must not let grow ‒ mold. To prevent mold growth, you need to clean your home thoroughly from the floor to the ceiling.
You should pay most attention to dark and moist places and other factors that encourage mold growth.
We suggest that you begin by doing tasks which can be repeated in many different rooms. These include:
– Cleaning the walls and ceiling
If there are any leaks on your walls or ceiling, make sure you fix them as soon as possible. Not only does mold love humidity, but it also loves dust so you'd better dust and vacuum all the surfaces too.
– Cleaning the ventilation
Fresh air means less mold. And to keep the indoor air fresh, you need to maintain your ventilation system regularly. You can do this with a strong vacuum cleaner.
– Cleaning the windows and surroundings
This means that, apart from scrubbing your windows, you should also wash your curtains and drapes. Hang them again only when they are completely dry.
– Vacuuming the carpets and wiping the floors
Carpeting is a great place for mold growth. Therefore, you need to have it professionally cleaned at least once a year, and spring is the perfect time to do it. On the other hand, you can keep the carpets out of your home and never again will you have to worry about mold growing on them.
– Treating your furniture
You can vacuum or deep-clean your furniture. Also, check behind it because this is where mold likes to grow.
– Dusting your bookshelves
Whether you have books, magazines or newspapers on your shelves, you need to dust or vacuum them properly. In addition, thoroughly clean the shelf before putting the books back.
When you are done with all these tasks, it is time for you to clean your kitchen and bathroom as these are the rooms that are at the highest risk of mold growth.
Kitchen
Your kitchen is full of food and moist places, both of which mold adores.
The first thing you can do to prevent kitchen mold is to wash the dishes and make sure they are completely dry before you store them.
In addition, wipe the kitchen cabinets and food storage areas before you store the dishes. Don't forget the fridge as the moisture and food in it can encourage mold growth.
Finally, take the trash out and clean your trash can thoroughly. Again, let it dry completely before you throw trash in it again.
Bathroom
The bathroom is probably the room that creates the best conditions for mold to grow. That is why you need to clean it with great care.
First, make sure you clean the bathtub and/or shower thoroughly. Also, wash the shower curtains, bathroom mats and towels.
When your washing machine is done washing all the spring-cleaning loads, give it a 90°C cycle without anything in it. Use baking soda and vinegar to kill all mold and bacteria in the tub.
When you are done with cleaning your entire home, turn on the ventilation and open the windows to get the air flowing. You can also consider getting dehumidifiers since they are perfect for bathroom and other humid rooms in your home.
And while all this sounds quick and easy, there are some tasks that you might not be able to do by yourself. For example, you probably don't have a vacuum cleaner that is strong enough to remove mold from your ventilation system. Also, your carpets are only clean when they are steam-cleaned by professionals.
For these and other services that can help you keep your home mold-free at least until the next spring, call Mold Busters.
Spring Cleaning is essential for maintaining a healthy, happy, and organized life.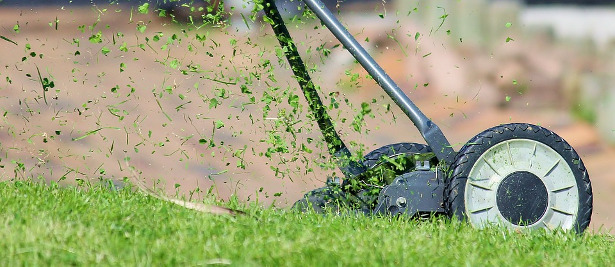 healthlabs.com
But spring cleaning is usually met with a lot of resistance. Along with the seemingly insurmountable amount of cleaning, there's also the threat of inside allergens and outside allergens negatively affecting you! Allergies can suddenly make a small amount of work seem almost impossible.
At HealthLabs.com, we offer an Environmental Allergy Test to see which irritants affect you, so you can go into spring cleaning (and the spring season) prepared and ready!
Hold it Right There! Get a Jump on Spring Cleaning with Holster Brands
Know what happens when you try to balance a flat iron on the thin edge of a pedestal sink? Hint, it doesn't work! The flat iron falls, you get burned and frustration ensues. Well, that was before the genius products of Holster Brands® came to town, giving your flat iron, hot glue gun and lots of other items a secure, heat-resistant place to call home. Happy to send a sample so you can see for yourself! Let me know what Holster must have you'd like to add your arsenal.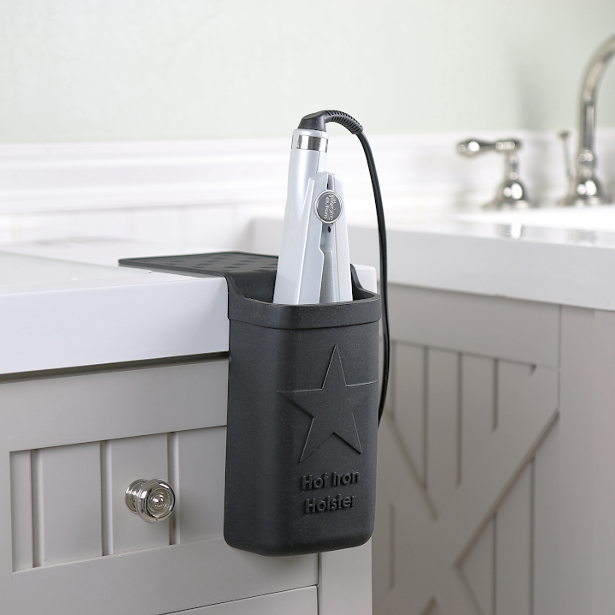 Holster Brands® products mount to bathroom countertops, kitchen sinks, desks and more thanks to a specially formulated silicone material that clings to any smooth, non-porous surface creating a strong, temporary bond. That means your Holster Brands® products stay put until you move them and your hot tools won't fall, keeping them safe while you're using them and when they're cooling off.
So, say goodbye to flat iron frustration and organize your life with Holster.
There's a Holster Brands® product for Practically Everything: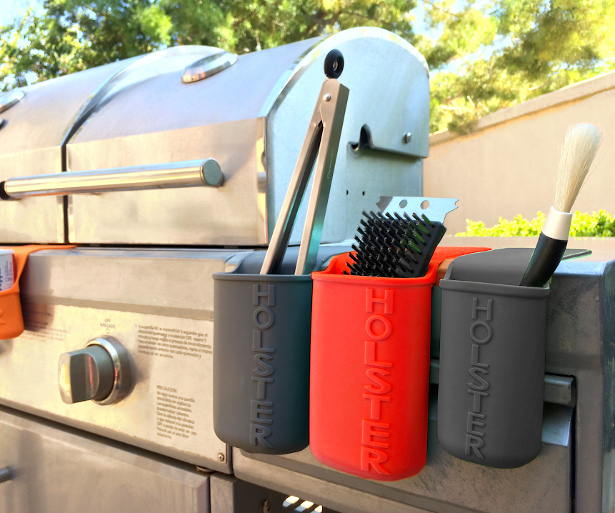 Hot Iron Holster® – Cradles your hot tools in heat resistant silicone that has been tested to withstand temperatures up to 500 degrees. You can heat 'em up, style away, and leave them to cool in its protective sleeve. Comes in two sizes.
Lil' Holster® – Perfect for your kitchen sponge or dish brush.
Hobby Holster® – Your glue gun will always be safe and where you need it with this craft lover essential.
BBQ Holster®– Keeps your barbecue basics within easy reach!
About Holster Brands®:
Getting ready daily in a small bathroom with only a pedestal sink left inventor Erin Balogh desperate for somewhere safe and convenient to set her flat iron. The ER nurse knew she wasn't the only struggling to keep hot tools away from children, water, and delicate skin. Her prototype of a silicone oven mitt sewn to hots pads quickly evolved into the Holster. This must-have line now comes in a variety of sizes to hold scores of different items..
You can buy Holster Brands® at Walmart, Michaels, Kroger Stores, and more. For a complete list go to https://holsterbrands.com/pages/where-to-buy.
For more information, visit https://holsterbrands.com
Spring Cleaning ? Mrs. Hein  fro ModernCastle.com answers!
Mrs. Hein has a particular aptitude for organization and clean spaces in home design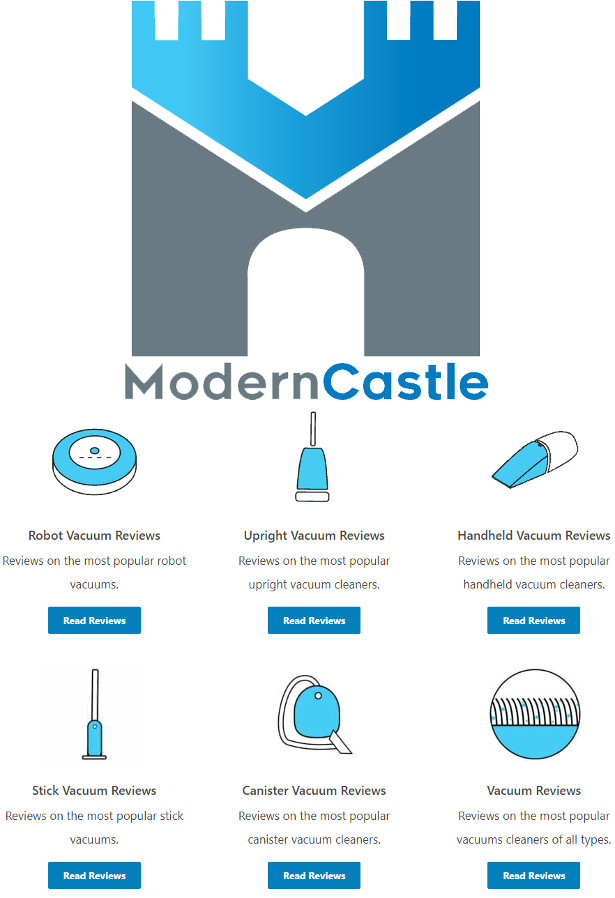 oderncastle.com is a platform that's dedicated to helping our readers get the very best out of their home.
I posed your question to Modern Castle team member, Kayla Hein. Mrs. Hein has a master's degree in Architecture and Design from Kansas State University. She is our Creative Director and helps ensure our platform is as visually stunning as it is informative.
In addition to her work for Modern Castle, Mrs. Hein is a practicing interior architect and designer for Tulsa design and architecture firm, GH2. She has worked as a professional designer on a variety of commercial and residential projects over the last 7 years.
"1- Take it all off: When you're cleaning a bookshelf, side table, or built-in, take it ALL off! All items need to come down so the entire piece can be dusting and deep cleaned. As you add pieces back, take a few moments to clean each one and really consider if you want to add the piece back. Spring cleaning can be a great time to purge out-dated decor and make room for new items!
2- Everything in its place: When organizing small items, consider adding a large box or decorative statement piece to contain the small items. This helps to keep an area from looking cluttered or over-run. Larger items can stand on their own, but for added emphasis, try adding a short stack of books under prominent items to make them a little taller and create more impactful focal points.
3- Give it some shine: When spring cleaning wood floors, furniture or decor, don't forget to give it some shine! Dry dusting with a microfiber cloth is great for light dust. Try damp dusting to help remove pet hair and dirtier areas. Using a natural oil like olive, coconut, or tung can help your woodwork look like new again. Add a small amount to a lint-free cloth and rub the area in small circles, working the oil into the grain of the wood. If done properly, you should only have to do this about once a year!"
Spring Cleaning Tips
www.dumbomoving.com

Reduce the clutter and clear out your belongings. If you are not emotionally prepared to give up on some treasured, but useless items, you may opt for renting an affordable storage unit nearby where you can save them until next time.
With warm weather comes outdoor activities – includinggarage sales. Make the most of the weather and your de-cluttering experience by hosting your own garage sale, or donate your belongings to another garage sale in your neighborhood.
Divide and conquer with your whole family/your roommates. Sharing your cleaning and purging experience with the people you share your space with will not only help the process go by faster, but it also can be a fun bonding experience and will give everyone the chance to share their opinions on how your spaces could be rearranged.
Make the most of your cleaning experience – turn it into a workout.Put on your favorite playlist and reap the cardio and strength-building benefits that come with mopping, sweeping, vacuuming and rearranging furniture.
Clean one room at a time. By focusing on one section at a time in a room, you can move from room to room more efficiently. This will make the cleaning process underwhelming and full of small victories.
Spring Cleaning Checklist
Give a nice scrub-down to the walls and ceilings and other areas that you usually don't clean regularly
Wash windows inside and out and make sure they are spotless
Dust books, heirlooms, decorations and shelves
Wax wooden furniture
Wipe the floor with a mop
Deep clean your carpets and curtains – Luckily, most of the curtains and draperies are machine washable, but consider having carpets in the high-traffic areas professionally cleaned.
Clean kitchen appliances that you are using on a daily basis and if anything's damaged make sure you have it repaired sooner rather than later
Ovens, microwaves and fridges seem to be the most commonly ignored kitchen areas, therefore they can be the most problematic ones
Make your stainless steel look bright and shine again
Organize your closet by packing your winter clothes away and making more room for your spring and summer clothing
Once the sheets and comforter are removed, clean and vacuum your mattresses thoroughly
Clean your books and bookshelves and line them according to the size and subject
Some of the chores should be done seasonally, and there's no better time than spring to clean your outdoor furniture and make your garden and patio look more attractive
HomeZada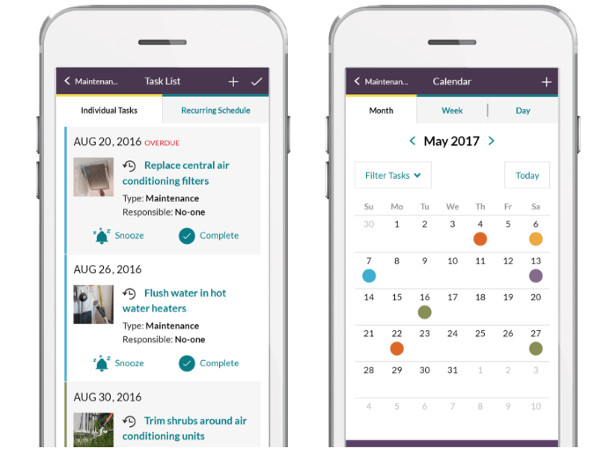 One big tip is that spring is a great time to build an electronic "home cleaning and maintenance" calendar. Lets face it, we all tend to forget "when was the last time I cleaned that …" and often times we then forget these things. And even after spring, there are more cleaning tasks that are oriented around summer and fall, so why not create an electronic calendar with annual, quarterly or monthly recurring tasks. Then when spring comes around next year, you won't have to try and remember what you need to do, your calendar will automatically remind you.
This home cleaning and maintenance calendar is why tens of thousands of homeowners have signed up for our HomeZada app. It automatically creates a home cleaning calendar with over 50 common tasks for all 4 seasons and has built in email alerts and notifications to remind you. Users can also view all recommendations library of 75 more cleaning suggestions that they can easily add to their calendar. The result is you never forget what needs to get done and when. Here is a quick overview https://www..homezada.com/homeowners/home-maintenance
Here are some examples that focus on spring cleaning that pertains to preventative maintenance tasks on the house that is effective because it serves the purposes of making the house healthier, more energy efficient to lower utility bills, avoids unnecessary and expensive fix it or repair costs, and safer. Here are just a few examples
Replace the air filters. Spring and summer means the air conditioning will be running more, so you want to make sure your air is clean and eliminate particles by installing new air filters in the house. This will help you're A/C units run more efficiently as well and can save some money on energy bills.
Drain the hot water heater from the sediment and minerals that can build up on the bottom. This can keep your tap water cleaner in the house, and the hot water heater running more efficiently which can reduce your energy bill and can avoid it from completely burning out, forcing you to replace it.
Clean your windows and screens from the inside and outside. You start to open the windows more in the spring for air flow, but you don't want all the dirt and dust from the winter being blown into the house, making the air you breathe unhealthy.
www.homezada.com
Digital Home
The Complete Guide to Cleaning Your Living Room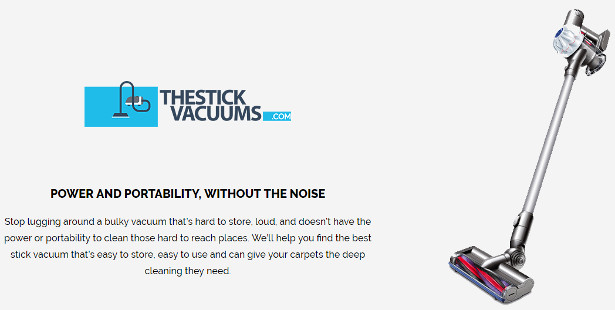 By TheStickVacuums (thestickvacuums.com) See the full blog at > https://thestickvacuums.com/guide-cleaning-living-room/
​There are a lot of reasons to keep the living room clean. A clean living room not only means you're ready to host unexpected guests, but cleaning the living room is also beneficial to your overall health. Knowing how to clean your living room effectively can save you time in your deep cleaning as well as in your weekly cleaning routine.
The Living Room Cleaning Checklist
Cleaning your living room isn't particularly difficult, but it can be very time consuming. Streamline your cleaning process by following these seven steps (and make sure to read our bonus tip!). Before you know it, you'll be able to move on from cleaning your living room to other things.
1. Start from the Top
It's generally best to start from the top and work down, no matter what you're cleaning. For example, let's say you vacuum, and then dust. Some of the dust is going to fall on the freshly vacuumed floor.
Cleaning from highest to lowest allows you to maximize your cleaning efficiency.
By TheStickVacuums (thestickvacuums.com) See the full blog at > https://thestickvacuums.com/guide-cleaning-living-room/
What's Dry Rub®?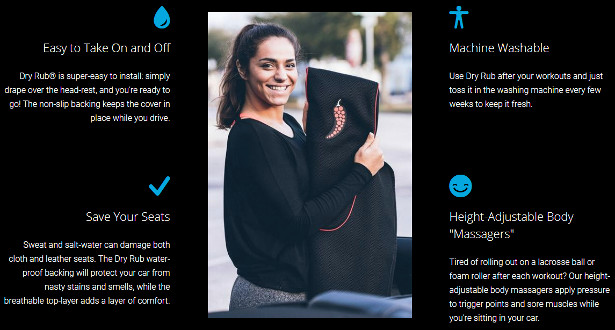 Dry Rub® is a post-workout car-seat cover for athletes and active people, designed to protect car seats from sweat, stains and odors…perfect for athletes of all types – Rugby players, Runners, CrossFitters, Triathletes, Surfers, Cyclists, Yogi's, weekend warriors, and anyone who likes to sweat! Dry Rub® is:
Breathable and water-proof
Machine washable
Easy install and a universal fit
Designed in the USA (born in North Carolina)
Dry Rub® retails for $79, and you can see more info about the product here: http://GetDryRub.com
Blinds Direct advice for spring cleaning season…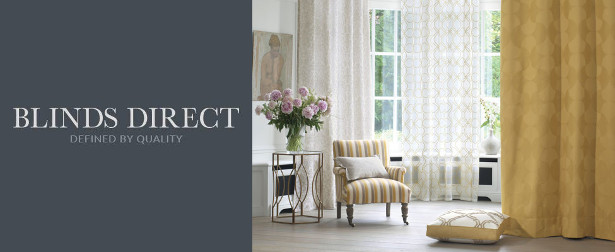 Get your windows spick and span by cleaning the glass and sills thoroughly, then turning your attention to the window dressing. If you have curtains throughout your home, check the washing guidelines before you pop them in the washing machine. If you have waterproof or PVC blinds, a damp cloth will do the job just fine. And if you have shutters or wooden blinds, use a microfibre cloth to remove the dust.
You should also make sure your windows are free from mould and mildew to protect against coughs, colds, asthma and hay fever, ensuring you're fit and healthy enough to get outside and enjoy the warm weather!
Moisture-prone areas like kitchens and bathrooms are at a high risk of mould, so focus most attention on these spaces. When dealing with mould and mildew, wear gloves and a mask and keep the room ventilated. On hard surfaces, use a basic detergent and hot water to remove the problem. For fabric items, such as curtains or sofa cushions, consider steaming or a professional dry cleaning service.
More information is available on this blog:- https://www.blindsdirect.co.uk/blog/the-ultimate-guide-to-refreshing-your-home-this-spring/
ClutterBug – Reclaim your Space
arianna@clutterbug.london
www.clutterbug.london

A Professional Organiser's top-tips for an effective Spring Clean:
1) Declutter, declutter, and then – declutter some more: how would you like to do a lot less cleaning, now & in the future? Well, the logic is simple: the less Stuff you have, the less you have to clean
2) So: start somewhere. Anywhere. Say your shed, or garage. Gather ALL items of one type (nuts & bolts, small tools, large tools, paint…) in one place, and divide to 3 categories: Keep, Donate, and Bin. Then repeat for each category. You should end up with a healthy heap to donate, at least a bin-bag to discard, and only the really useful & usable items to keep.
3) Then give your storage area a good once-over, with a brush & pan, mop or rag.
4) Now you can put thins away: like with like, & everything in its place; Put items which get used together (small tools and nuts & bolts, for example) close to each other – so it's easy to put them away each time you're done using them.
5) Repeat this process in every room in the house (not all in one day…), not forgetting to ask people's permission & help if you share your roof with someone.
6) To keep this new standard of order and functionality, think twice before letting new stuff in: whether shopping, or keeping leftovers from finished projects.
You're now good to go! Happy cleaning 
Arianna Steigman
Professional Organiser at ClutterBug
07564-192780


 ACE. Tough on stains, gentle on clothes. Brings all those little athletes clothes and big one's too back to their best! www.acecleanuk.co.uk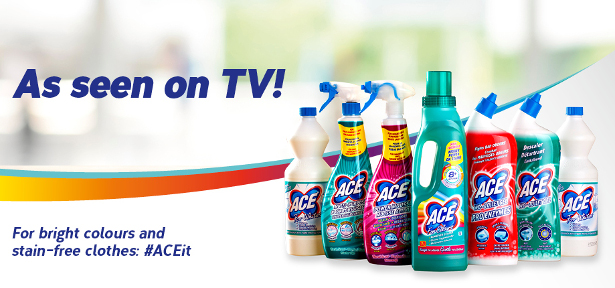 FACEBOOK | INSTAGRAM | TWITTER
Available online and at your local TESCO, Sainsbury's and Morrison's
Always read the label on the bottle.
Products
ACE for Colours 1L – Stain remover to assist your washing detergent
ACE Gentle Unit Dose (14 washes) – Just as good at fighting stains but in a handy capsule
ACE Gentle 700ml – Formulated specifically for greasy stains (Poundland exclusive)
ACE Gentle – Mediterranean Bouquet
ACE for Whites
Available online and at your local TESCO, Sainsbury's and Morrison's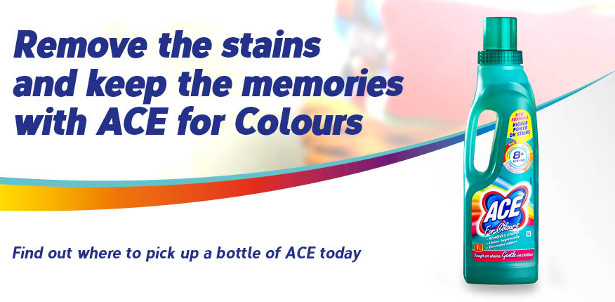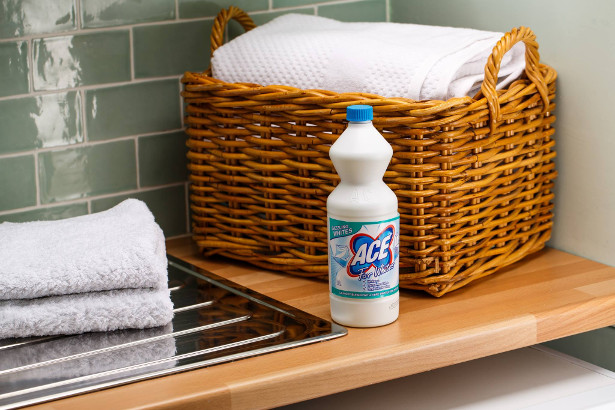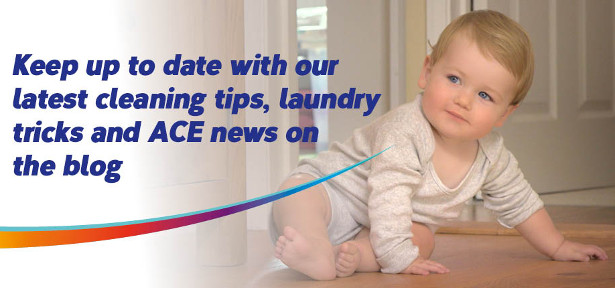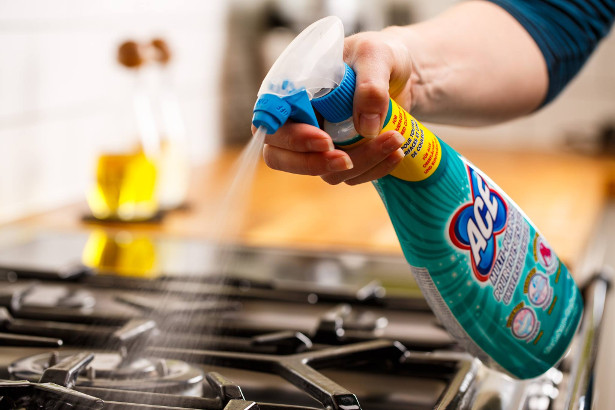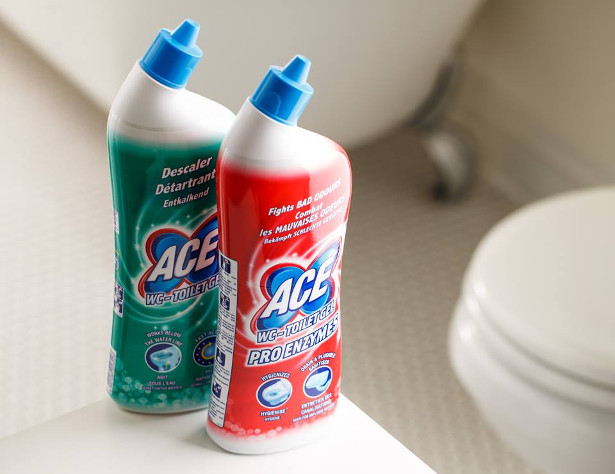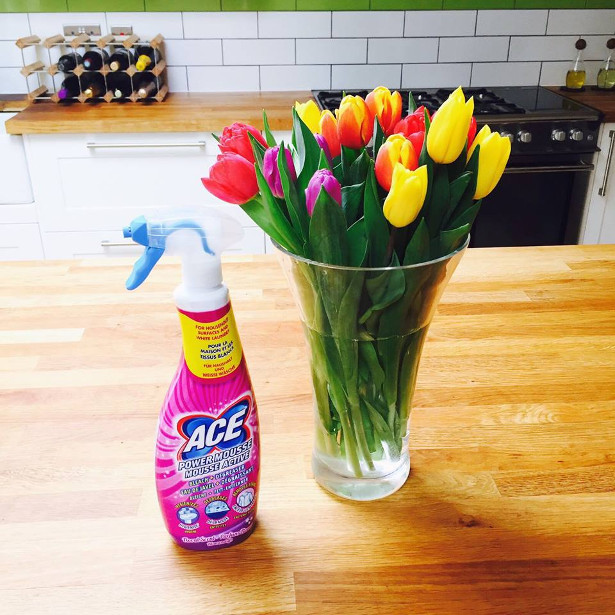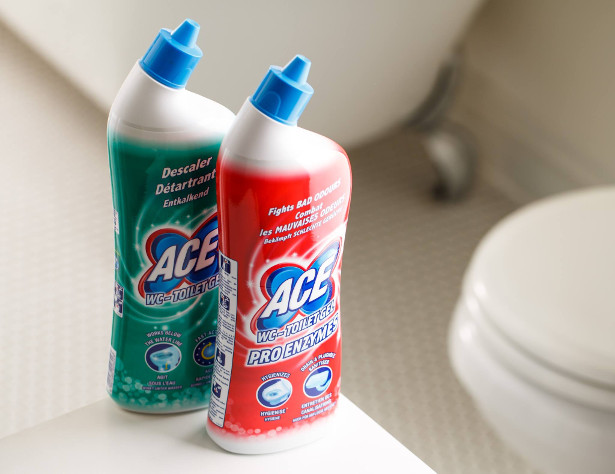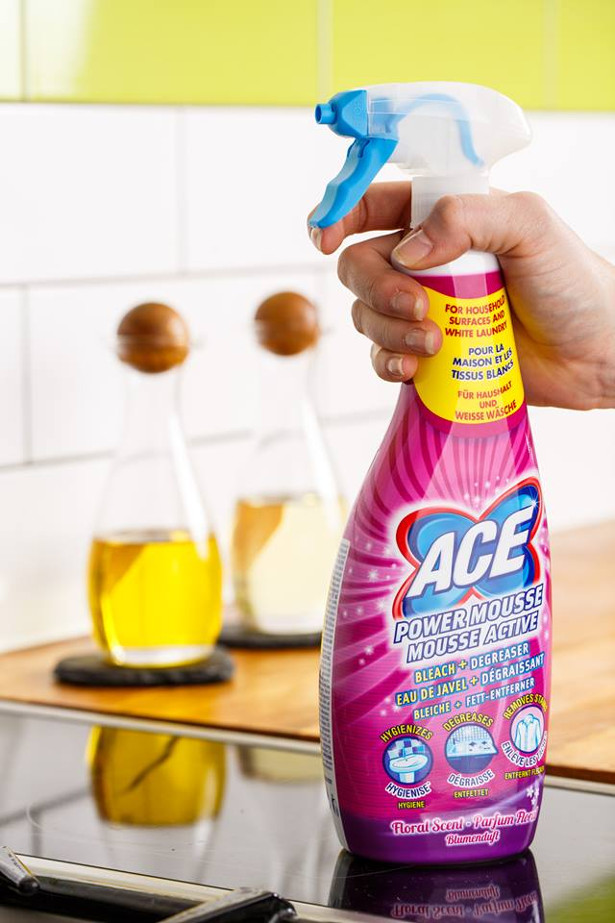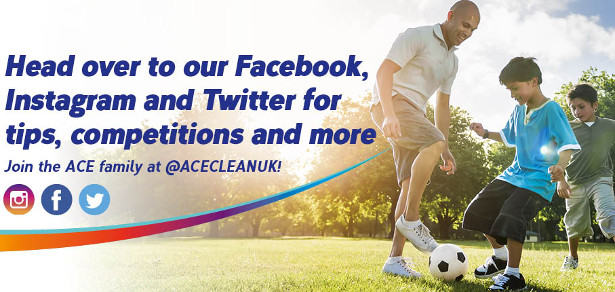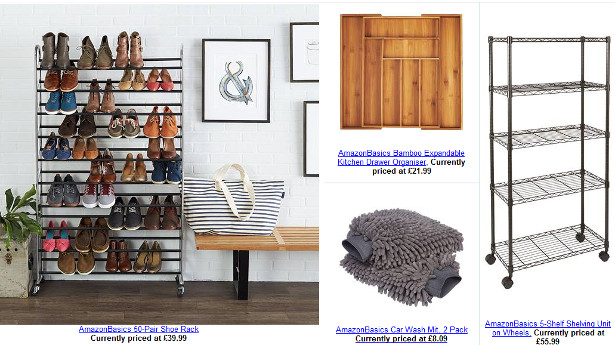 Simple rules for decluttering – which first of all requires as determined an intention as pruning a tree does. The more "stuff" you release, the greater your freedom.
Touch each item and ask yourself:
Do I love it?
Do I use it?
If I love it and it's broken, will I have it repaired right now?
Unless the answer is yes to two out of three of those questions, it's time to release the item – even if it belonged to your great-grandmother – (She never intended for it to live in your garage or under the bed, anyway.)
Be grateful for the good it has provided in the past. Then sell it, give it away, or throw it away – don't just store it for another day.
________________________________________________________
SPIRITUAL TOOLS – Looking beyond the problem to find the solution.
To contact Lauren directly, you can e-mail her at godbless@tampabay.rr.com
Also: Visit us on Facebook: https://www.facebook.com/tawofm
Subscribe to our blog: http://www.thehandbookofspiritualtools.com/spirit/blog
"How to Become a Housesitter" ebook
By Kely Hayes-Raitt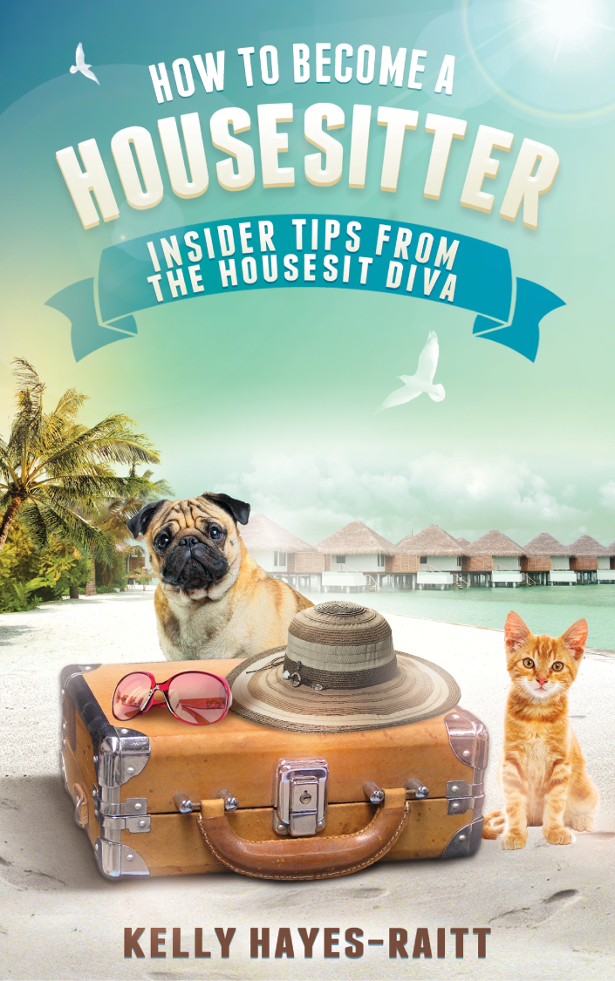 "WOW!! IF YOU'VE EVER WONDERED about housesitting, you need this book!! I loved it.
Kelly answers every question you ever thought of asking……….and dozens you never dreamed were relevant. I wish I'd had it 30 years ago when I began 'nomading.' Her insights, suggestions, and behind-the-scenes observations about the housesitting world (including a list of dozens of websites to search) will literally open doors all over the world."
– Rita Golden Gelman Author, Tales of a Female Nomad, Living at Large in the World
"KELLY HAS WRITTEN A LIVELY, upbeat and informative guide to introduce newcomers to the fascinating world of house sitting. The book is liberally scattered with insider tips, words of wisdom and amusing anecdotes from Kelly's own extensive experience."
– Ian Usher & Vanessa Anderson Publishers, House Sitting – The Ultimate Lifestyle Magazine www.HouseSittingMagazine.com Founders, www.MapaHub.com – A connecting website exclusively for housesitters
"ALTHOUGH I'VE NEVER HOUSESAT, I've been intrigued about it. How to Become a Housesitter has taught me how to successfully create a profile, land a sit and avoid pitfalls! This book is filled with specific information and tips gleaned from the author's years of personal experience. And, unlike other 'how to' books, this one is fun to read."
– Ken Bridges Traveler and Future Housesitter
"KELLY HAS NOT ONLY OFFERED great tips for anyone who wants to housesit, she's captured the spirit of housesitting in her humor and 'gowith-the-flow' attitude. I highly recommend this book!"
– Donna Carvell Founder, HousesittingCafe Facebook group
·
"MY HUSBAND AND I JUST COMPLETED our first sit, and the practical information Kelly shares in her book was invaluable! And her personal essays about her experiences are great fun to read."
– Margaret Porter Daily newspaper publisher (retired)
"AFTER A YEAR OF FULLTIME housesits around the world with my husband, I felt we'd seen and done it all. Kelly's book made me realize we still have a lot left to learn. If we had read this book before we started traveling, I am sure we would have avoided a few unhappy mistakes and saved ourselves a bundle on travel expenses, too."
– Tracy McDermott ½ of the McNomads travel duo
"THE ADVICE AND TIPS Kelly generously offers in her book are spot on!"
– Diane White Daniel Photographer, www.new-nomads.com Fulltime digital nomad and housesitter
"THIS IS THE BOOK I WISH I'D HAD a few years ago when I first began my global housesitting adventures! Seasoned housesitters and homeowners are sure to gain many insights from these housesitting secrets. Infused with her vivacious personality, Kelly shares some of her intimate experiences making this book a fun and very enjoyable read."
– Julie Bryant Founder and Creative Director Naked Dragon Inspirational Events www.nakeddragon.co.uk
"'WOW' AS IN 'BOW-WOW' (more information and tips than I thought I needed to know!). 'Perrrr….fect' (enjoyed reading Kelly's adventures)."
– Aileen Landau Budget Travel Guru
·
"I WILL BE ABLE TO TRUST ANY HOUSESITTER who has read this detailed book – what to look out for, and how to make it a good experience for us both!"
– Pauline Field Author Feisty & Fearless: Nice Girls CAN Be Leaders www.PaulineField.com
Overwhelmed by spring cleaning? House cleaners could help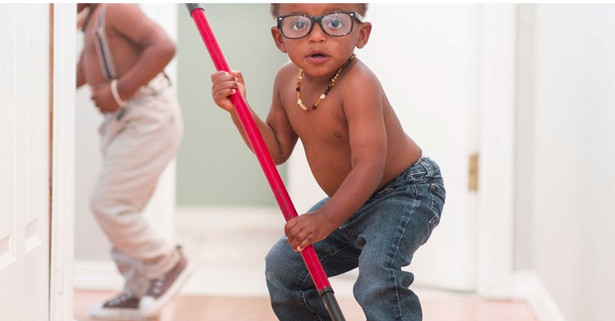 If you've ever walked into your garage with a strong resolve to finally get it organized now that winter is over, become overwhelmed by the mess, and turned right back around, you are not alone.
Spring cleaning is an exciting time of new beginnings for some, but it can be a daunting project for others.
Many people don't realize that a professional house cleaning service can help them tackle larger household projects that might accompany spring cleaning season. There's a misperception that your house needs to be perfectly tidy before the cleaners come or else they won't be able to work. That's just not the case. At Skyline Services, we can work with you to tidy up spaces and organize them enough to get to spaces that need to be cleaned.
See ore at :- https://www.skylineclean.com/blog-posts/overwhelmed-by-spring-cleaning-house-cleaners-could-help/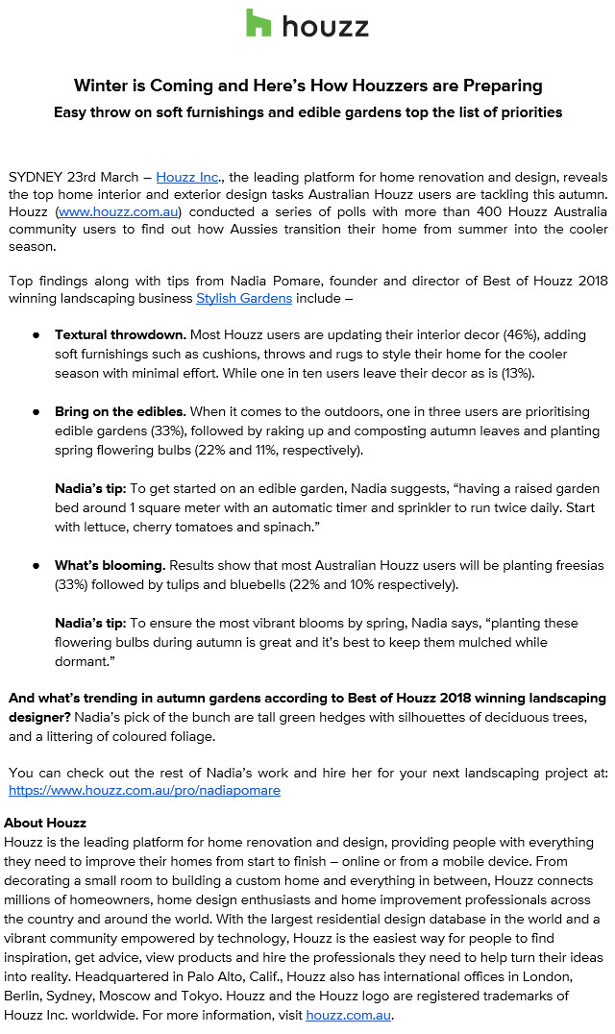 Spring Clean Hacks, tips and stats from the cleaning experts Marigold & Vileda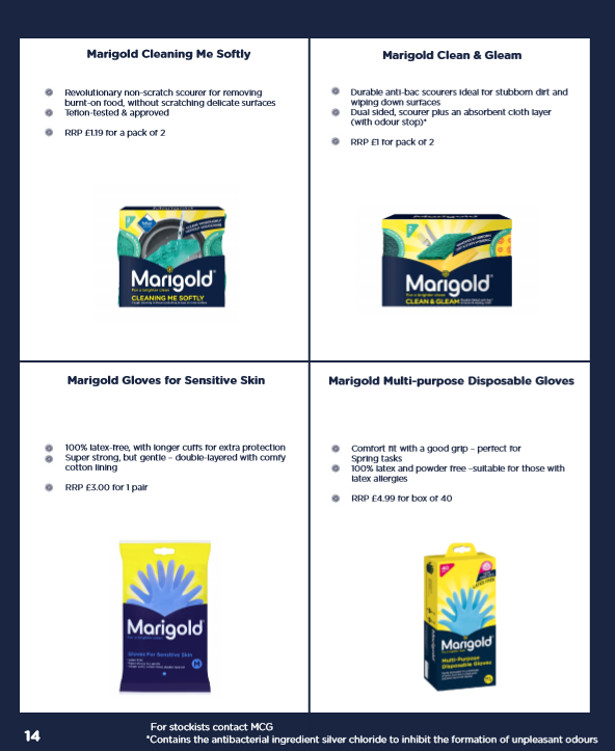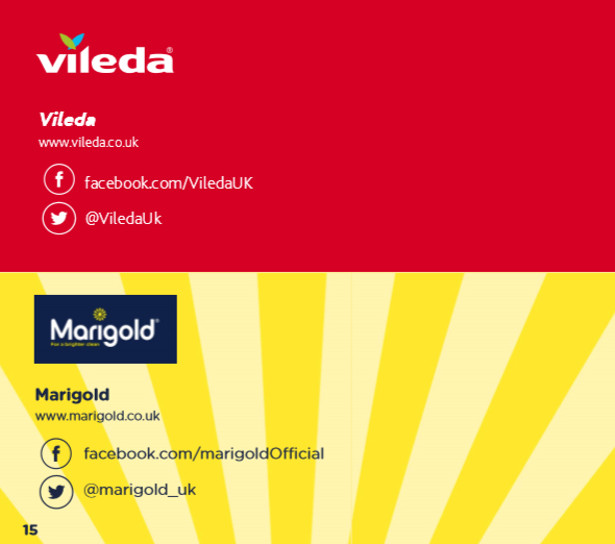 £70.4BN WORTH OF LOCKED UP EQUITY SQUIRRELLED AWAY IN BRITISH HOUSEHOLDS
Value of Items Per Household Rises 159% in Just Five Years, from approx. £1,000 to £2,589
Almost Three Quarters of Brits Feel Stressed and Disorganised from Items They No Longer Use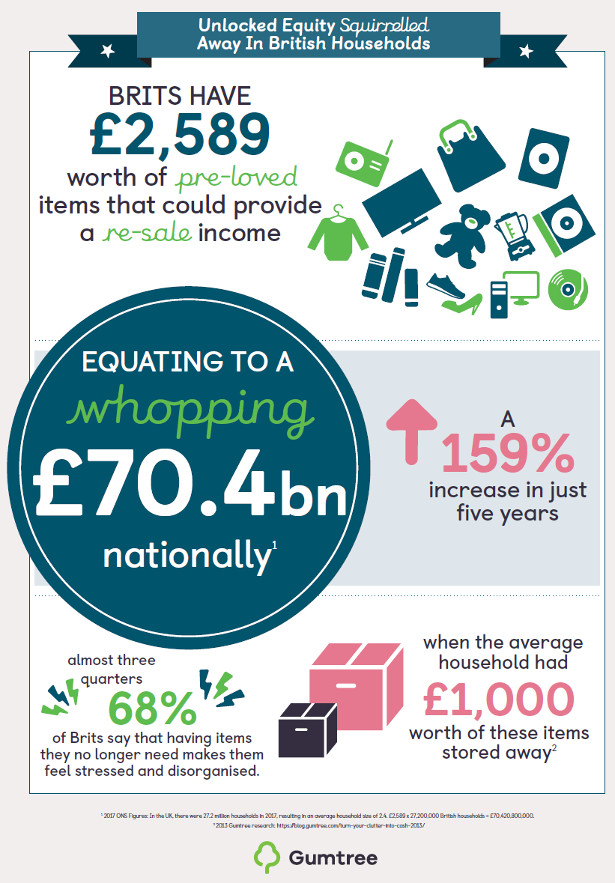 London, UK – April 2018: Research by Gumtree reveals Brits are increasingly overlooking valuable equity locked up in their homes, with £2,589 worth of items they no longer need per household, equating to a whopping £70.4 billion nationally[1]. This potential source of re-sale income is also on the rise, with the research indicating a 159% increase in just five years, when the average household had £1,000 worth of these pre-loved items stored away[2].
The study of 2,000 British adults found this untapped capital is triggering emotional reactions, with almost three quarters (68%) of Brits saying that having items they no longer need makes them feel stressed and disorganised. These items include everything from clothes (47%), to books (43%) to old tech like DVDs (39%) and CDs (39%).
The items in Gumtree's 'top 10' unwanted list include clutter which was originally bought for hundreds of pounds. That's why the UK's #1 Classifieds site and app has backed this year's 'National Clear Your Clutter Day' taking place on Friday 13th April, to encourage Brits to make money by selling and finding a new home for items they no longer use.
Gumtree's 'Top 10' Unused & Unwanted Household Items
Unused / Unwanted Items
Average Original Purchase Value
Clothes – 47%
£130
Books – 43%
£69
DVDs – 39%
£72
CDs – 39%
£92
Shoes – 37%
£84
Bags – 29%
£66
Cuddly Toys – 25%
£36
Kitchen Appliances & Gadgets – 24%
£81
Vinyl Records – 21%
£130
Computers – 16%
£327
Hannah Wilson, Marketing Director at Gumtree, says:
"We know that as our lives grow and progress, our needs for space and goods change in turn. You would be surprised how much money you could make by selling things you've loved but now need to find a new home for."
Personal Finance Expert, Jasmine Birtles, founder of the national Clear Your Clutter campaign says:
"We lose millions every year by buying stuff we don't need or not selling things we no longer want and then not using up what we already have because it's hidden away and forgotten about. I believe households could be significantly richer if they sold their unused and unwanted items, questioned more what they buy and lived simpler, more stress-free lives going forward."
ECOVACS Deebot OZMO 610
This latest ECOVACS model can be controlled via mobile app, allowing you to track the progress of cleaning and schedule cleans remotely, so you can return home to a spotless house. It's the perfect spring cleaning product – you can do the housework without lifting a finger!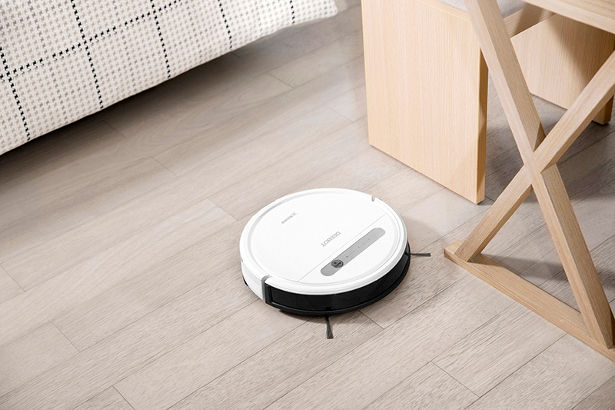 The vacuum follows a new "smart cleaning path" so it covers more of your floor and doesn't leave gaps. Its vacuum and mop combo permits deep cleaning, dealing with dirt more thoroughly using an electronically-controlled water pump consistently drawing water from a 300ml in-built reservoir. The robot can detect via sensors when to automatically switch to and from mopping, avoiding drenched carpets. It has a range of modes – auto mode for general cleaning, edge mode to address difficult patches, and spot cleaning for the most tenacious stains. It also detects – and avoids! – stairs.
The true meaning of clean sleeping
www.bisselldirect.co.uk
• A third of Brits suffer from poor sleep most nights, which has a negative effect on our energy levels, health and relationships1
• Bedroom cleanliness could be to blame as dust mites and dirt hide in mattresses and carpets
• Hygiene expert Dr Lisa Ackerley reveals the impact this can have on our health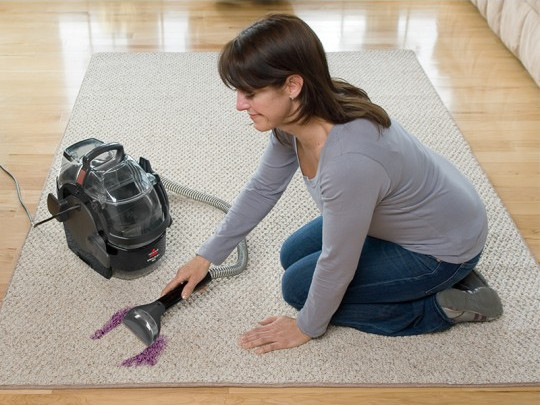 Did you know almost a third of us admit to suffering from poor sleep most nights with over 20% of Brits resorting to a pre-bed tipple to nod off1? Not only does a lack of sleep negatively affect our energy levels but it also makes us moody, crave sugar and feel unmotivated, as well as impacting on our relationships with loved ones1.
You'll know to keep smart devices at bay, indulge in mindfulness, avoid alcohol and caffeine and allow yourself time to wind down after a busy day, but have you ever considered giving your bedroom a good clean?
Research by BISSELL, the cleaning experts, has revealed that three quarters of us (72%) have never washed our mattresses, despite 86% washing bed sheets regularly4. You may be thinking what's wrong with that, but during the average lifespan of a mattress, which is around eight years2, it can accumulate a whopping 10lbs+ worth of dead skin cells3!
And it's not just our mattresses that need some attention as one in five Brits have also never washed their carpets, which can quickly become home to dust and dirt hidden deep down in the carpet fibres4 contributing to an unhygienic sleep environment.
Hygiene expert, Dr Lisa Ackerley explains: "Unwashed carpets can become homes to organisms such as dust mites, which can put some people at greater risk of asthma, eczema and perennial allergic rhinitis caused by allergy to dust mite faecal matter. With each mite producing about 20 waste droppings every day, that equates to around 20,000 particles of faeces in every cubic foot of air! And, even if you don't have a dust mite allergy yourself, you could be kept awake by your partner coughing from theirs, causing you both to have a poor night's sleep."
Plus, when you consider that 14% of pet owners are happy to let their four-legged friend spend most of their time on and in their bed, it might be time for all of us to learn a little more about the real art of clean sleeping5.
Dr Lisa adds, "If you have pets in the bedroom, then there is a chance that fleas may be dropped on your carpet or bedding if they are not up to date with their treatments. Flea bites can be itchy and prevent sleep, and also lead to skin infections if people scratch them and break the skin.
"On top of that, bacteria and parasites such as Toxoplasma gondii (in cats), can be brought into the home on pets' paws and deposited on the bedding and carpets. Whilst this may not be a problem to many people, those who have a weaker immune system or who are pregnant, should be more careful as symptoms can be serious."
Thankfully, the BISSELL Spot Clean Pro is a powerful cleaner and a great option for those wanting to clean their mattresses and carpets for a better night's sleep. Combining a powerful vacuum suction, brushing action and cleaning solution the Spot Clean Pro removes dirt and stains in no time, and the long hose and power cord mean you can tackle your mattress with ease.
The BISSELL Spot Clean Pro is available from BISSELL Direct and Amazon with an RRP of £149.99.