Start Spring Cleaning off right with this new innovation that will keep toilet clean for months on a budget. foreverblueflush.com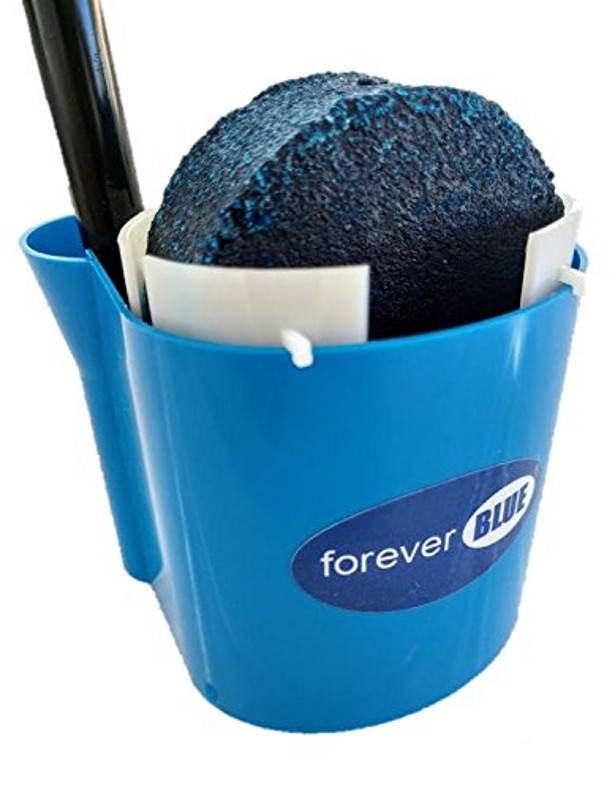 Forever BLUE Flush Toilet Cleaner Booster – 1 Count (automatic toilet bowl cleaner drop-ins)
Install & forget – Extends the life of your favorite name-brand blue drop-in toilet bowl cleaner up to 4 – 6 months, a 500% increase.
Compatible with 4 out 5 new & existing toilets. VERIFY COMPATIBILITY with your Toilet BEFORE ORDERING. See attached illustrations. Simple to install, portable, non-permanent installation. Reusable over & over again.
Leaves a fragrant & crisp, glacier blue toilet water refill, never a dark porta-potty blue.
WORKS WITH AMERICA'S FAVORITE NAME BRAND BLUE TOILET DROP-IN AND BOOSTS A SINGLE BLUE DROP-IN TABLET TO LAST BETWEEN 4-6 MONTHS instead of a few weeks. Your Toilet Bowl Cleaner : "HACKED"
This simple idea extends the life of blue toilet drop-in cleaners. It keeps the drop-in tablet from continually dissolving and only allows the tablet to contact water when the toilet is flushing for an incremental dosage of blue drop-in tablet detergent with each flush.
Fits most common and basic 2-piece toilets; not compatible with canister, piston, vacuum, pressure, or Mansfield type toilet components; please VERIFY your toilet type before ordering. Blue toilet drop-in NOT included.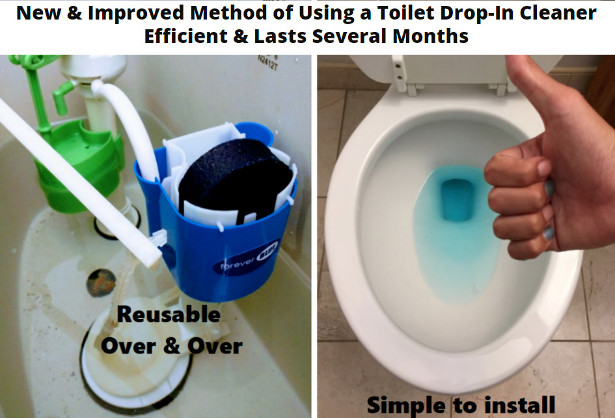 SUPER SIMPLE INSTALLATION: (2 minute video available on Youtube)
1 – Open toilet tank lid
2 – Disconnect refill tube from overflow tube
3 – Place Forever BLUE Flush on overflow tube (gently remove collar if required)
4 – Reconnect refill tube to either of two available inlet ports on Forever BLUE FLush (clip or clip-less)
5 – Give toilet a flush to ensure components work properly, adjust accordingly if necessary
6 – Place lid back on cistern and you're done
TIPS, TRICKS, AND FOR BEST RESULTS:
1 – Patience! May take 1-2 weeks for desired performance
2 – Use Scrubbing Bubbles Vanish Drop-ins for blue cleaner, any brand to your liking for rim hanging automatic toilet bowl cleaners
3 – Not recommended with X-14, 2000 Flushes, chlorine tabs
See YouTube and Product Webpage; ForeverBlueFlush.com.
Int'l Patent Pend.