STAY COOL FROM STELLAR COOKWARE
Stay Cool, the New Cookware range from Stellar
"Very well made, with important design and function details which assist with cooking, delighted to recommend this range from stellar Kitcheware." Intouch Rugby Editor.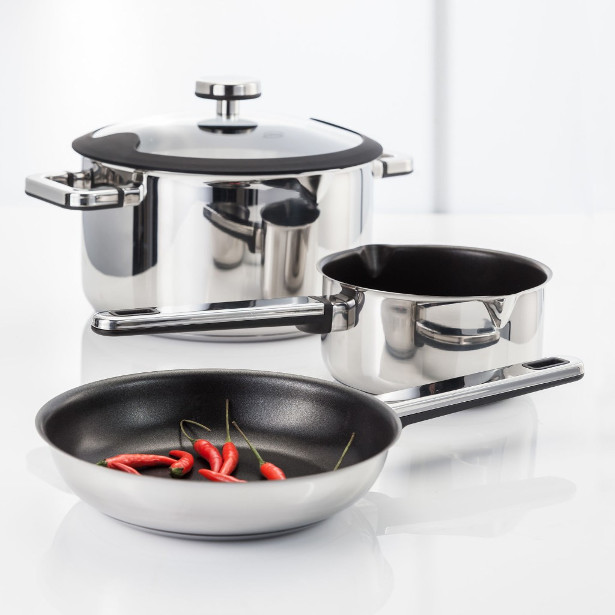 A cool range of cookware designed for today's cook and aspiring chef; offering safe efficient cooking, easy draining, and higher levels of nutrient retention owing to its unique design. Let's explain.
"Stay Cool" a surprising name for a cooking collection, then again this name reflects the key benefits the handle design offers the consumer, the handles stay cool while the pan directs all of the heat into the pan body to insure efficient cooking. This combined with the innovative silicone edged glass lids which seals in nutrients when cooking, make these pans super cool.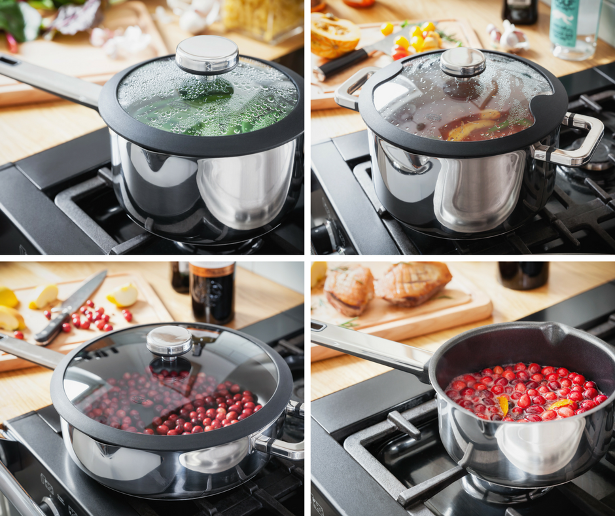 Finally Stay Cool pans look seriously cool too, curved bases (holding the induction plate) black edge lids and dynamically styled handles make this range win time and time again. Manufactured in high grade stainless steel means these pans will also retain their looks, all of which is supported by a lifetime guarantee.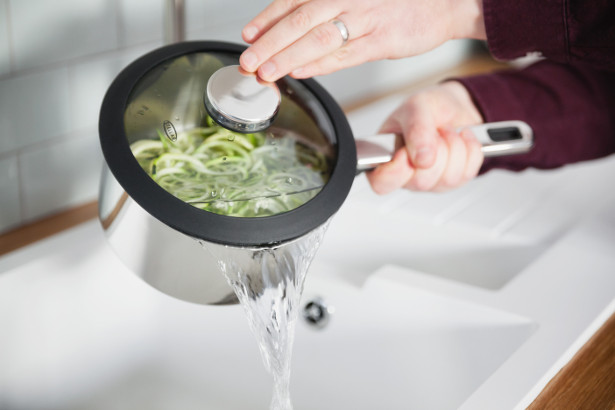 One last point – when you place the lid on the pan – there's no cluttering, metal on metal noise as the silicone quietly nestles snugly in to the pan's body.
PRICES (RRP)

SL01 Stellar Stay Cool, 16cm Milk Pan, 1.1L, Non Stick £28.50 £46.00
SL05 Stellar Stay Cool, 16cm Draining Saucepan, 1.1L £40.00 £64.00
SL06 Stellar Stay Cool, 18cm Draining Saucepan, 2L £45.00 £72.00
SL07 Stellar Stay Cool, 20cm Draining Saucepan, 2.7L £48.00 £77.00
SL36 Stellar Stay Cool, 24cm Casserole, 4.5L £70.00 £112.00
SL45 Stellar Stay Cool, 24cm Stockpot, 6L £73.00 £117.00
SL13 Stellar Stay Cool, 20cm Frying Pan, Non-Stick £36.50 £58.00
SL20 Stellar Stay Cool, 24cm Frying Pan, Non-Stick £44.00 £70.00
SL24 Stellar Stay Cool, 28cm Saute Pan, Non-Stick £77.50 £124.00
SLA1 Stellar Stay Cool, 3 Pce Draining Saucepan Set £119.00 £190.00
SLB2 Stellar Stay Cool, 4 Pce Draining Saucepan Set £146.20 £234.00