STILL TIME!!! Christmas chocolate reindeer noses – box of 9 & rock salt gift set of 3 pots – infused with aromatic rosemary, roasted garlic and spicy red chilli ! >> www.rockingood.co.uk
FACEBOOK | TWITTER | INSTAGRAM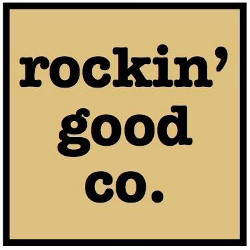 Christmas chocolate reindeer noses – box of 9
£10.00
PLEASE NOTE! If the 3 or 6 gift set of pots and the noses are added to the cart you save £5 on the noses, making them half price! The discount is automatically applied when you checkout!!
See more and buy at :- rockingood.co.uk/collections/christmas-gifts/products/christmas-reindeer-chocolate-noses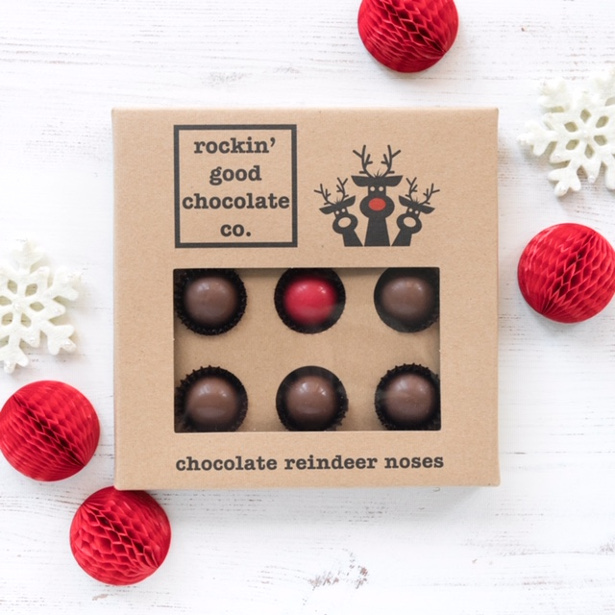 Hand made quality chocolates in a fun, christmas set of 9 reindeer noses.
Our box of reindeer noses has 8 milk chocolates and 1 red coloured white chocolate.
that gives us all of santa's reindeer – Dasher, Dancer, Prancer, Vixen, Comet, Cupid, Donner and Blixen, with Rudolph leading the pack!
All our chocolate is gluten free.
We use only the best ingredients in our rockin' good chocolate range of delicious food.
Our chocolate is always very fresh and has a use by date well after Christmas so it's fine to order early and get organised!
Our marvellous chocolate is made by our partner, Tilly's Treats. every chocolate treat is tempered and moulded in house, making every bite delicious.
Our fun box of reindeer noses would make a great stocking filler or house gift when visiting friends and family over the festive season.
Maybe play the game of "name Santa's reindeer" to see who gets to eat the most noses!!
Please see our other listings for more personalised christmas gifts and much more.
Let's be creative together! get in touch for truly memorable rockin' good gifts!
Welcome to the rock pool!
Tracey and Sam
Rock salt gift set of 3 pots – infused with aromatic rosemary, roasted garlic and spicy red chilli
£18.00
See more and buy at :- rockingood.co.uk/collections/christmas-gifts/products/rock-salt-gift-set-box-of-3

A perfect seasoning alternative and unique foodie gift! our set of 3 best sellers includes aromatic rosemary, roasted garlic and spicy red chilli. each infusions is in a 150g pinch pot and nests in a great gift box with fab recipe ideas on the back.
Rockin' good salt co.'s pinch pots are available as a set of 3 or all 6 of our fabulous infusions.
All of our flavour infusions are suitable for vegetarians and all but the red wine reduction are suitable for vegans.
A great present, this flavour infused seasoning is perfect as a cooking gift for foodies or just those who want to easily jazz up every day dishes. It makes the perfect Christmas food gift and is a great alternative choice.
Our 150g pinch pots makes pinching just the right amount when you're cooking super easy. the pinch pots are stackable and look great next to your hob. individually, the pinch pots are £6 each. here, you get a great gift box, custom made to fit our pots, included in the price!
Our gift box is made using 100% recycled card and has some great recipe ideas printed on the back.
If you'd like a different combination, just let us know by sending a message with your order and choose your three flavours from the following:
aromatic rosemary infusion
roasted garlic infusion
spicy red chilli infusion
umami mushroom infusion
red wine reduction infusion
zesty lemon infusion
Transform everyday dishes into something extra special. here at rockin' good salt co. salts are infused to combine saltiness with amazing flavour mixes. We don't just throw the salt in a bag with an ingredient, we work our magic to give a more intense flavour and a fantastic look too!
Rockin' good salt co. use only the best ingredients and they never use anything artificial. Our rock salt is pure and our infused flavours are all natural and make an amazing present for a foodie or any home cook.
As salt is a preservative, they last a long time, but as with anything the fresher the better. We recommend you use them within 6 months of opening but we're sure you'll use it up way before then!
Welcome to the rock pool!
We're all rockin' good!!