STILL TIME!! Ross & Ross Merry Christmas Man Boxes are Ideal for Christmas Eve Boxes and Christmas Presents! www.rossandrossfood.co.uk
Check Out the 14 different types of Man Box for your Dad, Brother, Husband and Boyfriend!
See all the man boxes at :- www.rossandrossfood.co.uk/product-category/man-box/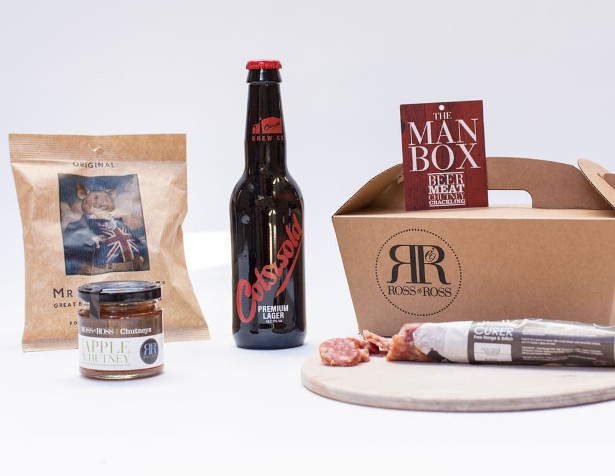 FACEBOOK | TWITTER | LINKEDIN | INSTAGRAM | YOUTUBE
Ross & Ross work with some of the best artisan producers in the Cotswolds to bring your favourite fella a hamper packed full of their finest fare. The Merry Christmas Man Box is only £22 and is the perfect gift for anyone who truly appreciates great British food. It also comes with a special Christmas tag to write a personalised message for the lucky man who finds this under the tree!
The Merry Christmas Man Box contains:
Premium Cotswold Lager – made by the Cotswold Brewing Co, this is a smooth, subtle lager with a soft, fruity flavour that is additive-free, preservative-free and unpasteurised for the freshest possible taste
British Charcuterie Original Salami – made by the Cotswold Curer, Cirencester, this award-winning, air-dried salami is based on the classic French 'Rosette' De Lyon, but produced in the Cotswolds using locally sourced free range pork. It has a mellow yet complex flavour with great depth and balance.
Mr Trotter's Great British Original Crackling – cooked in small batches by hand, these pork scratchings are made from 100% prime British pork skin from the finest British pigs to deliver the ultimate porkie crunch (contains gluten)
Smoked Apple Chutney – slow-cooked Cotswold apples combined with a delicious smoky flavour makes this a great accompaniment with all things pork.