Supertreats deliciously creamy carob treats, that taste just as yummy as milk chocolate but are much better for you.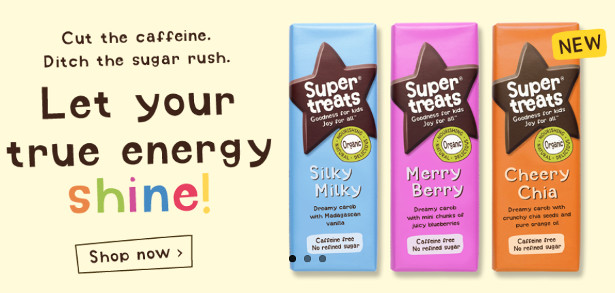 FACEBOOK | TWITTER | INSTAGRAM
"This is the best carob we've ever tasted" – Daniel Rodriguez, Associate Regional Grocery Buyer, Whole Foods Market UK
"Stunningly good! I was blown away by the wonderful flavour…!" Denise, London
"Possibly the World's Best Remedy for Chocolate Addiction" Mr T White, UK
Instead of cocoa, Supertreats bars are made from superfood carob and sweetened with low GI coconut blossom nectar. In addition to being refined sugar free and caffeine free (unlike milk, dark or raw chocolate), our bars are 100% natural, organic and ethically produced too, making them the perfect healthier Christmas treat/gift for the whole family.
Supertreats bars are stocked in a growing number of leading retailers in the UK, such as Whole Foods Market, Ocado and Amazon. UK RRP: £1.99.