SUPPORT YOUR FAVOURITE WALKERS FLAVOUR WITH HOUSE OF HOLLAND'S LIMITED EDITION 'CHOOSE OR LOSE' T-SHIRTS >> Walkers.co.uk/chooseorlose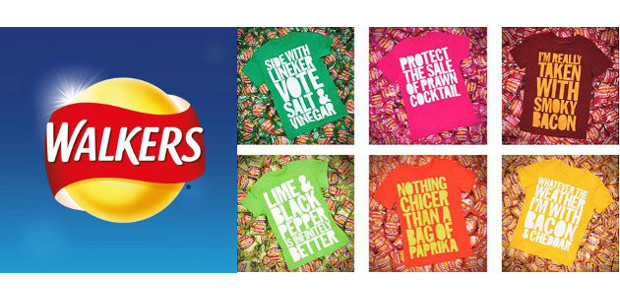 Following the incredible reaction to Walkers Crisps' 'Choose or Lose' campaign with fans already rallying behind their favourite flavours on social media, Walkers has partnered with designer Henry Holland to create six limited edition t-shirts for crisp aficionados to show their support.
With polls popping up across Twitter and Facebook dividing opinions on which flavour should remain, Holland, famed for his catchy slogans and bright designs, was keen to get involved with the debate.
"I saw the news about Walkers potentially stopping sales of Prawn Cocktail and thought it must be a hoax," Henry commented.
"I felt that fans needed something to wear to make a statement about their favourite Walkers flavour. I've loved working on the slogan T-Shirts and hope people will also want to show their support!"
Pitting Salt & Vinegar against Lime & Black Pepper from Australia, Smoky Bacon Vs Bacon & Cheddar from USA and Prawn Cocktail against Paprika from Spain, the witty Choose or Lose t-shirts have been created to help fans rally behind their favourite with slogans including 'Side with Lineker, Vote Salt & Vinegar' and 'Lime & Black Pepper is Infinitely Better'.
Whilst some fans may be 'Really Taken with 'Smoky Bacon', others can declare their new-found love with 'Whatever the weather I'm with Bacon & Cheddar'. Whichever flavour you support, it's now time to make a stand and cast your vote #ChooseOrLose.
The t-shirts are priced at £30 and are available from www.houseofholland.co.uk. All proceeds from the sales of the Choose or Lose t-shirts will be donated to the Foxes Foundation; a charity set up by Leicester City Football Club to support Leicester-based causes.
To ensure your favourite sticks around, simply purchase a single bag in store or vote online at Walkers.co.uk/chooseorlose or via the official Walkers Facebook and Twitter pages.