Sweet Gifts to Melt Your Valentine's Heart
from MarieBelle New York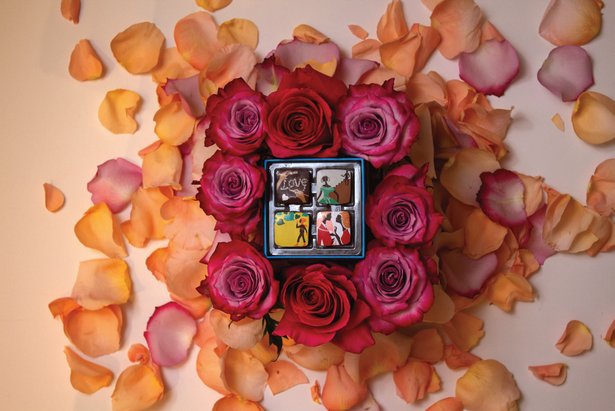 In New York's District is the world-renowned, luxurious bean-to-bar chocolate company, MarieBelle Chocolates. This Valentine's Day the flagship retail location at 484 Broome Street offers patrons a sumptuous shopping experience for the eyes and appetite with lavish window displays which aim to warm the heart. The perfect gift, MarieBelle Chocolates are artfully wrapped in luxury boxes with colorful ribbons. Relish in the sweetest gift for Valentine's Day or any occasion, available in-store or delivered same day anywhere in the Manhattan area.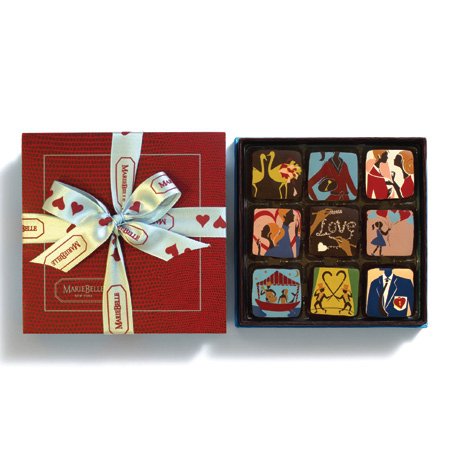 Celebrate the most romantic day of the year with MarieBelle Chocolates' signature artisanal ganache collections. Each ganache is decorated with a unique Valentine's Day design that tells a beautiful love story. Together they bring the heart and emotion of Valentine's Day to life. Another favorite is the MarieBelle Valentine Truffle Box, made using only the finest chocolate blended with fresh cream and dark swiss cocoa powder. These European style truffles are as delicate as they are luscious to eat. Available in the following flavors: Dark Chocolate, Matcha and Champagne.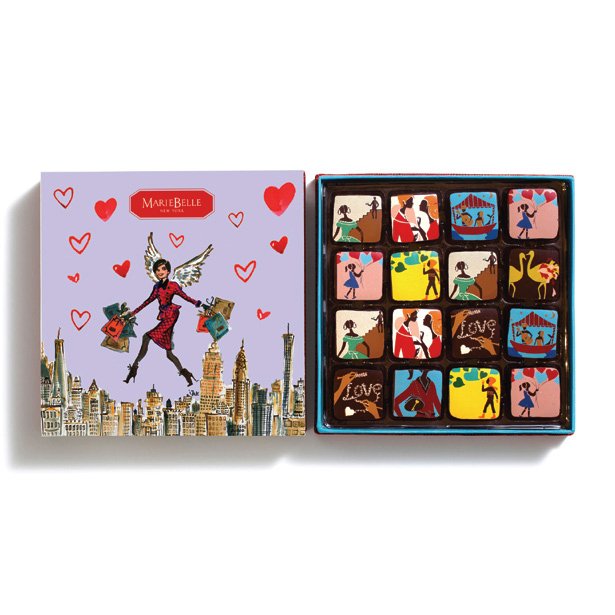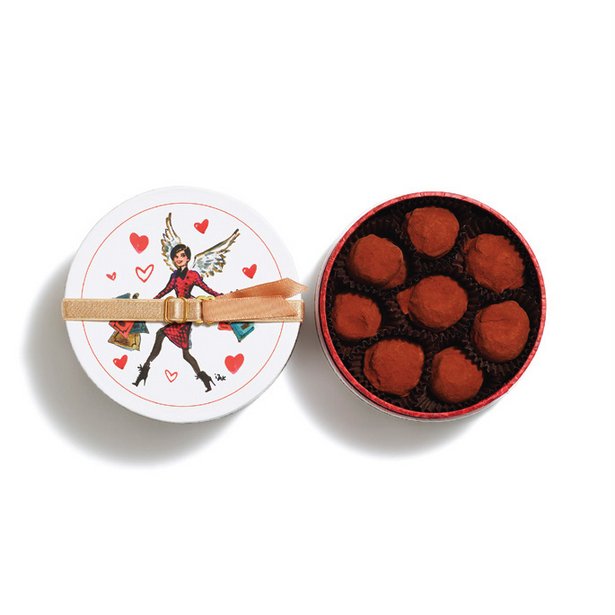 InTouch recently caught up with founder Maribel Lieberman to find out about the MarieBelle Vaeltnine's Day Plans!
1) What have Marie Belle got planned for Valentine's this season ? Valentine's Day and chocolate go hand and hand this season we are bringing back favourite items like the Izak Zenou Ganache Box featuring one-of-a-kind artwork by renowned fashion illustrator Izak Zenou in flavours like passion fruit, wildberry and strawberry.
2) What are the most romantic creations and selections and baskets people can order from your shops and online? The great thing about chocolate is that the simple act of giving it can be romantic. The Valentine's collection for 2021 comes in bright red box with a heart covered ribbon, available in sizes from 4-16 pieces. For people looking for the wow effect we can customize our chocolates with images/phrases that the customer requests, the perfect gift in artfully wrapped in luxury boxes.
Returning this season, MarieBelle has the sweetest gift for that special chocolate lover in your life with their Izak Zenou Valentine's Day Ganache Box, Truffle Box, and Chocolate Bars. The one-of-a-kind collections are adorned with the artwork of renowned fashion illustrator Izak Zenou.
Woman-owned MarieBelle New York is a world-renowned luxurious global chocolate company. Their fine art edibles are produced in their Brooklyn factory with retail locations throughout New York City and Japan. MarieBelle's flagship store in New York's famous Soho District offers chocolate lovers a sumptuous shopping experience. MarieBelle's newest New York retail shop is located in Midtown Manhattan's stunning Japanese-owned Kitano Hotel. Each location pairs perfectly with our lavish and decadent chocolate designs. Customers can purchase MarieBelle's tasty products on their website www.mariebelle.com, and are available for store pick up or walk in at the Kitano Hotel.
Maribel, hails from Honduras, where her early love for confections was evident as she began selling candies to her neighbors at the tender age of 8. However, living with her mother and grandmother, who were both seamstresses, led her to pursue a career in fashion-arriving in the US at 17 to attend Parsons School of Design. Lieberman felt unfulfilled leading her to search for meaning in the field of gourmet cuisine. Soon thereafter, she opened a store "Lunettes et Chocolat" in 2000 which combined her love for chocolate with her friend's collection of eyeglasses under one roof. Alas Maribel had found her niche and struck out on her own in December 2001: renting a small gallery space in Soho that would continue to serve as her flagship for the subsequent 18 years.
MarieBelle New York, which is located at 484 Broome Street, continues to tantalize customers with decadent truffles, artisanal ganache and its renowned Aztec Hot Chocolate-featured by Oprah in her list of favorite things. The superb ingredients of Criollo cocoa beans, Tahitian vanilla, Japanese matcha and Puerto Rican Rum produce an unrivaled product that draws customers from around the globe. During any season these treats are the perfect corporate gift as they can be tailored to the specialized needs of any business. A Cacao Bar nestled in the rear of the Soho Store is similarly decadent as desserts, pastries and hot chocolate await. In the current environment of fear and uncertainty there is nothing more soothing then enjoying a cup of hot chocolate with a family member or friend.
The explosive success of Lieberman who has expanded her empire to a store in the Kitano Hotel at 66 Park Avenue and four stores in Japan is undeniable. Lieberman's hands-on involvement with every aspect of her business has her visiting her Soho store nearly every day. This attention to detail is what keeps Maribel at the top of the chocolate pyramid-a delicious place to be.
"Life is all about the pleasure and happiness we find in food, art and beauty." – Maribel Lieberman, Chocolatier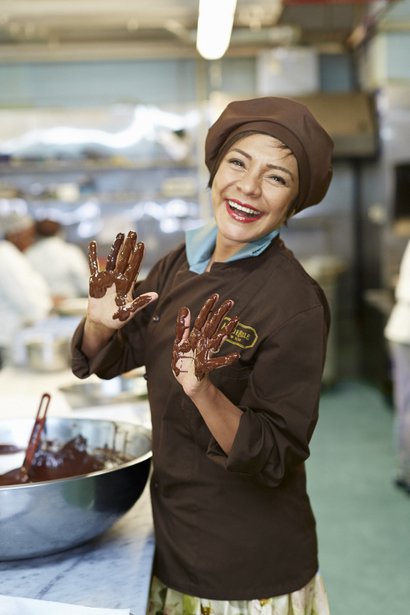 Maribel Lieberman
MarieBelle New York (SoHo)
484 Broome Street
New York, NY 10013
(212) 925-6999 x1
MarieBelle at the Kitano Hotel (Midtown)
66 Park Avenue
New York, NY 10016
(212) 885-7177
For more information about MarieBelle Chocolates, visit www.mariebelle.com/
Facebook: MarieBelleNewYork | Twitter: @MarieBelleNY | Instagram: @mariebelleofficial