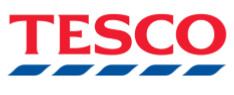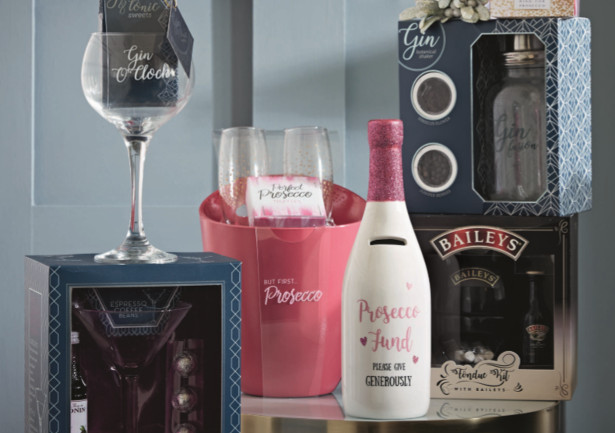 FACEBOOK | TWITTER | YOUUTBE | PINTEREST | INSTAGRAM
Tesco has some great gifts for the whole family this year, including grooming sets, games and food & drink items. All the products are under £20 and are available in Tesco stores now.
Treat your loved ones to a selection of thoughtful, fun and affordable gifts this Christmas from Tesco – all for under £20
Whether you're shopping for the ultimate foodie, cocktail connoisseur or quiz master, Tesco has a selection of fun, practical and thoughtful gifts, as well as stocking fillers under £10, for all the family – whatever your budget.
Gifts for her
Peony Hot Water Bottle, £10.00 Featuring a soft and shaggy faux fur cover, with a bold pink velvet bow, this Peony Hot Water Bottle is a gift for those who love a cosy night in.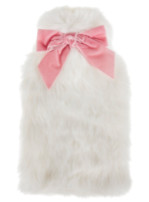 Espresso Martini Set, £12.00 Including a stylish martini glass, chocolate-flavoured syrup, decorative coffee beans and chocolate truffles, gift the Espresso Martini Set to cocktail masters and coffee lovers alike. Allow them to impress their guests and show off their skills with the on-trend Espresso Martini Set.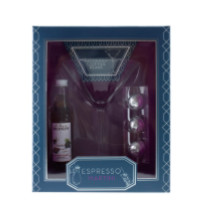 Prosecco Flutes, Bucket & Truffles Set, £15.00 Kick off the festive celebrations with the Prosecco Flutes, Bucket & Truffles Set – designed with fizz-lovers in mind. Each set contains a hot pink ice bucket, a pair of glass flutes decorated with gold metallic bubbles and prosecco-flavoured chocolate truffles.

Unicorn Travel Mug and Earmuffs, £10.00 A fun and on-trend unicorn print ceramic travel mug with anti-spill lid for those who like to drink on the go. This set comes complete with a pair of playful earmuffs featuring a rainbow print headband and soft, fluffy turquoise ear muffs to keep cosy during the colder months.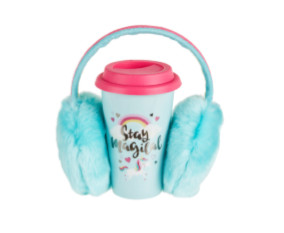 Calcot Manor The Ultimate Spa Collection, £20.00 This selection of seven beauty treats contains a combination of body wash, body scrub, salts and balms in a variety of calming and invigorating fragrances such as Orange & Wild Rose and Papaya & Lemon. Packaged up in a stylish floral gift box, give the Ultimate Spa Collection to those who deserve some pampering this Christmas.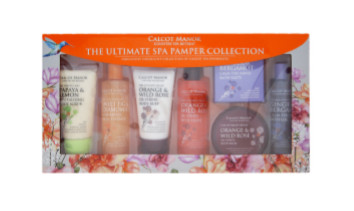 Gifts for him
World Food Garlic Lovers Set, £15.00 Treat their taste buds with this World Food Garlic Lovers Set, which contains garlic-infused oil, sea salt and dried garlic flakes, as well as a garlic-shaped ceramic storer to keep fresh garlic at its best.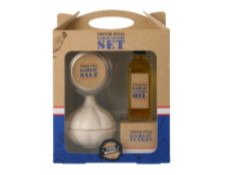 The Ultimate Quiz Master, £8.00 The Ultimate Quiz Master set contains everything you need to test your knowledge. The set includes 300 questions, team sheets, Quizmaster hat, score pads and instructions, covering topics such as world history, music, sport and film for hours of competitive fun.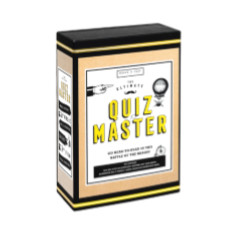 Multi-angle Screwdriver, £10.00 The Multi-angle Screwdriver is an upgrade for any DIY-lovers toolkit. Containing an assortment of 12 steel attachments and with an ergonomic and adjustable head, this is a must-have tool for any jackof-all-trades this Christmas.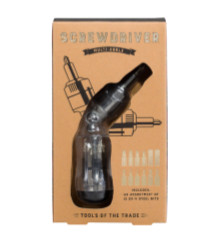 Mr Gentry Ultimate Grooming Collection, £12.00 A luxurious set of pampering essentials such as shaving gel, moisturising lotion and muscle soak, fragranced with sandalwood, amber and tonka bean aromas, the Mr Gentry Ultimate Grooming Collection should be gifted to those looking for worthy additions to their grooming regime.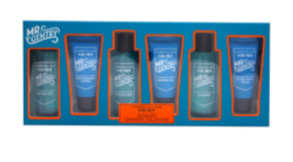 Cocktail Gin Botanical Gift Set, £10.00 The Cocktail Gin Botanical Gift Set is a gift for gin-lovers. Each set contains a glass mason jar as well as dried hibiscus flowers and juniper berries to create your own botanical infusions at home.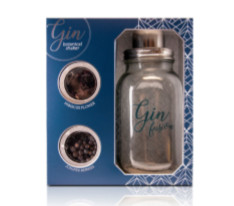 Stocking fillers
Table Tennis, £6.00 The Table Tennis set features a colourful retro design, is easy to assemble and can be used on any table for a quick game of ping pong for all the family. The set includes two wooden table tennis paddles, one ball and a net with suction cups.
I'll Be Ready In A Prosecco Plaque, £6.00 Decorated with stylish cascading gold confetti, the I'll Be Ready In A Prosecco Plaque is a gift for prosecco lovers. With an elegant pink frame and decorative hot pink ribbon handle, the plaque can be hung in the kitchen to kick off the festivities.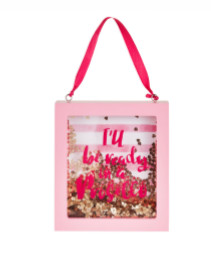 Battle of the Brains, £5.00 Containing over 200 multi-category questions, dice and simple instructions, this quick fire trivia game will provide family entertainment for ages 8 and above. Teams can take turns answering questions on everything from films and music, to science and art for hours of endless fun.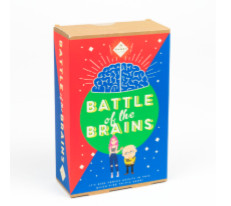 Peony Notebook Set and Pen, £8.00 A stylish stationery set for those who need to take notes on-the-go, the Peony Notebook Set and Pen contains an elegant gold ballpoint pen and two notebooks with textured gold covers.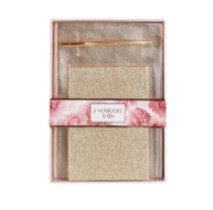 Gin Glass and G&T Sweets, £8.00 A trendy gift for gin lovers, each set contains a stylish gin goblet featuring a playful Gin O'clock slogan and gin & tonic flavoured sweets.