The Draughtsman Damsel Kindle Edition by Emily Klein (Author) "Such a traditional and wholesome novel full of olde world loveliness and completely accessible with many themes that are just as relevant today, I would thoroughly recommend this novel!" InTouch Rugby Literature Editor! Historical romance, set in medieval England!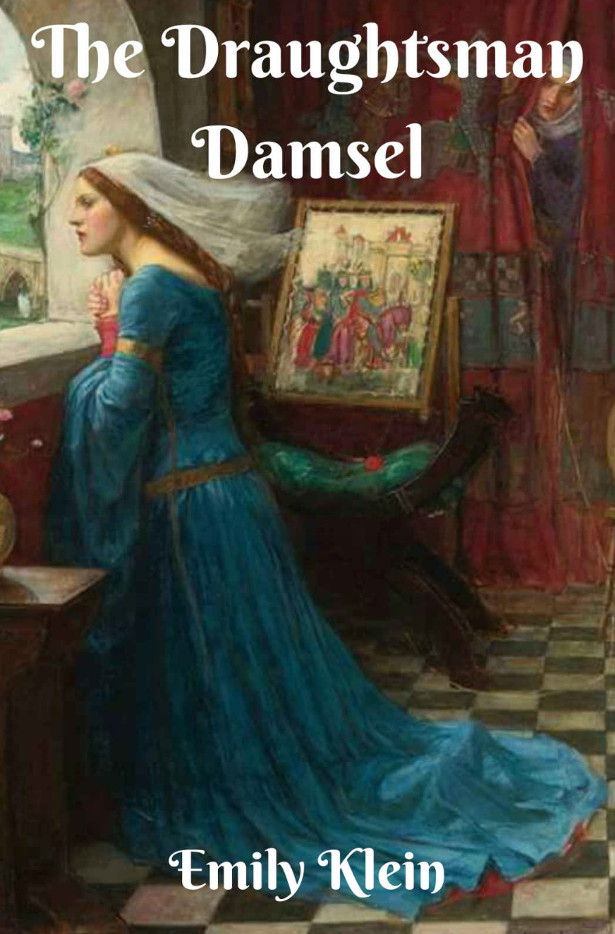 "No, we may not, my lord, for your falseness deters me from it!"
"Alright," said the Earl, realising he had been bested by his ten-year-old daughter."
"Please do not revert to this harsh formality with me, my Lady Annabelle. I offered my friendship to you honestly and wholeheartedly."
"And I refused it. Now, if you will…"
When Annabelle's father, the closest counsellor and architect to the Duke at Calais, is called back to the English court, his ten-year-old daughter Annabelle is torn from her home and from her best friend, the Duke's youngest son, Thomas, whom she swears she will one day wed.
Though forlorn and homesick, Annabelle grows up to be a sensitive, precocious damsel. She loves mathematics and drawing, but her aversion to the 'female arts' causes her to use her girlish trickery to avoid them. This risks her eligibility as a bride, and compromises others.
When her family's connection to the Duke diminishes, and the Duke's mental health falters, her parents are at their wits end about procuring a love match for her. Especially as all their efforts amount to naught, because of Annabelle's anxiety.
They are then torn with conflicting loyalties between the king, and the desperate, mad duke who now calls them back. Perhaps here lies the solution for their wayward daughter?
Pride, politics, madness, and falling unwittingly and unwillingly in love complicate matters to the point of disaster.
The Draughtsman Damsel is a compelling story of long-lasting love and age-transcending friendship. It is well-seasoned with politics and science, castles and knights, maidens and romance, and is set in medieval England and France.
About the Author
Emily Klein is an author of historical romance novels set in medieval times. She is a staunch anglophile, with a keen interest in anything and everything British, and a fierce love for the English language and all its dialects. She also has an interest in history, including, but not limited, to medieval history. Emily also enjoys antiques and vintage clothing. In short, if it's part of history, Emily Klein will find it interesting. In her novels, Emily Klein strives to delve into her characters' thoughts, feelings, and true psychological motives, based on their personalities, pasts, and the societies in which they operate. Finding motives and helping people as they strive to solve their life issues is no strange matter to Emily, who is also a trained social worker. Emily Klein lives in Israel, with her husband, two young daughters, and her little dog named Tofu.
FORMATS: Paperback andeBook
AMAZON LINK