'The Immunity Box' by fourfivecbd: immune boosting products delivered to your door… Available for £39.99 (items bought individually would retail at £99.00) from www.fourfivecbd.co.uk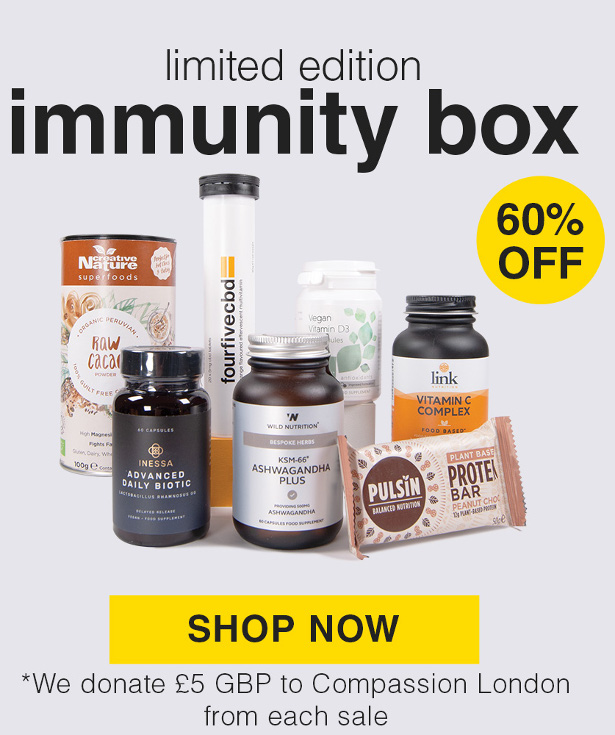 INSTAGRAM | FACEBOOK | TWITTER
– fourfivecbd teams up with health and wellness brands to deliver a nutritional box filled with supplements that boost the immune system –
– From each box sold three meals will be donated to Compassion London, a charity providing meals for frontline workers and the homeless –
ST ALBANS, UK. 13 MAY 2020 – fourfivecbd, the CBD brand created by professional rugby players George Kruis and Dominic Day, today announces the launch of 'The Immunity Box' – a limited edition package of immune boosting nutritional supplements delivered to your door. Available for £39.99 (items bought individually would retail at £99.00) from www.fourfivecbd.co.uk, The Immunity Box features supplements from some of the UK's fastest growing health and wellness brands – all handpicked to ensure they contain ingredients that help to boost the immune system.
For the launch of the exclusive box, which will be available for a limited time only, fourfivecbd and supporting brands have partnered with Compassion London, a charity that is preparing and delivering thousands of meals a day, across London to a variety of groups, NHS workers, families and children in need and the homeless. From each box sold, three meals will be donated to those that need it most.
The brands that have joined forces with fourfivecbd for The Immunity Box include:
Creative Nature – Raw Cacao Powder – Creative Nature's Raw Cacao Powder is untreated; high in magnesium, iron and can reduce fatigue. Add it to anything sweet from protein shakes to home bakes.
Inessa – Advanced Daily Biotic – Inessa's Advanced Daily Biotic Inessa provides Lactobacillus Rhamnosus GG, the most scientifically studied and best clinically documented strain of good bacteria in the world.
Wild Nutrition – Food-Grown KSM-66 Ashwagandha – This incredible herb is most well known for its ability to reduce stress and promote a calmer and happier sense of being. A growing body of evidence is being collated around this powerful herb with an impressive variety of health benefits.
Link Nutrition – Link Nutrition's Vitamin C complex contains a unique formula of Food Based® nutrients; zinc, vitamin c and bioflavonoids. These nutrients exist alongside their naturally occurring cofactors such as fibre, glycoproteins and amino acids, which work synergistically with one another, supporting the transfer and absorption of nutrients throughout the body.
Nutrigold – Vegan Vitamin D3 – Nutrigold's Vegan Vitamin D3 capsules contribute to the normal function of the immune system.
Pulsin – Peanut Choc Vegan Protein Bar – This delicious Peanut Choc vegan protein bar contains the optimum blend of pea and rice protein to provide all of the essential amino acids.
George Kruis, co-founder, fourfivecbd, said: "We're very proud to launch The Immunity Box alongside all of the supporting brands we have teamed up with. The current situation has made us all more aware than ever of the need to ensure we are leading as healthy a lifestyle as possible. The Immunity Box will offer people the opportunity to try out supplements for the first time and to experience the benefits they can offer – whilst also supporting Compassion London in providing meals to the people that really need it."
Leon Aarts, founder of Compassion London, commented: "We are delighted that fourfivecbd and the supporting brands have chosen to support Compassion London. Their efforts to champion wellness and nutrition align with our own mission to provide meals for those most in need. The donations from this initiative will contribute significantly to helping us reach front line workers, families and children, and the homeless with delicious and nutritious meals during this difficult time."
For more information about The Immunity Box, please visit www.fourfivecbd.co.uk.