The Polar Express: Christmas Book and Gift Set
by Chris Van Allsburg
illustrated by Chris Van Allsburg
Become part of the Polar Express story this Christmas, and celebrate its 35th anniversary!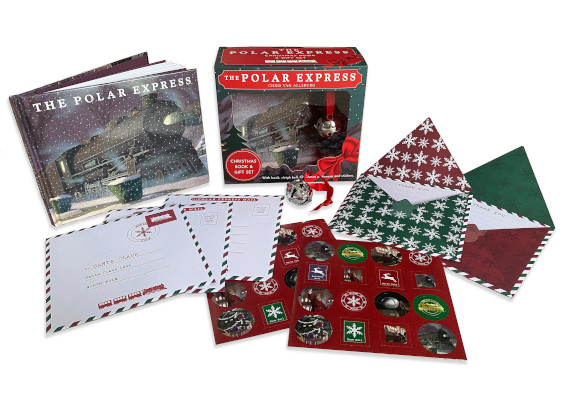 Christmas gift box contains: gift edition story book, a bell from Santa's sleigh, fold and send letter-to Santa templates, North Pole stamp stickers, decorative Polar Express stickers to seal your letters.
Rediscover the spirit of Christmas with this fun-packed gift set, including a mini hardback of the Christmas classic, the magic sleighbell from the story, and a write-your-own letter to Santa kit! Only believers in Santa can hear the bell ring… will you?
'Magical glowing double spread pictures… an original and memorable book.' Guardian
'A thrilling tale.' Independent
Perfect Christmas gift includes a beautiful mini hardback Christmas classic, a bell
from Santa's sleigh, and a craft your own letter to Santa kit including foldable
letter templates and stickers.
12 million copieshave been sold worldwide, including 50,000 copies of the hardback edition in the UK alone.
Both a New York Times Bestseller and a New York TimesBest Ilustrated Book Caldecott Medal Winner
The major motion picture, based on the book and starring Tom Hanks was a smash hit on release and has now become a Christmas favourite.
Chris van Allsburg lives in Providence, Rhode Island and lectures at the Rhode Island School of Design. He is a sculptor and artist, and twice winner of the Caldecott Medal, first for Jumanji, and then for The Polar Express. He has also received a Lifetime Achievement Award from the Society of Illustrators in October 2009
Publication Date: 02 September 2021
Price: £12.99 (Inc. VAT)
Binding: Hardback
ISBN: 9781783446827