The Tin Thing ||||| Hear them ask… What is this.. what are theese ????!!! Meet The SURVIVAL TIN RANGE from www.bcbin.com (Be Prepared These Innvoators have expanded the range &&& YES they do have a Adventure Survival Tin !!!!!!!! (IT'S A TIN THING!)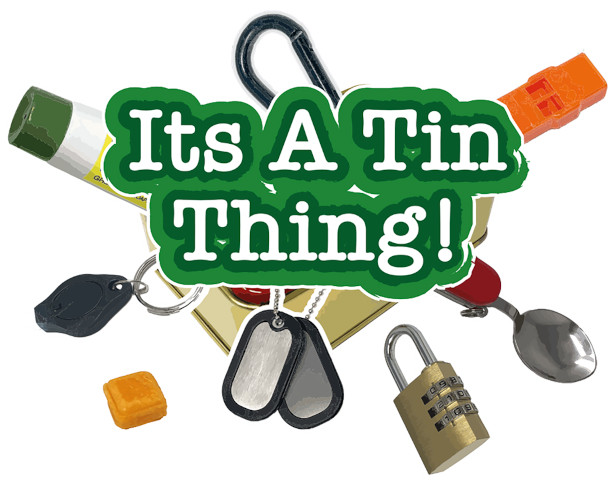 Unlike many tins that are sold empty but with a lovely picture or writing on them ours are jammed full of products to delight and be useful
With the company pedigree reflected in the items (Their motto is Protecting the Protectors ) BCB International has been the go too for the adventure and military survival market for the last 100 years.
So, whether it's a Christmas stocking filler or a gift for the otherwise impossible receiver we have you covered with our range of Tins with survival kit matched to the activity.
After too many months of being locked in and locked down why not give a kid a chance to have an adventure with MY FIRST ADVENTURE KIT and watch their eyes light up with the discoveries that are all around them. Containing 10 genuine survival and adventure products including survival instructions, it's a real adventure.
For everyone older there is a range of 11 other activities each brimming with items to suit your wallet and your choice
the HANG OVER RELIEF TIN– good for a laugh yet full of useful things like a sick bag and a toothbrush with paste.
MY DOG WALKING TIN – easy to pop into your pocket in case of incidents – contains emergency dog lead, emergency whistle and scented doggy bags among other items
Many of us will still be staying in the Uk for our holidays next year so why not the BEST TIN for walkers? BEST = BACK PACKERS ESSENTIAL SURVIVAL TIN contains the items needed to start you off on a successful stress free walking trip
And for those of us wishing to travel abroad next year the TRAVEL SURVIVAL TIN will cover those emergencies with bug protection, torch, strong padlock toothbrush and min towels among other things.
Also in the range are the
GOLF SURVIVAL TIN
STUDENT SURVIVAL TIN
SCOUTS SURVIVAL TIN
FISHING SURVIVAL TIN
BCB ADVENRURE SURVIVAL TIN ( for adults)
FESTIVAL SURVIVAL TIN
So, take a look, choose your favourites and just let me know where to send them to.
IT'S A TIN THING range is available in Homebase, Camping World, Halls of Llandaff, and Amazon. Prices are from £8.50 – £12 dependant on the product.