Tiger Nut Drink Get your paws on the drink that roars. * Dairy Free * Nut Free * Gluten Free * No added sugar * Organic  www.rudehealth.com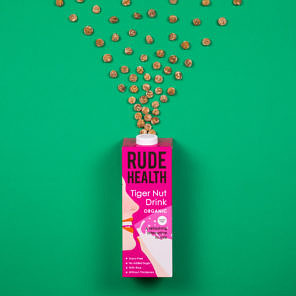 TWITTER | FACEBOOK | INSTAGRAM | PINTEREST | YOUTUBE | LINKEDIN
Rude Health have just released the first ever Tiger Nut Drink to the UK market, and it is brimming with antioxidants and medicinal qualities, not to mention super tasty.
You're in Rude Health when you've milked a tiger nut. You know your tiger nuts from your ginger nuts. You get wilder with age.
Rude Health has thrown in a WILDcard to their dairy-alternative drinks famliy. Introducing the UK's first Tiger Nut Drink. Made with 6% organic Spanish tiger nuts, spring water, organic rice and a pinch of sea salt, this is a brand new, fiercly tasty recipe. Nothing artificial. Nothing refined.
Spoiler alert: no we didn't castrate the frosties mascot, tiger nuts aren't nuts, and they have nothing to do with tigers. Their name comes from their stripy tiger print like coating, which makes them the most glamorous tuber in our book. This also means they are safe for anyone with a nut allergy. Have no fear to consume this legume.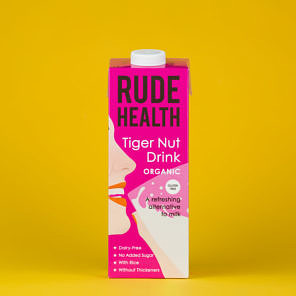 Tiger Nuts have an international reputation. Horchata, made from tiger nuts, is a speciality of Valencia. It's creamy with a hint of sweetness, and is enjoyed over ice. In Mexico, they prefer it hot with cinnamon and vanilla. The ancient Egyptians were the first to cultivate Tiger Nuts and even engraved drawings of them in their tombs. They're almost as (tiger) nuts as we are.
The Tiger Nut Drink joins Rude Health's kaleidoscope of dairy alternative drinks portfolio which includes Oat, Hazelnut, Almond, Ultimate Almond, Brown Rice, Coconut and Cashew Drink.
Tiger Nut drink now available in store and online at Waitrose, coming soon online to Ocado. For exact Waitrose stores see here. Go get em' tiger.
Stockists: Available to buy from Waitrose and the Rude Health website from 25 September 2017 RRP: £2.50 www.rudehealth.com
About Rude Health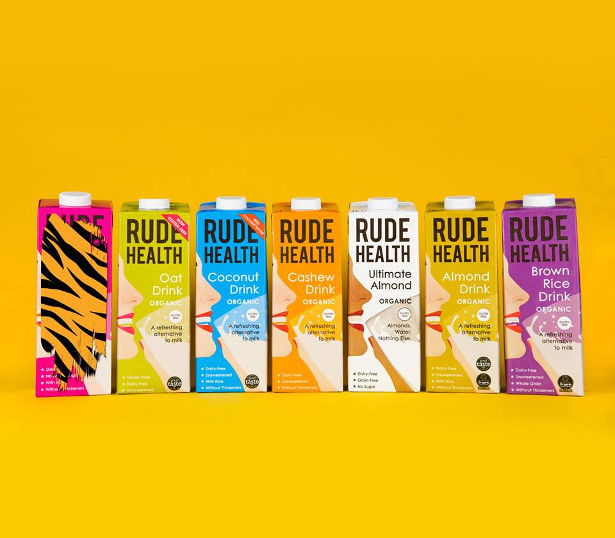 Rude Health is a family-owned business that started with a wacky idea to find the world's finest muesli. Co-founder's Camilla and Nick took matters into their own hands, and launched their first ever food, known as The Ultimate Muesli. 12 years later, that muesli is still blowing people's pyjamas off around the country.
Thanks to these breakfast revolutionaries, the days of unnaturally sweetened cereals, rabbit friendly muesli and gruel-like porridge are well and truly gone.
Camilla Barnard on dairy/dairy alternatives
"'We don't all have time to always make food from scratch, but we believe that buying for convenience shouldn't mean lowering your standards in terms of the quality of food and ingredients. Choosing a dairy alternative drink is a conscious choice. It would therefore be reasonable to expect dairy-free drinks to be made from healthy ingredients. However, the shelves are swamped with 'healthy' plant based milks that contain carrageenan, flavourings, emulsifiers, and are fortified with vitamins and calcium carbonate – which we've been blinded to by their health claims.
"Our customers shouldn't expect anything less than what they would use to make their own nut drinks. An almond drink can actually simply be made up of a blend of naturally sweet and silky rice, rich organic roasted almonds, spring water and a pinch of salt. That is exactly how we make ours. It's simple; a blend of ingredients that we all can recognise." Camilla Barnard, Rude Health
To learn more about Rude Health's attitude to dairy/dairy alternatives visit: rudehealth.com/rant/know-your-milk-2/