Tinc Stationery Advent Calendar 2020 (£25)!
tinc.co.uk/collections/christmas-collection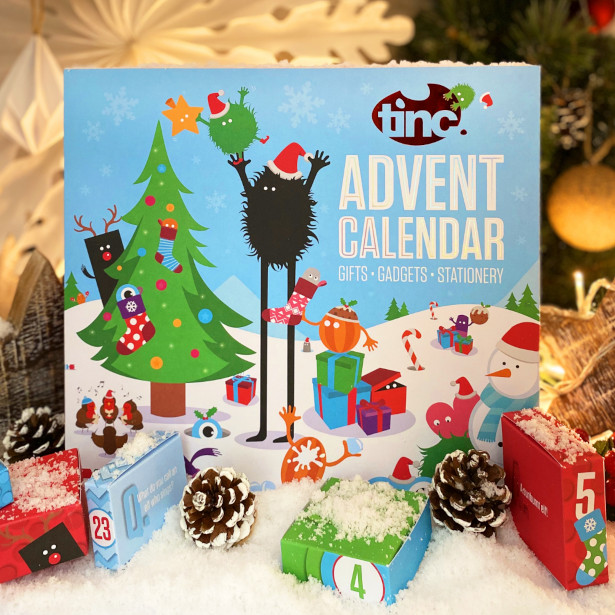 BRAND NEW FOR 2020 – Our Tinc Advent Calendar is back with a bang and a whole lot of festive fun. This year our Calendar is packed with 24 completely new and exciting gifts to fill your festive season with even more treats – All Tinc stationery goodies are unique to the calendar and can't be bought anywhere else! Check out Mr Tinc and friends having a ball in their snow filled wonderland!
QUIRKY JOKES – Fun for all the family – You can tell your loved ones some hilarious jokes – This fun stationery advent calendar has a quirky joke on the side of each box!
GET CREATIVE – Turn over the boxes to reveal an awesome Christmas Colouring Design. Colour each box as you go and on the 24th you can sit back and check out your amazing colouring masterpiece!
FUN ALL YEAR ROUND – Make the most of your 2020 Advent Calendar with both Christmas themed gifts and incredible unisex stationery you can use all year round!
MADE BY TINC – At Tinc we pride ourselves on making premium & practical products that kids of all ages can enjoy at school or at home! Come on in and discover our world of incredible kids stationery, gadgets and gifts!
Tinc's best-selling Advent Calendar is back for 2020! We've chosen 24 exclusive fun stationery gifts and gadgets for each individual box that can't be bought anywhere else! Enjoy Tinctastic stationery surprises each day, as you countdown to Christmas, and the back of each box reveals a secret colouring puzzle to enjoy on Christmas Day!