TRAPPED Escape Room Game Packs: Taking the thrill of escape rooms into the home!
Designed by real escape-room experts, TRAPPED Escape Room Games bring the buzz and excitement of an escape room by turning ANY room into an escape room! Series 2 offers the latest themed game packs to bring the exhilaration of an action-packed escape-room experience in your own home. Each TRAPPED game pack has all you need for up to six players to work together – or compete – to beat the clock, crack the clues, solve the puzzles – and escape! Simply put the pack contents on walls and surfaces in a room of your choice, and you're ready to play.
There are three different TRAPPED game packs in Series 2: The Zoo; Mission To Mars; and Flight 927, and each comes complete with its own content, back-story and level of difficulty. Just add people and start playing. Why not kick-off with the kids and the 'easy' Zoo, before progressing to the 'medium' Mission To Mars with mates or 'hard' Flight 927 for a date night with a difference?!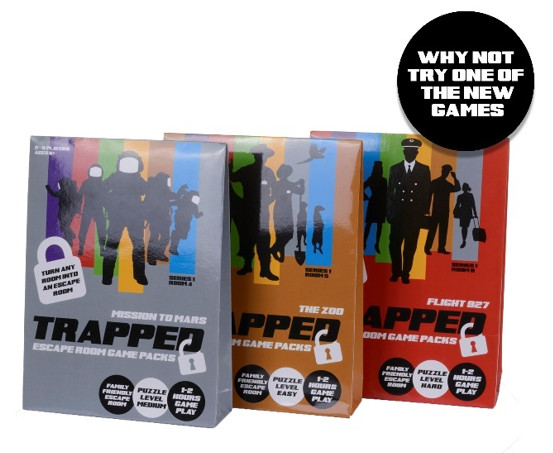 Every edition gets you laughing, thinking and taking action around the room. What's more, TRAPPED is unlike most escape-room games… After you play, you can put it back in the pack and re-gift the games! Of course, some parts won't be "as new" when you pass them on – but the fun's all there! Suitable for everyone aged 8+, The Zoo is the best one for families with younger kids, while Mission To Mars and Flight 927 are perfect for teens through to adult. RRP £12.99 each.
The Zoo: Find The Meerkats!
It's the day you've been waiting for: your annual trip to the zoo! Excited, you upgrade your ticket to include a Personal Meerkat Experience. Under strict instructions to stay in the enclosure, the zoo-keeper leaves you to play with the meerkats. But wait! You need to get your camera… A few seconds outside won't hurt, surely?
When you come back: disaster! The gate is ajar, and all eight meerkats are running into the distance! Now your team has a mission: work together, solve the puzzles and catch the meerkats – all within 60 minutes! The future of the zoo is down to you…
Puzzle Level: Easy. Game Lasts: 1-2 Hours
https://www.amazon.co.uk/Trapped-TZ001-lockdown-Waiting-Puzzles/dp/B08TM1ZP93?maas=maas_adg_AACC64B5D01D4474B3A19312C673B1B3_afap_abs&ref_=aa_maas
MISSION TO MARS: Be the Ultimate Space Invader!
You and your crew are on a mission to Mars! Approaching the red planet in search of a new Earth, you wake from your cryosleep pod, gasping for air… As the alarm echoes through the ship, your ears adjust to the message… It's one no astronaut wants to hear: "WARNING! WARNING! WARNING! CRITICAL FAILURE!"
A life-threatening system failure means you must now land the ship manually. Check your coordinates. Steady the thrusters. Solve the problems… Can you and your crew save the mission? The fate of humanity is in your hands!
Puzzle Level: Medium. Game Lasts: 1-2 Hours
https://www.amazon.co.uk/Trapped-MI001-Waiting-Puzzles-Friends/dp/B08TM69F41?maas=maas_adg_1389AC8EC616FF465B51458C89BD3615_afap_abs&ref_=aa_maas
Flight 927: Send the distress signal!
Finally – the holiday you've been waiting for has arrived… Excited, you board the plane, looking forward to a week of relaxation. Not long into the flight, though, the plane starts to shudder. Suddenly, you're losing altitude! Your stomach lunges as the plane plunges. Over the tannoy the pilot shouts, "Brace for impact!"
Panicked, you adopt the brace position – and then… Darkness! As you regain consciousness, you open your eyes and realise the plane is down! Now it's up to you to call for rescue. Can you get into the cockpit, send out a distress signal – and save the day?
Puzzle Level: Difficult. Game Lasts: 1-2 Hours
https://www.amazon.co.uk/Trapped-TF001-Waiting-Puzzles-Friends/dp/B08TMW18R6?maas=maas_adg_4D3BB7245A54D4718D9873FD38846F42_afap_abs&ref_=aa_maas
Priced at £12.99 per game, TRAPPED game packs are available to pre-order NOW from Amazon and will be available to buy from 27th May 2021. Follow us on Instagram @trappedescaperoomgame